Overview
Stables
Hatchery
Inventory
Wardrobe
Referrals
Settings
Seasonal Festival
World Map
Generator
Breeding Grounds
Nurturing Grounds
Party
Task Log
Mission Log
Quest Log
Player Trades
Trade Broker
Currency Exchange
Eggling Auction
Pick A Door
Official Games
Un-Official Games
Jinxie's Jamboree
Festival Shop
Diamond Shop
Avatar Shop
Scale Shop
Inbox
Forums
Community Polls
Advanced Search
December 3rd, 2020

290 Online
4:53 PM
Advanced Search
Active Players on Sylestia
Category
Total
Yesterday
Players
5,681
1,106
Sylestia Pet Data
Category
Total
Yesterday
Pets
6,030,866
2,018
Generated
451,305
509
Captured
931,645
174
Bred
4,647,916
1,335
Statistics updated daily at midnight
Recent Announcements
Thread
Posted
2020 Stocking Stuffer Nov 30 2020 Advent Calendar Nov 30 Introducing Pet Compan.. Nov 25 Black Friday Extravaga.. Nov 24 Fall Festival Overview Oct 28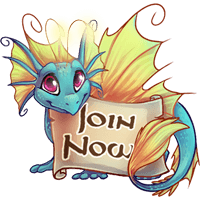 Forum Index > Official Games and Contests > 2018 Fall Festival - Spooky Avatar Dress...
Page 1
1, 2, 3... 11, 12, 13
Go to Page:
Author
Thread Post
Faiona
Level 64
Nature Walker
Site Administrator
Joined: 12/17/2012
Threads: 373
Posts: 4,400
Posted: 10/29/2018 at 1:27 PM
Post #1
Avatar Dress Up



Rules

No Reserving Posts

Please do not ping me unless you have a question.

1. Visit the Wardrobe and create your own Spooky Fall Themed Character. You can choose any items or styles, even ones that you don't own, and the Character you create can be anything - it does not have to necessarily be 'you'. Please make your character as 'spooky' as possible!

2. You must submit exactly 1 image of your design.

A Player Guide on How to Obtain Image URLs

3. You must write a short description or story to go along with your Character. Such as why they have suddenly become a ghost or why they are now growing fangs.

4. Please do not re-use any previous Avatar Dress Up submissions. You must create a new Character.

5. Please do not steal or use other players' Characters. You must create this Character on your own. Blatant copying of other players' Character will disqualify you from winning and may even ban you from future Forum Games. Please create your own Character.

6. The due date for submitting your entry is by the end of the Fall Festival.


Prizes

Everyone's submissions will be judged by Faiona and I where we will select First, Second, and Third place winners based on creativity, effort, and appeal.

All participants will also receive a small prize including the Title: Fancy Pants.

Have fun and enjoy!


Congratulations to the following winners!

1st Place

Prizes: Free Stable, 3-Visible Fall Festival Themed Pet of Choice (2-Vis if Majestic), [Philter of Trait Disruption] x2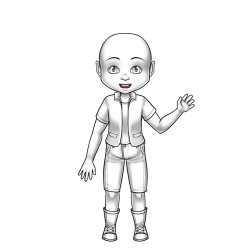 Winner: Britters


Runner Up's

Prizes: Free Stable, [Fabled Brewing Catalyst] x1, [Philter of Trait Disruption] x1


Winner:
BobRoss

Winner: Earthdayguardian


All Participants

Prizes: [Title: Fancy Pants] x1, [Mystery Brew Catalyst] x1, [Box of Brewing Agents] x1, [Chocolate Coins] x300
Edited By Krinadon on 11/28/2018 at 12:05 PM.
Holycheesemonkeys
Level 70
Benevolent Brewer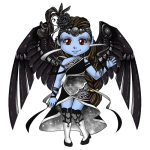 Joined: 7/27/2017
Threads: 4
Posts: 300
Posted: 10/29/2018 at 1:37 PM
Post #2
[So sorry for the ping!]

----------------------------------Woodland necromancer------------------------------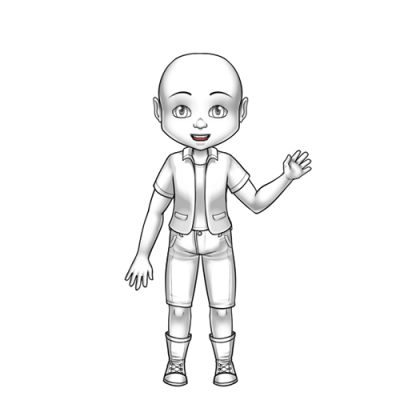 You dont know the story? Well, this is an old and tragic tale. Make yourself comfortable and Ill begin.

Long ago there was a brave and young adventurer. Her name was Hamira. She traveled all over the land of Sylestia, fighting monsters and saving lives.

There had been reports of an evil beast wandering the Umbra Forest. Knowing she could help, she rushed to the aid of a small village nearby.

As she entered the forest, she could feel dark energy growing stronger the deeper she went. It was not long before she came face to face with a Dark wolf.

Creatures of magic and greatly feared, Dark wolves are extremely dangerous. Their mind control confuses and makes you trust them. She was soon caught in its web.

She forgot the reason she had ventured into the forest, and trusted the wolf, believing they were friends.

The wolf twisted her thoughts and led her down the path of dark magic. It was not long before she began to raise the dead.

The more she mingled with the dead and their tainted magic, the less human she became.
Edited By Holycheesemonkeys on 11/20/2018 at 7:17 PM.
Dragoil
Level 70
Spooky Shopper
Joined: 2/28/2016
Threads: 159
Posts: 1,761
Posted: 10/29/2018 at 1:41 PM
Post #3
Ryori Summoner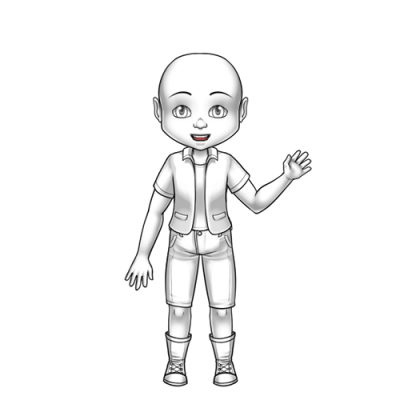 The creature known as the ryori summoner, not fully human and not really of this plane of existence, also know to the ryori as the gate keeper. Every fall she creeps from the shadows to open the portal to the nether realm, a place of half spirits and phased beings, the place where Ryori dwell. Each year she summons forth a new breed to haunt the land of sylestia, her favored ryori "Full Moon" helps in preparations. How she herself came to dwell in sylestia is unknown, possibly long ago a summon spell went awry, or maybe she tore a hole in the fabric of reality. Either way she continues her task of bringing in a new haunt, ever choosing the next horror to jump out of the shadows on you this fall fest.

(Yup, fell in love with my avi for this fall, enjoy!)
Edited By Dragoil on 10/29/2018 at 1:50 PM.
Shelbylynn0901
Level 48
The Sweet Tooth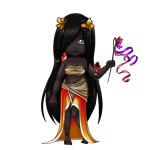 Joined: 1/19/2018
Threads: 7
Posts: 215
Posted: 10/29/2018 at 1:54 PM
Post #4
Foreverfire
Level 68
The Kind-Hearted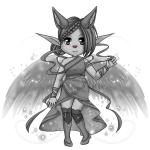 Joined: 7/9/2018
Threads: 98
Posts: 1,840
Posted: 10/29/2018 at 1:54 PM
Post #5
@Krinadon

Faiona, when I was making my design, I put in the colors but the Back One wasn't working. I tried it multiple times.
Edited By Foreverfire on 10/29/2018 at 1:55 PM.
Lanfear
Level 70
Frosty Hands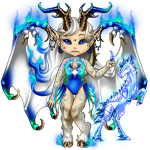 Joined: 5/9/2015
Threads: 312
Posts: 2,323
Posted: 10/29/2018 at 1:55 PM
Post #6
I went walking one day, through the lands of Umbra Forest, and decided to take a trip to the tower, better known to lowly subjects such as I, as Aryth's Spire. I thought, what a better way to level up my pets then to drink a few potions and then make a long journey to Astryl's Tranquility. First potion, made me strong. Second potion, my pets definitely needed the healing....3rd potion? Do I drink this, or ignore it, maybe let a pet take a sip from it first before I do.....nope, why subject my pets to that kind of torture? So I took a sip...and it exploded. I wake up from the daze, and asked myself why? Maybe, Ill go to the little dungeon and start off slower.

It was easy...until I reached the mirror...



I screamed and ran. How long? How long will I endure looking like this for? My poor pets scattered, probably due to the shock of me looking like this, and I needed to take them back home. Maybe this will be last just one night...If not, I will need to find a cure. Someone in Ethernia might have one.

And maybe, just maybe, I will level my pets another day...
Edited By ALatteJava on 10/29/2018 at 3:52 PM.
Pipps
Level 57
The Sweet Tooth
Joined: 7/15/2018
Threads: 42
Posts: 4,734
Posted: 10/29/2018 at 2:07 PM
Post #7

Velveta the vampire. The common folk who know of her call her the devils master. They call her this because she give less mercy than the devil himself. No one who has seen her has lived. How do people know about her then you ask? They can hear the short lived screams of her victims, and her ear piercing laughter. Not to mention she signs the bodies with her name using the tool in her hand. She has a self justified reason for this. It is because a human kill her groom to be a few days before her wedding. She has been all out for revenge ever since. She used to look beautiful and a bit more normal before she became obsessed with revenge.
Edited By Pipps on 11/2/2018 at 5:17 AM.
Sparrowstorm
Level 66
The Kind-Hearted
Joined: 10/8/2018
Threads: 9
Posts: 135
Posted: 10/29/2018 at 2:10 PM
Post #8


The Cannibal Bride.

(AKA the most deranged bridezilla to ever be pushed over the edge.) (Maybe the bloodiest too.)

I seriously had so much fun doing this. I was laughing so hard at how wacky/great/creepy I could make it.
Amberwing
Level 70
The Majestic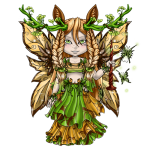 Joined: 11/8/2015
Threads: 21
Posts: 624
Posted: 10/29/2018 at 2:10 PM
Post #9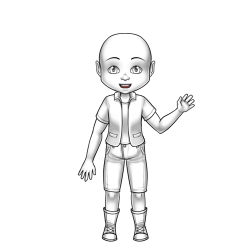 The Scorpion King. He returns every year during the fall, seeking revenge on whoever disfigured his face with flames due to their fear of arachnids. Best not to harm an arachnid of any sort in his presence, lest he seek revenge in the small one's place.
Astonishinglysane
Level 67
The Perfectionist
Joined: 9/25/2018
Threads: 35
Posts: 845
Posted: 10/29/2018 at 2:15 PM
Post #10
sorry I posted this by mistake. I can't get rid of it.
Edited By Harrypotternerd on 10/29/2018 at 3:04 PM.
Go to Page:
1, 2, 3... 11, 12, 13
Go to Top
This Page loaded in 0.023 seconds.
Terms of Service | Privacy Policy | Contact Us | Credits | Job Opportunities
© Copyright 2011-2020 Sylestia Games LLC.
All names and logos associated with Sylestia are Trademarks of Sylestia Games LLC.
All other trademarks are the property of their respective owners.
For questions, comments, or concerns please email at Support@Sylestia.com.