Overview
Stables
Hatchery
Inventory
Wardrobe
Referrals
Settings
Seasonal Festival
World Map
Generator
Breeding Grounds
Party
Task Log
Mission Log
Quest Log
Player Trades
Trade Broker
Currency Exchange
Eggling Auction
Pick A Door
Official Games
Un-Official Games
Jinxie's Jamboree
Festival Shop
Diamond Shop
Avatar Shop
Scale Shop
Inbox
Forums
Community Polls
October 23rd, 2019

81 Online
5:08 AM
Advanced Search
Active Players on Sylestia
Category
Total
Yesterday
Players
6,591
927
Sylestia Pet Data
Category
Total
Yesterday
Pets
5,220,383
1,484
Generated
371,040
17
Captured
797,926
145
Bred
4,051,417
1,322
Statistics updated daily at midnight
Recent Announcements
Thread
Posted
Expired Currency Oct 20 Wardrobe Update Now Li.. Oct 18 Site Downtime - 10/18.. Oct 18 Upcoming Wardrobe Swit.. Oct 14 Regarding Advancement.. Oct 9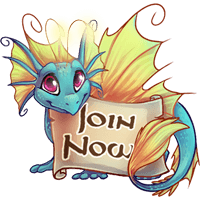 Welcome to Sylestia, a Free to Play Virtual Pet Browser Game
Sylestia offers a wide range of your favorite Virtual Pet Game features!

Create fully customizable Pets from over 20 different Species.

Capture, Generate, or Breed as many Pets as you like.

Create fully customizable Avatars from thousands of collectible items.

Explore the vast regions of Sylestia through an open world RPG system!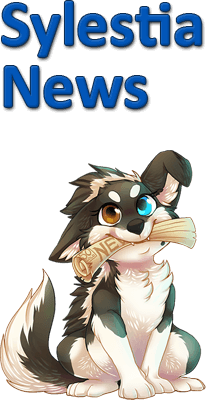 Summer Festival Now Thru 9/15
August 23rd, 2019 at 4:39 PM
The Summer Festival of 2019 is available now through Sunday, September 15th!

Available this year from the Festival are 170 New Avatar Items, 41 New Themed Pets, and 17 New Pet Traits!

Players can also enjoy exploring the serene Esior's Cove zone, where you can find troves of treasure and battle a slew of unique Named! Sylesti Sand Sculpting and Beach Treasure Seeking have both returned with new prizes and rewards! The Task Log has also returned where you can earn all sorts of goodies by just simply participating in various Festival activities. And of course there will be Leaderboard Contests throughout the Festival.

Lastly, there are a bunch of Forum Games to participate in including a brand new one: Sylesti Beach Sticker Scene!
Summer Festival Overview
Summer Festival Pet Traits
Summer Festival Forum Games
Exclusive Diamond Shop Items and Sales


Pet Traits: Nebula Lighira and More!
August 23rd, 2019 at 4:39 PM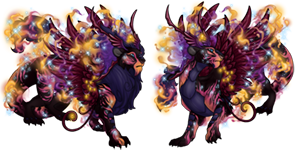 This year's Summer Festival is host to a total of 17 new Pet Traits! This included Nebula Trait Set for Lighira, shown above, and the Fire Dancer Trait Set for Lupora. The Ferrikki, Luffox, Nytekrie, and Puffadore also received at least one new Trait!

Visit the link below to learn more! Some of these Traits will only be available during the Summer Festival, so don't miss out!
Summer Festival Pet Traits

Avatar Items: Patriotic Pride!
July 3rd, 2019 at 5:45 PM
In celebration of Independence Day, Canada Day, and all things patriotic - we have released a series of country-inspired patriotic Avatar Items! Based on our playerbase, there are 6 country sets available: Australia, Canada, Germany, Russia, United Kingdom, and the United States.

These items can only exclusively be obtained from the Diamond Shop now through July 22nd. Don't miss out on representing your patriotic pride!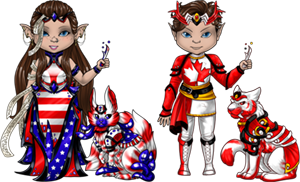 Patriotic Event Overview
Diamond Shop

The Forgotten Caverns
May 24th, 2019 at 4:59 AM
The second section of the Lost Grove, The Forgotten Caverns, is now available!

This will more than double the explorable size of the Lost Grove, double the amount of Named and placeholders, add in new progression, new Avatar Items, new Equipment, new Barracks upgrades, and more!

We are also working on a massive Pet Trait release update for the Lost Grove that will be coming in the future. Happy hunting!
Lost Grove - The Forgotten Caverns
Examples of Sylestia Pets





Puffadore (Female)
Ny'vene (Male)
Aeridini (Female)
Griffi (Male)
Zolnixi (Female)
This Page loaded in 0.002 seconds.
Terms of Service | Privacy Policy | Contact Us | Credits
© Copyright 2011-2019 Sylestia Games LLC.
All names and logos associated with Sylestia are Trademarks of Sylestia Games LLC.
All other trademarks are the property of their respective owners.
For questions, comments, or concerns please email at Support@Sylestia.com.