Overview
Stables
Hatchery
Inventory
Wardrobe
Referrals
Settings
Seasonal Festival
World Map
Generator
Breeding Grounds
Nurturing Grounds
Party
Task Log
Mission Log
Quest Log
Player Trades
Trade Broker
Currency Exchange
Eggling Auction
Pick A Door
Official Games
Un-Official Games
Jinxie's Jamboree
Festival Shop
Diamond Shop
Avatar Shop
Scale Shop
Inbox
Forums
Community Polls
Advanced Search
December 3rd, 2020

288 Online
4:26 PM
Advanced Search
Active Players on Sylestia
Category
Total
Yesterday
Players
5,681
1,106
Sylestia Pet Data
Category
Total
Yesterday
Pets
6,030,866
2,018
Generated
451,305
509
Captured
931,645
174
Bred
4,647,916
1,335
Statistics updated daily at midnight
Recent Announcements
Thread
Posted
2020 Stocking Stuffer Nov 30 2020 Advent Calendar Nov 30 Introducing Pet Compan.. Nov 25 Black Friday Extravaga.. Nov 24 Fall Festival Overview Oct 28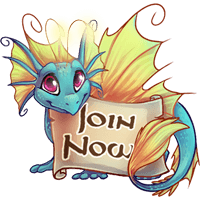 Forum Index > Official Games and Contests > 2020 Summer Festival - Avatar Dress Up
Page 1
1, 2, 3, 4, 5, 6, 7, 8, 9
Go to Page:
Author
Thread Post
Faiona
Level 64
Nature Walker
Site Administrator
Joined: 12/17/2012
Threads: 373
Posts: 4,400
Posted: 8/19/2020 at 5:35 PM
Post #1
Avatar Dress Up



Rules

No Reserving Posts

Please do not ping me unless you have a question.

1. Visit the Wardrobe and create your own Summer Themed Character. You can choose any items or styles, even ones that you don't own, and the Character you create can be anything - it does not have to necessarily be 'you'.

2. You must submit exactly 1 image of your design.

A Player Guide on How to Obtain Image URLs

3. You must write a short description or story to go along with your Character.

4. Please do not re-use any previous Avatar Dress Up submissions. You must create a new Character.

5. Please do not steal or use other players' Characters. You must create this Character on your own. Blatant copying of other players' Character will disqualify you from winning and may even ban you from future Forum Games. Please create your own Character.

6. The due date for submitting your entry is by the end of the Summer Festival.


Prizes

Everyone's submissions will be judged by Krinadon and I where we will select First, Second, and Third place winners based on creativity, effort, and appeal.

All participants will also receive a small prize including the Title: Fancy Pants.

Have fun and enjoy!
Animallover966
Level 65
Joined: 7/19/2016
Threads: 209
Posts: 2,091
Posted: 8/19/2020 at 5:55 PM
Post #2
Do we submit the design here?
DaniBane
Level 70
Grand Protector
Joined: 11/5/2015
Threads: 23
Posts: 593
Posted: 8/19/2020 at 5:57 PM
Post #3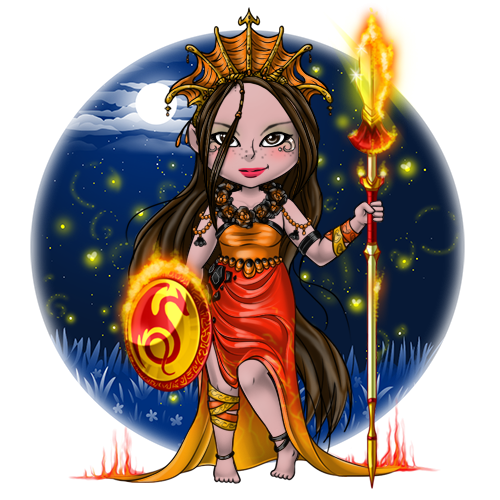 Dani Bane...a not so fearsome name... Many foes laugh in her face when they first see her or first hear of her, but then they face her in battle... She boldly walks toward them, three mighty pets follow close behind, and little tendrils of fire singe the edges of her garbs. Any foe can see her coming, her fiery regalia makes sure of that. She always comes at the hour of midnight, smiling as though she's there to great an old friend. Then with the cold calculating of a vigilante she whispers to her sylestis, "Attack!"
Taptothebeat
Level 66
Ghost Writer
Joined: 1/12/2013
Threads: 198
Posts: 3,572
Posted: 8/19/2020 at 5:59 PM
Post #4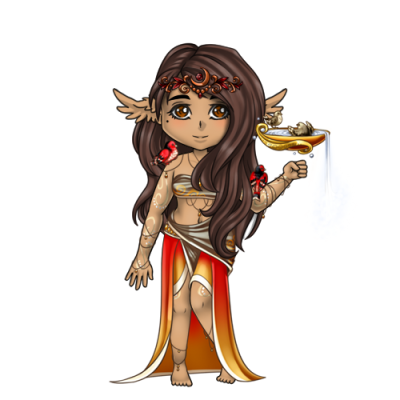 The bird watcher. Holds a bird bath to attract birds seeking relief from the desert summer heat.
Edited By Taptothebeat on 8/19/2020 at 6:00 PM.
Uieaoeia
Level 70
Guardian of the Realm
Joined: 2/8/2019
Threads: 51
Posts: 4,319
Posted: 8/19/2020 at 6:03 PM
Post #5
Galapagos Beachhoof
Galapagos is a humanoid summer dragon, part of the Oceasan tribe. He's not the last of his kind, but the tribe is naturally shy. Like most Oceasans, Galapagos hides and waits for summer. The bright sun feels good on his scales, and the water soothes him. It's a natural preference for his species.
The Oceasans are fond of the Lighira. Both species prefer summer over any other season. It's common to see Oceasans and Lighiras working together on various projects. That doesn't mean there's no conflicts. It's rare, but there's fights between the species!
When summer is in danger, his true power awakens. Galapagos can sense danger, and it's his instinct to protect summertime. His determination is high when fighting, and he'll do anything to save others. In fact, the Oceasans can sense eachother in danger. It's really handy when they're far apart!
Since he only comes out in summer, Galapagos isn't so open about his past. Therefore, not much is known about his background. You could get some answers out of the Oceasan, but it's unlikely. Well, that's all for now..
Apache
Level 37
Scout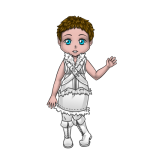 Joined: 11/9/2019
Threads: 116
Posts: 2,721
Posted: 8/19/2020 at 6:06 PM
Post #6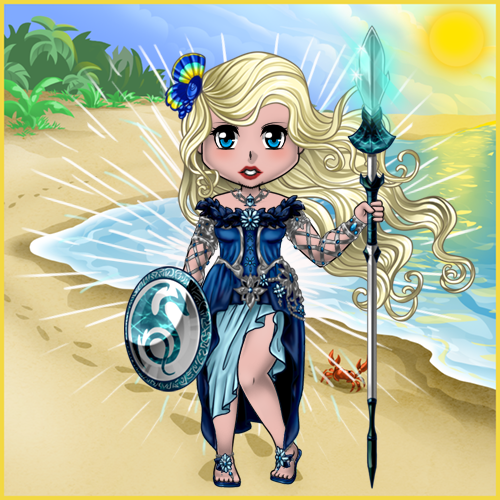 Nerissa Alexander is the only daugher of the sea king and has seven older brothers but a strange birthmark that threatens to over throw her father Neptune, Nerissa is also she is a rather gifted worrior trained by her father and apon completing her training she was gifted his sword and shield when she was eighteen but now at the age of twenty three years old Nerissa and her spirt animal viktor the azure lion have to journey to the land kingdom to save princess Georgiana Loveless from the tyrant sorcerer Maxwell who stole the princess in hops to marry her and take over her kingdom. Will Nerissa be able to save the princess and what happens when Nerissa falls for the princess and has to overcome not only the difficulty of love between two worlds but falling for another woman when princess Georgiana is engaged to Nerissa's oldest brother Appllo.
Scarlitskys
Level 70
The Kind-Hearted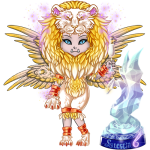 Joined: 7/31/2015
Threads: 51
Posts: 265
Posted: 8/19/2020 at 6:09 PM
Post #7


this has been the hottest summer in decades where I live, so I based this is avatar after the physically embodiment of what I feels like to live here.
Wolfpack2020
Level 68
Warden of Umbra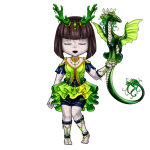 Joined: 2/10/2018
Threads: 89
Posts: 3,126
Posted: 8/19/2020 at 6:25 PM
Post #8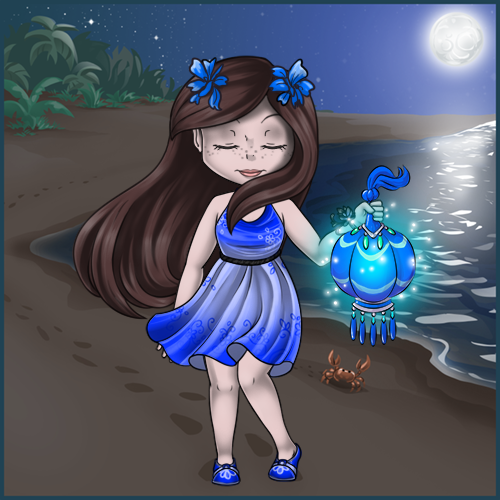 Ellie

Ever since Ellie was a little girl she's loved the beach, the water, the trees, the sand, even the smell of the water. Every summer when the moon was out she would walk down to the beach, lantern in hand and collects the most beautiful shells she can find. Ellie makes bracelets and necklaces with the little shells she collects and gives them to her friends. Her favourite nights to walk on the beach are when the moon is full, the waves are calmly lapping against the shore and the wind is blowing through her hair.
Edited By Wolfpack2020 on 8/19/2020 at 6:26 PM.
K1tten
Level 70
Spooky Shopper
Joined: 12/18/2016
Threads: 0
Posts: 27
Posted: 8/19/2020 at 6:30 PM
Post #9
Sandcastle Devil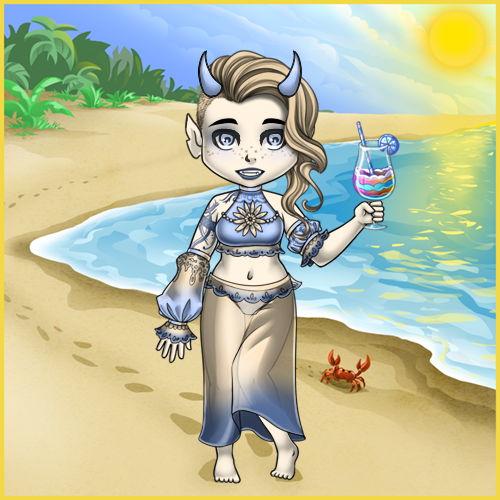 Remember when you were little? When on a hot summer's day, you'd find yourself at the beach? The waves crashing against the sand? Parents and children running around, the hot sun glaring down on you?

You'd be sitting on the beach, wondering what to do. A sand bucket and shovel, rested right beside you.

Your mind would spring into thought as you'd peer at the sand. A castle you could make would flow into your imagination. The intricate details you'd carve in. Perhaps you could get some water and surround your creation with a moat?

You'd spend minute after minute, getting to work on your creation and soon enough you'd find yourself pleased with the beautiful castle you created.

Just as you finished, you'd hear your parent or guardian call out "Y/N, come here, pick yourself out an ice cream and drink!"

Scurrying over to the vendor, you'd leave your sand castle behind. You'd only be gone a few minutes. It'd be fine.

Minutes later you'd return and find your sandcastle collapsed. The sand nothing but a gloopy mess. Convinced you made a weak base, you'd frown softly and sit down next to the destroyed castle you worked so hard on.

Why did this always happen? Why is it that only being gone for a few moments always resulted in your hard work destroyed? Was the base of your beautiful creation truly that weak?

What your eyes didn't catch was the girl amongst the crowd. A blue spade tail and horns to match adorning her body. Odd in human features. Blonde hair that just almost matched the sand she stood on, blue eyes so pale they seemed to look as if one was looking through shallow water. A drink in hand as she watched you, grinning at your misery.

She was a devil; a mischievous being, that always made those beautiful creations you made as a child fall to pieces and become a disheveled mess.

Taking joy in watching the disappointment others felt at their hard work having crumbled on those hot summer days.

A Summer devil that smashed not only sandcastles, but the pride of those who worked so hard on making them.
Edited By K1tten on 8/20/2020 at 12:19 PM.
Starline
Level 70
Cutely Creative
Joined: 3/14/2016
Threads: 92
Posts: 1,699
Posted: 8/19/2020 at 6:36 PM
Post #10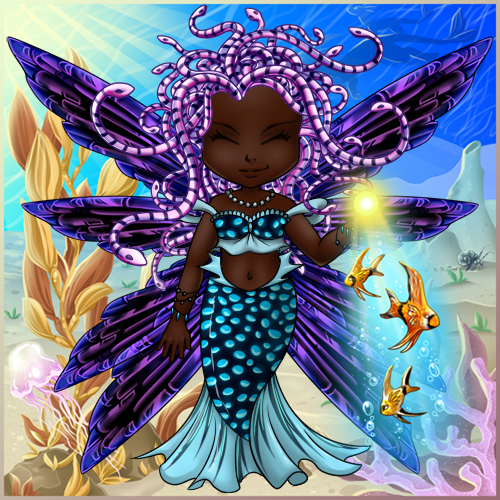 Swiming in the deep sea this avatar finds her joys playing with the sylvorpa all day, its a lovely summer adventure as she plays 'where are the fish' shining her little illusions across the ocean like little cat like lasor beams.. bouncing from wave to wave.
Go to Page:
1, 2, 3, 4, 5, 6, 7, 8, 9
Go to Top
This Page loaded in 0.020 seconds.
Terms of Service | Privacy Policy | Contact Us | Credits | Job Opportunities
© Copyright 2011-2020 Sylestia Games LLC.
All names and logos associated with Sylestia are Trademarks of Sylestia Games LLC.
All other trademarks are the property of their respective owners.
For questions, comments, or concerns please email at Support@Sylestia.com.