Overview
Stables
Hatchery
Inventory
Wardrobe
Referrals
Settings
Seasonal Festival
World Map
Generator
Breeding Grounds
Nurturing Grounds
Party
Task Log
Mission Log
Quest Log
Player Trades
Trade Broker
Currency Exchange
Eggling Auction
Pick A Door
Official Games
Un-Official Games
Jinxie's Jamboree
Festival Shop
Diamond Shop
Avatar Shop
Scale Shop
Inbox
Forums
Community Polls
Advanced Search
December 4th, 2020

286 Online
3:22 PM
Advanced Search
Active Players on Sylestia
Category
Total
Yesterday
Players
5,694
1,125
Sylestia Pet Data
Category
Total
Yesterday
Pets
6,033,013
2,147
Generated
451,733
428
Captured
931,842
197
Bred
4,649,438
1,522
Statistics updated daily at midnight
Recent Announcements
Thread
Posted
2020 Stocking Stuffer Nov 30 2020 Advent Calendar Nov 30 Introducing Pet Compan.. Nov 25 Black Friday Extravaga.. Nov 24 Fall Festival Overview Oct 28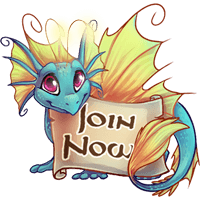 Forum Index > Official Games and Contests > 2020 Summer Festival - Avatar Dress Up
Page 6
1, 2, 3, 4, 5, 6, 7, 8, 9
Go to Page:
Author
Thread Post
Penumbra
Level 70
Stocking Stuffer
Joined: 3/27/2017
Threads: 225
Posts: 3,124
Posted: 8/25/2020 at 7:18 AM
Post #51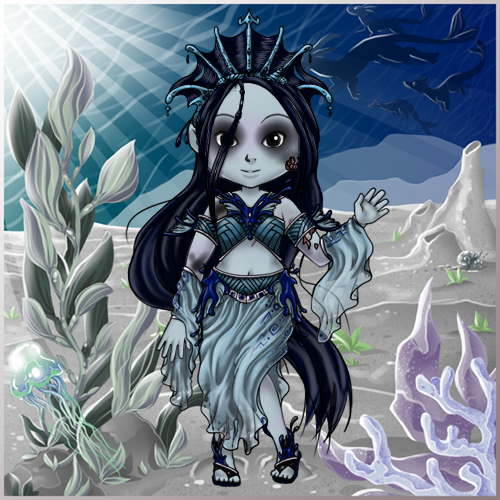 When a sailor dies on a full moon during a stormy night, a ghostly figure appears to give them a bargain. They can choose a slow, helpless death by drowning, or incredible, terrifying power for their soul. Those who choose to give away their soul fall under the sway of Vesi Noita, who commands her legions of souls to drag sailors into the sea. Some become sirens, luring with their beautiful voices, or dread souls, creatures who wait under the water for unlucky swimmers and fishers.
Edited By Penumbra on 8/31/2020 at 11:05 AM.
Crowoverlord
Level 70
Corporal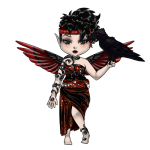 Joined: 7/23/2016
Threads: 51
Posts: 391
Posted: 8/25/2020 at 1:43 PM
Post #52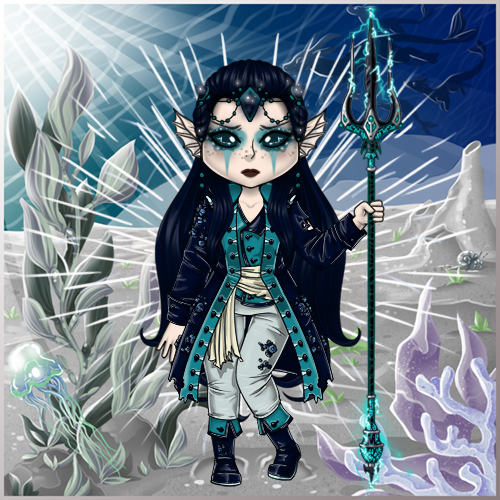 Still working on writing my story
Absoluteinsanity
Level 70
Gingerbread Architect
Joined: 7/14/2014
Threads: 43
Posts: 883
Posted: 8/26/2020 at 2:23 AM
Post #53


"Oh hello, hi! Hi there! Welcome to Sunset Beach!
My name is Selicia Reif, official beach greeter! Well, technically just a volunteer but maybe one day I'll be part of the staff. Anywaaaaay, can I get you anything? Coffee? Tea? Hot towel? Oh! Maybe you'd like to try some of the local cuisine?? This here is Jellyfish Flambe! It's pretty, um, good once you remove the stingers! And put out the fire of course, wouldn't want to burn the roof of your mouth! No? Okay, well, enjoy the beach! Please let me know if you need anything else!!"
Dinkyrabbit
Level 70
The Tender
Joined: 5/27/2020
Threads: 9
Posts: 81
Posted: 8/26/2020 at 2:55 AM
Post #54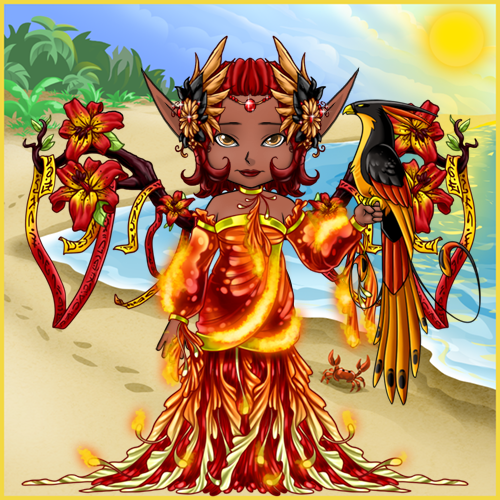 Lady of the sun.

She who guides the transition from spring to summer and makes sure that nature thrives in this season. Her loyal pet helps her with this by keeping a watchful eye over Sylestia.
Orcastration
Level 70
The Fortuitous
Joined: 11/1/2018
Threads: 285
Posts: 32,080
Posted: 8/28/2020 at 1:41 AM
Post #55
Hopefully no one took this one I didn't have time to check.....

introducing..the one...the only....



Orca-Fin-A!!!!!!!!!




A mysterious singer from the depths of the sea, Orca-Fin-A is, in short, a celebrity among fish-kind. her looks have much to be desired, yes, but her voice and talent and the mystery she shrouds herself in eclipse this mall factor.

You need only venture to the edge of the reefs where she dwells to her her voice calling out to anyone who wil hear to enjoy her music....
Edited By Orcastration on 8/30/2020 at 1:20 AM.
Xedite
Level 70
The Kind-Hearted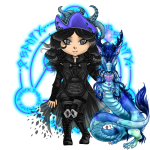 Joined: 12/16/2019
Threads: 43
Posts: 3,787
Posted: 8/28/2020 at 3:17 AM
Post #56
The Driftwood Woman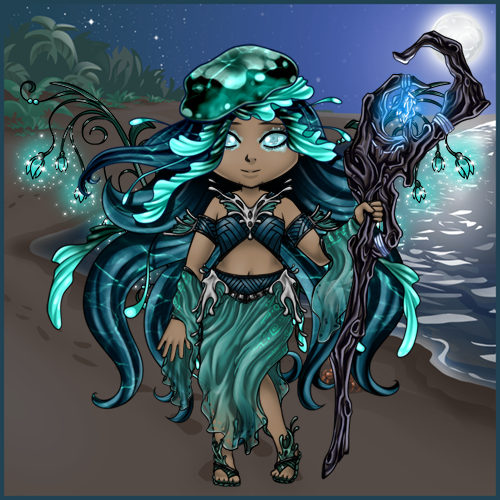 On cool, summer nights, rumors say if you dare tread the eastern shoreline of Esior's Cove, you will find yourself across the path of a strangely enigmatic woman seemingly made of kelp, magical seaside flowers, and tree bark. No one is quite sure where she has come from or what she wants, but she spends the evening with toes dipped in the salty water and her hands clutching dearly to a bark staff while she quietly hums a sad hymn to the roaring ocean.
Edited By Xedite on 8/28/2020 at 3:21 AM.
Raika
Level 70
The Fortuitous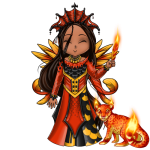 Joined: 1/1/2020
Threads: 7
Posts: 123
Posted: 8/28/2020 at 9:55 AM
Post #57
Volcanasi
An ebony skinned volcanic spirit clad in light garments of reds and yellows, with wings made of magma across her back, the mischievous Volcanasi spends her summer days causing small eruptions to spook the many tourists that visit her lush island home of Varasu far off the coast of Esior. Although she enjoys causing a spectacle, she herself is rarely seen, only once or twice having been spotted walking along the cost at midnight accompanied by a sea serpent with colors akin to her own, and, after realizing she had been noticed, Volcanasi promptly vanished in a cloud of dark gray smoke. Oftentimes however tourists will be able to see smaller sea serpents flitting around just below the waters surface on the coasts of the island. At night especially large swarms of them can be seen, illuminating the sea in bright reds and yellows, a phenomenon referred to by locals as Volcanasi's tide.
Edited By Raika on 9/4/2020 at 10:16 AM.
Kittyauthor
Level 70
Trickster
Joined: 5/22/2018
Threads: 66
Posts: 2,857
Posted: 8/30/2020 at 1:40 PM
Post #58


The Protector of Summer

When summer comes, she has won.

You're out tonight. The summer breeze tickles your skin, the fireflies blink in and out, the stars shimmer brightly in the dark blue sky. The smell of the ocean, the tickle of sand, the sweet, sweet sound of cicadas. You close your eyes to soak it all in.
Then, you hear it. The humming.
You open your eyes and see her. Her hair sandy, her clothes moving slightly with the breeze, her scythe glowing gold, the color of summer after the rain. You gasp and take a step back.
"Dear?" she asks. She looked at you with her cloudless summer sky eyes. "Are you alright, my dear? You look like you've seen a ghost."
"Are you death?" you blurt out, backing away from her.
"Why, no. I'm the Protector of Summer. I keep the winter spirits at bay," she says.
"Winter spirits?"
"Yes, they wish to have winter here year long. I can only keep them back until winter, then I must go and let the Protector of Winter take over." She looks off in the distance. "But I will go and leave you to enjoy it for now." And she walks away, swinging her scythe, humming her little tune.
Ohanastitch092
Level 70
The Sweet Tooth
Joined: 3/3/2018
Threads: 19
Posts: 454
Posted: 8/30/2020 at 8:40 PM
Post #59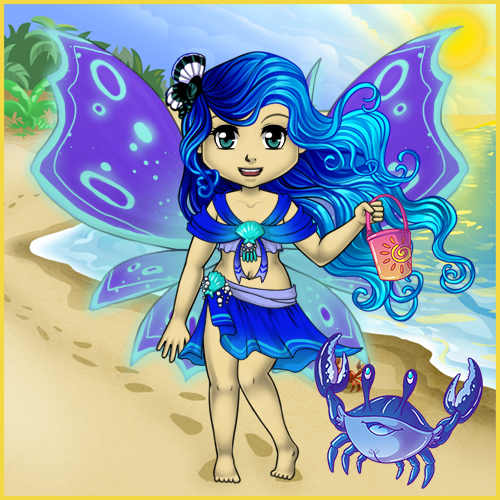 This is Sylvi, a young faerie. She is playing on the sunny beach with her pet crab, Pinch. They love searching for shells and making sandcastles together.
Jolynnnarry
Level 60
The Kind-Hearted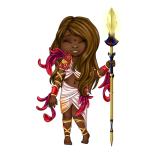 Joined: 5/29/2019
Threads: 54
Posts: 3,991
Posted: 8/31/2020 at 1:23 PM
Post #60


This Is Lola The Sun Gaurd She Gaurds The Sun Gods And Lives In The Sun Palace She Only Adopts Sun Pets And If She Does Adopt Any Other Element Pet She Must Turn It To Sun To Keep It Her Pets Are Part Of Her Who Keeps Her Powers Safe :>
Edited By Jolynnnarry on 8/31/2020 at 1:46 PM.
Go to Page:
1, 2, 3, 4, 5, 6, 7, 8, 9
Go to Top
This Page loaded in 0.021 seconds.
Terms of Service | Privacy Policy | Contact Us | Credits | Job Opportunities
© Copyright 2011-2020 Sylestia Games LLC.
All names and logos associated with Sylestia are Trademarks of Sylestia Games LLC.
All other trademarks are the property of their respective owners.
For questions, comments, or concerns please email at Support@Sylestia.com.