Formerly known as Sylestbane
Roughly 2mil worth of qits to buy from Rixva (18584)
Any themed pet not being used for a project (almost everything except for the qits) are available for breeding. PM if you plan on breeding for a project and I'll reserve them for you. ^^
This is Lightning Storm!
Thunder and lightning swarm,
I feel the heat so warm.
His steady breath and form
compose the perfect storm.
He will not conform,
Nor will he perform,
But he will transform,
Into my own Lightning Storm!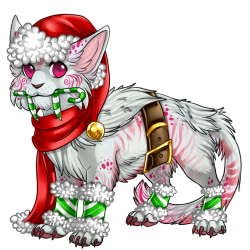 This is my Cherry Berry!
She's unusually merry?
Can she ride the ferry?
She's too heavy to carry!
She can catch a fairy,
and she loves her dairy.
My little Cherry Berry!
First Lost Grove egg find, legendary kelp! *.*
https://www.sylestia.com/view/pets/?petid=5866832
Mythical Lost Grove Cave Vulnyx I caught!
1 - Username is Danibane so you can call me Dani or Bane.
2 - I do not accept random friend requests. I'd prefer to chat or do business with you first.
3 - I love to talk. PM me if you ever wanna talk. I only ask that you don't just PM me saying nothing but "Hi" as I find that a little irritating.
4 - Cats are my favorite real world animals, then horses and dogs.
5 - Favorite colors are black, red, and blue.
6 - Favorite food is chocolate, just chocolate...maybe some caramel...
7 - I like guns and pocket-knives. Warning: Don't stalk me and trespass on my property. You will be shot...or stabbed...or tazed...or clubbed with a baseball bat...or shredded by car keys... xD JK, I'm friendly. I promise!
8 - I'm a girl. 21 yrs old, by the way, I hate alcohol. It tastes terrible! Why do people drink this stuff? Mom, Dad, you need not worry about me getting drunk. >.< That stuffs nasty!
9 - I love writing and forensics.
10 - STAR WARS FAN! Favorite character is Kanan Jarrus...Kenobi too
11 - Criminal Minds is my favorite TV show. Dr. Reid is my favorite character.
12 - Favorite sylesti pets (in order) are - Qitari and Kelpari (the ponies). Lupora and Vulnyx (puppies and kitties), Zolnixi (foxes), and Ny'vene (dragons). Other species I really only keep if I really like them.
13 - I only keep themed sylesti pets, generated pets, or pets that are special to me.
14 - I love to read. Generally fantasy, adventure, mythological, magic, etc.
15 - I have an older-by-5-minutes identical twin sister, an 8-year-younger sister, and a nineteen-year-younger little brother. Writing it like this means I don't have to update their ages xD just mine!

16 - I am currently dating my first boyfriend, going steady for 1yr 8mo+, starting to hope that he's the one...he's just so wonderful! Treats me like a princess! <3
17 - I've taken four semesters of college and have an associate's degree in science. I'm currently taking a semester off to help with family and then I'll be going back for a bachelor's degree, hopefully in forensics.
18 - I would love to become a well-known author someday.
19 - I would love to work in a FBI lab someday.
20 - Why are you stalking me?