Overview
Stables
Hatchery
Inventory
Wardrobe
Referrals
Settings
Seasonal Festival
World Map
Generator
Breeding Grounds
Nurturing Grounds
Party
Task Log
Mission Log
Quest Log
Player Trades
Trade Broker
Currency Exchange
Eggling Auction
Pick A Door
Official Games
Un-Official Games
Jinxie's Jamboree
Festival Shop
Diamond Shop
Avatar Shop
Scale Shop
Inbox
Forums
Community Polls
Advanced Search
September 24th, 2021

72 Online
2:09 AM
Advanced Search




Active Players on Sylestia
Category
Total
Yesterday
Players
3,184
598
Sylestia Pet Data
Category
Total
Yesterday
Pets
6,591,926
1,206
Generated
500,423
17
Captured
1,003,147
58
Bred
5,088,356
1,131
Statistics updated daily at midnight
Recent Announcements
Thread
Posted
IP Safeguard Changes Sep 23 Lost Grove Training Gr.. Sep 22 Avatar Hair Update Sep 22 Labor Day Diamond Sale.. Sep 2 New Avatar Outfit Cate.. Aug 22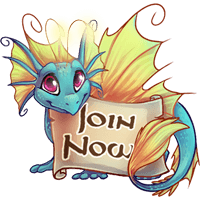 Forum Index > Official Games and Contests > 2021 Summer Festival - Avatar Item Desig...
Page 1
1, 2, 3, 4, 5
Go to Page:
Author
Thread Post
Krinadon
Level 70
Guardian of the Realm
Site Administrator
Joined: 12/17/2012
Threads: 903
Posts: 12,970
Posted: 5/15/2021 at 3:09 PM
Post #1
Hello everyone! We will be holding an Avatar Item Design contest for the 2021 Summer Festival! Please make sure to read the rules carefully!




Rules



1. Design an Avatar Outfit for the Summer Festival. Please use the following bases to draw your avatar items on.

Male Avatar Base
Female Avatar Base

The following can be included all in one entry for avatars:

1-3 Avatar Held Items
1 Avatar Outfit
1 Avatar Head Item
1 Avatar Back Item
1 Avatar Wings
1 Avatar Background Item

2. You must draw the items on the avatar base. In case your drawing skills aren't great then along with your drawing you can include a description to better help us envision your avatar items. If you are unable to draw something, then I am sorry, there will be no exceptions.

3. Avatar Items submitted must be Summer Themed. This means anything to do with the season, such as any holidays that occur within the season, weather, etc.

4. Please do not reserve posts. If you reserve a post I will delete your post.

5. Please do not Ping me with your submission. Please only Ping me if you have a question.

6. Before submitting your entry please make sure to scan the thread to see if someone else has done something similar. Try to make your entry unique and if someone has already done something that you were wanting to do...then I highly suggest you pick something different. If you feel someone has "copied" your design, do not say anything to that person - especially in this thread.

7. You may only submit ONE official entry. If you wish to submit more then you can send me a PM with drawings of your avatar item ideas. However, all PMed entries that are sent to me will not count for prizes.

8. The end date is June 20th, 2021 at 11:59 PM server, after that, there is no guarantee that we will see your entry and the thread will be locked once designs are picked.



Note



I am very aware that it's typical to use google to search for ideas when designing things. However, it is extremely important that if someone happens to be referencing another person's artwork, it should not be possible to google it and find exactly what was used as a reference. Please make sure to change it enough and be creative enough that you're making it your own design. This is extremely important not just for ethical reasons but also for legal reasons when we're implementing something onto our site. Thank you! =)



Prizes



All entries that are picked will have their avatar items created and be given one free copy of the submitted items as well a [Peerless Avatar Token]. Everyone that participates will also receive a participation prize that will include various Festival Supplies.

Don't comment on someone's entry unless you have something nice to say. If someone copies your entry then have faith in us that we will determine the correct winner. Please do not fight over entries, if I see anyone doing this in the thread then whoever is fighting will be disqualified.


All Participants
With valid submission

Prizes: [Fabled Seed Pouch] x1, [Premium Fertilizer] x2, [Box of Sculpting Supplies] x1, [Box of Sculpting Agents] x2, [Decorated Eggs] x500
Edited By Krinadon on 9/11/2021 at 2:36 AM.
SpringyandBluefire
Level 62
Corporal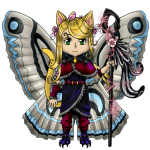 Joined: 12/23/2018
Threads: 8
Posts: 53
Posted: 5/15/2021 at 6:54 PM
Post #2
Would eyes count as a head item? Bc I might have an idea for that
Xedite
Level 70
The Perfectionist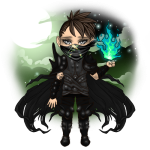 Joined: 12/16/2019
Threads: 52
Posts: 3,949
Posted: 5/15/2021 at 7:40 PM
Post #3
Resubmitting ideas of mine from last year with some theme/art changes. Noticed Sylestia has a pretty strong lack of basic items and I wanted some more 'normal' clothing options on site so.. I made a surfwear inspired outfit.
I know there's some beachwear outfits on site already, but they are far from gender neutral and a dress isn't exactly the first thing I think of when I think of beach loungewear.

Besides sporty stuff can be cool too. :p

Female:


Head item: Mirrored Sunglasses/Aviator Sunglasses
Outfit item: Surftreader Ensemble/Simple Surfwear
Back Item: Beach Bag
Held: Fishing Rod
Wings: Surftreader Board/Simple Surfboard

(Working on the male, wanted to submit this while I make dinner so I don't forget to)

Male:
Head: Mirrored Sunglasses/Aviator Sunglasses
An alternate design option if you're not too keen on having other facial glasses-type items on the face.
Outfit: Surftreader Ensemble/Simple Surfwear
Back Item: Beach Bag
Wings: None
Held: Fresh Catch
Meant to be a freshly caught fish :)
Background: Island Escape
I'm a fan of more simple backgrounds and I love island themed things so I made a island beach with a palm tree, a view of the ocean, and seashells.

Edited By Xedite on 5/16/2021 at 1:56 AM.
Torey
Level 70
Sylestiologist
Joined: 12/29/2017
Threads: 51
Posts: 508
Posted: 5/15/2021 at 8:11 PM
Post #4
Bug Catcher Overalls
They're meant to look cute and doll-like



Back items are glowing fairies
Held item is a butterfly net and pet bug(Weevil?) with a leaf cape
Perhaps a freckle body tattoo as well?

Additional color scheme based on Raggedy Ann and Andy dolls:



Background:

Edited By Torey on 6/9/2021 at 1:10 AM.
Mysticfoxwolf
Level 39
Fancy Pants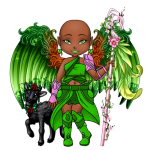 Joined: 3/2/2021
Threads: 22
Posts: 373
Posted: 5/15/2021 at 9:20 PM
Post #5


My inspiration for the pair of wings was the sun during the summer. I tried to make it look like sun rays were coming out from the back of the avatar model.

The crown is also inspired by the sun and has "sun runes" as I call it, running through, along with large yellow gems. The crown's base is intended to be gold, since I want the crown to be solid.

The dress is a long, white, light, cotton dress with gold and yellow accents, also with a gold belt (Or whatever it's called) with sun runes. It also has a small gold bead necklace with a locket, containing another bright yellow jewel that comes with the outfit on the female version. On the male version, white and yellow sandals are visible.





This is basically a sun staff. It has several balls of light and the sun on the staff is glowing.
*I took off the wings so you could see it better



Again, this is inspired by the sun. The bow and arrow are glowing yellow, and the arrow has yellow runes under the glow.



Finally a non-sun themed item, a beach ball.

For the back item, I made a mermaid silhouette.



And lastly, the background. I decided to make a standard undersea picture, with some seaweed and coral on the sand, with some silhouettes of animals in the distance.

I hope you like it!
Edited By Mysticfoxwolf on 5/16/2021 at 1:34 PM.
Godiva
Level 70
The Sweet Tooth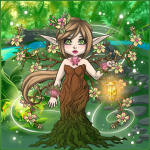 Joined: 10/24/2016
Threads: 45
Posts: 1,849
Posted: 5/15/2021 at 11:14 PM
Post #6
Firefly Costume / Lighning Bug Costume / Glowworm Costume

Held: Jar of Fireflies / Jar of Lightning Bugs / Jar of Glowworms
Outfit: Firefly Costume / Lightning Bug Garb / Glowworm Shell
Head: Firefly Antennae / Lighning Bug Antennae / Glowworm Antennae
Back: Firefly Glow-butt / Lightning Bug Glow-butt / Glowworm Glow-butt
Wings: Firefly Wings / Lightning Bug Wings / Glowworm Wings
Background: Firefly Forest Background / Lighning Bug Background / Glowworm Wood Background

Esc890
Level 70
Majestic Brewmistress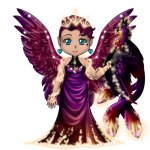 Joined: 10/8/2020
Threads: 82
Posts: 3,018
Posted: 5/16/2021 at 1:24 PM
Post #7
Yours is really cool!!!
Hiraeth
Level 70
The Perfectionist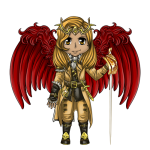 Joined: 7/14/2015
Threads: 111
Posts: 1,684
Posted: 5/16/2021 at 9:11 PM
Post #8
Back with my wonderful artistry! xD


Seashell Seeker's Attire! AKA Pseudo-Mermaid AKA Sea Deity
So the skirt is sequin-y scaly fabric type thing. Maybe some color variants have gradients? All the pink is seashells. The back item is like wavy seaweed, and the background (or alternate back) is fish.
Two types of possible helds are sea dragons hugging rocks, and a trident type thing.
Head items are: displayed on female; seashell clip (can be long or short?) and seashell crown (once again can be long or short)
Think sparkly, because I got lazy. Again. :3

List of items:
Seashell Seeker's Sea Dragon
Seashell Seeker's Trident
Seashell Seeker's Hairclip/Crown (Long/Short)
Seashell Seeker's Attire
Seashell Seeker's Seaweed (or Friendly Fish)
Cuddlybunny102
Level 66
Master Egg Hunter
Joined: 12/4/2020
Threads: 45
Posts: 731
Posted: 5/17/2021 at 7:55 AM
Post #9
Here is my design!

This site here(Click the words)

Head: Clingy Sloth Baby. A little sloth baby that is clinging to your head :3 Does not override hair.
Held: Friendly Sloth. A sloth that clings to our arm when your holding it's yummy leaves.
Back: Shy Sloth. A sheepish sloth that is clinging to your back and hiding behind you
Wings: Sloth Picnic Wings. A set of folded down(or open could be a variation) leaf wings that the sloths love!
Outfit: Sloth Time Outfit. A colorful t-shirt that says "Summer Vibes, Sloth Times" on it(Color can be a variation) worn with a pair of jean shorts and a set of flipflops.
Sunagakure
Level 70
Ghost Writer
Joined: 6/6/2018
Threads: 10
Posts: 529
Posted: 5/17/2021 at 11:24 PM
Post #10
Hawaiian Water Spirit


Will update later
Go to Page:
1, 2, 3, 4, 5
Go to Top
This Page loaded in 0.018 seconds.
Terms of Service | Privacy Policy | Contact Us | Credits | Job Opportunities
© Copyright 2011-2021 Sylestia Games LLC.
All names and logos associated with Sylestia are Trademarks of Sylestia Games LLC.
All other trademarks are the property of their respective owners.
For questions, comments, or concerns please email at Support@Sylestia.com.