Overview
Stables
Hatchery
Inventory
Wardrobe
Referrals
Settings
Seasonal Festival
World Map
Generator
Breeding Grounds
Nurturing Grounds
Party
Task Log
Mission Log
Quest Log
Player Trades
Trade Broker
Currency Exchange
Eggling Auction
Pick A Door
Official Games
Un-Official Games
Jinxie's Jamboree
Festival Shop
Diamond Shop
Avatar Shop
Scale Shop
Inbox
Forums
Community Polls
Advanced Search
October 26th, 2021

51 Online
3:11 AM
Advanced Search




Active Players on Sylestia
Category
Total
Yesterday
Players
3,227
542
Sylestia Pet Data
Category
Total
Yesterday
Pets
6,641,088
2,175
Generated
500,919
8
Captured
1,005,550
106
Bred
5,134,619
2,061
Statistics updated daily at midnight
Recent Announcements
Thread
Posted
Lost Grove Ancient Tem.. Oct 22 Lost Grove Diamond Sal.. Oct 9 Lost Grove Update Sep 26 IP Safeguard Changes Sep 23 Lost Grove Training Gr.. Sep 22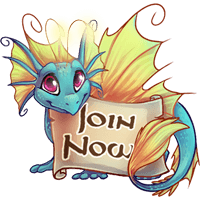 Forum Index > Official Games and Contests > 2021 Spring Festival - Avatar Dress Up
Page 4
1, 2, 3, 4, 5, 6, 7, 8
Go to Page:
Author
Thread Post
Mysticfoxwolf
Level 39
Fancy Pants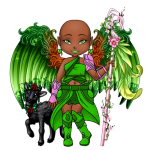 Joined: 3/2/2021
Threads: 22
Posts: 373
Posted: 5/14/2021 at 10:18 AM
Post #31
Aviva


Her name is Aviva, although informally, people just call her April. She harnesses the great power of pollen, nature, and spring, gifted to her from the flowers. When there is danger, the legends say the lilies chirp to her, warning about the upcoming threat. Her mother died when giving birth to Aviva, and being the youngest of her six siblings did not work out well. That was when she ran away, into the wilderness. The plants had watched her, and gifted her many things. Courage, strength, this was even the time she got her powers. But they forgot one thing. Happiness. She made a secret garden, where she controls the life cycle of plants and animals. She knows she is surrounded by lovely things, but can't enjoy them. Overtime, she's adjusted though. She still has a tingle of sad now. But not much.
Edited By Mysticfoxwolf on 5/14/2021 at 10:25 AM.
Ciel44
Level 41
The Kind-Hearted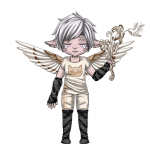 Joined: 8/27/2016
Threads: 11
Posts: 79
Posted: 5/14/2021 at 11:50 AM
Post #32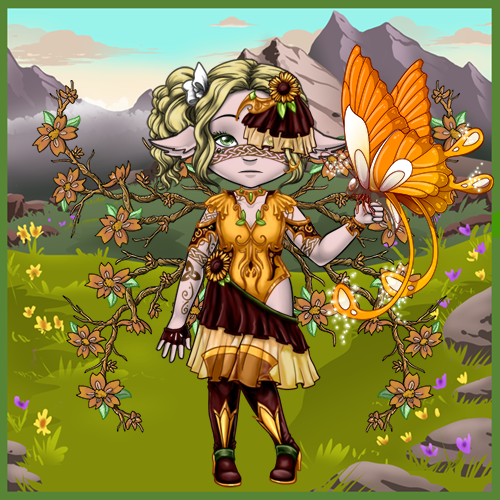 The comer of spring and gatherer of natures critters. Her gentle touch calls all near her with warmth and happiness.
Skyesylversylestia
Level 54
Joined: 1/6/2021
Threads: 5
Posts: 47
Posted: 5/14/2021 at 12:14 PM
Post #33

The Moon Spirit

She comes out at midnight, at the first day of spring. No one knows what she is or how she came to be. She is neither evil nor good, and appears to have some kind of connection with Luporas.
------------------
She is always accompanied by one of these Sylesti.


Moon


Dawn


Midsummer
Thisis100%completelyoptionaljustignorethisididthosepetsforfun
Grar
Level 70
Trickster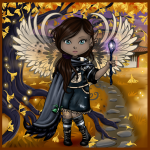 Joined: 6/20/2016
Threads: 6
Posts: 115
Posted: 5/14/2021 at 7:11 PM
Post #34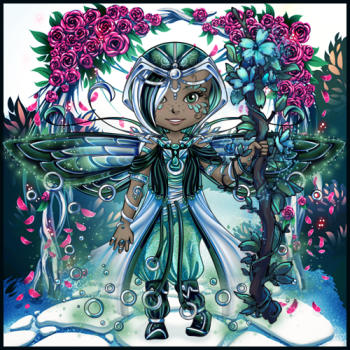 Traveller, you look like you're lost. Where did you come from?
You tripped into a ring of mushrooms, and don't know where you are? My, that sounds frightening. Perhaps you hit your head.
In any case, let me get you inside. A hot meal is sure to help with your exhaustion...
Come along, and before I forget, may I have your name?
Yamii
Level 62
Trickster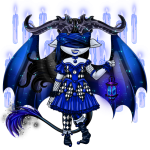 Joined: 10/14/2019
Threads: 151
Posts: 4,843
Posted: 5/14/2021 at 10:21 PM
Post #35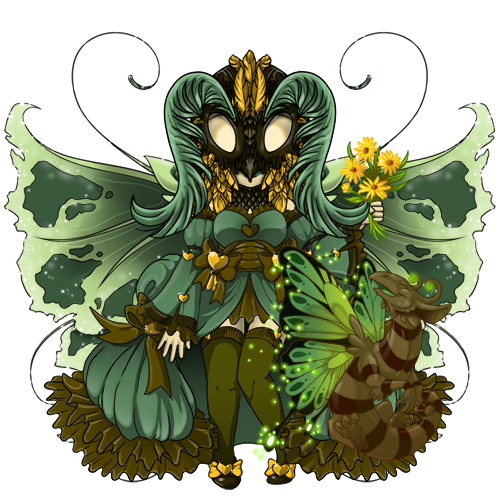 The Guardian of Nature, a protector against monsters, humans, and more. She watches from the trees, streams, and rocks...
Torey
Level 75
Crystalline Cleaver
Joined: 12/29/2017
Threads: 51
Posts: 514
Posted: 5/14/2021 at 11:44 PM
Post #36
Sylvan the Sneezy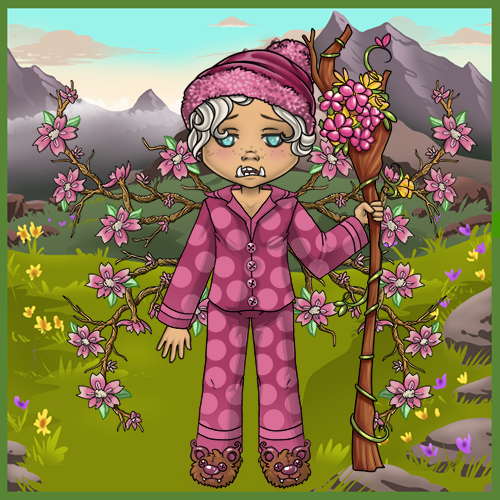 ~The Spring air is warm and breezy~
~I just wish it didn't make me sneezy!~



I love spring and being outside after a harsh winter, but there's always so much pollen that I spend the whole day sniffling and sneezing. Makes me want to curl up and go back to hibernating. Just wake me up before Halloween!
Edited By Torey on 5/18/2021 at 11:46 PM.
Reynaleera
Level 64
Frosty Hands
Joined: 5/24/2017
Threads: 87
Posts: 528
Posted: 5/15/2021 at 1:12 AM
Post #37
Spring Goddess Rhyni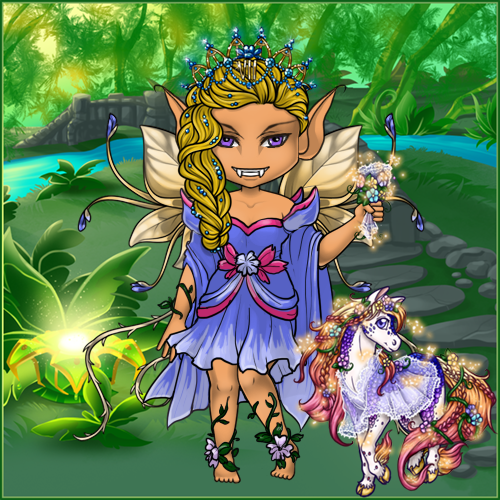 Rhyni is the Goddess of Spring, Fertility, and Life.. Each spring a very excited Rhyni flutters about using her special born gift to encourage the spring flowers to bloom. She is always accompanied by her faithful companion, Roisin (ro-sheen), who's name means 'Little Rose'. Together the bring warmth and life back to the world after a long dead and cold winter.
Dorcharose
Level 37
Fancy Pants
Joined: 9/3/2018
Threads: 6
Posts: 227
Posted: 5/15/2021 at 10:48 AM
Post #38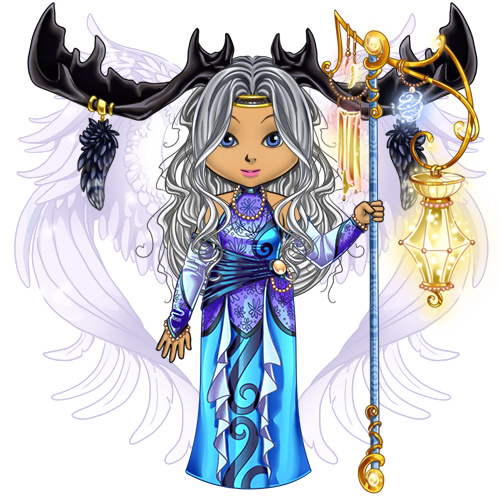 this is the goddess of spring,her name has been forgotten by time, but everyone can recognize her face. she represents the cool waters of the springs that feed the new crops, and the cool breeze that rustles the budding flowers. she is a kind goddess, a protecter of the young and new. but as kind as she is, she can also be harsh; pummeling the land with feirce thunderstorms and showering them in rain should something anger her enough. but, once the storm is over and her anger has faded, the storm will pass and the sun will come out once more, bathing the earth in her love once more.
Edited By Dorcharose on 5/15/2021 at 10:49 AM.
Nalar
Level 24
The Kind-Hearted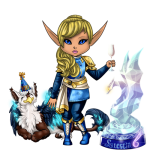 Joined: 4/15/2018
Threads: 3
Posts: 257
Posted: 5/15/2021 at 11:10 AM
Post #39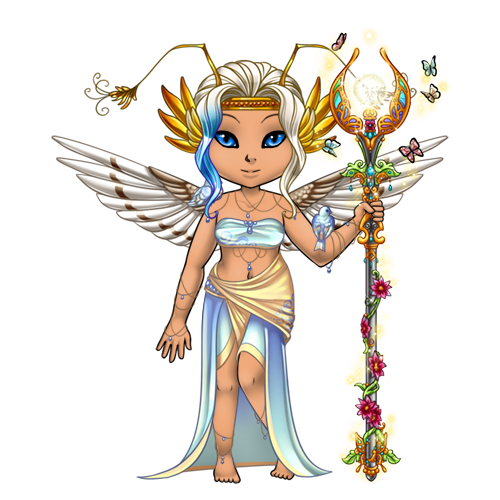 Oralie is the embodiment of all things spring; wherever she walks, flowers bloom. when she sings, animals gather to listen. and when she cries, it rains. she spends all of spring erasing the cold, bitter bite of the previous winter, making flowers bloom, bringing rain to the earth and making crops sprout. and when her job is done, and spring turns to summer, she will retire to her spot by the lake no one can find, the eternal spring where she tends to her own crops and flowers.
Stringworms
Level 66
The Tender
Joined: 12/13/2020
Threads: 99
Posts: 3,089
Posted: 5/15/2021 at 11:48 AM
Post #40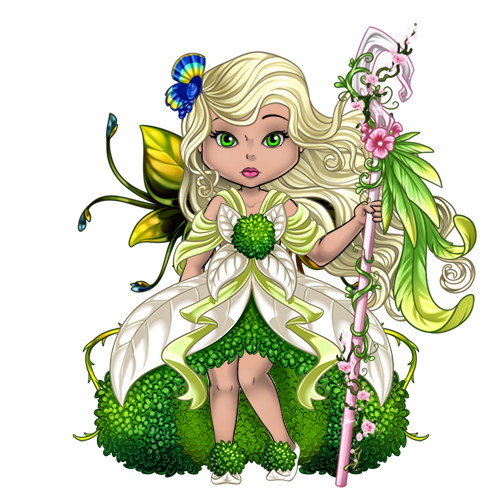 Ariella is the spirit of spring, the one who makes the flowers bloom and brings life back to the once barren areas. she brigns april showers to the lands, making crops grow and providing life to a once dead, snow covered land.
Go to Page:
1, 2, 3, 4, 5, 6, 7, 8
Go to Top
This Page loaded in 0.015 seconds.
Terms of Service | Privacy Policy | Contact Us | Credits | Job Opportunities
© Copyright 2011-2021 Sylestia Games LLC.
All names and logos associated with Sylestia are Trademarks of Sylestia Games LLC.
All other trademarks are the property of their respective owners.
For questions, comments, or concerns please email at Support@Sylestia.com.