Home
Overview
Stables
Hatchery
Inventory
Wardrobe
Referrals
Settings
Seasonal Festival
World Map
Generator
Breeding Grounds
Nurturing Grounds
Party
Task Log
Mission Log
Quest Log
Themed Pet Codex
Player Trades
Trade Broker
Currency Exchange
Eggling Auction
Pick A Door
Official Games
Un-Official Games
Jinxie's Jamboree
Festival Shop
Diamond Shop
Avatar Shop
Scale Shop
Inbox
Forums
Community Polls
Advanced Search
December 9th, 2022

127 Online
1:04 AM
Advanced Search




Active Players on Sylestia
Category
Total
Yesterday
Players
3,279
692
Sylestia Pet Data
Category
Total
Yesterday
Pets
7,465,200
2,285
Generated
580,115
284
Captured
1,105,203
115
Bred
5,779,840
1,886
Statistics updated daily at midnight
Recent Announcements
Thread
Posted
PSA: Harassment and Bu.. Dec 5 2022 Stocking Stuffer Dec 1 2022 Advent Calendar Dec 1 New Feature: Trait Ext.. Nov 22 Black Friday Extravaga.. Nov 22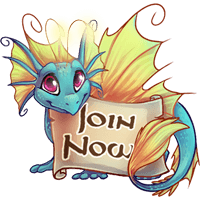 Forum Index > Official Games and Contests > 2022 Fall Festival - Avatar Dress Up
Page 3
1, 2, 3, 4, 5
Go to Page:
Author
Thread Post
XxAniraxX
Level 75
The Sweet Tooth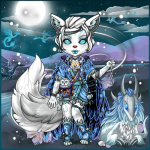 Joined: 7/24/2013
Threads: 52
Posts: 892
Posted: 10/28/2022 at 5:30 PM
Post #21
}

At the strike of one,
you may join the fun,
for this cant be delayed.

their name spoken,
and an offered token,
where they were once betrayed.

jolly laughter,
undead banter,
as all join in the graveyard parade.
Itgoeslikethis
Level 65
The Artistic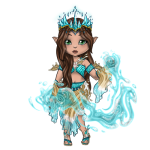 Joined: 4/23/2021
Threads: 17
Posts: 236
Posted: 10/29/2022 at 1:31 AM
Post #22


A spirt that has been given the task of allowing the spirits to cross over to our world for one night a year, Halloween. Allowing them to haunt and scar any foolish mortal they wish.With this ability the powerfu mgaic they have been exposed to has altered there apperance. Given them the form of several different animals.
Angelzrulez
Level 75
Hand of Destiny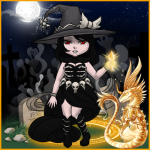 Joined: 1/9/2014
Threads: 25
Posts: 1,856
Posted: 10/29/2022 at 1:51 AM
Post #23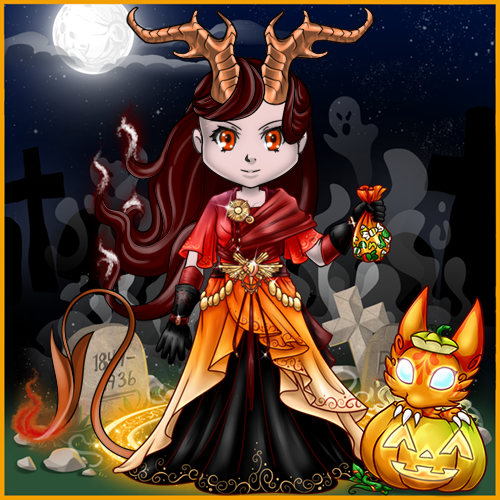 This demon and her ryori companions are known for playing hide and seek in the graveyard on cool October nights.
Shadowized
Level 75
Leaf Bender
Joined: 10/26/2018
Threads: 75
Posts: 1,409
Posted: 10/29/2022 at 11:20 AM
Post #24


Withered Rose
A love story from long, long ago
Filled with endless pain and sorrow
A handsome beau lay hurt and dying
Clutching a rose as he sobbed, crying
"My love, forgive me, it's too late..
This is it, my dreadful fate
Alas this rose for you I found
My soul forever more be bound
So that you may know my heart
The love I have as I depart"
And with that, he lay there dead
The rose landing softly beside his head.

Hours to days until a week had past
In the shadows his body lay cast
When who approached but his lady fair
Filled with heartache and despair
With a gasp she spied her beau
And fell to her knees in woe
There she found a withered rose
She gently brushed it against her nose
He still loved her, she felt it was true
Despite the distance between the two
As if it were a well aimed knife
Her broken heart then took her life

Now it is said every hallows night
When the vail is thin, the timing just right
A lady fair just might appear
Clutching a withered rose most dear
Searching endlessly for her beau
Looking everywhere, to and fro
Unknowing that her form he follows
Along the tree line and in the hollows
A haunting spirit of animalistic form
His heart still broken, hurting, and torn
Hoping for a chance to expose
The manifestation of a withered rose

https://www.sylestia.com/forums/?thread=104223&page=5#48
This is lady fair that matches my spooky pet.
Edited By Shadowized on 10/29/2022 at 11:26 AM.
Mythnomer
Level 75
Omniscient Gardener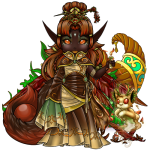 Joined: 6/2/2018
Threads: 28
Posts: 432
Posted: 10/29/2022 at 12:29 PM
Post #25


Lady Valora roams the sky's during the twilight looking for burdened souls to pull back into her void home where they are forever trapped reliving their mortal sins. The energy given off as they relive these provide the sustenance needed to keep Valora and her brood fed
Cheirv
Level 75
Spooky Shopper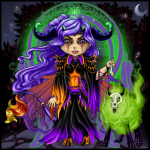 Joined: 11/9/2018
Threads: 16
Posts: 201
Posted: 10/29/2022 at 2:37 PM
Post #26
The Plagued Trick-or-Treat Demon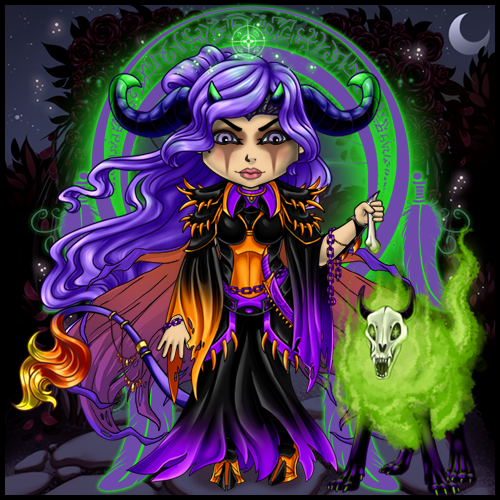 A sickly being whose only enjoyment comes from harassing trick-or-treaters with their faithful Hellbeast. Cursed with a noxious plague, they are constantly out of energy and gain more from the scared shrieks of their victims. Haunting popular trick-or-treat areas, they will harass anyone they see.
XxGeorgiaxX
Level 61
The Kind-Hearted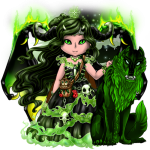 Joined: 11/9/2019
Threads: 200
Posts: 4,025
Posted: 10/29/2022 at 2:58 PM
Post #27
Shadow Master

After getting betrayed by the man she loved thean she thought was her soulmate Kaguya made a deal with the devil toget revenge in exchange for her eternal service and mortal soul ahe was given a new identity and a new life as the Mistress of the night the Shadow master able to control Shadow's she olqns tp take over the world and destroy love




Edit: sorry her 'story sucks' i tried to make a person corrupted by revenge over heartbreak (as we've all had our heats broken at some point) anywY might rewrite this.

Male version
Edited By XxGeorgiaxX on 10/29/2022 at 3:16 PM.
Draculina
Level 75
Collector of Souls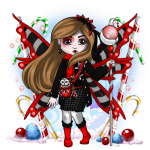 Joined: 12/18/2016
Threads: 0
Posts: 90
Posted: 10/29/2022 at 5:08 PM
Post #28
The Bride of your Dreams


Often, you'll see her lurking within the graveyards at night, her veil flowing, bouquet in hand, dress without a speck on it despite how it drags across the ground.

She'll draw you in, and you'll find yourself walking towards her, heading to embrace the woman before you. In the back of your mind, all you hear are the words "My bride, my bride" repeating, overriding any rational thought you may have.

Compelled to be with her, compelled to kiss her, to be with her forever, you'll raise your hand and lift her veil. Underneath is a face, scarred, gaunt, almost skeletal. Though under the odd trance you have fallen into, you are not detoured and you lean in.

As your lips press to hers, between the stitches on her lips, you feel a liquid seep out and fill your mouth, sliding down your throat.

Within moments, you feel your eyelids grow heavy, your breathing slow, and your vision become blurred.

As your eyes flutter to a close, the last thing you hear is "I do".
Edited By Draculina on 10/29/2022 at 5:19 PM.
Agilupa
Level 75
Collector of Souls
Joined: 11/18/2018
Threads: 18
Posts: 466
Posted: 10/29/2022 at 5:11 PM
Post #29


Ethernia Daily News

When one is travelling through dense woods, especially if you're is travelling at night, there is a good chance of being beset by monsters. Many an adventurer has been lost this way. That is why Bulfima, a lovely orcish lady, has set up her wonderous tavern halfway through the Darkdread Forest. It serves as an excellent stop when you're travelling. Not just because of the clean fluffy beds, or the hearty homecooked fare, but also because Bulfima herself! She regularly patrols the forest around her tavern to keep beasts away and guide weary travelers towards her inn. Come visit Bulfima's Darkdread tavern and you'll fall in love with the place too!

-Runi Peculiarse, Editor in Chief
Elune
Level 75
Fancy Pants
Joined: 2/5/2020
Threads: 24
Posts: 1,011
Posted: 10/30/2022 at 1:17 PM
Post #30


This is Serina the Shadow Chaser. She roams about, shedding light and warmth where ever she goes and dispels the gloom and shadows that have anchored themselves in places. Though no one has ever seen her, many citizens have witnessed the fruits of her labor and have awoken in the morning to find their villages free from the dark denizens that have haunted the area for years. Thanks to her, people can actually roam freely in the forests and do not end up disappearing. At least until the shadows return some day......
Go to Page:
1, 2, 3, 4, 5
Go to Top
This Page loaded in 0.044 seconds.
Terms of Service | Privacy Policy | Contact Us | Credits | Job Opportunities




© Copyright 2011-2022 Sylestia Games LLC.
All names and logos associated with Sylestia are Trademarks of Sylestia Games LLC.
All other trademarks are the property of their respective owners.
For questions, comments, or concerns please email at Support@Sylestia.com.