Overview
Stables
Hatchery
Inventory
Wardrobe
Referrals
Settings
Seasonal Festival
World Map
Generator
Breeding Grounds
Nurturing Grounds
Party
Task Log
Mission Log
Quest Log
Themed Pet Codex
Player Trades
Trade Broker
Currency Exchange
Eggling Auction
Pick A Door
Official Games
Un-Official Games
Jinxie's Jamboree
Festival Shop
Diamond Shop
Avatar Shop
Scale Shop
Inbox
Forums
Community Polls
Advanced Search
September 28th, 2022

81 Online
12:41 AM
Advanced Search




Active Players on Sylestia
Category
Total
Yesterday
Players
3,249
545
Sylestia Pet Data
Category
Total
Yesterday
Pets
7,334,602
913
Generated
565,318
17
Captured
1,089,987
57
Bred
5,679,274
839
Statistics updated daily at midnight
Recent Announcements
Thread
Posted
Labor Day Diamond Sale Sep 1 Faelora Revamp Update Aug 30 New Feature: Festival.. Aug 17 Summer Festival Pet Tr.. Aug 15 Summer Festival Overvi.. Aug 11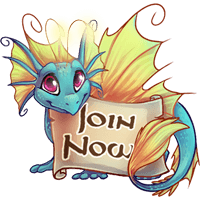 Forum Index > Official Games and Contests > 2022 Fall Festival - Avatar Item Design
Page 3
1, 2, 3, 4, 5
Go to Page:
Author
Thread Post
Ladyanki
Level 75
Sweet Solver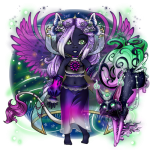 Joined: 10/26/2019
Threads: 3
Posts: 209
Posted: 9/13/2022 at 8:35 AM
Post #21
I dont know hat im doing wrong since the pictures wont show...
But my entry is about fall Dryad


<--- So Background with forest in fall, with my brilliant artistic gifts and good understanding use of paint of sorts


<---- Outfit, 1 shoulder dress made from leafs, bottom part is made of leafs falling from the dress


<---- Head, Long wavy hair up to knee and hairband made of leafs and flowers, prefered in fall like colors



<---
Held, a branch that has few leafs still haning from it or could also be made of a twig with few berries on it, like bluebery or cranberry


<--- Wings, this is a bit similiar to another entry so i wasnt sure if i should use it, but it is part of the collection so i just did. So Wings made of falling leafs.


<---- Aspect, pile of fallen leafs.
Edited By Ladyanki on 9/13/2022 at 9:08 AM.
Voidborn
Level 75
Guardian of the Realm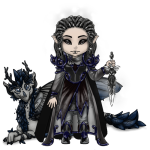 Joined: 3/5/2022
Threads: 15
Posts: 79
Posted: 9/13/2022 at 3:06 PM
Post #22
Galactic Messenger. Within their chest, hand, and the mirror they hold, they show the universe inside. There are lots of sparkles and glitter that's like the billions of stars. I can see there being a ton of different color combinations along with different galaxy imagery. Behind them is a swirling galaxy/portal



Dreamfyre
Level 75
Omniscient Gardener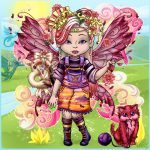 Joined: 2/4/2020
Threads: 27
Posts: 1,068
Posted: 9/14/2022 at 12:16 AM
Post #23
Anemochory
Level 75
Cutely Creative
Joined: 8/29/2016
Threads: 153
Posts: 1,431
Posted: 9/14/2022 at 4:04 PM
Post #24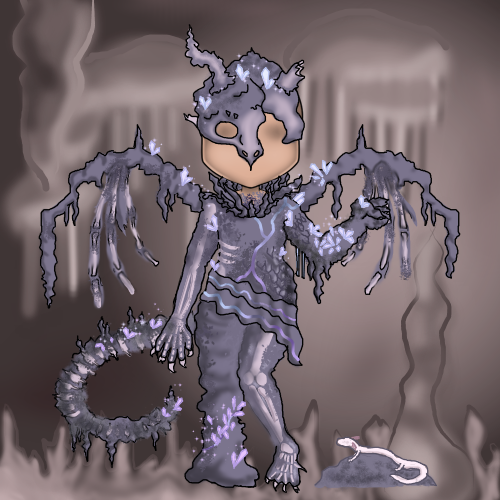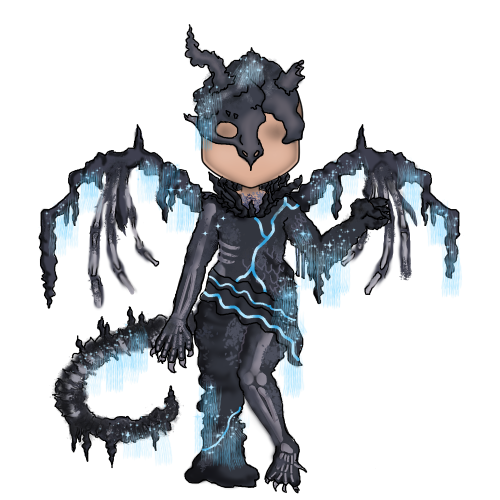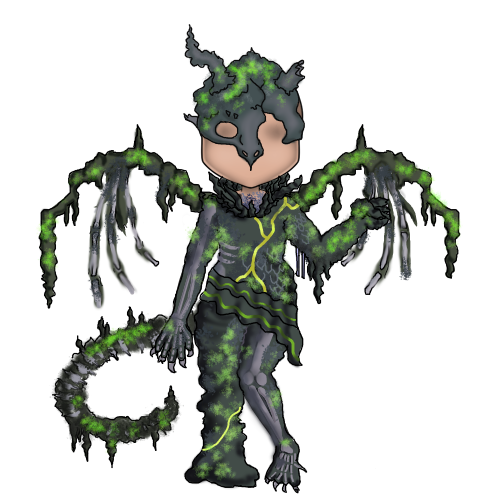 "Fossilized Cavern Guardian"

I ended up with this concept after brainstorming a lot of cave-related things together. All I knew at the start was "Cave". (Caves are sort of spooky-and-therefore-Fall-fest-themed, right?) So I had cave explorer, cave golem, dragon, fossils, gemstones, ore, mining...all kinds of concepts. And I tried combining them and got:

Stone-encased Fossilized Dragon Skeleton.

Awesome.

So the outfit is inspired by cave formations, and a dragon that got fossilized in its home cave. It mostly has stalactites and stalagmites, but it has some "bacon draperies" as part of the outfit. I was trying to work some frostwork and other formations in there, but I couldn't find a place for them. I also really want a cave background, but I'm really not great at background art. It gets the point across, I hope.

The held in the first is an olm, a kind of salamander. I'm going to try to draw some other cave creatures as helds if I have time.

The first really should have more crystals on it, I think. The crystals are part of the one color, rather than all of the variations.

The second is inspired by glow worms.

The third is inspired by luminescent moss.

I'm not sure about the other colors, but I was thinking one with a lot of falling water and ice. Or maybe one with a lot of metal ore.

I don't have a male version, but it doesn't really need to be much different.
Edited By Anemochory on 9/17/2022 at 10:01 PM.
XxAniraxX
Level 75
The Hallowed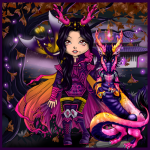 Joined: 7/24/2013
Threads: 51
Posts: 869
Posted: 9/15/2022 at 12:13 AM
Post #25
Comfy Sylestian Cloak




The top part is a fuzzy cloak sweatshirt that falls around torso like a parka would, with a nighttime forest design around the edges, a moon and starry sky dotting the majority of the cloth. Two drawstrings hang from the downed hood. Magenta Lining is meant to be fluffy cotton like trimming.

Female Gets shorts and stockings for the bottom area while on males bottoms would be jeans/long pants tucked into the boots.

Feet are meant to be Snow boots, toe area is same material as laced up boot, purple topping and purple balls on sides are meant to be the fluffy cotton like material as the cloaks trimming.

This outfit has an upturned hood head addition that would blend into the outfit when put on with the Comfy Sylestian Outfit while when put on with others it would be cut off around bottom neck area so would look like enclosed hood, much like the Kitty Mage Hat already in game.

Hair on male base would change to a medium messy style instead of the neat hime styled bangs of the female.



Comfy Sylvorpa Hood



Comfy Bulbori Hood



Comfy Lupora Hood

Could do other sylesti's as well these were just the main 3 I wanted to see if my design won. :)
Edited By XxAniraxX on 9/16/2022 at 12:58 PM.
Catinheadlights
Level 75
The Perfectionist
Joined: 3/3/2017
Threads: 16
Posts: 360
Posted: 9/16/2022 at 6:47 PM
Post #26
Bapt Ism Costume
I decided to make a Bapt Ism Costume for this fest. Cardinals & lambs seemed too spring-y, so I replaced them with a turkey and a goat. :)


I colored it based on an ocellated turkey, but regular food-turkeys can be alt colors.
Aelingalathynius
Level 75
Trickster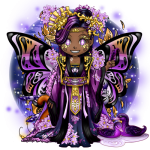 Joined: 7/9/2017
Threads: 34
Posts: 402
Posted: 9/16/2022 at 7:04 PM
Post #27
I need this smol rainbow turkey in my life. 10/10
Typicalannamarie
Level 75
Guardian of the Realm
Joined: 12/26/2021
Threads: 11
Posts: 115
Posted: 9/16/2022 at 10:44 PM
Post #28
Lady of the Wood/Midnight Sorceress

Head 1: Long, Wavy (Galadriel Hair)
Outfit: Off-Shoulder slinky dress which ends in slits, black boots
Held 1: Baby Bat perched on hand
Accessory: Gold Necklace with Ruby Stone (glowing if possible)
Aspect 1: Black Cat (Face only left white to show detail) with arched back and tail wrapped around leg (affection)
Background: Evergreen trees



Head 2: Same hair with large Witch's hat
Held 2: Angry/Fearful Black Cat (left white to show detail) and fish skeleton
Aspect 2: Black Cauldron (with or without flames) with green, bubbling potion
Limor
Level 72
The Kind-Hearted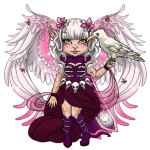 Joined: 7/5/2016
Threads: 289
Posts: 19,078
Posted: 9/17/2022 at 6:48 PM
Post #29
-- Masked Ghoul --




Head
Ghoul Mask


Ghoulette Mask



Cape
Ghoul's Half Cape



Outfit
Ghoulish Suit



Held
Ghoul Summoner




Aspect
Ghoulish Mist



Wings
Ghoulish Wings

Outfit will be relatively the same for male/female base though i suppose you could make a long hair/different hair style version of the mask (as im submitting this the day before final day i will not be doing that lol), different themes could be fire ghoul (red themed), water ghoul (blue themed), shadow ghoul (one shown), and earth ghoul (brown/green themed)
Edited By Limor on 9/18/2022 at 10:38 PM.
Limor
Level 72
The Kind-Hearted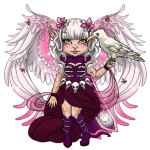 Joined: 7/5/2016
Threads: 289
Posts: 19,078
Posted: 9/17/2022 at 7:03 PM
Post #30
heads up your photo is broken :)
Go to Page:
1, 2, 3, 4, 5
Go to Top
This Page loaded in 0.044 seconds.
Terms of Service | Privacy Policy | Contact Us | Credits | Job Opportunities
© Copyright 2011-2022 Sylestia Games LLC.
All names and logos associated with Sylestia are Trademarks of Sylestia Games LLC.
All other trademarks are the property of their respective owners.
For questions, comments, or concerns please email at Support@Sylestia.com.