Overview
Stables
Hatchery
Inventory
Wardrobe
Referrals
Settings
Seasonal Festival
World Map
Generator
Breeding Grounds
Nurturing Grounds
Party
Task Log
Mission Log
Quest Log
Themed Pet Codex
Player Trades
Trade Broker
Currency Exchange
Eggling Auction
Pick A Door
Official Games
Un-Official Games
Jinxie's Jamboree
Festival Shop
Diamond Shop
Avatar Shop
Scale Shop
Inbox
Forums
Community Polls
Advanced Search
September 28th, 2022

82 Online
12:22 AM
Advanced Search




Active Players on Sylestia
Category
Total
Yesterday
Players
3,249
545
Sylestia Pet Data
Category
Total
Yesterday
Pets
7,334,602
913
Generated
565,318
17
Captured
1,089,987
57
Bred
5,679,274
839
Statistics updated daily at midnight
Recent Announcements
Thread
Posted
Labor Day Diamond Sale Sep 1 Faelora Revamp Update Aug 30 New Feature: Festival.. Aug 17 Summer Festival Pet Tr.. Aug 15 Summer Festival Overvi.. Aug 11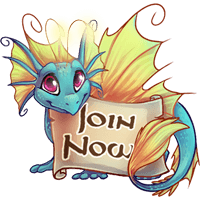 Forum Index > Official Games and Contests > 2022 Summer Festival - Avatar Dress Up
Page 8
1, 2, 3, 4, 5, 6, 7, 8
Go to Page:
Author
Thread Post
Reviren
Level 75
Maniacal Pyromaniac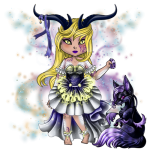 Joined: 1/16/2014
Threads: 29
Posts: 713
Posted: 9/11/2022 at 10:51 PM
Post #71


I present,
Carinn, the Far Travelling Vedalken Rogue, and the soul of her lost feline companion, Gizmo.
Edited By Reviren on 9/11/2022 at 10:52 PM.
Rounddcat
Level 75
Sylestiologist
Joined: 1/26/2018
Threads: 18
Posts: 150
Posted: 9/11/2022 at 10:59 PM
Post #72
Radosti
Their name stems from the Slovak word for 'joy'.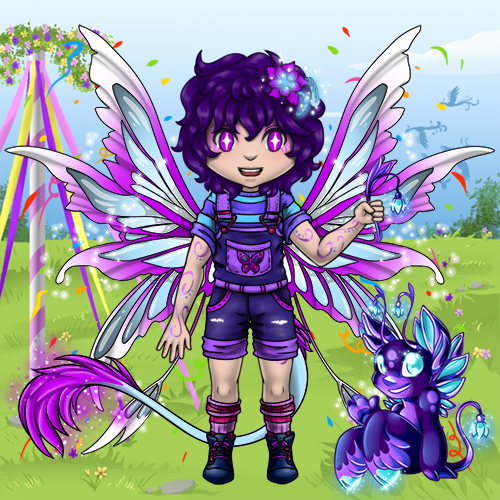 Radosti is a joyous, youthful sprite. Visiting celebrations like carnivals and childrens' birthday parties. They will flicker about, their tail swaying excitedly as they fly amongst their cheerful human counterparts. Radosti thrives on the laughter of people.
They represent the pure, simplistic joy of finding happiness in anything.
Aelingalathynius
Level 75
Trickster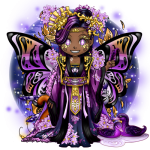 Joined: 7/9/2017
Threads: 34
Posts: 402
Posted: 9/11/2022 at 11:28 PM
Post #73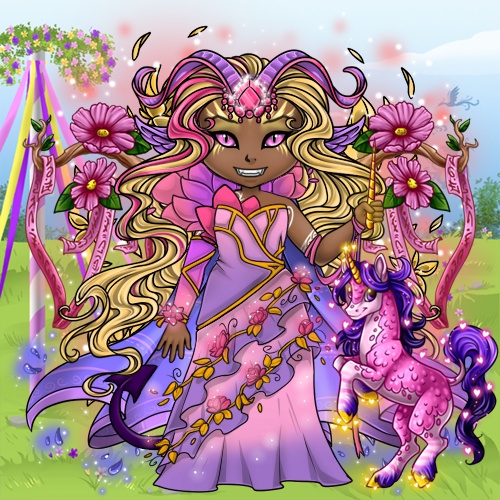 Welcome to our island, O weary traveler
(Run far and do not return)
Come and rest thy head amongst our blooms
(Awake or see them bloom sanguine)
Here magic coats the land, feeding from seed to fruit
(From what seeds does magic grow, from who does magic feed)

Join us in our revelry, slake thyself upon our fruit
(Fatten thy bones, your hunger does not grow alone)
Merry, merry, does our garden grow
(Mary, mary who grows beneath)
With snapdragons, rhododendron, dahlias, night and red
(What words they whisper, what tales they tell)

Paradise to offer thy soul, here among our fete
(Paradise in-eternal, stunted and ephemeral)
See beyond the mortal veil, learn how the unicorns dance
(Step beyond the mortal veil, learn who the unicorns eat)
To learn, to dance, to feast, to rest
(To fuel, to feed, to wither, to rest eternal)


Two voices guide, choose you must
(Choose mine or return to dust)

_------------------------------------------
Easter eggs! (pls excuse bulletpoint notes here Ael is sleeby, honestly this started cuz I wanted to make a joke about unicorns eating people lmao)
1) Demon tail/fangs on avi - not quite as nice as they seem
2) Floating Lilies - they're kind of hidden, but lilies are commonly used as a flower for funerals
3) Petunia wings - petunias represent anger and resentment
4) Underworld Raiment - flowers AND spooky
Poem~
1) There's a slight reference to the poem/song "mary mary quite contrary", but with the flowers changed
2) Speaking of those flowers:
- Snapdragons represent deception
- Rhododendron represent danger/a warning
- Black and red dahlias represent death and betrayal
Painteventer
Level 75
The Sweet Tooth
Joined: 1/13/2018
Threads: 52
Posts: 1,586
Posted: 9/12/2022 at 12:09 AM
Post #74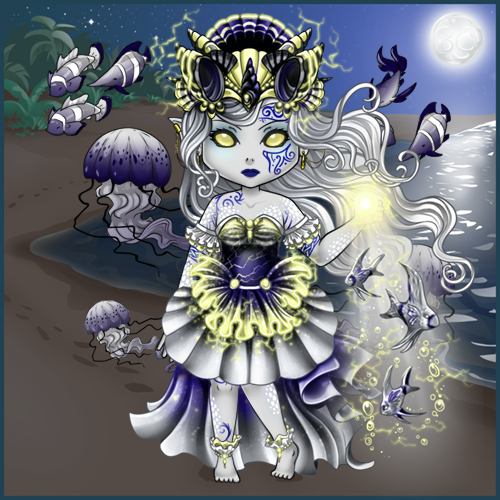 As you walk the beach on a blustery moonlight night, you catch a strange shimmer in the corner of your vision. You swing around but see nothing. You try to quell some uneasy feelings. Between the shifting, shining waves and waving trees, why of course you are seeing things! You turn back towards home, albeit a bit quicker paced. But perhaps if you had stayed still, if you had just barely shifted your eyes, you may have seen what moved across those glistening waves.
Krinadon
Level 75
Guardian of the Realm
Site Administrator
Joined: 12/17/2012
Threads: 974
Posts: 13,728
Posted: 9/15/2022 at 2:22 AM
Post #75
1st Place
Prize(s):
Free Stable, [Peerless Avatar Token] x1, [Majestic Beach Shovel] x10, [Majestic Fishing Pole] x10, 3-Visible Summer Festival Themed Pet of Choice (2-Vis if Majestic) OR Sculpting Catalyst of Choice, [Quick Drying Agent] x1, [Premium Clam] x2, [Box of Sculpting Supplies] x1, [Box of Sculpting Agents] x2

Arcaneapathy - View Entry

Cheirv - View Entry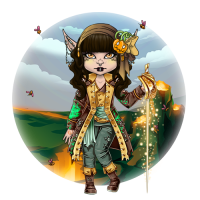 Limor - View Entry
2nd Place
Prize(s):
Free Stable, [Majestic Beach Shovel] x5, [Majestic Fishing Pole] x5, [Majestic Sculpting Catalyst] x1 OR [Fabled Sculpting Catalyst] x1, [Quick Drying Agent] x1, [Premium Clam] x1, [Box of Sculpting Supplies] x1, [Box of Sculpting Agents] x2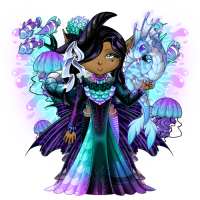 Katelynn4545 - View Entry

YureiNeko - View Entry


All Participants
With valid submissions

Prize(s): Title: Fancy Pants, [Mystery Sculpting Catalyst] x1, [Box of Sculpting Agents] x2, [Sun Tokens] x500
Go to Page:
1, 2, 3, 4, 5, 6, 7, 8
Go to Top
This Page loaded in 0.036 seconds.
Terms of Service | Privacy Policy | Contact Us | Credits | Job Opportunities
© Copyright 2011-2022 Sylestia Games LLC.
All names and logos associated with Sylestia are Trademarks of Sylestia Games LLC.
All other trademarks are the property of their respective owners.
For questions, comments, or concerns please email at Support@Sylestia.com.