Overview
Stables
Hatchery
Inventory
Wardrobe
Referrals
Settings
Seasonal Festival
World Map
Generator
Breeding Grounds
Nurturing Grounds
Party
Task Log
Mission Log
Quest Log
Player Trades
Trade Broker
Currency Exchange
Eggling Auction
Pick A Door
Official Games
Un-Official Games
Jinxie's Jamboree
Festival Shop
Diamond Shop
Avatar Shop
Scale Shop
Inbox
Forums
Community Polls
Advanced Search
December 1st, 2020

278 Online
9:34 PM
Advanced Search
Active Players on Sylestia
Category
Total
Yesterday
Players
5,600
932
Sylestia Pet Data
Category
Total
Yesterday
Pets
6,026,192
2,295
Generated
450,155
512
Captured
931,298
454
Bred
4,644,739
1,329
Statistics updated daily at midnight
Recent Announcements
Thread
Posted
2020 Stocking Stuffer Nov 30 2020 Advent Calendar Nov 30 Introducing Pet Compan.. Nov 25 Black Friday Extravaga.. Nov 24 Fall Festival Overview Oct 28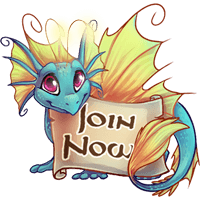 Forum Index > Official Games and Contests > 2020 Easter Event - Create an Easter Egg...
Page 4
1, 2, 3, 4, 5
Go to Page:
Author
Thread Post
Anitsa
Level 70
Cutely Creative
Joined: 8/16/2018
Threads: 10
Posts: 127
Posted: 4/19/2020 at 11:55 PM
Post #31
The Birth of Petrie Raincaller

Please note that my materials were colored with lesser dye so the colors are only fairly accurate. Also I was so absorbed in my work that I forgot to take pictures so there is huge progess between each picture. The urls are to a closer look to the picture below.

Stage 1 prepping the nest
https://i.imgur.com/IfI4RS1.jpg


https://i.imgur.com/tN72HOw.jpg


https://i.imgur.com/TygeeRi.jpg


(It closes with a button to be a stage one egg)

Stage 2 ready to hatch
https://i.imgur.com/TPJjH7k.jpg


https://i.imgur.com/ookHaul.jpg



Stage 3 the egg becomes a bed
https://i.imgur.com/5nDDxIP.jpg


https://i.imgur.com/U2edL55.jpg


https://i.imgur.com/FRECNfU.jpg


(the petles of the nest and ready to hatch egg become a blanket for little Petrie)
Wisiro
Level 70
Frosty Hands
Joined: 10/18/2018
Threads: 12
Posts: 830
Posted: 4/20/2020 at 12:10 PM
Post #32
If interested, here's the full post to all of the pics, as I've passed over a few things.


For this, I'll be using air-drying clay.



Done with the sculpting.



I then painted all of the pieces, which is done for the most part. (As I did a few touch ups later.)



The Bulbori is done.
(Yes, I'm aware the the ears aren't perfectly aligned/or the same size, I tried to fix that during sculpting, but I've had it with the ears, so I didn't bother.)



About the egg, there are some syleties(Aeridini, Lunemara, & Nephini) flying above it, though you can't see them all in this one pic.
I'm now realizing that I haven't talked that much about the basket. All of it was taken from my room. (Because I hoard apparently. :b)
& although you can't see it, there's tissue paper on/in the basket.



& it's done! c:
Crowoverlord
Level 70
Corporal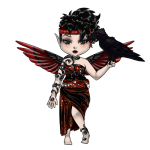 Joined: 7/23/2016
Threads: 51
Posts: 391
Posted: 4/20/2020 at 6:36 PM
Post #33


I was inspired by the Dawnbreaker Aeridini's and their names, and decided to create "Rosemary Woodstem" out of some rosemary and flowers I had growing in my garden :)
Xedite
Level 70
The Kind-Hearted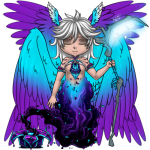 Joined: 12/16/2019
Threads: 43
Posts: 3,786
Posted: 4/20/2020 at 10:17 PM
Post #34
So, I was a bit supply limited so what I thought was going to be an easy time ended up becoming horribly frustrating. I didn't have a clear marker on hand so I opted for brief tea stains to adjust the coloring, wash off mistakes, and otherwise tamp down a horribly bright white egg.

Fun? Yes. Would I ever subject myself to this again? Probably not, knowing what I know now.
(quick science lesson, tea is acidic. Somehow I forgot this fact.)

So this is the story about how my life got flipped up, turned upside down from one little egg up to no good, causing trouble in my neighborhood.

Materials:
Golden oolong tea x1
Hardboiled white egg x1
Cup for tea staining x1
Pack of Prismacolor markers x1
Ballpoint Pen x1
Assorted fake flower heads I had on hand from another crafting project
Piece of crinkled ribbon x1 (not shown in first pic because I forgot to get it with the other supplies, d'oh)
2.0 mm mechanical pencil x1
Magazine x1 (to keep my desk from getting hot glue gunned while I worked and was multitasking with other things)
Sketchbook x1
Paper towels for drying egg between staining
Hot glue gun x1
Screaming cat x1 (for moral support, not shown)


So I originally actually set out to use green tea... Only to find out I didn't have that on hand either. Opted to use the oolong tea I did have but knowing it wouldn't stain as darkly. Figured it would work out alright, but not exactly as planned.

Starting out:


Tried to look for a theme based on cherry blossoms to match the flowers on hand and the spring theme I was going for. Ended up not finding one and making a Faelora (since they're my favorite pet) design out of the generator.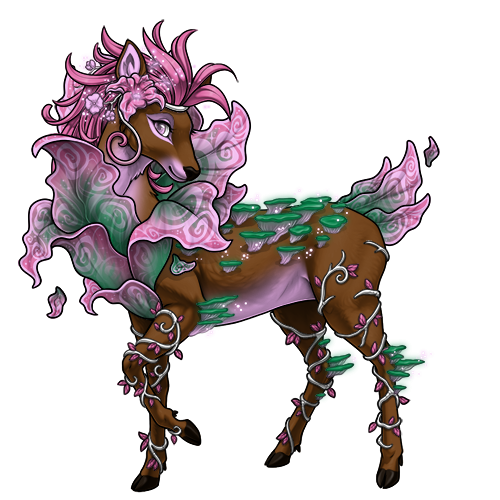 Progress #1
While I was doing my initial 20 minute tea staining to reduce the whiteness of the shell, I started working on a sketch on paper since trying to sketch and draw on an eggshell without breaking it was going to be impossible. Turned out to be a good move.


(ignore the fact it looks like a Lupora, I can't draw cervines at all)

Progress #2
Pencil lineart. Little messy so I gave the egg a tea bath afterwards. May have been a mistake. Ballpoint pen was completely useless despite my best efforts at relining the pencil after it was dry.



Progress #3
Went to marker. The struggle. Prismacolors don't work well on egg shells, let me just say. A lot of quick rinses happened between stages after letting ink dry somewhat to clear mistakes. Also some shell cracking from the tea. Sigh. Opted not to color the rest of the egg due to it starting to break in the back.
Coloring while letting hot glue gun heat up.



Final:
Didn't know what to do with the last flower head, so I used it to make the egg look like an Aerdini egg.


Also forgot to handwrite 2020 easter event before, so here you go.
Edited By Xedite on 4/21/2020 at 3:27 AM.
Padian
Level 70
Spooky Shopper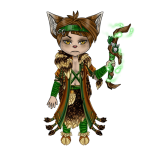 Joined: 10/27/2019
Threads: 5
Posts: 24
Posted: 4/22/2020 at 10:43 AM
Post #35
First time adding off-site images, here it goes!
So i made this reference image (with some color scheme help from @Kitten404)

and here's the process:


(I first considered using an egg I had crocheted but it was too tight to attach anything to without breaking my needles) (Initially I was going to make the egg light green but the crocheted egg situation changed it)


Added some color


Attached some sparkly felt (you can't really see the sparkles :( )


Felted the petals (and the leaves but I forgot to take a picture of that)
and the final result!

The antennae were hard, my plan was to use the yellow yarn you can see in the first image but I ended up just using pipecleaners after stabbing myself too many times. This is the first needlefelting project I have done that didn't have a crocheted base, and it was really fun!
Edited By Padian on 4/22/2020 at 10:49 AM.
Crystallake
Level 57
Joined: 2/5/2019
Threads: 0
Posts: 5
Posted: 4/22/2020 at 12:12 PM
Post #36
I based my egg off of my turquoise fire Ferrikki, using some leaves from my garden and paint.


Ta-da!
Edited By Crystallake on 4/22/2020 at 12:50 PM.
Starline
Level 70
Cutely Creative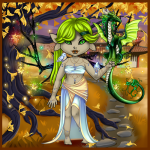 Joined: 3/14/2016
Threads: 92
Posts: 1,698
Posted: 4/22/2020 at 7:26 PM
Post #37
I did a grass woven Qitari and woven egg


Oiseau
Level 70
Brosilla's Minion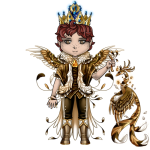 Joined: 6/14/2018
Threads: 41
Posts: 539
Posted: 4/23/2020 at 3:19 PM
Post #38
Woohoo! Finally finished!

I decided to make a little nest of Griffi eggs as they are probably my favorite sylesti :3



Here we've got 3 little siblings waiting to bake



Andddd here is their older sibling who just hatched C:



All baked and started to paint em



Almost there!



And here we are!



And here's one with some better lighting as my hand wasn't holding up the paper c:
Metachemist
Level 70
Candy Dispenser
Joined: 9/1/2015
Threads: 35
Posts: 400
Posted: 4/24/2020 at 3:32 AM
Post #39
I did traditional easter eggs with food dye and watercolor pencil. For the first three I forgot to take in-progress pictures, but I have pictures for the rest. ....Hopefully the lack of style makes it obvious they're made by the same person.
First three eggs:


The rest, waiting to be dressed up:


Sketch in some details:


Try not to cover up the details:


Oops. Oh well, no turning back now:


All together now:


Left to right, top to bottom: Nephini, Ny'Vene, Aeridini, Griffi, Ferrikki, Lighira, Ryori. Some of them are based on real themes but q-tips and food dye proved inadequate for detailing so I was kind of stuck with the four and a half colors of watercolor pencil I dug up from the depths of the craft closet.
Secunda
Level 64
Joined: 3/17/2020
Threads: 0
Posts: 16
Posted: 4/24/2020 at 3:27 PM
Post #40
Here's my submission! It's a nephini egg. It's not perfect, and I lost the photos I took making it so I had to take new ones, but I worked really hard on it and at least wanted to share.


Go to Page:
1, 2, 3, 4, 5
Go to Top
This Page loaded in 0.023 seconds.
Terms of Service | Privacy Policy | Contact Us | Credits | Job Opportunities
© Copyright 2011-2020 Sylestia Games LLC.
All names and logos associated with Sylestia are Trademarks of Sylestia Games LLC.
All other trademarks are the property of their respective owners.
For questions, comments, or concerns please email at Support@Sylestia.com.