Overview
Stables
Hatchery
Inventory
Wardrobe
Referrals
Settings
Seasonal Festival
World Map
Generator
Breeding Grounds
Nurturing Grounds
Party
Task Log
Mission Log
Quest Log
Themed Pet Codex
Player Trades
Trade Broker
Currency Exchange
Eggling Auction
Pick A Door
Official Games
Un-Official Games
Jinxie's Jamboree
Festival Shop
Diamond Shop
Avatar Shop
Scale Shop
Inbox
Forums
Community Polls
Advanced Search
July 5th, 2022

142 Online
5:42 PM
Advanced Search




Active Players on Sylestia
Category
Total
Yesterday
Players
3,382
509
Sylestia Pet Data
Category
Total
Yesterday
Pets
7,159,512
2,011
Generated
547,864
284
Captured
1,070,608
187
Bred
5,541,028
1,540
Statistics updated daily at midnight
Recent Announcements
Thread
Posted
Patriotic Event Pet Tr.. Jul 1 Patriotic Event Overvi.. Jul 1 Change to Pet Public S.. Jun 8 Spring Festival Pet Tr.. May 14 Spring Festival Overvi.. May 14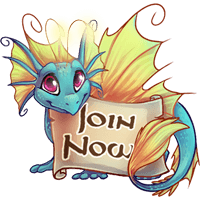 Forum Index > Official Games and Contests > 2022 Easter Event - Create an Easter Egg...
Page 3
1, 2, 3
Go to Page:
Author
Thread Post
Savynn
Level 75
Nature Walker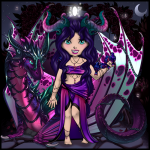 Joined: 12/18/2012
Threads: 193
Posts: 4,287
Posted: 5/1/2022 at 8:16 PM
Post #21
It's an aeridini egg shaped from the kid's clay you can get at Dollar General and then I cut rose petals into shape and glued them on.


Edited By Savynn on 5/1/2022 at 8:49 PM.
Scathreoite
Level 75
Crystalline Cleaver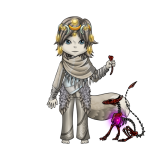 Joined: 11/2/2014
Threads: 59
Posts: 3,373
Posted: 5/1/2022 at 8:56 PM
Post #22

/




(bonus
closeup


tail stand

Anemochory
Level 75
Majestic Sculptor
Joined: 8/29/2016
Threads: 152
Posts: 1,418
Posted: 5/1/2022 at 9:47 PM
Post #23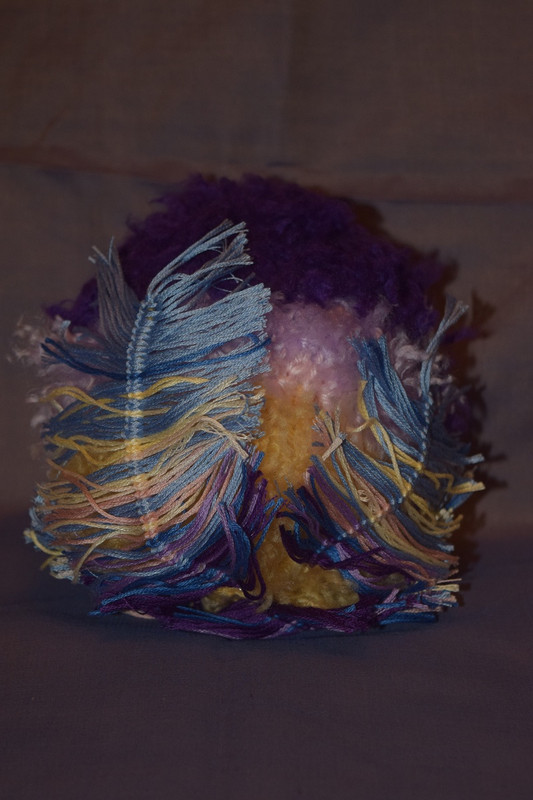 I made a Ferrikki egg! With knitting and feathers made from embroidery thread.

I got the idea when I remembered feathers I'd made from yarn for a different project. I thought embroidery thread would be a pretty choice, and I decided to make a Ferrikki egg. I was inspired by the Easter Sunrise theme's egg colors, but I took some creative liberties.

(I keep taking these pictures at night, which means the light isn't great...keeps making the pictures cool-toned and a bit dim.)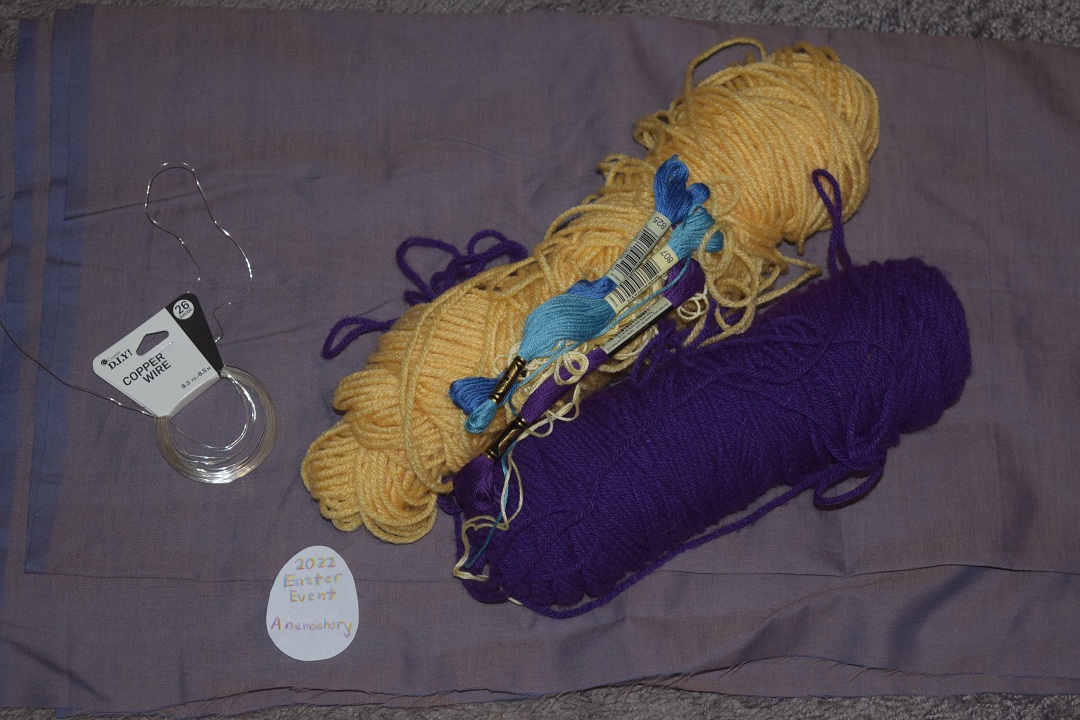 A look at my materials. I ended up using more yarn and thread colors in the end.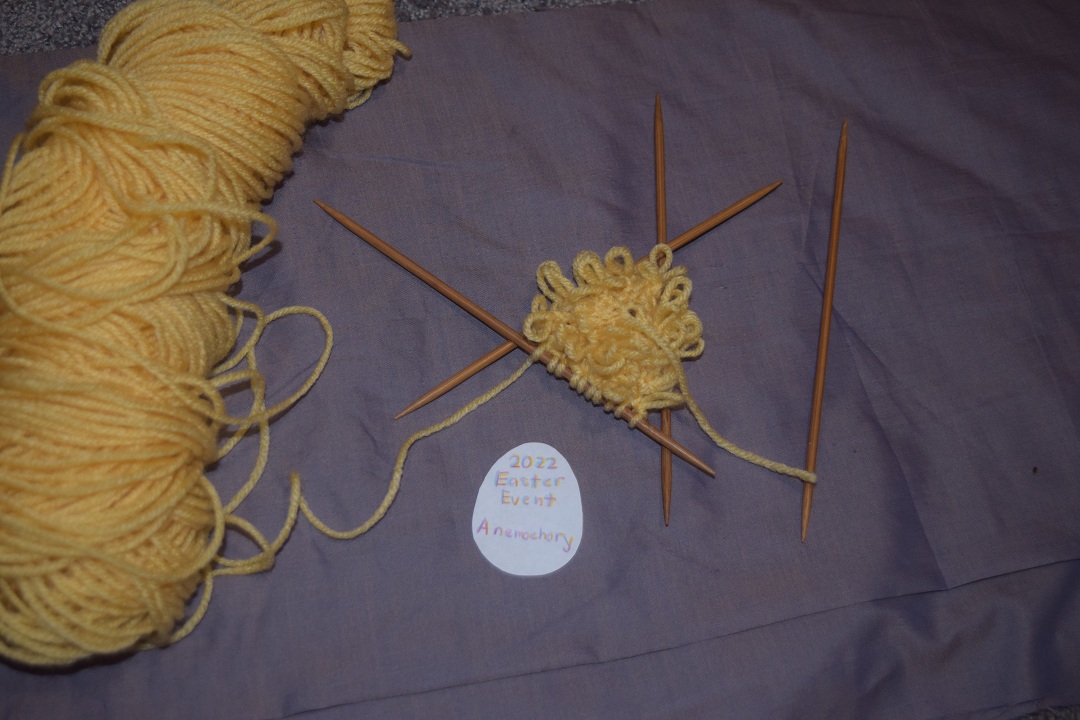 I began knitting an egg in the round on double-pointed needles. I used a pattern from oddknit.com, although I changed it by added loop stitch to it, and by changing the sizing a bit in the end. And adding color changes to it, as well.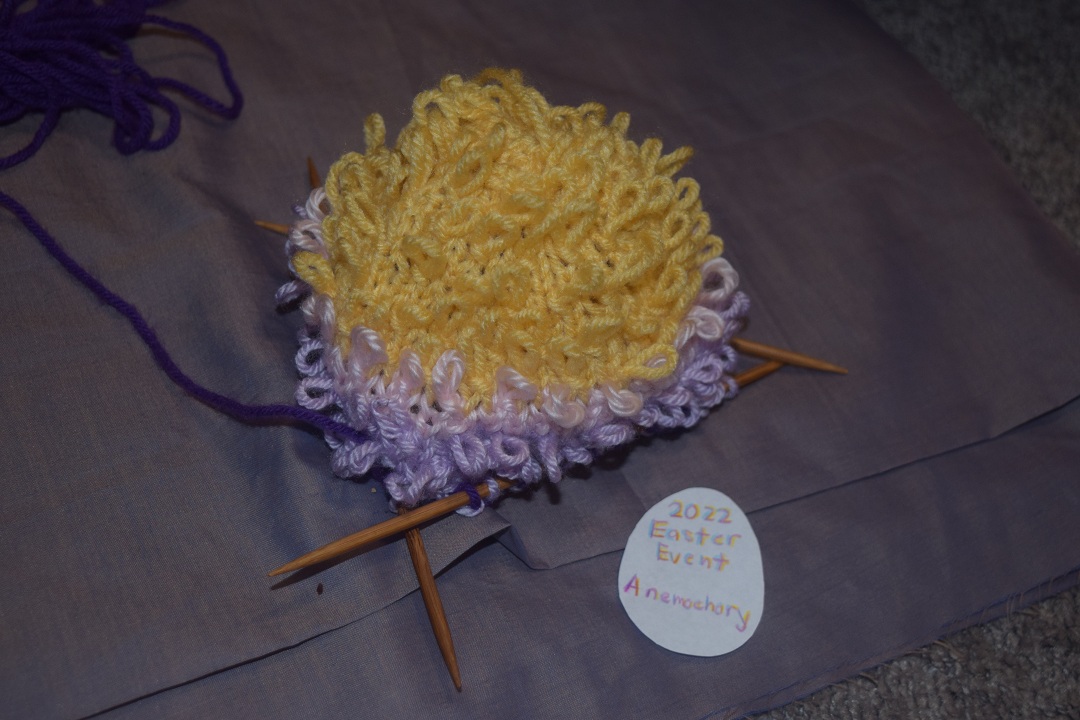 The knitting is coming along. Somehow, the finished egg was quite a bit bigger than I anticipated. It kept growing so much, I undid some of my work and changed the pattern to reduce it a bit.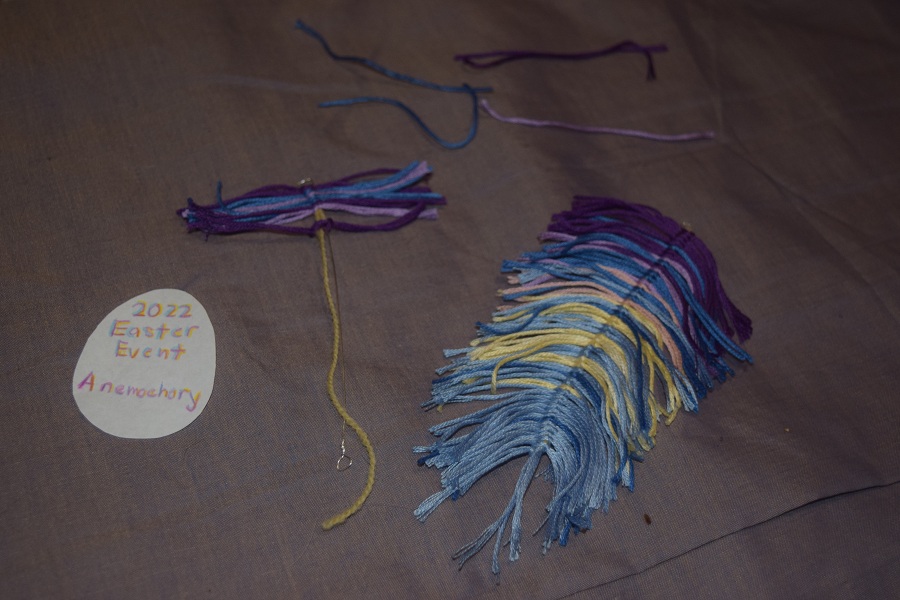 Meanwhile, I making the feathers by knotting strands of embroidery thread around a core of wire (so I can shape the feathers), and some wool thread for grip.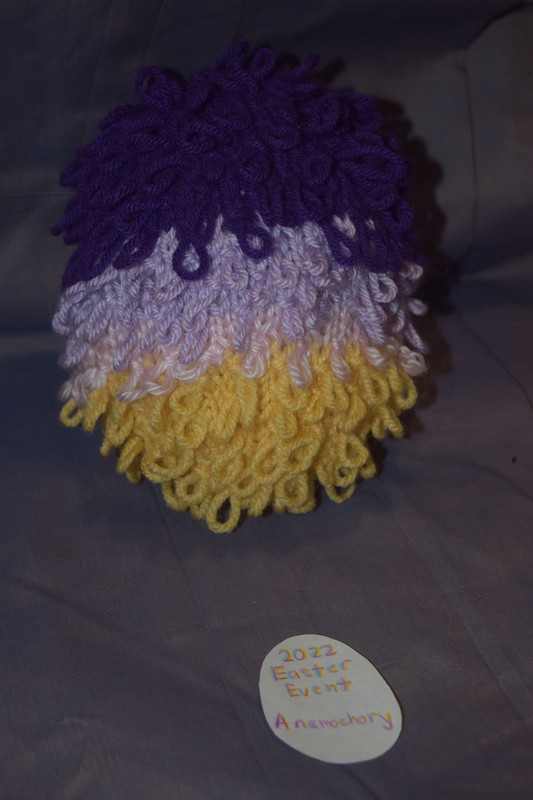 I now have a finished egg that looks wooly with all the loops I knitted into it! (Looks like the egg a sheep Sylesti might have!) Now, why did I put loops on my egg?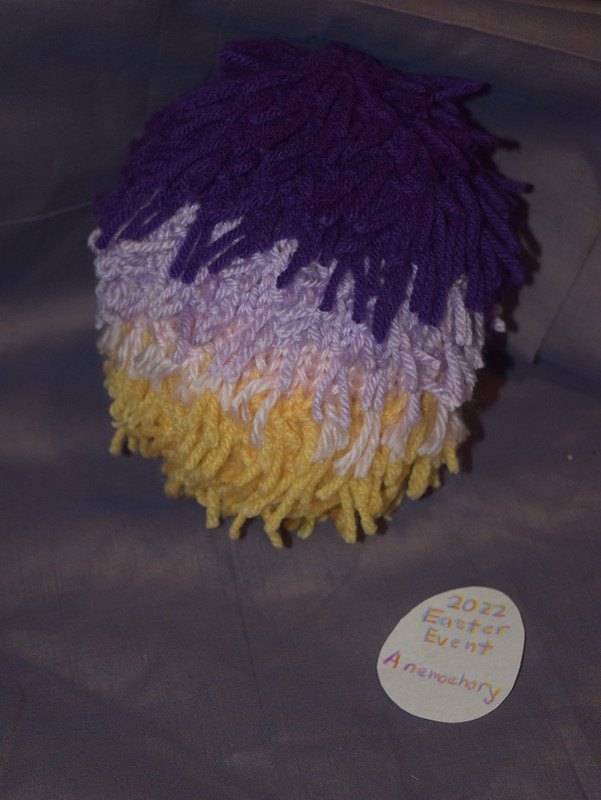 Why, so I could cut them--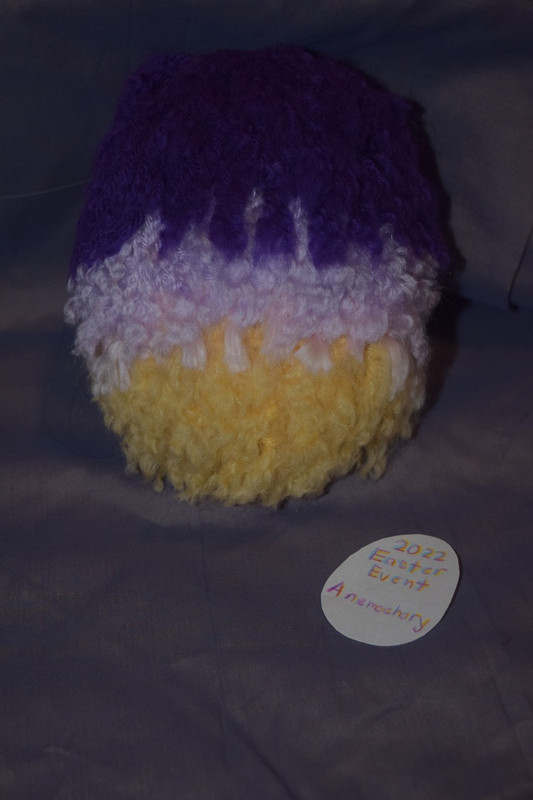 --unravel the pieces, and brush them to make a properly furry egg! I just used a regular hairbrush for this. (Got some interestingly colored leftover fluff from this process.) Just as a fun fact, I used plastic bags as stuffing in this for bulk, because it would have taken a lot of regular stuffing to fill the egg.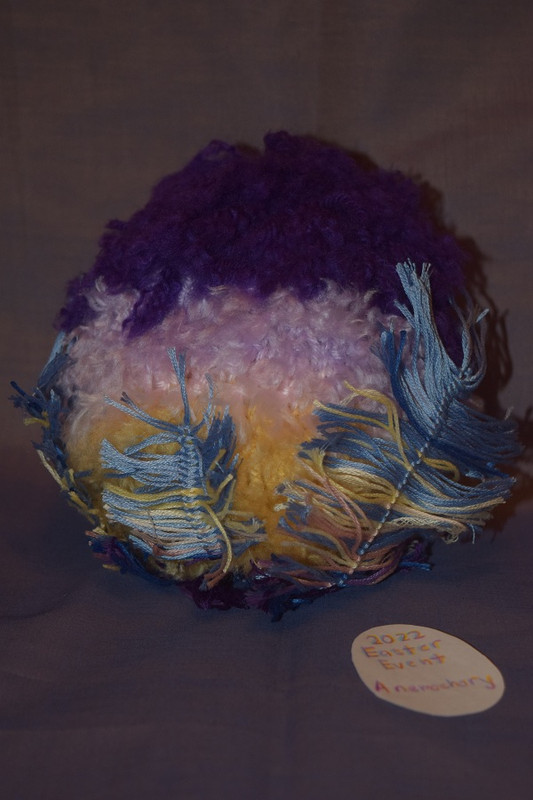 I ended up making four feathers (one of them a little baby feather) before I ran out of time and embroidery thread. I stitched them on to the egg, and tried to arrange them neatly for the photos. I was...partially successful. (Maybe they need a bit of starching?)

More photos!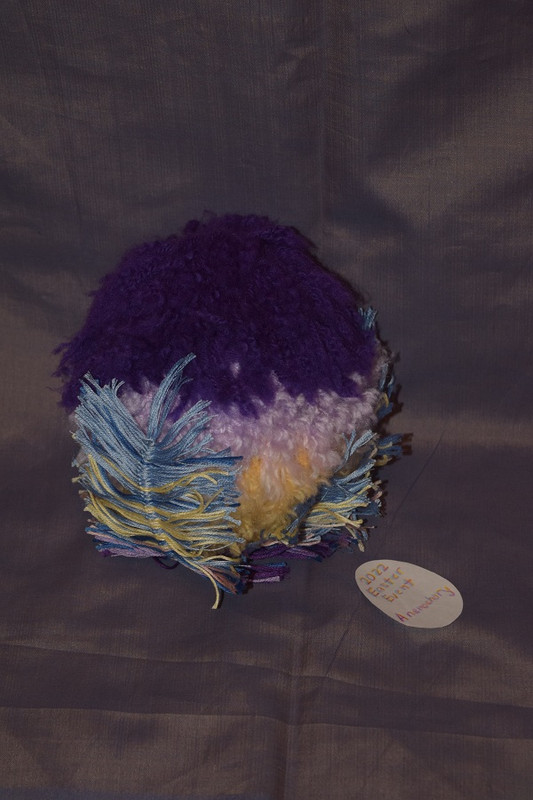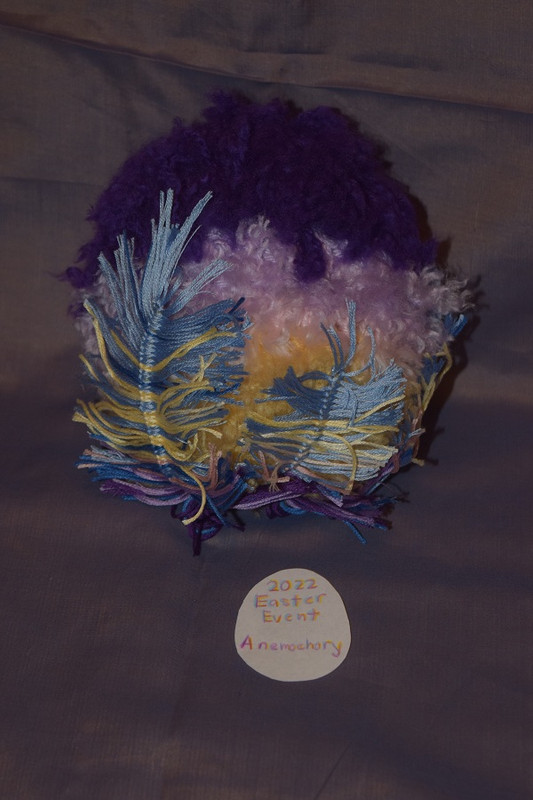 Edited By Anemochory on 5/2/2022 at 9:41 AM.
Vanilaextract
Level 75
Master Egg Hunter
Joined: 3/4/2022
Threads: 2
Posts: 115
Posted: 5/1/2022 at 10:49 PM
Post #24
Kinda rushed it...so it's a bit unfinished and weird looking, but I'm submitting it anyways
2022 Easter Event Submission

(Side note: I also completely forgot you had to take pictures of the progress in the beginning so oops)
Edited By Vanilaextract on 5/1/2022 at 10:53 PM.
Tigress
Level 75
The Tender
Joined: 5/17/2015
Threads: 350
Posts: 9,552
Posted: 5/2/2022 at 12:41 AM
Post #25
Krinadon
Level 75
Guardian of the Realm
Site Administrator
Joined: 12/17/2012
Threads: 965
Posts: 13,607
Posted: 5/4/2022 at 8:31 AM
Post #26
1st Place
Prize(s): 2,000 Diamonds, Free Stable, [Peerless Avatar Token] x1, 3-Visible Blooming Spring Bulbori x2, [Easter Event Avatar Item] x3, [Philter of Trait Disruption] x3
Atriella
2nd Place
Prize(s): 1,000 Diamonds, Free Stable, 3-Visible Blooming Spring Bulbori x1, [Easter Event Avatar Item] x2, [Philter of Trait Disruption] x2
Ksng
Oiseau

Slytherin7


All Participants
With valid submissions

Prize(s): 2-Visible Blooming Spring Bulbori x2, [Easter Event Avatar Item] x5
Edited By Krinadon on 5/5/2022 at 5:19 AM.
Go to Page:
1, 2, 3
Go to Top
This Page loaded in 0.033 seconds.
Terms of Service | Privacy Policy | Contact Us | Credits | Job Opportunities
© Copyright 2011-2022 Sylestia Games LLC.
All names and logos associated with Sylestia are Trademarks of Sylestia Games LLC.
All other trademarks are the property of their respective owners.
For questions, comments, or concerns please email at Support@Sylestia.com.