Overview
Stables
Hatchery
Inventory
Wardrobe
Referrals
Settings
Seasonal Festival
World Map
Generator
Breeding Grounds
Nurturing Grounds
Party
Task Log
Mission Log
Quest Log
Themed Pet Codex
Player Trades
Trade Broker
Currency Exchange
Eggling Auction
Pick A Door
Official Games
Un-Official Games
Jinxie's Jamboree
Festival Shop
Diamond Shop
Avatar Shop
Scale Shop
Inbox
Forums
Community Polls
Advanced Search
July 5th, 2022

139 Online
5:52 PM
Advanced Search




Active Players on Sylestia
Category
Total
Yesterday
Players
3,382
509
Sylestia Pet Data
Category
Total
Yesterday
Pets
7,159,512
2,011
Generated
547,864
284
Captured
1,070,608
187
Bred
5,541,028
1,540
Statistics updated daily at midnight
Recent Announcements
Thread
Posted
Patriotic Event Pet Tr.. Jul 1 Patriotic Event Overvi.. Jul 1 Change to Pet Public S.. Jun 8 Spring Festival Pet Tr.. May 14 Spring Festival Overvi.. May 14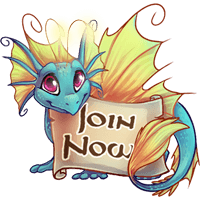 Forum Index > Official Games and Contests > 2022 Fortune Festival - Avatar Dress Up
Page 3
1, 2, 3, 4, 5, 6
Go to Page:
Author
Thread Post
Ethernalflame
Level 55
The Perfectionist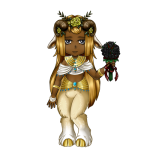 Joined: 1/5/2021
Threads: 44
Posts: 1,842
Posted: 3/18/2022 at 2:04 PM
Post #21
Self ping
Arcaneapathy
Level 70
The Artistic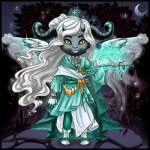 Joined: 11/13/2018
Threads: 34
Posts: 457
Posted: 3/18/2022 at 2:09 PM
Post #22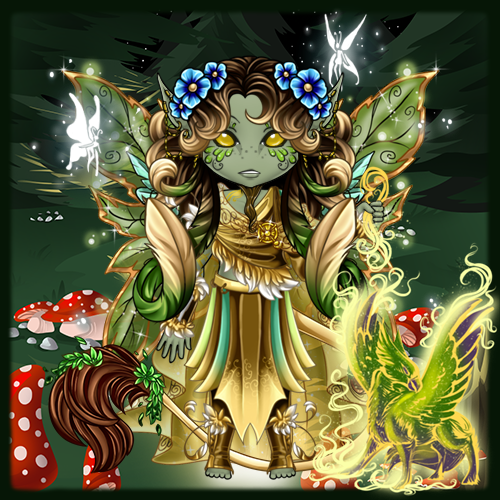 When I think of "lucky", or St. Patrick's Day in general, I tend to think of the fae (or fairies, or faeries, or fair folk... etc) and nature. This is my interpretation of how a faerie might appear.
Ethernalflame
Level 55
The Perfectionist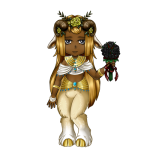 Joined: 1/5/2021
Threads: 44
Posts: 1,842
Posted: 3/18/2022 at 2:20 PM
Post #23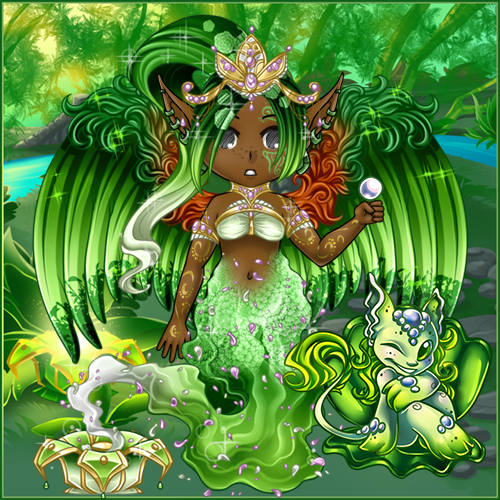 When I hear the word "lucky" I think of things related to luck like Lucky charms (No not the Cereal T-T) and the color green.
Kufkuf
Level 32
Fancy Pants
Joined: 12/4/2021
Threads: 0
Posts: 56
Posted: 3/18/2022 at 3:02 PM
Post #24


Kyne is an odd creature, no one quite knows where she came from and they don't know where she lives during most of the year, but around the same day each year, she appears and with her appearance comes new luck, whether it be crops not dying or the townsfolk not getting attacked by the animals in the woods.
Edited By Krinadon on 4/14/2022 at 8:57 AM.
Lunalamoone
Level 75
Sergeant
Joined: 3/17/2018
Threads: 67
Posts: 601
Posted: 3/18/2022 at 4:18 PM
Post #25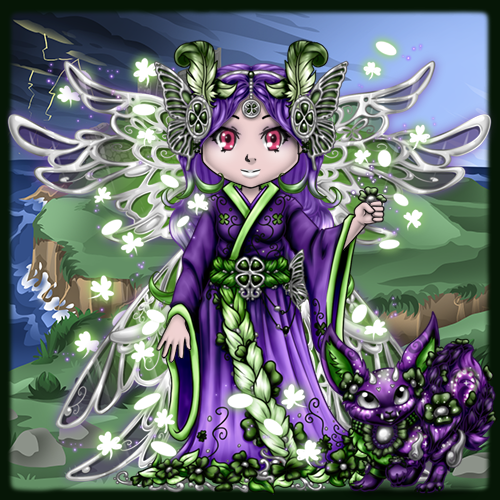 Iris is an odd fae who protects those that find any type of clover, no matter the number of leaves, although she never speaks or presents herself. This is because she's very shy, but she's always accompanied by her beloved Hydrangea Puffadore, who is named for her theme. Hydrangea is Iris's emotional support and her presence makes the fae a bit more willing to speak and present herself.


Fun fact: Iris is a name meaning 'rainbow', symbolizing luck.
Edited By Lunalamoone on 3/18/2022 at 4:19 PM.
Jfoster2004
Level 64
Lucky Fox
Joined: 12/21/2021
Threads: 1
Posts: 57
Posted: 3/18/2022 at 8:47 PM
Post #26


Meet Serina the luck fairy. She lives in the dark woods where she and her bunny companion bring luck to the Sylesties of the forest. Nightly she visits the sylesties while they dream, leaving them hidden shamrocks. Sometimes, it is rumored, she may even hide away a gold coin to discover. It is a common sight to see young sylesties, and even sometimes people, trying to stay awake long enough to catch a glimpse of the fairy of luck.
Passionate
Level 75
Fancy Pants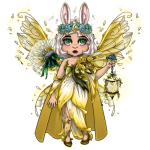 Joined: 2/15/2022
Threads: 5
Posts: 146
Posted: 3/18/2022 at 9:07 PM
Post #27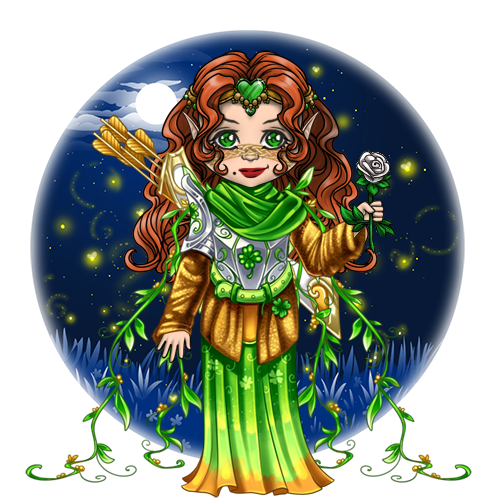 Melodie is an outcast, having been born part leprechaun, part human. Too fair skinned for daylight, she lives on the outskirts of her village, traversing the terrain of the forest by night, never taking more than she needs, never leaving more than a trace. She learned to live among the sylesti through patience and peace, aiding her curious companion ferrikki Carolan in whatever she may need. Treating her much more like an equal rather than a pet earned her the trust of the other sylestis, and the kind of lasting friendship that felt like the only family she's ever known.

(Just wanted to say, WOW these submissions are AWESOME! I am going to be reading them all...you are all amazingly talented!!!)
Enyo
Level 69
Nature Walker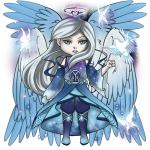 Joined: 1/19/2016
Threads: 14
Posts: 1,706
Posted: 3/18/2022 at 11:26 PM
Post #28



Lady Fortune

According to some, she is a goddess. According to others, she is a fairy, or an ancient spirit. What is certain is that she has control over fortune. She brings good luck, wealth, and even power to the people she chooses. But even if she often appears to be kind and generous, she can also be dreadful. She can take back riches as quickly as she gives them. People who anger her only receive ruin and despair.

Once upon a year, during three weeks, she roams around Sylestia, from Astryl's Vale to the Viridian Meadows. If you encounter Lady Fortune during your adventures, show great respect to her. You may obtain her favor and many gifts!
Edited By Enyo on 3/18/2022 at 11:34 PM.
Katzpetz
Level 62
Joined: 3/9/2022
Threads: 1
Posts: 30
Posted: 3/18/2022 at 11:31 PM
Post #29


This is Imprea. I don't really have a story for her because I don't have that type of imagination. She's how I would make my character, if I could. I think she's pretty lucky to have two dragons.
Notion
Level 73
Guardian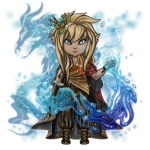 Joined: 9/18/2018
Threads: 0
Posts: 17
Posted: 3/19/2022 at 12:56 AM
Post #30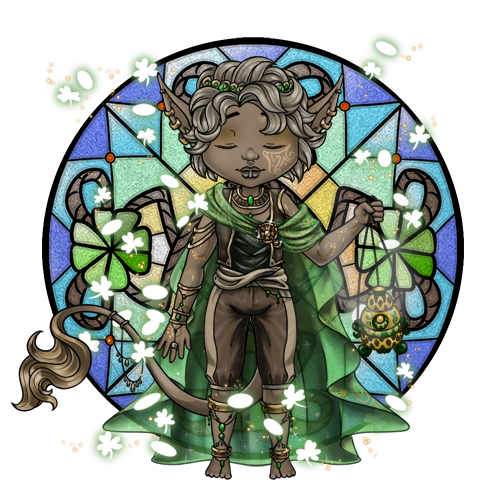 Local legend has it that Lyr was blessed with a second sight in exchange for their first. Recent rumors claim that if you've the fortune to find them, heeding their advice will see your luck turn for the better.

....some stories insist that a lingering fragrance of crushed herbs and incense clings to them wherever they wander. Why anyone would be smelling the seer is unclear, but those with sharp senses (or the aid of a sylesti companion) may be able to locate this benevolent being solely by scent.
Edited By Notion on 3/19/2022 at 1:42 AM.
Go to Page:
1, 2, 3, 4, 5, 6
Go to Top
This Page loaded in 0.041 seconds.
Terms of Service | Privacy Policy | Contact Us | Credits | Job Opportunities
© Copyright 2011-2022 Sylestia Games LLC.
All names and logos associated with Sylestia are Trademarks of Sylestia Games LLC.
All other trademarks are the property of their respective owners.
For questions, comments, or concerns please email at Support@Sylestia.com.