Hi, I'm pretty new here, but have been loving the game and all the cute creatures so far. <3 I've absolutely fallen in love with the Zolnixies, Lupora, Griffies, Ferrikkies, and find the Puffadores to be adorable. Zolnixies are by far my absolute favorite though. I'm also collecting and setting up to breed some golden and rainbow varieties of the Qitari for my youngest son who absolutely loves unicorns and those colors, as well as various colors of Ny'Vene and Draeyl for my oldest.
I'm beginning to map out my ultimate favorite creatures and pattern/mutation combinations which I will be starting to breed towards soon. Then I will be trying to get them in the colors that I love... blues, yellow, greens and magenta.
If anyone wants to add me as a friend, feel free to send me an invite. I try to nurture babies everyday and start with mine, then my friends, then those who have nurtured my pets as well.
If you want to breed with any of my males, send me a message and I will happily set them up.
My pricing follows a formula that I made by looking at what a lot of other players are doing as well or similar to. If I have any critters not available for breeding or sale, feel free to dm me. This will give a basic idea of what the prices will be.
Breeding:
50 - base breeding fee
25 - per carried trait
50 - per visible trait
300 - if its a themed creature
Ex. A themed male with 6 visible traits and 6 carried traits would breed at a rate of 800.
Ex. A male with no theme or traits would breed for 50.
Sales:
1000 - base fee
500 - per carried trait
1000 - per visible trait
3000 - themed pet
Ex. A themed critter with 6 visible traits and 6 carried traits would sell for 13000.
Ex. A critter with no traits or theme would sell for 1000.
Hope everyone has a wonderful day and a Happy New Year!
Here are some projects that I'm beginning work on. If you are interested in any, feel free to message me and I can let you know when they are completed. I am just starting them, so it may be a little while before they are ready.
Harvest Bulbori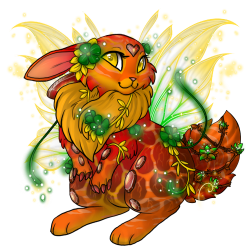 Witching Hour Draeyl