Overview
Stables
Hatchery
Inventory
Wardrobe
Referrals
Settings
Seasonal Festival
World Map
Generator
Breeding Grounds
Nurturing Grounds
Party
Task Log
Mission Log
Quest Log
Themed Pet Codex
Player Trades
Trade Broker
Currency Exchange
Eggling Auction
Pick A Door
Official Games
Un-Official Games
Jinxie's Jamboree
Festival Shop
Diamond Shop
Avatar Shop
Scale Shop
Inbox
Forums
Community Polls
Advanced Search
July 5th, 2022

142 Online
5:40 PM
Advanced Search




Active Players on Sylestia
Category
Total
Yesterday
Players
3,382
509
Sylestia Pet Data
Category
Total
Yesterday
Pets
7,159,512
2,011
Generated
547,864
284
Captured
1,070,608
187
Bred
5,541,028
1,540
Statistics updated daily at midnight
Recent Announcements
Thread
Posted
Patriotic Event Pet Tr.. Jul 1 Patriotic Event Overvi.. Jul 1 Change to Pet Public S.. Jun 8 Spring Festival Pet Tr.. May 14 Spring Festival Overvi.. May 14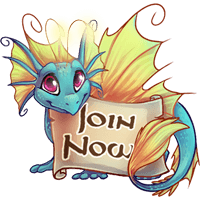 Forum Index > Official Games and Contests > 2022 Fortune Festival - Avatar Dress Up
Page 1
1, 2, 3, 4, 5, 6
Go to Page:
Author
Thread Post
Faiona
Level 75
Nature Walker
Site Administrator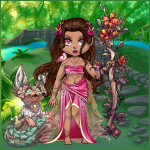 Joined: 12/17/2012
Threads: 437
Posts: 4,600
Posted: 3/18/2022 at 2:55 AM
Post #1
Avatar Dress Up


Rules

No Reserving Posts

Please do not ping me unless you have a question.

1. Visit the Wardrobe and create your own Lucky Themed Character. You can choose any items or styles, even ones that you don't own, and the Character you create can be anything - it does not have to necessarily be 'you'.

2. You must submit exactly 1 image of your design.

A Player Guide on How to Obtain Image URLs

3. You must write a short description or story to go along with your Character.

4. Please do not re-use any previous Avatar Dress Up submissions. You must create a new Character.

5. Please do not steal or use other players' Characters. You must create this Character on your own. Blatant copying of other players' Character will disqualify you from winning and may even ban you from future Forum Games. Please create your own Character.

6. The due date for submitting your entry is by the end of the Fortune Festival.


Prizes

Everyone's submissions will be judged by Krinadon and I where we will select First, Second, and Third place winners based on creativity, effort, and appeal.

All participants will also receive a small prize including the Title: Fancy Pants.

Have fun and enjoy!



1st Place

Prize(s): Free Stable, [Peerless Avatar Token] x1, [Secret Map (Fortune Event)] x10, [Fortune Event Themed Pet] x1, [Piece of Lucky Pot Ticket] x20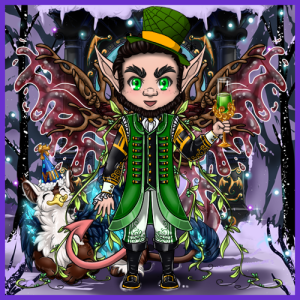 SpaceElf1 - View Entry
2nd Place
Prize(s):
Free Stable, [Secret Map (Fortune Event)] x5, [Fortune Event Themed Pet] x1, [Piece of Lucky Pot Ticket] x10
Chishio - View Entry
Katzpetz - View Entry
Zekotan - View Entry
3rd Place
Prize(s):
[Secret Map (Fortune Event)] x3, [Fortune Event Themed Pet] x1, [Piece of Lucky Pot Ticket] x10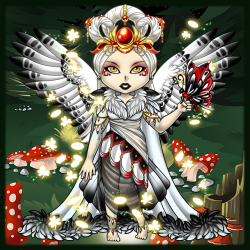 Agilupora - View Entry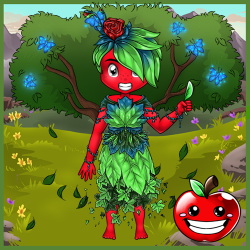 Crystalkey - View Entry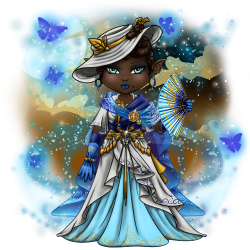 Malas120 - View Entry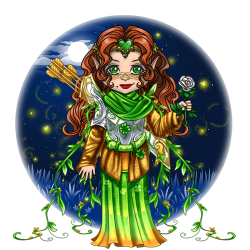 Passionate - View Entry
All Participants
With valid submissions
Prizes:
Title: Fancy Pants, [Secret Map (Fortune Event)] x1, [Piece of Lucky Pot Ticket] x5
Edited By Krinadon on 4/14/2022 at 12:40 PM.
Typicalannamarie
Level 75
High Druid
Joined: 12/26/2021
Threads: 9
Posts: 63
Posted: 3/18/2022 at 3:17 AM
Post #2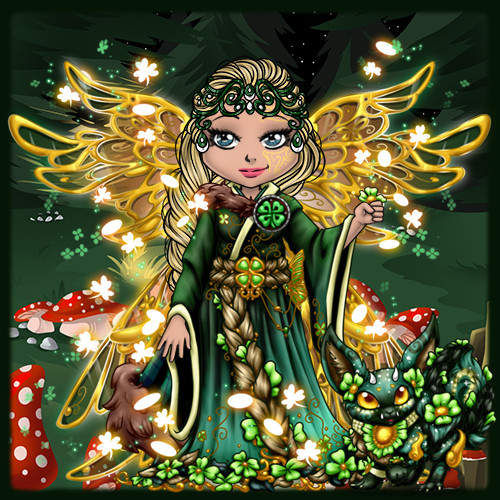 Deep in the Forests of Dora Guevaina lives one they call the Fortune Teller, the Oracle, the One Who Sees.

She spends her life hidden away, keeping company of animal and tree and rock and mountain, rather than seeking out the company of humans - yet they flock to her, for she can tell them everything they've ever wanted or needed to know - about themselves, their futures, what ails them, and what dreams they should pursue.

This, of course, is only what we know of her.
Rumour suggests she walks among us - lives and laughs and loves just as we do.
But without the mystery, who would trust her with their fate?
Kaitt
Level 75
Trickster
Joined: 4/16/2018
Threads: 160
Posts: 3,340
Posted: 3/18/2022 at 3:35 AM
Post #3
i could not love this more. I saved it to wear for halloween xD

When you have a lucky run it could be Cassia, she gifts people with luck when she deems them worthy. If you were ever lucky enough to ever find an offspring of her companion Whisper, you would be set for life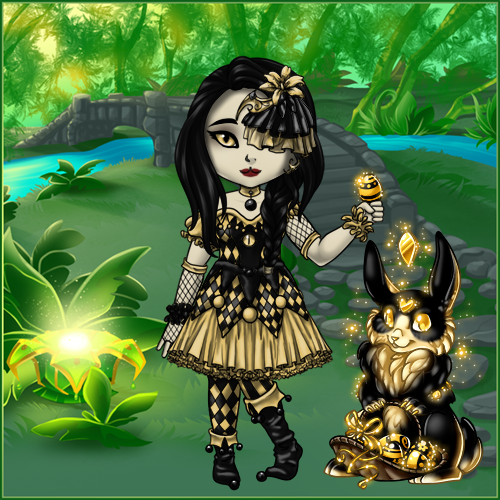 Edited By Kaitt on 4/10/2022 at 6:27 PM.
Orange8902
Level 71
Corporal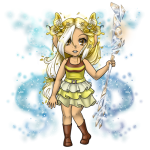 Joined: 1/24/2019
Threads: 11
Posts: 379
Posted: 3/18/2022 at 4:39 AM
Post #4


Up where the wind doesn't blow, there are peaks and hills inhabited by the Fluture Folk. These beings are encompassed by the souls of winged insects and mammals that have been laid to rest in other realms. The peak we visit are beings encompassed by butterflies, the are guided by fairies made in their minds. Here we meet a young peony Fluture, ready to take her first flight with her large, drooping wings. Her path lit with fireflies and flower lanterns twisting and turning through the leaves of the willow trees in Mellow Marsh.
Heilix
Level 73
The Kind-Hearted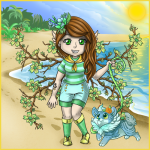 Joined: 2/2/2013
Threads: 5
Posts: 104
Posted: 3/18/2022 at 5:23 AM
Post #5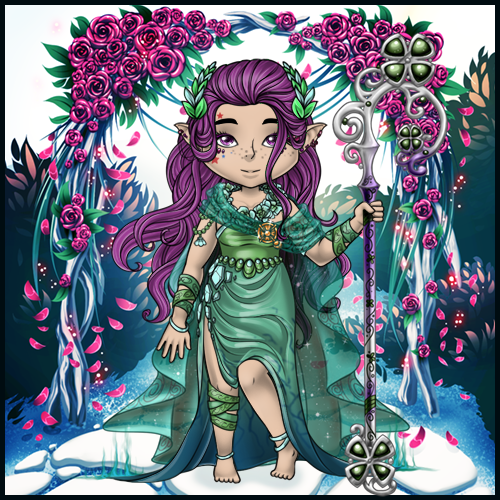 lucky thirteen


Lucky is a forest elf whose lucky number is 13. Her parents gave her the name Lucky,


hoping she would grow up lucky. But in the end she was quite unlucky.



one day she noticed that that whenever it was the thirteenth day or the thirteenth

something, she was a little less unlucky. and so the number 13 became her favorite.



Now her luck has turned and she is the thirteenth guardian of the forest.
Latif
Level 71
Wondrous Witch
Joined: 12/20/2012
Threads: 6
Posts: 347
Posted: 3/18/2022 at 7:18 AM
Post #6

They of the night walks and the wilted trees. They of the moonlit forest and still-water pool. They of the nocturnal creatures that spurn the day. She is their guardian, the one who walks with them and defends them against the encroaching dawn.
Stardust610
Level 60
Fancy Pants
Joined: 1/27/2022
Threads: 6
Posts: 117
Posted: 3/18/2022 at 7:23 AM
Post #7


This is Miriam. And in her family, once anyone turns 16 they reveal whether they are a leprechaun or a fairy. Usually, the males of the family become leprechauns, but Mim became a leprechaun. Now, when adventurers or wannabe princes pass by, they always think that she's some stupid princess in need of saving, but then it turns out she is actually a leprechaun and makes them into magical gold coins that she'll guard at the end of her love rainbow, waiting for the perfect girl or princess...
Novathesylveon
Level 74
Champion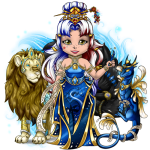 Joined: 12/7/2021
Threads: 3
Posts: 35
Posted: 3/18/2022 at 7:45 AM
Post #8


She always knew she was different from her family and home.She looked different and didn't want to be what they wanted her to be.It wasn't until she was walking through the forest and thought she heard someone calling her.She thought it was her imagination until it was heard again.It kept getting louder and louder until she finally answered it "Hello?".Then it stopped.when she thought that was the end,there was a faint glow.She went to it, as if it was pulling her in, and found some sort of pearl.when she touched it, she knew this was her fate, or maybe luck to be Guardian of the forest, Protector of nature.Even now you may see her playing with some of the nearby animals, or taking care of the flora.

Is This Good? When Writing This It Sounds Cringey To Me
(Edit:now underscore, i would do caps for every word because i thought it made everything look neat)
Edited By Novathesylveon on 4/1/2022 at 5:35 PM.
Authoress13
Level 75
The Perfectionist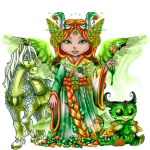 Joined: 10/13/2021
Threads: 4
Posts: 75
Posted: 3/18/2022 at 8:19 AM
Post #9
It might help the tone of your writing sound more natural if you didn't capitalize words other than names and the first word in a sentence :)
Jupiterr
Level 75
The Perfectionist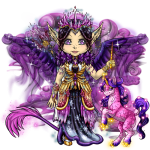 Joined: 1/31/2016
Threads: 46
Posts: 647
Posted: 3/18/2022 at 8:34 AM
Post #10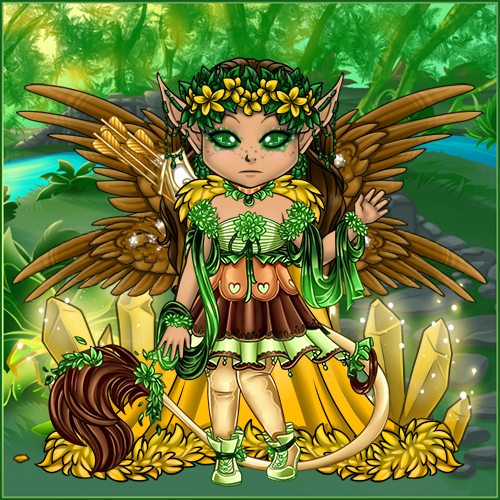 Trocaire, a subspecies of Leprechaun, are a lesser known fae for a reason. They present themselves as female and lure men who go too deep into the forest. They may look innocent at first glance, but this species is vicious. With an uncontrollable lust for gold, these fae will do just about anything to get what they desire. These fae trap unsuspecting men by seduction and after taking what they want, the feast on their bones. These fae have very little lore due to the fact that they leave very little evidence of their existence. These fae live in packs with a single leader and here we see one Trocaire pack leader, Seifteanna.
Edited By Jupiterr on 3/18/2022 at 8:41 AM.
Go to Page:
1, 2, 3, 4, 5, 6
Go to Top
This Page loaded in 0.050 seconds.
Terms of Service | Privacy Policy | Contact Us | Credits | Job Opportunities
© Copyright 2011-2022 Sylestia Games LLC.
All names and logos associated with Sylestia are Trademarks of Sylestia Games LLC.
All other trademarks are the property of their respective owners.
For questions, comments, or concerns please email at Support@Sylestia.com.