Overview
Stables
Hatchery
Inventory
Wardrobe
Referrals
Settings
Seasonal Festival
World Map
Generator
Breeding Grounds
Nurturing Grounds
Party
Task Log
Mission Log
Quest Log
Player Trades
Trade Broker
Currency Exchange
Eggling Auction
Pick A Door
Official Games
Un-Official Games
Jinxie's Jamboree
Festival Shop
Diamond Shop
Avatar Shop
Scale Shop
Inbox
Forums
Community Polls
Advanced Search
July 29th, 2021

106 Online
11:32 AM
Advanced Search




Active Players on Sylestia
Category
Total
Yesterday
Players
3,151
491
Sylestia Pet Data
Category
Total
Yesterday
Pets
6,474,435
1,707
Generated
486,154
20
Captured
988,592
59
Bred
4,999,689
1,628
Statistics updated daily at midnight
Recent Announcements
Thread
Posted
Official Sylestia Face.. Jul 9 Patriotic Event Traits Jun 30 Patriotic Event Overvi.. Jun 30 More Sylestia Merchand.. May 31 Nytekrie Themed Change.. May 30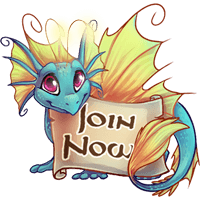 Forum Index > Official Games and Contests > 2021 Easter Event - Create an Easter Egg...
Page 1
1, 2
Go to Page:
Author
Thread Post
Krinadon
Level 70
Guardian of the Realm
Site Administrator
Joined: 12/17/2012
Threads: 883
Posts: 12,850
Posted: 4/4/2021 at 3:11 AM
Post #1
Traditional Easter Egg Contest


The object of this contest is to decorate your own Sylestia-Themed Easter Egg!

This is the Traditional Easter Egg Contest!
There is also a Digital Contest, which can be found here.


Rules

1. You must submit ONE entry of a decorated Easter Egg. You are allowed to use pretty much any physical mediums for the egg (such as clay, Styrofoam, plastic, etc).

2. Your submission must be Sylestia themed in some way.

3. You must provide a minimum of 3 separate pictures of your creation/decorating process along with your Username and 2021 Easter Event physically displayed somewhere in each picture. Here is an example of how this should look: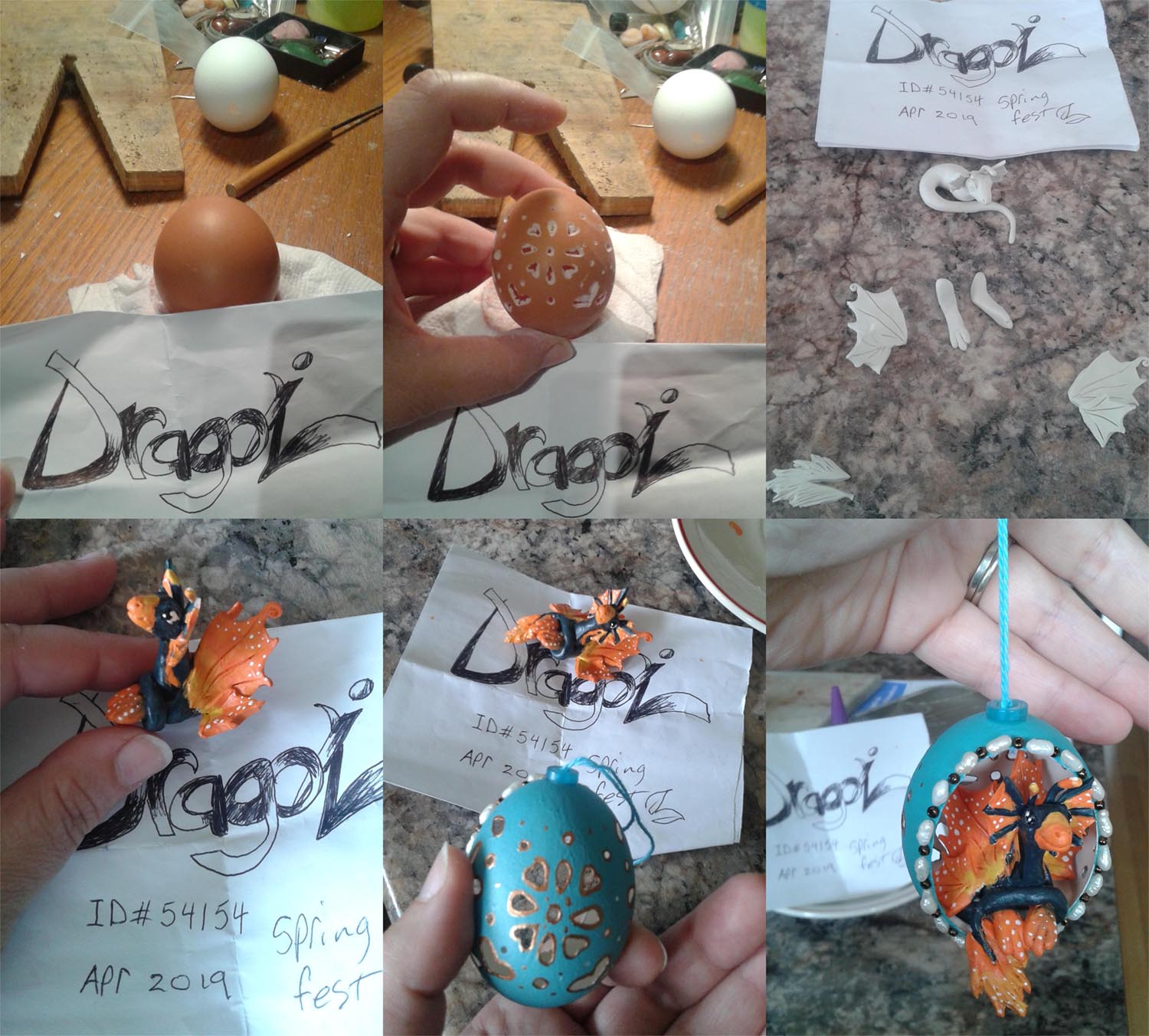 You do not need to post them in a grid like this. I just did this to save space.

A Player Guide on How to Upload Images

4. You must actually be the one to create your entry! While assistance is fine, you cannot simply have someone else create your entry for you and then claim credit. If you are tracing an image for your entry, you must have been the one to originally create that image (Unless what you are tracing is a Sylestia asset, such as our pets, avatars, monsters, etc)! The main point of this contest is to have fun and be creative. So just do your best and have fun. =) We want to see your creativity!

5. Please do not reserve posts. Only post when you are ready to submit an entry. If your entry is still ongoing, you may post early with the progress that you currently have and edit your post as you finish.

6. Please do not ping me unless you have a specific question or concern that I need to address. Thank you.

7. The due date for submitting your entry is by the end of the 2021 Easter Event.


Prizes

Everyone's submissions will be judged by Faiona and I where we will select First, Second, and Third place winners based on creativity, effort, and appeal.

Have fun and enjoy!


1st Place Winner(s)

Prizes: 2,000 Diamonds, Free Stable, [Peerless Avatar Token] x1, [Easter Event Themed Pet (3-Visible)] x2, [Philter of Trait Disruption] x6


GoldGryphon
2nd Place Winner(s)
Prizes:
1,000 Diamonds, Free Stable, [Peerless Avatar Token] x1, [Easter Event Themed Pet (2-Visible)] x2, [Philter of Trait Disruption] x4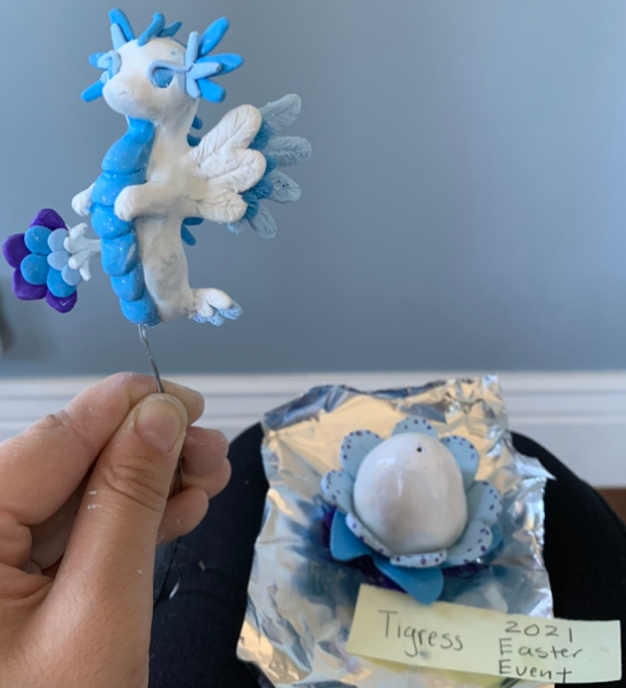 Tigress
3rd Place Winner(s)
Prizes:
500 Diamonds, Free Stable, [Peerless Avatar Token] x1, [Easter Event Themed Pet (2-Visible)] x1, [Philter of Trait Disruption] x2
Atriella
Lostwords13
PhilosopherKing
All Participants
Prizes:
Title: Eggcellent Designer, 100 Diamonds, [Peerless Avatar Token] x1, [Easter Event Themed Pet (1-Visible)] x1, [Easter Eggling Avatar Item] x2
Edited By Krinadon on 4/19/2021 at 9:12 PM.
Dragoil
Level 70
Grand Protector
Joined: 2/28/2016
Threads: 166
Posts: 1,847
Posted: 4/10/2021 at 4:12 PM
Post #2
Beaded easter egg, (crys as it broke half way through)

So I tried something new, I had a beautiful beaded bowl from mexico and always wanted to try and do the technique.
1. Got egg blown and seed beeds, wax (use bees or molding)


2. Got started with sketch and coatded with wax, The process is simple but oh so delicate!


3. Pressing beads into design and heating to set, this is pains-taking work, took me quite a while to master Lots of hours popped into this, a bit like x-stitching.



4. Was all done design and starting on pattern when SMASH! My Needle must have hit a weak spot, egg just shattered in my hand,(Heart breaking) all that was intact was the design I had done.


So sad at this point as it was going nicely, unfortunately I have run out of time to finish. I Have a lot of appreciation for the art technique now (seen masks.. those are seriously undervalued!!!) Maybe next time I'll go find a plastic or wooden egg, will take the pressure and heat better than real egg :(
Hysteriantics
Level 70
Champion
Joined: 10/18/2018
Threads: 19
Posts: 1,095
Posted: 4/15/2021 at 12:00 PM
Post #3

Album


So, I decided that I want to make one of the Easter egg held. Which one in question? The Shimmering Lake Rikki!
To do so, I'll be using one the LPS I have, along with a gashapon of sorts.



& then comes along the clay & hot glue.



Alas, I forgot to take a pic of the base/white coat, plus the second pass of clay. So we're skipping to the base colors.



Pretty much done at this point, just need to put some mod-podge on, & she's good to go (:



& she's done! I tried to paint a "shimmering lake" on the egg, not sure how well I succeeded on that part. Overall, I'm pretty content with the way this turned out, even if she looks a little off lol.

Lostwords13
Level 70
Vanquisher of Undead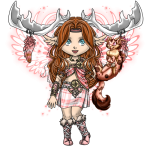 Joined: 6/16/2013
Threads: 113
Posts: 2,092
Posted: 4/17/2021 at 5:06 PM
Post #4

Gathered supplies. I ended up using more clay colors than this, but it gives the idea.

Apparently, I forgot to take a pic of the nest after i made it. That was step 1. It involved thin wood shavings/strips, and some leftover easter basket grass i had sitting around, as well as a few lighter wood shavings for color. I then drizzled glue over the whole thing to at least pretend to give ti some semblance of stability. As you can see in proceeding images, this was a disaster for my name paper lol.



step 2: make a ball out of aluminum foil. take dark sparkly pink, add white, and wrap that around the foil ball.



Step 3: decorate the egg with species-equivalent marks. It's a neph! The egg was a bit small so details had to be improvised a bit.



Step 4: Create the egg's mom. It's a wingless neph, because Im admittedly do not know how to successfully make wings out of clay and at this point ran out of most of my colors.

Wait overnight, because it is now midnight and my household would not appreciate me using the oven so late to bake. When I woke up, the arms and one of the legs had fallen off, so those had to be redone.



Final step: Bake and add the eyes, which are made out of plastic and attached haphazardly with white glue because they were too small for hot glue. The body of the neph was made to wrap perfectly around the nest, and the egg fits perfectly into the little hole for it. The piece got a bit burnt in the oven unfortunately, because my oven likes to burn things.

Additional images of final product:

(was trying to get a pic of the other side, but kinda failed lol)
Scathreoite
Level 70
Master Egg Hunter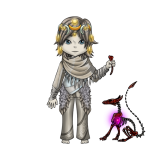 Joined: 11/2/2014
Threads: 45
Posts: 2,877
Posted: 4/18/2021 at 12:18 AM
Post #5

this plastecine is kind of ancient so it's pretty solid and hard to work with



is it particuarly good? maybe not. but brain empty, plastecine a bit tough with age and not easily workable. I made an Attempt.

bonus: the plastecine egg I was using to hold up the aeri

Edited By Scathreoite on 4/18/2021 at 12:20 AM.
Angelzrulez
Level 70
Maw-nster Masher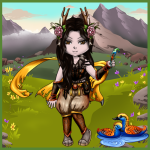 Joined: 1/9/2014
Threads: 20
Posts: 1,684
Posted: 4/18/2021 at 2:31 AM
Post #6
Here's mine:




Looks like the Easter Bulbori has hidden an Easter egg inside a sylesti nest!
Atriella
Level 70
Cutely Creative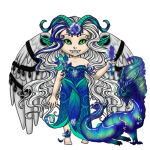 Joined: 1/28/2014
Threads: 201
Posts: 5,082
Posted: 4/18/2021 at 2:36 AM
Post #7


And the Ferrikki this egg was loosely based off of

Edited By Atriella on 4/18/2021 at 2:36 AM.
Stormclan666
Level 70
Trickster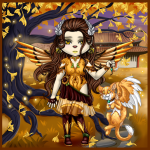 Joined: 1/13/2019
Threads: 144
Posts: 1,690
Posted: 4/18/2021 at 11:14 AM
Post #8
First I made the nest with cardboard and paper.


Then I carved egg out of styrofoam, and coloured it with acrylic paint. (I didn't take pictures of the egg before painting it >.<)


Then I glued a gold "S" on it for Sylestia.


After that, I made a origami dragon and used watercolour to paint it green so it matches the nest.


Originally I hadn't planned on making the dragon, but the egg looked sad without something on top.
Finally, I placed the egg on the nest, and the dragon on top of the egg.


A bigger pictures of the final product:


A side view:

GoldGryphon
Level 70
Guardian of the Realm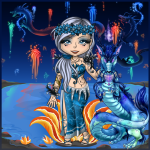 Joined: 1/28/2014
Threads: 73
Posts: 4,118
Posted: 4/18/2021 at 1:24 PM
Post #9
So, I last tried this type of entry in 2017. It is similar, but a Griffi egg! I used some new techniques, most notably, Candy Glass!

Let's get started!
I first went through all my cupboards and found lots of stuff I could use (I definitely did NOT use all of this stuff!)!



I started by making the egg; melting the candies right in the mold to save on clean up!



After letting the candy time to cool and set, I took it out of the mold and melted the edges on a warm pan to piece the halves together!



Next! Time to decorate the egg!



Now to try and make Sugar Glass!



Wow! I think it worked well! I hope it cracks nicely!



It cracked beautifully! I gathered all the supplies for the final setup!



And my entry!

Pirate
Level 70
The Hallowed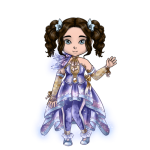 Joined: 12/17/2012
Threads: 9
Posts: 371
Posted: 4/18/2021 at 5:43 PM
Post #10
Here's my attempt, I'm not the most artistic person. xD




I wonder what could possibly hatch from this patterned egg...



Wow, a bulbori! :')



The egg and the bulb together~

Go to Page:
1, 2
Go to Top
This Page loaded in 0.016 seconds.
Terms of Service | Privacy Policy | Contact Us | Credits | Job Opportunities
© Copyright 2011-2021 Sylestia Games LLC.
All names and logos associated with Sylestia are Trademarks of Sylestia Games LLC.
All other trademarks are the property of their respective owners.
For questions, comments, or concerns please email at Support@Sylestia.com.