Overview
Stables
Hatchery
Inventory
Wardrobe
Referrals
Settings
Seasonal Festival
World Map
Generator
Breeding Grounds
Nurturing Grounds
Party
Task Log
Mission Log
Quest Log
Player Trades
Trade Broker
Currency Exchange
Eggling Auction
Pick A Door
Official Games
Un-Official Games
Jinxie's Jamboree
Festival Shop
Diamond Shop
Avatar Shop
Scale Shop
Inbox
Forums
Community Polls
Advanced Search
April 12th, 2021

141 Online
4:37 PM
Advanced Search
Active Players on Sylestia
Category
Total
Yesterday
Players
4,377
602
Sylestia Pet Data
Category
Total
Yesterday
Pets
6,285,476
1,580
Generated
469,920
32
Captured
960,106
125
Bred
4,855,450
1,423
Statistics updated daily at midnight
Recent Announcements
Thread
Posted
Easter Event Overview Apr 4 Fortune Event Overview Mar 17 Nytekrie Themed Change.. Mar 8 Nytekrie Revamp Releas.. Mar 4 Site Downtime - 3/4 @.. Mar 3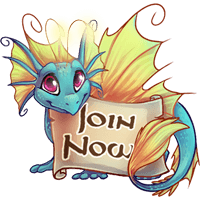 Forum Index > News and Announcements > Nytekrie Themed Changes
Page 3
1, 2, 3, 4, 5, 6
Go to Page:
Author
Thread Post
Scathreoite
Level 70
Master Egg Hunter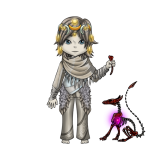 Joined: 11/2/2014
Threads: 44
Posts: 2,713
Posted: 3/9/2021 at 10:37 PM
Post #21
For the moment I'm just going to comment on the two themes we made, we'll look more into any others later on

Doom Harbingers,
current proposal:



I'd say...
Please make the G3 like... a little bit lighter? I genuinely do not know WHAT I was thinking when I picked a colour that dark for it. Maybe somewhere around 540000 or even just 420000 (the current colour is especially notable as 'not a great pick' since the parts of the wings that were white and grey previously and against which the G3 traits stood out a bit are now black with just that small bit of red.)

I'd also say no to making the A1/A2 the EC, I'm pretty sure I picked the yellow-orange for contrast purposes to avoid overloading completely with the red?
Maybe a mid red like A30013 or possibly a dark orange-red for A2
A1, I feel like a mid-grey (as the original used to have) could work (or G1 could be the grey with A1 the red, which might work better?)

G3= slightly lightened, A1 = grey, A2 = red



G1 = grey, G3= slightly lightened, A1 = red, A2 = red (I think this one works pretty well)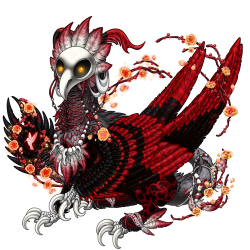 For Mountain's Peak, our other nyte theme,
current proposal: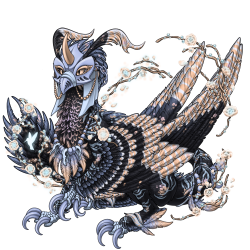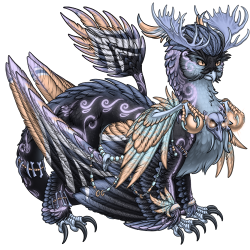 our tweak proposal
swap C2 to G1, G1 to C2 (maybe tweaked slightly to something like 9FB7E0?), A2 lighter (to something like F5DEB3)?



(MP is definitely less in need of any real tweaking than DH's in our eyes, though)
Edited By Scathreoite on 3/10/2021 at 4:29 AM.
Torey
Level 70
Sylestiologist
Joined: 12/29/2017
Threads: 47
Posts: 439
Posted: 3/9/2021 at 10:54 PM
Post #22
Some suggestions for the Flying Fox themed:

--->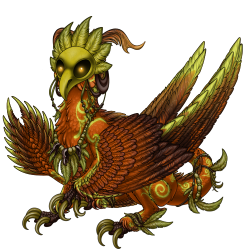 -->



Some traits in my color scheme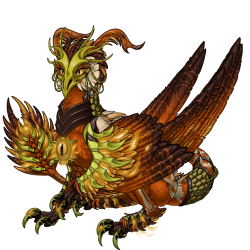 Edit: Changed G3 and A1 colors based on other players' suggestions
Edited By Torey on 3/12/2021 at 8:00 AM.
Midnightwolf001
Level 70
The Kind-Hearted
Joined: 10/8/2018
Threads: 6
Posts: 70
Posted: 3/9/2021 at 11:14 PM
Post #23
This is the two ideas I came up with for the Sea Emperor Nytekrie.


Sea Emperor Nytekrie: As close to the original as I could get, color and hue brightness-wise.




Sea Emperor Nytekrie: Eye Color changed to add a bit more contrast and depth.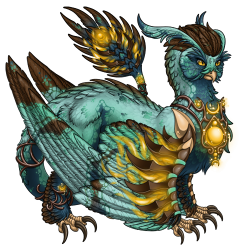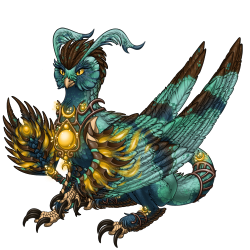 Note: Again, Original colors and positions have been switched around and altered.
Edited By Midnightwolf001 on 3/9/2021 at 11:38 PM.
Midnightwolf001
Level 70
The Kind-Hearted
Joined: 10/8/2018
Threads: 6
Posts: 70
Posted: 3/10/2021 at 12:22 AM
Post #24
I think the only suggestion I have for the Forever Susan Lily Nytekrie you posted in the original post is to possibly change A1 color on it. I might have tweaked or changed other colors in the images below. But, I don't think I did. For some reason the yellowish A1 color on the edit was annoying me and the marroon as A1 highlight seems to make the G2/Wing traits more smoothly transition into the traits and colors of the body. o.o


Forever Susan Lily Nytekrie Example: With A1 Changed.

Edited By Midnightwolf001 on 3/10/2021 at 12:28 AM.
Vulpera
Level 70
The Fortuitous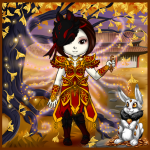 Joined: 1/25/2014
Threads: 4
Posts: 451
Posted: 3/10/2021 at 12:29 AM
Post #25
I only focused on the two I designed, as I don't know the others too well to give feedback. Hopefully, these will help bring these back to their former glory.

Desert Drought
With this theme, I see a few major issues. As someone else mentioned, there is little to no contrast between colors, as some slots reuse codes. Firstly, I would recommend making is changing C2 to a more golden orange tone, so there's a bit more contrast in the wings. I'd also switch G3 and A1, as the current A1 will cause bad clashes with G1. The current A1 is overwhelming in a couple of G1 traits, mainly Partridge and Mystic Feathers, which badly breaks the theme. I'd darken the new G3 slightly to give better contrast against the eyes, which I have changed to light blue to represent the desert winds. Thirdly, M1 and M3 would look better in a darker, more saturated orange tone, as sand isn't just golden yellow and light brown, which also made me change A2 to a more saturated golden tone. A2 changes can be better seen in the restricted, which I have also posted below.

Current

Restricted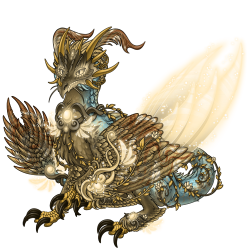 New
Restricted



Purpleheart Spiderwort
Sadly, these guys also suffered from repeated color codes. However, unlike the DD Nytes, the Spiders were required to use the selected reference picture. Unfortunately, I couldn't find the exact image used, so I picked the one closest to what I remember. That being said, I had to make a lot of color changes that I really can't explain, but they're as close to how they looked originally. The difficult part was making sure colors didn't blend in with each other, while making sure the golds and yellows didn't overpower the purple.

Current

Restricted
New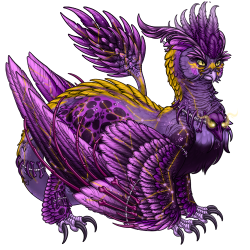 Restricted
Edited By Vulpera on 3/10/2021 at 2:11 AM.
Meeku
Level 70
Fancy Pants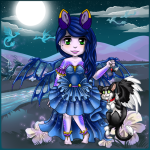 Joined: 7/20/2018
Threads: 9
Posts: 136
Posted: 3/10/2021 at 12:44 AM
Post #26
oh wow, so many themes to go through.
I agree with what many people are saying about the wing colors being lost.

I'm looking at the voodoo master nytekrie as example since i have a screencap of its colors:


it had blue wingtips and feet by default, without a gene affecting it.


It took me a while to understand why "Color two" (blue, which was wing color) and "Color three" (black.. not sure what that controlled pre revamp) were swapped. Its so that (color three) controls the beak and feet can be the same color as pre revamp.

So now we have black wings as a result of color three moving to color two slot.
Current colors:



Solution 1:
If color three were the same color as color two it would give this theme some of ts original blueness back without the use of traits.
Same "Color 3 and Color 2":



Solution 2: is to leave the color 2 and 3 as is and switch the G1 and G2 color which would make the wings more consistently blue.

Switch G1 with G2:


Now with traits in G1 and G2:



Heres where a problem comes up concerning firetiger. it is very very orange, but it used to be blue and orange.
Here is the "Solution 2 version" of firetiger: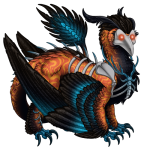 the only way I saw to remedy this is by altering the A1 color to blue (same as Color three) but that would remove an orange color from nighthawk(G2) and moon runes(G3) and possibly make the design too blue?

Here is what firetiger would look like with A1 color changing to the same as Color 3:



Now the same examples from earlier but with the addition of A1 being the same as Color 3:



In summary, I guess its up to the community. What do we want more of in this theme: More Blue or Orange? I definitely feel like the G2 color should be blue.
Scathreoite
Level 70
Master Egg Hunter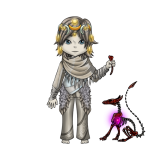 Joined: 11/2/2014
Threads: 44
Posts: 2,713
Posted: 3/10/2021 at 3:08 AM
Post #27
Okay I'm back for round 2 with a theme that's Relevant To Me even if I didn't make it, that being Sunbather Gazania, which makes up all our project pets and also our main team.




okay, so I'd say C3 darker because for some reason I don't understand gallant armor's cloth ties to that slot (I just really feel like the cloth being A2 and the horn+chains being C3 or EC would make much more sense??) and it just looks weird to us to have gallant armor with bright orange cloth
Something like B53300 or C94700 or something

The G1+A1 combos that most of the G1 traits have is... eeehhhh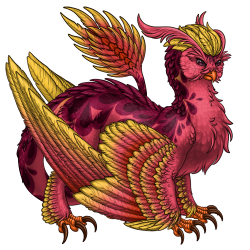 possible alterations to them:
G1 = yellow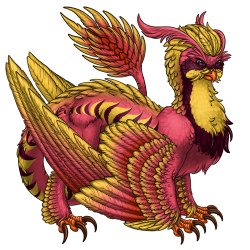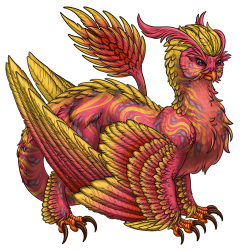 A1 = yellow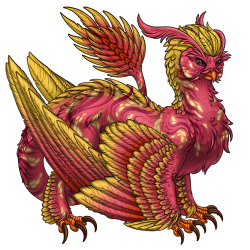 (me shuffling a bunch of colour slots just because I feel aggrieved by what the current colours do to fire tiger)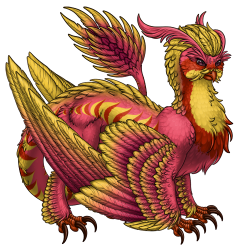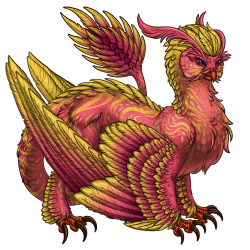 w/ a G2+G3
current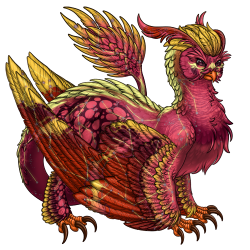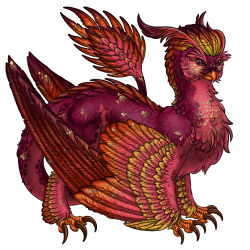 yellow A2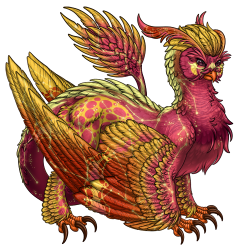 me messing around

Edited By Scathreoite on 3/10/2021 at 3:12 AM.
Meeku
Level 70
Fancy Pants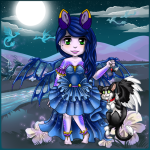 Joined: 7/20/2018
Threads: 9
Posts: 136
Posted: 3/10/2021 at 4:16 AM
Post #28
Looking at the Cranberry Crisp theme, I have some suggestions..
Heres an img of the way it used to be:


Vs how it looks now:



I'll just post some generator pics side by side with the different genes to show what I think looks better.
(Left=Current Colors Right=Adjustments)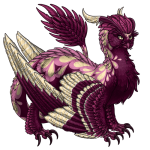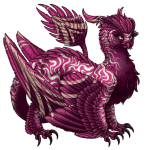 So I swapped the current G2 into G1, Moved and darkened G3 into G2, Moved G1 to G3, Changed A1 to a lightened version of Color 2.
Meeku
Level 70
Fancy Pants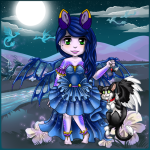 Joined: 7/20/2018
Threads: 9
Posts: 136
Posted: 3/10/2021 at 6:46 AM
Post #29
I think the Misty Flower theme would look pretty with slightly more distinction in its colors:
Current Colors----->Suggested Colors

Torchflame
Level 70
Master Egg Hunter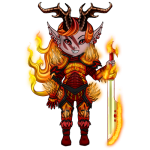 Joined: 12/9/2018
Threads: 19
Posts: 263
Posted: 3/10/2021 at 7:42 AM
Post #30
I think a lot of the themes turned out quite well with the new updates, however as many others have mentioned, many of them seem to be a bit darker than the originals. I think the new design of the wings might have a part to play in that as well. Other than that I actually really enjoy the new designs :)
Here are some things I did note, but it is mostly me just nitpicking:

- I agree with another user that the Blizzard nyte could be lightened a bit with the gray color.
- With numerous designs, such as the Blood Moon, Bonfire Ash, and First Sun (these are just some, there are many more) the coloration in the wings was originally brighter and mostly one color. I am not sure if I personally like the darker areas near the small feathers along the ridge of the wings as much as before. But again this could very well be due to the detailing that was added to the wings.
Go to Page:
1, 2, 3, 4, 5, 6
Go to Top
This Page loaded in 0.025 seconds.
Terms of Service | Privacy Policy | Contact Us | Credits | Job Opportunities
© Copyright 2011-2021 Sylestia Games LLC.
All names and logos associated with Sylestia are Trademarks of Sylestia Games LLC.
All other trademarks are the property of their respective owners.
For questions, comments, or concerns please email at Support@Sylestia.com.