Overview
Stables
Hatchery
Inventory
Wardrobe
Referrals
Settings
Seasonal Festival
World Map
Generator
Breeding Grounds
Nurturing Grounds
Party
Task Log
Mission Log
Quest Log
Player Trades
Trade Broker
Currency Exchange
Eggling Auction
Pick A Door
Official Games
Un-Official Games
Jinxie's Jamboree
Festival Shop
Diamond Shop
Avatar Shop
Scale Shop
Inbox
Forums
Community Polls
Advanced Search
February 22nd, 2020

212 Online
9:33 PM
Advanced Search
Active Players on Sylestia
Category
Total
Yesterday
Players
6,886
968
Sylestia Pet Data
Category
Total
Yesterday
Pets
5,474,412
1,611
Generated
404,480
91
Captured
847,447
209
Bred
4,222,485
1,311
Statistics updated daily at midnight
Recent Announcements
Thread
Posted
Week of Love Overview Feb 13 New Feature: Nurturing.. Feb 9 Winter Festival Pet Tr.. Dec 26 Winter Festival Diamon.. Dec 23 Winter Festival Overvi.. Dec 22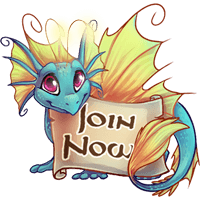 Forum Index > Other Fiction > Soul of two.
Page 1
1, 2, 3, 4
Go to Page:
Author
Thread Post
Funtimefoxyimposter3
Level 41
Candy Dispenser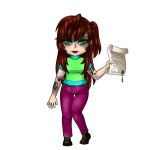 Joined: 5/3/2019
Threads: 22
Posts: 764
Posted: 9/7/2019 at 12:10 AM
Post #1
I stretched and swung my legs off the bed. I got up and stretched my dragon wings and tail, and rubbed my horns. "Why..."I mumbled. It was almost six, almost time to get ready for school. And no matter how early I woke up, my foster "mom" wouldn't get off my back about waking up more early. Any way, being with the fact that I have a very boring test today, as always on Fridays, I worked slowly on purpose. As would be guessed, "mom" started to yell at me, and eventualy, I found my self scurrying out the door, and having to fly to school with my back pack on my tail, because SOMEONE didn't wan't to drive me.

I will continue this, just really tired, did this at like, 10:10pm, I just checked.
Edited By Funtimefoxyimposter3 on 9/7/2019 at 2:56 PM.
Funtimefoxyimposter3
Level 41
Candy Dispenser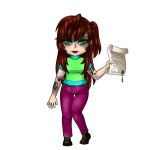 Joined: 5/3/2019
Threads: 22
Posts: 764
Posted: 9/7/2019 at 3:18 PM
Post #2
As I flew I saw a kid that seemed to notice me, and started to freak out. I knew what to do though, I swooped down over their head and dropped some blue dust on them. That was my forgetful dust that I used on anyone that saw me. The kid coughed and then passed out. I took the chance to move, and I had to move fast. I dropped down next to the kid, and realized he was about 12. I sat by him and put my palm on his open mouth, then pulled it back. He was still breathing, and I cut my palm. Lila was going to know what happened when she saw the blood. I let it bleed a little, then put my open wound on his lips, his eyes burst open but they where blank. Then he tried to suck a breath in but got my blood instead. Then he passed out again. As long as when he woke up and got at least a little down his throut I would be erased from his mind. The dust plus my DNA would affect the memeory of me, and soon I would have never been seen by him.I stood over him and looked at his bloodied mouth, then flew back to the sky. This was not the first time I have had to do that. I had to do it to about 15 people if I was counting. I landed in front of the school and let my horns, wings and tail retreat into me before entering and running into Lila. "Yo, bruh." I said smiling as bright as I could, but then she slapped her hand over my mouth and looked me in the eyes,"Your fangs are out JJ." she whispered urgently. Her blond hair was shining, and she had a lavender top on with her tiny shorts. Oh, how I loved those tiny shorts on her. I shook my head forcing them back without spitting up acid. She yanked off my hood and ruffled my hair, checking my horned. Then she smiled at my green tips. Just before I could smile back, the bell rang. She swung her backpack onto her shoulder and gave me a look like,"Did you study?" and I gave her another smile, and she punched me almost hard enough to knock my wings out. But I kept them hidden. As we entered the class Mr. Stitchsnitch gave me a smile that said it all, he had made the test about why dragons aren't real on purpose.
Edited By Funtimefoxyimposter3 on 9/7/2019 at 3:23 PM.
Funtimefoxyimposter3
Level 41
Candy Dispenser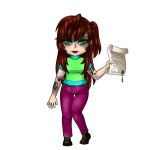 Joined: 5/3/2019
Threads: 22
Posts: 764
Posted: 9/10/2019 at 8:35 AM
Post #3
As I sat down I leand toward Lila and whispered in her ear."Hey, I need a favor. It's about the test." I didn't need to say any more, she was off. She launched her self at the teacher and let her body sag. "Uhhgg..." She made sick noises and the teachers face went pale. I took the distraction time and let my dragon form come in camouflage. I shifted, adjusting my wings, and silently slithering out of the room and straight to the exit, easy right? WRONG!!! I was almost there when two teachers walk out. My math teacher and English teacher. I had to try to keep as still as I could. My joints screamed in protest. I almost had to fly out when she nearly bump into me. But I shifted just enough silently that she avoided my wing. Right after they had gone, I made my way out to the clear open air! FREEDOM!!! I Stretched my wings to full length, and soared high, till.... The portal came, and everything went blank.
Funtimefoxyimposter3
Level 41
Candy Dispenser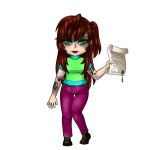 Joined: 5/3/2019
Threads: 22
Posts: 764
Posted: 9/10/2019 at 10:55 PM
Post #4
(Now in full form.)Everything hurt. I got up, and stretched, but felt a little tingly. "What happened?" I mumbled. I opened my eyes, and realized that I wasn't above the school any more. There was a grove of trees in front of me, but they where as black as ash. I suddenly heard a hissing on my left side, and froze. Now, usually others freeze out of terror, but I froze to listen to the threat. Sounded like a big attacker, but might not be human, but if it was an animal, I might be able to take them. I unfroze and lunged at the creature next to me, knocking them on the ground. I stood over them about ready to grab my blue dust, but I had none. No pouch, no vials, no nothing. I pulled my head up, then looked at the attacker. They where a black dragon with large spikes on his back ,that where the color of extraterrestrial green, shaped like a sharks back fin. And he had pink eyes. Those pink eyes bore into mine. And suddenly I felt him heave me up and push me under him instead. This was not good, he was bigger and older, and I could see his high muscle tone under his scales. "Who are you!"He growled, and he dug his back talons into my underbelly, nearly enough to draw blood. "AAAAAARRRRGGGG!" I cried, baring my fangs. I shot some sleeping poison at him from my fangs, and he reeled back, but just wiped it off. It gave me enough time to get up and launch my self at him, but suddenly these white figures landed on me. The one that did looked down at me and smiled. A girl, I could take a girl. I tried to jab my stinger on my tail at her snout but she just smiled more. I looked over and realized she had my tail pinned, and she had her deadly claws at the ready over my mid-point of my spine. "No one hurts the prince." Hissed the dragon on top of me. I tried to pull against her, but she only lifted a little,then spun and flopped on top of me again, her wings sprawled out lazily to the sides."AAAAUUURRRRRRGGGG!!" I screeched. This was not going to end well if I didn't do anything. I took a deep breath(Well as deep as I could with an adult dragon laying on me) and summoned the fire and ice slush in me. This was something I did often. I let it bubble in my throat, then turned my head to the she dragon, smiling she smiled back till she saw the lava dripping from my mouth. She jumped back with a screech and started to scream and point. I stood up slowly, and let my eyes flow with purple light. This was going to be fun. I leaned forward and smiled, letting the lava flush out. I walked forward and stood in front of the black dragon as the white ice dragons shivered. Their crystal spines clattering. "Don't come any further!" He roared, flaring his wings at me. But I flared mine as well, making my ruff swell up around my face turning it red, and opened my mouth even wider, letting the lava turn even darker red. He jumped back till I was right on top of him. I stopped the lava and looked him strait in the eyes. "Hey ya, ... toots~." I hissed. Then I sat back and massaged my jaw,stopping the lava flow. Then looked him in the eyes. He seemed less alarmed. So, this must be the other realm if feel around the school. Odd. Looks pretty lame."Hey.... You don't need to be so scared". I tilted my head and let my body go to full relax, and sat there , locking my purple gaze with this dragons hot pink eyes. He then made a motion to his guards and they all made a circle around us. "So, what are you doing here? Stranger?" He said through his teeth. I tilted my head the other way. Why was he not just flying away from me? He was right at the edge of the cliff and could take off any moment, yet he let himself be there, right in front of me. I stretched my neck and let my ruff cool and turn rainbow again. I started to preen my scales, letting my gaze wander without them noticing. I took account that there where about 12 guard. I could handle about 4, but what about the rest? I sighed and continued to answer him. "Well then, Hi I am shadow in this form, and I am a Multiwing/ human hybrid."I then continued to show them my soul. I took a deep breath and let it flout out of my chest, and held it flouting right above my front talons. They all gasped as it it might explode."And I have half a human soul and half a dragon soul." I then let it pass back through my chest cavity.
Edited By Funtimefoxyimposter3 on 1/1/2020 at 1:20 AM.
Funtimefoxyimposter3
Level 41
Candy Dispenser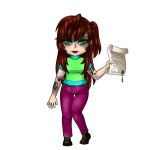 Joined: 5/3/2019
Threads: 22
Posts: 764
Posted: 9/11/2019 at 8:55 PM
Post #5
They all stood there, staring at me in shell shocked horror. The prince just stood there, and smiled joylessly at me. " It's you!! And you've kept your name!!" He cried and wrapped his wings around me. But I slid out of it and stood up on my hind talons."Wouh buddy, love the affection and all, but I need a little space of my own dude!" I said putting my front talons in the air. He gave me a confused look, and backed up a little. Then he dipped his head and made a motion for the guards to follow. Then he smiled at me and lifted into the air. I followed, only 3 wing beats behind him, and glided besides him. Time went by very slowly, and we had to fly over orange sand and black trees. There was no such thing as greenery in this place, and I began to notice that all the animals that where there to find seemed a little chard. But the other's didn't seem to notice. Then we began to approach a mountain range and this was a more of a blood red and black rather then being orange like the rest of the terrain I have seen. Once we landed I realized that the black was a palace, but it was not just black, it had a black sort of metal frame, and the rest seemed to be made of crystal on the outside. The guards then stood to the side and let the black dragon go in first. As soon as we walked in we where in a bright gold room, and it had a blue throne right at the back, at the center of a wall painted with bright colors. And there where two dragons by the throne. One tall slender light green dragon, with horns that flowed the color of gold. She looked kind and soft. And the other was a little shorter and had a little muscle, but not like the black dragon. He walked over the them and gave a quick nod. Their eyes went huge, as they stared at me. I bowed a little, and met their gold eyes. Hm, didn't think dragons could have gold eyes. The older one smiled at me with joy, but seemed more controlled than the male dragon. But the other female dragon glared at me every second. "Flora, Lavender, this is shadow, I TOLD you he could and would come back!!" He said, and gave them a proud nod.
Edited By Funtimefoxyimposter3 on 9/12/2019 at 7:19 PM.
Funtimefoxyimposter3
Level 41
Candy Dispenser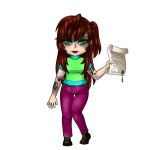 Joined: 5/3/2019
Threads: 22
Posts: 764
Posted: 9/12/2019 at 7:28 PM
Post #6
Suddenly they backed up, all except the black dragon, and dipped their heads. Odd. I stood their next to the black dragon, and felt a weird chill run from my horns to my tip of my tail. This was really, really weird. STOMP STOMP STOMP." FLASHER!!" A male dragon voice called. And it sounded angry. The black dragon besides me clenched his jaw. HE was Flasher. Suddenly the source of the voice came through the door. He was like me, with white based scales, but instead of rainbow scales for his frill and under his wings, he had black and had large black swirls running all through his body. He had a mad look on his snout, and he was rushing right at Flasher. Before I could even think, I jumped at him as he leaped at Flasher. I rolled on the ground with him under me, my fangs bared. I tried to pull my stinger to his snout, but he held it fast. He wouldn't let it go. Out of instinct, witch felt familiar, I flared my frills and rammed my chest into his. The air knocked out of him, and I rammed my horns at his face. He released my tail with a yelp. I took the chance to pin him and hold his body down to where he was squirming beneath me. And before I could stop my self, I said"Ha, now your mine, Shady!" My wings flared triumphantly, but I didn't know why. All of a sudden, he stopped struggling, and looked at me. I realized he had gold eyes like the girls. Odd. I leaped off of him and he stood up, with a shocked expression on his face. Than Flasher was by my side, putting his wing around my shoulders. " Shader, this is shadow, you remember him, right? The one that beat you in races and kicked your tail all the time when you threatened me, OH Like right now!!!" He sneered. He seemed fairly proud of himself and he had right to! Well, I don't know exactly why though. I slipped out from under his wing, and tilted my head at him in confusion. Nothing was making sense, what he just did, what I just did! I clutched my skull and made a dash for the door. I had to clear my thoughts. I shot out of the structure and flew, and just flew, not knowing where I was going, just knew my wings knew where to take me, like a long traveled path. I could hear Flasher calling after me but I didn't want to hear any more than I already had. My life just got a lot more complicated. And it didn't look like this was the end of it. Not even close. I ... truly am, a soul of two.
Funtimefoxyimposter3
Level 41
Candy Dispenser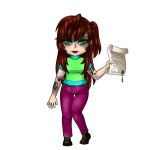 Joined: 5/3/2019
Threads: 22
Posts: 764
Posted: 9/15/2019 at 12:59 PM
Post #7
Swoop. I threw a black stone off the side of the cliff. Black. Everything is black, the tree's, animals, AND Flasher!! "Rauggggggghhhh!!" I cried, clawing at my head. I had been trying to fit the mixed memories together in my head, but nothing seemed to fit!! I heard wing beats and crouched in the long brown grass. Feeling it crinkle on my scales. I heard talons land, and hid, keeping my head low. Then Flasher walked over to me. " Hey bro, you know your color of scales can't hide all that well." He said, sitting besides me. " I thought you would remember that." I grit my teeth and shot up. I landed right in front of him. "Well, having lived years as a human and only knowing one thing, that I was the only one with half a dragon soul and half a human soul, having memories of being a human kid, then I come here, and I HAVE MEMORIES OF BEING A SMALL scale-et and jumping and flapping and it all goes BLANK!!" I huffed, out of breath. I sat next to him, and sighed, letting my head sag on my neck. The world that I had known like the back of my talon. Knowing how to handle when people see my half form. And how to avoid it at ALL cost. All of a sudden that is ripped from me, and I have to deal with this dragon that claims to be my brother, and I can't even remember if I really was a human kid, or scale-et! He suddenly rips me out of my thoughts, putting his wing around me. "I know. I wish I could help, but all I can do is explain why you have those half memories." He sighed and his pink eyes seemed sad, and tired. I realized he was only about 2 years older than me. But he seemed vary mature.
He pulled back his wing and sighed. " I guess I have a lot to explain."
Shadow is taken
It was a day like any other, Flasher and Shadow had been very small, and loved to play out by the cliff. And it was safe. But one day, as they played by the portal that sat on a ledge in a stone valley, throwing rocks and sticks through it, a noise came from behind them, and Flasher jumped around to find that large shadow dragons had gathered around them.'no no no.' was all he could think. Shadow shivered under his big brothers wing, though they where not very different in size. "Back off!" Cried Flasher, trying to make his little body look bigger. But they didn't flinch. Then one tried to launch at them. He leaped onto it's face, and started to claw at the pitch black scales. Shadow shivered, staying put. "Look out!" Flasher tried to warn his little brother, but it was not soon enough, they had dropped Flasher, and grabbed Shadow, pulling him through the portal with them.He had cried one last thing before he vanished. "Flashy!!" And then he was gone. "Father had kept searching for you. Till he died, and I tried to continue as well, but our sisters said you where gone." His head drooped, and he sighed. "I missed you so much, little brother." He then continued to hug me. And it felt...right, I guess. Yeah, I guess that is what you would say. Yeah.
Funtimefoxyimposter3
Level 41
Candy Dispenser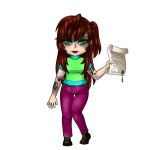 Joined: 5/3/2019
Threads: 22
Posts: 764
Posted: 9/17/2019 at 7:01 PM
Post #8
I gently pulled away, and gave him a small smile. "That makes sense, but I still can't understand who Shader is, I remember our sisters, but not Shader. How come?" I spread my talons in the air, palms up, and gave him a quizzical look. He sighed and shook his head. He stared at the valley bellow the cliff. "You don't remember him, because he came after we lost you. Dad had come home with you when I was two. And after we lost you, he got Shader, hoping to fill the gap in his heart. And, he eventually died. And now, we are trying to figure out who can rule the kingdom kindly, like him. And at the moment, we all are trying to be as good as dad, but... I guess we are all failing at that." His wings slump, and he lets his head droop. He closes his eyes, and sighs. His tail is draped gently over his front talons, and he seems really sad. " Hey." I say, gently putting a talon on his shoulder, and smile at him. "Don't sweat it, you all are trying, so don't worry." I put my tail on his, and a wing over his shoulders. "Don't worry, bruh." His head lifts up when he hears me say bruh. "Bruh... BROTHER!! YOU MEAN BROTHER!!" He leaps up into the air, flapping his wings rapidly, flailing in the air like crazy. He howls with delight, smiling, his green spikes glowing happily. I sat there, staring up at him. My mind running through the thought, 'is he insane, should I run, or just go back through the portal?' I shook my head, clearing it. I had to stay for a while, I couldn't leave my brother, and he seemed really happy to have found me. I smiled up at him as he landed, almost out of breath. "So, you look well trained. Do you fight a lot, or are there, like sparing events?" I said, trying to start a conversation. He looked at me, and smiled. "Yeah, we have fighting, and actually,if we hurry, we can make it to the next one! Come on!" He smiled at me, and thrust himself into the air, heading toward the castle. I flew after him, and sighed. He was right about my scales, they don't match the terrain. The other dragons that I have seen have actually had some type of look that just seemed right. The ice dragons where white, sure, but they where more of a cream that just looked right! I was a pure white, rainbow frills and specks under my wings, and purple eyes, with black horns. Even Shader looks right. He has black swirls running all through his body, and black frills and black specks under his wings. Gosh, I was like a white sheep in a heard of black sheep. Literally. As I flew next to him, he gave me a large grin and spun into a dive. He howled with delight and then flouted up to me on his back. "Hey, lets see if you kept your flying skills up after all these years,lil bro. You used to be the best fire flightier too, if I recall correctly." He flipped back right side up and smiled at me. I tilted my head and sighed. "Fine, but don't expect much." I closed my eyes, and took a deep breath, then let my wings fold in to a dive, and shot to the ground, I heard Flasher cry out in shock, and try to call out to me, thinking I had passed out. Before I could hit the ground I loosely let my wings unfurl, and let the breeze take me. I opened my jaws, letting fire flow out, and spun in an upward spiral, till the flames made a loos ball around me. I stopped in the air, and let ice come, then spun back down. As I dropped I breathed a ball of ice at the flames, and they exploded, as I fell I caught shards of flaming ice,till I had a ball then blew the flames out, and sliced it open to fined a pink flower, shaped like a flame, and orange at the tips of its petals. I hovered in the air, as Flasher came panting besides me, flapping desperately. "Wow...that...was awsome....Shadow!" I smiled at him, and looked back at the flower in my claws. "Hey, Flasher, how did I make this?" I pointed my snout at the flower, and his face looked like it was going to explode from the smile he had on. "That's a flame bud. All dragons can make it as long as they can do Flame Flight, but you are the only one that could use fire and ice, so you could make ones that had pink on them. " He was still grinning as he hovered besides me, as I gazed at the flower in my claws. Wow. Just wow. I understand that I look way different than all the dragons I have met so far, but to know that only I can breath fire and ice,AND make lava, is crazy insane. He grinned even bigger, and flipped backwards, calling out to me. "Come on Shadow, bet you still can't beat me." He shot toward the castle I could see in the distance. I sighed, and shook my head, such a competitor, huh? Well, I guess he has to learn the hard way. I pulled my head back, and tucked my wings in tight. I shot to the ground at an angle, and then right before I hit, I shot up forward, I just let my thrust take me, boosting my speed with my wings every so often, and I hit the stone in front of the entrance hard. I looked up and turned around, and smiled at the small form of Flasher in the distance. I still felt a little jittery from the electricity from my friction with the wind. I fluffed up my wings, held my head high wit victory, and marched inside. But was shocked by what I saw.
Funtimefoxyimposter3
Level 41
Candy Dispenser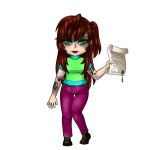 Joined: 5/3/2019
Threads: 22
Posts: 764
Posted: 9/19/2019 at 10:27 PM
Post #9
Warning:If you have a problem with blood, and fighting then please don't read most of this. I don't want people complaining about my writing. Thank you.
I stood there,frozen in place. And for once, it was in shear terror.There, in the middle of the throne room, was Shader. He was covered in blood, and he was standing above our my little sister. She was cut open from her chest to her under side. Her head lolled on her neck, and she looked at me with wide eyes,filled with terror. She tried to scream out to me, but blood was all that came up. Shader smiled wide, and ripped her rib cage out of her with a pitiful screech of agony. I tried to move, scuttle backwards, run, scream do something, anything! But he slithered toward me,licking his blood soaked jaws. His eyes where no longer gold. They where blood red, his fangs seemed sharper and his body was splatted with blood. I tried to turn my head, but he grabbed my jaw, and smiled. A grin of pure insanity. He smiled as I tried to wrestle away, but he held it firm. "Where is the other, is what your wondering, ... isn't it?" He slurred. He slowly turned my head to the far corner, and there sat the dead body of my older sister. "NO!!" I screeched, and tried to rip my jaw from his grasp, and he suddenly took hold of my throat, and smiled. "Now, now. You only have a few fond half memories, so what's the difference if she lived or died? I mean, makes no difference to you." He dug his claws into my spine, grinning as blood dripped from the gash. He gently lowered his head to taste it, when I heard a loud reach from be hind me. He yanked his head up, and glared behind me. Suddenly I felt a dragon ram into us, shoving both Shader and me sprawling on the ground, and I could guess who. I lifted my head, dizzy, and saw Flasher and Shader fighting, and slipping in the blood. I tried to jump in and fight too, but flasher just bared his fangs at me, and yelled "NO, go to the hatchery, find a little silver baby dragon. OUR YOUNGEST BROTHER!!" Right after he said that, Shader rammed him up the wall, and started ripping at him. But Flasher shoved him away, and blasted fire at him. "GO!!" I reared around and ran down a hall on the right as fast as four legs could carry me. I swung my head side to side, looking for any path that said "Hey over here, baby brother over here!" But I knew I had to have a memory of a place like that. I searched, then found a warm feeling, and followed it. I came into a big room, with gold all over. Sleepy time smelling flowers where planted lazily all over. And there where clusters of eggs, all over. But there was a woven basket that was wriggling. I rushed over to it, and saw a little silver baby dragon looking up at me with big purple eyes. "Hlpr" It chirped up at me. He reached up, and put his tiny talons on my snout. I smiled, then picked him up. He smiled, and wiggled gleefully. "Hrbl, grble. Mefoo!" He squealed with delight. And he suddenly looked strait into my eyes, with one life or death question. Did....I....Have...Any ....FOOD. I smiled in understanding, witch sent him in a frenzy that he could be understood. I gently put the tip of my claw on the edge of his snout, and looked him in the eyes. "Sh, we need to leave. Leave. Out, go.Run,fly, fast. And then...we can get food." This he understood. He made a small bubbly noise, then wrapped his front talons around his snout and nodded at me. I nodded back, and held him close to my chest.I couldn't let Shader get him.I gently tucked him under my wing, and he looked at me with an understanding gaze. He nodded, then wrapped his little body around my base joint for my wing, and then sighed.I understood and tried my best to move the bulge out of view. Good enough. I knew we had to get out, and fast. But I knew by now, Shader had to have moved on ... to find me....and our little brother.
Funtimefoxyimposter3
Level 41
Candy Dispenser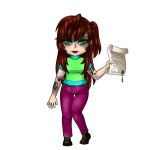 Joined: 5/3/2019
Threads: 22
Posts: 764
Posted: 9/20/2019 at 10:43 PM
Post #10
I dashed through the halls, there had to be an exit that was not known to Shader, right? I tried to feel for something that tugged on the back of my scull, but NOTHING! I looked back and forth, then suddenly felt a weird tingly feeling from a corridor. It was covered in black lace, and a gray light radiated from the whole in the wall. Blood red roses where littering the floor...but it wasn't just roses. I bent down, and tried to take a closer look, suddenly someone grabbed my head, and hissed. "Gotcha!" They tried to pull me in, but I ripped away, and flew, throwing my self of the side of the path ways the wove in and out of the center wall. I dove down, and then swerved to the left. 'There has to be an exit,right? For emergencies at least,father had to have made one!' I searched over and over, and suddenly the voice came again. It was Shader! He was covered in more blood, and he was grinning ear to ear. "Thisss will be FUN!" He hissed. He was gaining, and I felt the baby dragon under my wing shiver. He must have seen him, because he laughed, and laughed. "YOU, think you can hide him from ME!?!!" His head was swinging side to side, and his eyes looked insane. I reached down and took hold of the silver baby dragon. I felt him wiggle into my talons without hesitating, and I brought him up to my face. His little purple eyes were wide with horror. He shook his little head and jibberd something I couldn't understand. He crawled up onto my snout, and hung onto my horns girggling frantically. He held on tight, and I let him. I gently swiveled my head, and saw an exit. One to the cliff. I could take my little brother through the portal, and then he would be safe! I fluffed up my frills, and ducked down through the opening. I landed back in the throne room, and I realized it was the side entrance. I gasped as I saw Flasher on the throne. He was chained to it, his snout was clamped shut. He noticed me, and started to yell muffled protest at me being here. His pink eyes where starting to go red, and he was grunting harshly. He shook his head, and tried to leap toward me, but he fell of. Right as I was about to move, I heard a slithery voice in my ear. "You don't want to get to close." I jumped forward, and spun around, clawing at the air, but found no one. I gently took the baby dragon, and pulled him close to my chest. I felt claws racking my back, and I screeched in more fright than pain. I lashed around, and batted the air with my free talon.Nothing. I had to find a way to keep my little brother safe. I leaped to the left, and heard a frustrated hiss behind me. I held the little silver bundle and looked him in his little eyes, and whispered to him. "You need to HIDE" I turned my front talon camouflaged and showed him. He nodded his little head, and he camouflaged his body, and his little eyes looked at me from no where. I smiled, and leaped away as he closed his eyes, and hid. I slunk to the middle of the room, and fluffed up my frills. I bared my fangs at the area around me. I looked over, and Flashers eyes where almost all red. He was shivering, and looking at me with hope, and terror. Wait, terror! I swung around, and slashed at the snout behind me. Shader reeled back, and hissed at me. Blood was dripping from the cut. I lunged at him right as he disappeared into camouflage. Right, he was like me. My scales can change to camouflage, his can to. I smiled, and let my magic flow from my eyes. Then I let my scales disappear. I flew up silently, and I could see the nervous shift in the air, and lunged at where it was supposed to be. I landed on him, and he shouted in protest. I ripped at him as his scales shifted back, and he flipped over, risking his underbelly just to rake my snout. I smiled, and was about to bite his neck, when I heard Flasher scream in protest, and then I hear the snapping of chains.
Go to Page:
1, 2, 3, 4
Go to Top
This Page loaded in 0.017 seconds.
Terms of Service | Privacy Policy | Contact Us | Credits
© Copyright 2011-2020 Sylestia Games LLC.
All names and logos associated with Sylestia are Trademarks of Sylestia Games LLC.
All other trademarks are the property of their respective owners.
For questions, comments, or concerns please email at Support@Sylestia.com.