Overview
Stables
Hatchery
Inventory
Wardrobe
Referrals
Settings
Seasonal Festival
World Map
Generator
Breeding Grounds
Party
Task Log
Mission Log
Quest Log
Player Trades
Trade Broker
Currency Exchange
Eggling Auction
Pick A Door
Official Games
Un-Official Games
Jinxie's Jamboree
Festival Shop
Diamond Shop
Avatar Shop
Scale Shop
Inbox
Forums
Community Polls
December 13th, 2019

166 Online
7:29 AM
Advanced Search
Active Players on Sylestia
Category
Total
Yesterday
Players
7,247
1,333
Sylestia Pet Data
Category
Total
Yesterday
Pets
5,340,758
2,235
Generated
389,609
281
Captured
824,972
181
Bred
4,126,177
1,773
Statistics updated daily at midnight
Recent Announcements
Thread
Posted
Avatar Shop Revamp Dec 11 Official Sylestia Merc.. Nov 30 2019 Advent Calendar Nov 30 Black Friday Extravaga.. Nov 27 The Maws of Madness Nov 11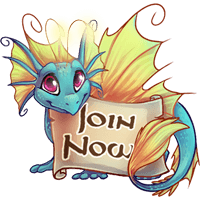 Forum Index > Official Games and Contests > 2018 Winter Festival - 3 Visible Griffi
Page 2
1, 2, 3... 18, 19, 20
Go to Page:
Author
Thread Post
Avaruial
Level 70
Nature Walker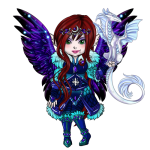 Joined: 8/29/2018
Threads: 10
Posts: 343
Posted: 12/24/2018 at 7:27 AM
Post #11
Winter Night Griffi


I tried to capture the feeling when you see a moonlited winter night through a frosted window glass.
Colress
Level 65
Trickster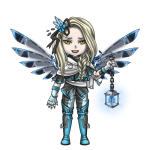 Joined: 7/14/2018
Threads: 67
Posts: 4,212
Posted: 12/24/2018 at 7:35 AM
Post #12
Name: Tyr's Acolyte

Inspired by the Norse God of War: Tyr
Oricorio
Level 70
The Tender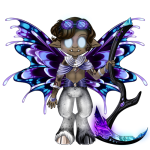 Joined: 10/22/2016
Threads: 1
Posts: 79
Posted: 12/24/2018 at 7:39 AM
Post #13
Heres Chrismas Fireplace Griffy!
Inspired by the flickering flames that draw us in and make us huddle closely, betting warmth against the cold.
I had seen a lot of Americans decorate their fireplaces with holly and ivy so that's where the green comes to play- The only missing thing are socks!
Perhaps the owner of this fireplace doesn't have any family, and that's why the socks are missing- But the fire will help them make it through the wintertime and spark the childhood wonder deep inside all of us.


Liria
Level 69
Fancy Pants
Joined: 6/8/2018
Threads: 0
Posts: 57
Posted: 12/24/2018 at 7:44 AM
Post #14
Name: Frosted Griffi
Why?It's because i love the snow and i saw blue snow one day, because of the light how it reflected on the snow. It inspired me this griffi, that i made a long time ago
Pyromantic
Level 67
Trickster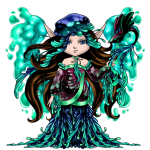 Joined: 4/10/2016
Threads: 13
Posts: 794
Posted: 12/24/2018 at 7:47 AM
Post #15


Here's my chosen one :
Inspired by my warm socks I always wear around Christmas time XD
is that a valid thing
Edited By SugarMapleWings on 12/24/2018 at 7:49 AM.
Stupic
Level 68
Knight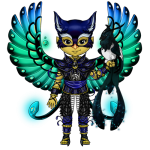 Joined: 10/7/2013
Threads: 3
Posts: 369
Posted: 12/24/2018 at 7:51 AM
Post #16
Tinsel of Silver and Gold inspires this Griffi


Taishi
Level 63
The Kind-Hearted
Joined: 8/6/2017
Threads: 29
Posts: 484
Posted: 12/24/2018 at 7:52 AM
Post #17

My inspiration is a holographic winter galaxy, with a touch of northern lights.
DruidOfBees
Level 64
Joined: 6/7/2016
Threads: 245
Posts: 8,738
Posted: 12/24/2018 at 7:58 AM
Post #18
Mistletoe Griffi


Inspired by one of my favorite romantic tropes- Mistletoe kisses, it's just so cute and romantic (At least in fictional settings)
Romen
Level 70
The Kind-Hearted
Joined: 8/15/2016
Threads: 0
Posts: 8
Posted: 12/24/2018 at 8:00 AM
Post #19
"Harness Griffi" or "Winter Deer Griffi" ;)





What was the inspiration? I don't know. Frosty pattern on the bus Windows, soft snow or advertising on TV with Santa on deer? It turns out that all that befell the poor Griffi)
(Yes, I don't like bright colors, and I really liked this creation)
Starline
Level 70
Cutely Creative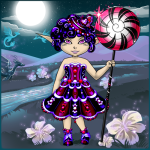 Joined: 3/14/2016
Threads: 87
Posts: 1,599
Posted: 12/24/2018 at 8:08 AM
Post #20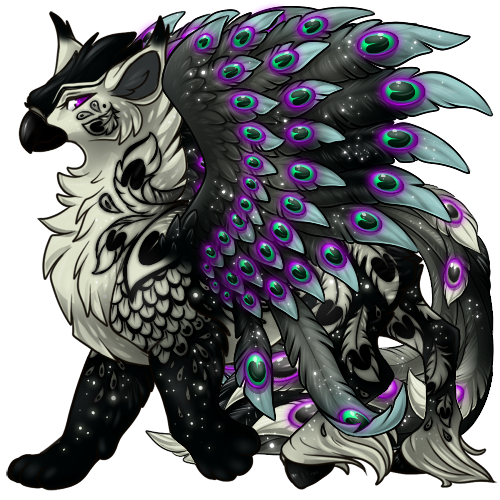 inspired by purple lights and ice .black starry nights, . this Griffi is ready to bring a very beautiful christmas.
Edited By Starline on 12/24/2018 at 8:08 AM.
Go to Page:
1, 2, 3... 18, 19, 20
Go to Top
This Page loaded in 0.010 seconds.
Terms of Service | Privacy Policy | Contact Us | Credits
© Copyright 2011-2019 Sylestia Games LLC.
All names and logos associated with Sylestia are Trademarks of Sylestia Games LLC.
All other trademarks are the property of their respective owners.
For questions, comments, or concerns please email at Support@Sylestia.com.