Overview
Stables
Hatchery
Inventory
Wardrobe
Referrals
Settings
Seasonal Festival
World Map
Generator
Breeding Grounds
Nurturing Grounds
Party
Task Log
Mission Log
Quest Log
Player Trades
Trade Broker
Currency Exchange
Eggling Auction
Pick A Door
Official Games
Un-Official Games
Jinxie's Jamboree
Festival Shop
Diamond Shop
Avatar Shop
Scale Shop
Inbox
Forums
Community Polls
Advanced Search
February 25th, 2020

133 Online
12:20 AM
Advanced Search
Active Players on Sylestia
Category
Total
Yesterday
Players
6,885
977
Sylestia Pet Data
Category
Total
Yesterday
Pets
5,479,040
1,723
Generated
404,764
68
Captured
848,055
201
Bred
4,226,221
1,454
Statistics updated daily at midnight
Recent Announcements
Thread
Posted
Week of Love Overview Feb 13 New Feature: Nurturing.. Feb 9 Winter Festival Pet Tr.. Dec 26 Winter Festival Diamon.. Dec 23 Winter Festival Overvi.. Dec 22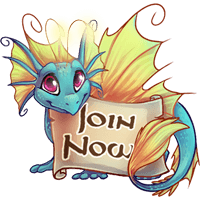 Forum Index > Official Games and Contests > Design Avatar Accessories for the (AP) W...
Page 8
1, 2, 3, 4, 5, 6, 7, 8
Go to Page:
Author
Thread Post
Crystal25152
Level 66
Trickster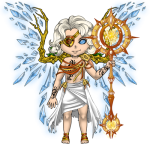 Joined: 8/31/2013
Threads: 365
Posts: 8,887
Posted: 9/23/2014 at 11:50 PM
Post #71
Thanks! For once my real life hair does something. XDQ
911rememberer
Level 0
Joined: 9/20/2014
Threads: 0
Posts: 2
Posted: 9/27/2014 at 11:34 PM
Post #72
I accept your challenge. I love Avatar!


The face make-up is supposed to look like a stalactite, and the arms like cracks in stone, and legs like stalagmites. (Can't draw very well >.<)


I really like the metal benders in the legend of Korra so I made their arm things. The light grey part is supposed to look like chain mail and there's supposed to be a raise in it like there's a cord under it after the black piece.


I thought I'd finish up the set. So I made a vesty thing for them. I really like how it turned out!


And the last piece... The leggings! I didn't get to finish them and I ran out of time! Hope they're not too fancy and PLEASE if you pick one pick them all! I really want the full uniform.
Edited By 911rememberer on 9/30/2014 at 10:49 PM.
BlackMagician
Level 60
Trickster
Joined: 9/24/2014
Threads: 17
Posts: 273
Posted: 9/29/2014 at 9:11 AM
Post #73
Amirell
Level 60
The Kind-Hearted
Joined: 2/1/2013
Threads: 101
Posts: 1,285
Posted: 9/29/2014 at 8:44 PM
Post #74
Here are my submissions :) I love hair! Didnt have time for autumn fest stuff :( but had some time for this :D enjoy!

P.S Ignore everything but the hairstyles anything else was just there because it feels weird without faces lol.


Edited By Amirell on 9/29/2014 at 10:15 PM.
Savynn
Level 70
Sylestiologist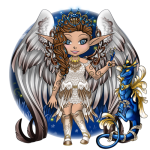 Joined: 12/18/2012
Threads: 165
Posts: 3,917
Posted: 9/30/2014 at 1:01 AM
Post #75
Very long bunches/pigtails - From what I read some places only call braids pigtails and so I'm not really sure what to call it.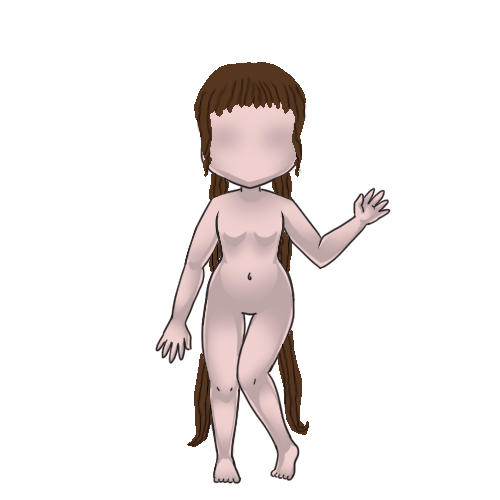 Poodle skirt - You can tell I can't draw dogs or their silhouettes at all. I looked up poodle skirts and there can be some interesting variation but also some common themes. Usually it's a poodle and there's a leash coming from the top that makes one to three loops until it reaches the dog. The skirts are brightly colored. It was hard to see what the collar was like on some. I came up with rhinestones on this because I just happened to leave three blank pixels that I decided to fill in. I think some of them may have had that. Some had bows. Oh, and the belt part seems to be either just solid black cloth or sometimes there's what looks like a silver clasp of some sort in the front. Not all poodles are black silhouettes, either. But considering I can't draw dogs I just kept to something hopefully basic to get the idea across.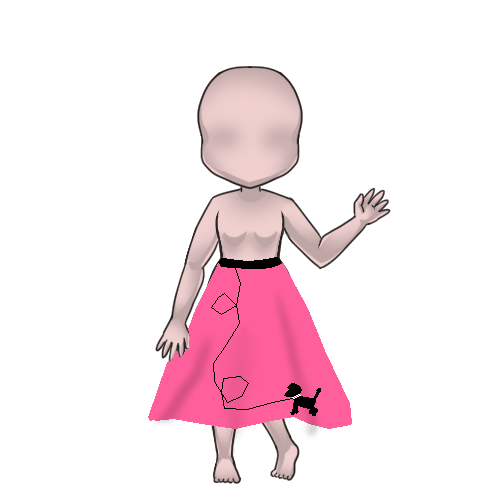 Puffadore skirt - I then decided to try to make a puffadore variation.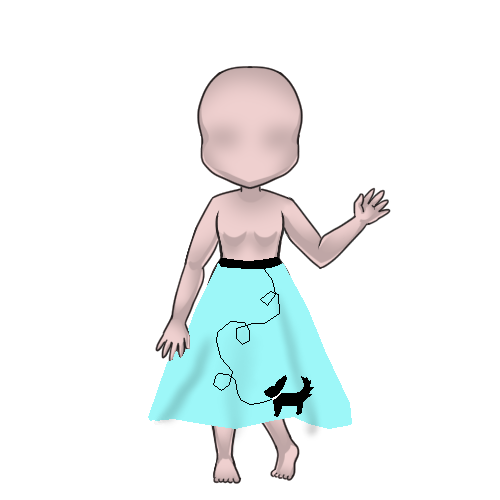 Edited By Savynn on 9/30/2014 at 1:07 AM.
Arkhantha
Level 70
Sylestiologist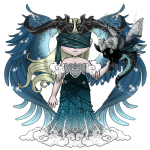 Joined: 8/18/2013
Threads: 35
Posts: 1,130
Posted: 9/30/2014 at 1:18 PM
Post #76
I am extremely (easily) confused by server times for some reason and I cannot seem to understand if I am on time or not.
I'm terribly sorry if I am posting too late. If so please disregard this post.

I can partially blame this on personal circumstances. My brain isn't entirely focussed on this, but more so on family right now.
However, I wanted to get some designs in.
I'm sorry for the less then satisfactory artwork on my part, I have the ideas in my head but I lack the time for the execution...(that's why I missed the Fall Festival Avi items deadline...)

Anyway I'm inspired by Pierrot



Female Pierrot outfit. A long dress with a collar (I have no idea what the English name for that collar is...Sorry)



Male Pierrot outfit. Pants and shirt with collar-thingy



Pierrot make-up.
This didn't come out the way I envisioned, sorry. The idea is to have two tear like shapes on the right side and and arch above and below the left eye with a single tea. Or make the right and the left eye make-up separate items.

*bows appologetically* I hope you get what I tried to convey xD
Sageturtle
Level 70
Trickster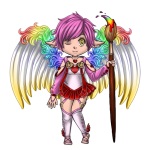 Joined: 8/21/2013
Threads: 146
Posts: 3,718
Posted: 9/30/2014 at 7:22 PM
Post #77
Surgical Mask



Anime Eye Patch



and some hair totally not modeled after my own nope



Edit: oh and these are all the same for both models, I just ended up using both bases when drawing these
Edited By Sageturtle on 9/30/2014 at 7:23 PM.
Electrifying
Level 70
The Tender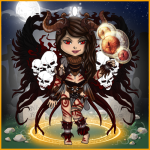 Joined: 11/15/2013
Threads: 28
Posts: 1,643
Posted: 9/30/2014 at 11:53 PM
Post #78


Wolf eyes (or cat eyes because wolves don't have slitted pupils?)
Krinadon
Level 70
Guardian of the Realm
Site Administrator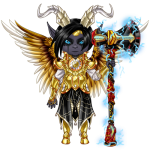 Joined: 12/17/2012
Threads: 805
Posts: 11,860
Posted: 8/16/2019 at 5:13 PM
Post #79
So unfortunately it was brought to my attention and just figured out that we never sent the "Fashion Designer" title reward for this contest from 58 years ago.

If you participated in this contest and had something selected to be put into the game, please send a PM to Krinadon so that I can award you with the proper title.

I apologize for the oversight!
Go to Page:
1, 2, 3, 4, 5, 6, 7, 8
Go to Top
This Page loaded in 0.014 seconds.
Terms of Service | Privacy Policy | Contact Us | Credits
© Copyright 2011-2020 Sylestia Games LLC.
All names and logos associated with Sylestia are Trademarks of Sylestia Games LLC.
All other trademarks are the property of their respective owners.
For questions, comments, or concerns please email at Support@Sylestia.com.