Overview
Stables
Hatchery
Inventory
Wardrobe
Referrals
Settings
Seasonal Festival
World Map
Generator
Breeding Grounds
Nurturing Grounds
Party
Task Log
Mission Log
Quest Log
Player Trades
Trade Broker
Currency Exchange
Eggling Auction
Pick A Door
Official Games
Un-Official Games
Jinxie's Jamboree
Festival Shop
Diamond Shop
Avatar Shop
Scale Shop
Inbox
Forums
Community Polls
Advanced Search
February 23rd, 2020

206 Online
1:55 PM
Advanced Search
Active Players on Sylestia
Category
Total
Yesterday
Players
6,891
938
Sylestia Pet Data
Category
Total
Yesterday
Pets
5,476,002
1,590
Generated
404,580
100
Captured
847,692
245
Bred
4,223,730
1,245
Statistics updated daily at midnight
Recent Announcements
Thread
Posted
Week of Love Overview Feb 13 New Feature: Nurturing.. Feb 9 Winter Festival Pet Tr.. Dec 26 Winter Festival Diamon.. Dec 23 Winter Festival Overvi.. Dec 22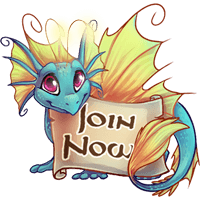 Forum Index > Official Games and Contests > 2019 Spring Festival - Avatar Item Desig...
Page 4
1, 2, 3, 4, 5
Go to Page:
Author
Thread Post
Fantasizing
Level 60
Master Chef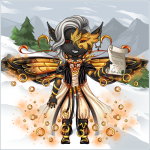 Joined: 12/17/2012
Threads: 13
Posts: 267
Posted: 4/3/2019 at 5:59 PM
Post #31
The Alice Suite, the perfect look for a sunny outdoors unbirthday teaparty as the spring jitters make you bounce about.
Spring made me think of easter made me think of rabbits made me think of Alice in wonderland! A little convoluted, but true nonetheless.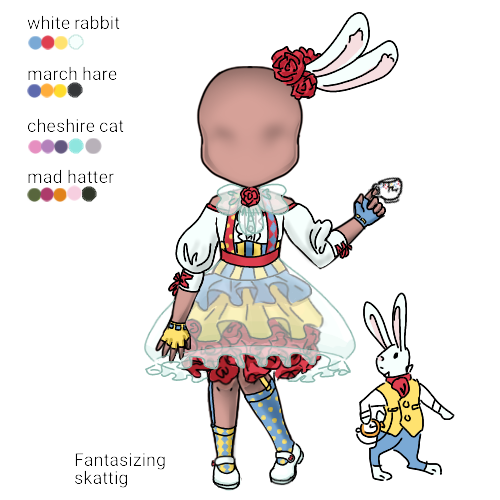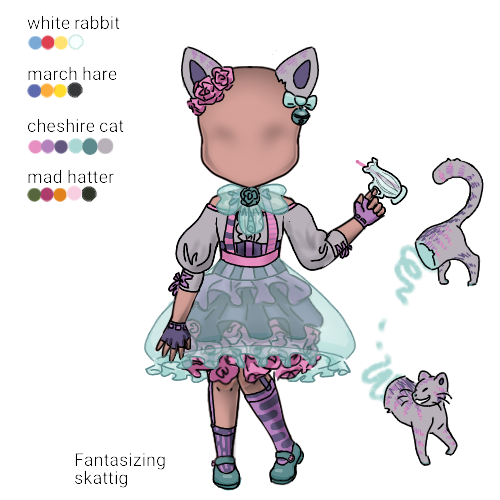 Held: white rabbit/cheshire cat, outfit: unbirthday suit, head: rabbit ears/cat ears
Might still be coming: March hare and mad hatter palettes, helds and heads, male outfit (biggest difference fluffy pants), tea party background. Don't have any ideas for the wings, unfortunately~
For the characters, I tried to mash up aspects of the book, movie, and animated movie designs to keep it fresh!
Edited By Fantasizing on 4/4/2019 at 6:16 AM.
Lostwords13
Level 70
Vanquisher of Undead
Joined: 6/16/2013
Threads: 113
Posts: 2,080
Posted: 4/3/2019 at 6:54 PM
Post #32


Birdsong Bard outfit. The lines ont he dress are meant to be music staves, but it looked too messy when i tried to draw them in myself lol
Innernexus
Level 70
The Kind-Hearted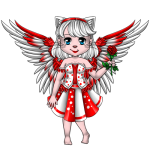 Joined: 2/27/2018
Threads: 13
Posts: 142
Posted: 4/4/2019 at 1:24 AM
Post #33
Cherry Blossom Wedding/Sakura Wedding Avatar set
Female Version:


Outfit: A female Japanese wedding kimono with a cherry blossom pattern on the kimono itself, along with a special blossom bow on the waist. Also some simple grey/silver sandals to wear on the feet.
Head Item: A flower crown complete with wedding veil and blossom petal bows. It's a bit hard to see on the white background but the veil is see-through.


Male Version:



Outfit: A male Japanese wedding kimono with a cherry blossom pattern on the 'robe' part of the kimono. Like the female version there is a special blossom bow, however it is in a different location as to suit the male styled kimono better. The sandals on this version are the same.
Head Item: Similar to the female version, only this time there is no veil and no ribbons on the blossom accessories on the sides of the head.

Inspiration: I was inspired by spring time in Japan---most specifically the cherry blossom part---and weddings. Instead of going with a traditional wedding dress I did a wedding kimono to go with the Japan theme.

Note: The wedding ring on the hand is part of the outfit. Unsure if I got it on the right finger.
Lenore
Level 70
Sylestiologist
Joined: 2/3/2015
Threads: 33
Posts: 479
Posted: 4/4/2019 at 1:22 PM
Post #34
Rose Garden Memories
Patiently awaiting spring love...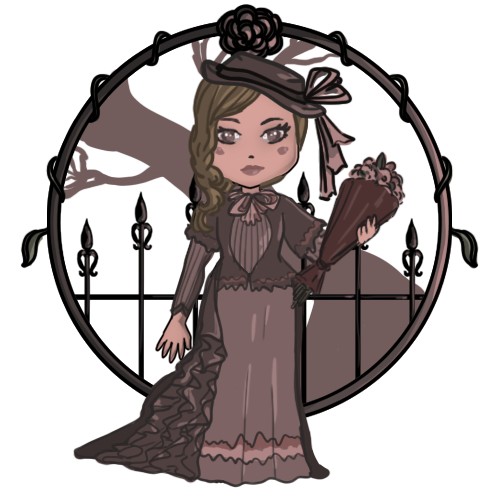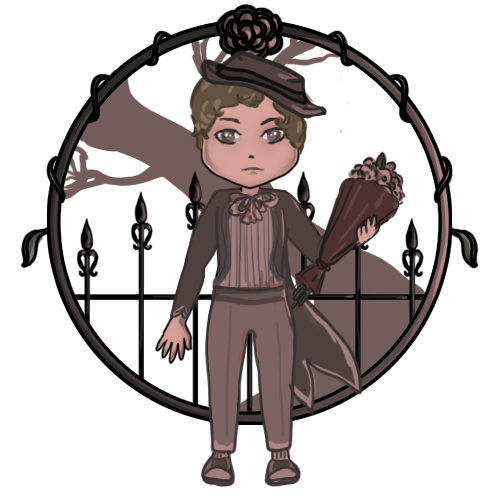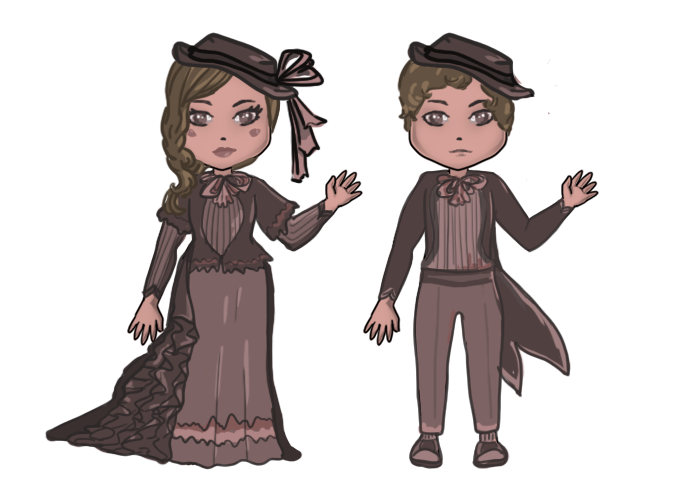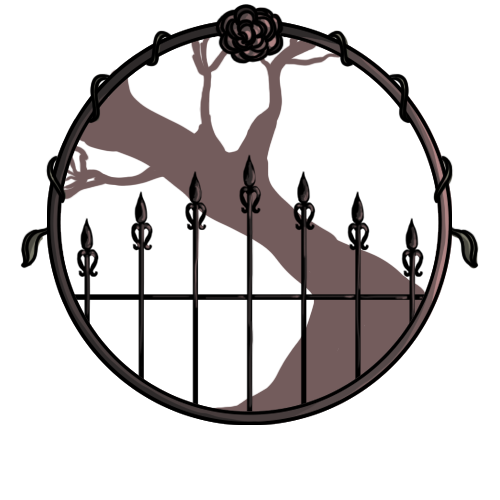 Shaililha
Level 70
The Perfectionist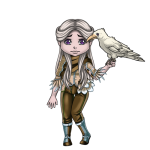 Joined: 2/1/2019
Threads: 9
Posts: 43
Posted: 4/4/2019 at 8:39 PM
Post #35
This is kind of what I'm picturing in my head, but with a rose or other floral overlay on the red. I'm not going to have time to actually do anything else to it, but I wanted to at least participate. :)


Scathreoite
Level 70
Master Egg Hunter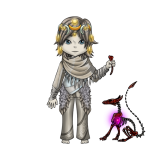 Joined: 11/2/2014
Threads: 33
Posts: 1,931
Posted: 4/4/2019 at 9:32 PM
Post #36
Frogsong


Outfit
Frogsong's Puddlejumping Garb



Head
Frogsong's lilypad headpiece



Wings
Frogsong's lilypad wings



Wings
Frogsong's Puddlejumping Companions



Back

Ajthedragon
Level 70
The Kind-Hearted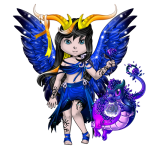 Joined: 2/26/2017
Threads: 0
Posts: 72
Posted: 4/6/2019 at 10:37 AM
Post #37
Lilly of the Vally


Head



Outfit



Wings

Aspheera
Level 70
Majestic Sculptor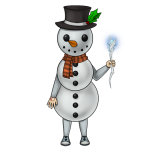 Joined: 6/6/2018
Threads: 40
Posts: 405
Posted: 4/6/2019 at 8:44 PM
Post #38
Angelic Puffadore Costume
Ley
Level 70
High Warlord
Joined: 2/27/2017
Threads: 26
Posts: 603
Posted: 4/6/2019 at 8:52 PM
Post #39
Ran out of time on this one.



Spring Blossom Dress and Headband



Twentysecond
Level 70
Warden of Umbra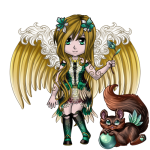 Joined: 3/2/2019
Threads: 2
Posts: 42
Posted: 4/6/2019 at 8:54 PM
Post #40
I wanted to make the skirt a bit more pleated and fluffy than it is, but won't have time before the deadline. Hopefully this is enough to get an idea of what I had in mind. Ladybug themed!


Go to Page:
1, 2, 3, 4, 5
Go to Top
This Page loaded in 0.016 seconds.
Terms of Service | Privacy Policy | Contact Us | Credits
© Copyright 2011-2020 Sylestia Games LLC.
All names and logos associated with Sylestia are Trademarks of Sylestia Games LLC.
All other trademarks are the property of their respective owners.
For questions, comments, or concerns please email at Support@Sylestia.com.