Home
Overview
Stables
Hatchery
Inventory
Wardrobe
Referrals
Settings
Seasonal Festival
World Map
Generator
Breeding Grounds
Nurturing Grounds
Party
Task Log
Mission Log
Quest Log
Themed Pet Codex
Player Trades
Trade Broker
Currency Exchange
Eggling Auction
Pick A Door
Official Games
Un-Official Games
Jinxie's Jamboree
Festival Shop
Diamond Shop
Avatar Shop
Scale Shop
Inbox
Forums
Community Polls
Advanced Search
December 8th, 2022

152 Online
11:47 PM
Advanced Search




Active Players on Sylestia
Category
Total
Yesterday
Players
3,281
701
Sylestia Pet Data
Category
Total
Yesterday
Pets
7,462,914
2,046
Generated
579,831
360
Captured
1,105,088
95
Bred
5,777,954
1,591
Statistics updated daily at midnight
Recent Announcements
Thread
Posted
PSA: Harassment and Bu.. Dec 5 2022 Stocking Stuffer Dec 1 2022 Advent Calendar Dec 1 New Feature: Trait Ext.. Nov 22 Black Friday Extravaga.. Nov 22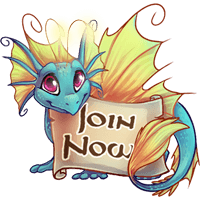 Forum Index > Official Games and Contests > 2022 Fall Festival - Create a Spooky Pet
Page 7
1, 2, 3, 4, 5, 6, 7, 8, 9
Go to Page:
Author
Thread Post
Rosie5859
Level 69
The Tender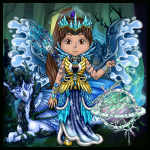 Joined: 5/11/2021
Threads: 0
Posts: 18
Posted: 11/4/2022 at 3:07 PM
Post #61
Blood Magic Zolnixi

My inspiration for this is the blood moon
Edited By Rosie5859 on 11/4/2022 at 11:58 PM.
Latif
Level 71
The Kind-Hearted
Joined: 12/20/2012
Threads: 6
Posts: 350
Posted: 11/4/2022 at 7:01 PM
Post #62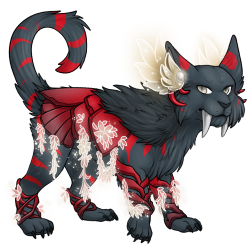 A lone warrior burned upon his funeral, a mockery of his triumphs in life. A vengeful spirit of ash and bone and hate emerges, covered in the flowers that attempted to leave him at peace. The lone warrior refuses to rest until those who had killed him were brought alongside him to eternal suffering.
Pandasrcoolll
Level 52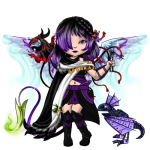 Joined: 10/31/2022
Threads: 0
Posts: 4
Posted: 11/5/2022 at 2:55 PM
Post #63


Inspiration was a pretty Halloween moodboard, it was purple white and black
Baronjamaa
Level 66
Warden of Umbra
Joined: 6/5/2022
Threads: 8
Posts: 38
Posted: 11/5/2022 at 11:44 PM
Post #64
Introducing Vampire NightMoon Vulnyx




What is the inspiration behind such a creature?

Well to be honest i always had a thing for vampire movies/shows(ones that are not twilight that is lol). anyways i got the darkish, gray color gene idea from the dusky night sky, while the dark patch of front fur represents the inner vampire cloak while the red upper fur on the back is the outer vampire cloak.

The redish eyes were also inspired from vampires like how some vampires in anime have red eyes. i decide it should be a vulnyx that has this cute yet spooky vampiric persona. especially with the demon wings and sharp tooth tusks which matches perfectly with a vampire.
Namira
Level 70
Trickster
Joined: 4/9/2016
Threads: 5
Posts: 105
Posted: 11/6/2022 at 4:58 AM
Post #65


Spirit of rotting plants rising in the fall when the leaves drop (I'm not sure what traits are considered dynamic, hopefully what I chose is ok)
Elysianvevo
Level 63
Joined: 6/28/2021
Threads: 4
Posts: 35
Posted: 11/7/2022 at 7:57 PM
Post #66


this little guy was inspired by masquerades and halloween parties :)
Rapidbrush
Level 75
Spooky Shopper
Joined: 4/27/2022
Threads: 2
Posts: 47
Posted: 11/8/2022 at 12:17 AM
Post #67
Black Halloween Snake (link to inspiration)
Edited By Rapidbrush on 11/8/2022 at 12:18 AM.
Amastoneonal
Level 61
Candy Dispenser
Joined: 11/12/2021
Threads: 15
Posts: 572
Posted: 11/8/2022 at 12:27 AM
Post #68

(This is inspired by the Black death pandemic)
He only shows up near the dead and accompanies the plague doctor in everything, when someone sees this bird in their house all by themselves, it means they have/will catch the virus.
(Timeline: 1346 to 1353)
Edited By Amastoneonal on 11/8/2022 at 2:27 AM.
Miliki
Level 70
Joined: 5/31/2022
Threads: 2
Posts: 47
Posted: 11/8/2022 at 1:41 PM
Post #69
Hell Froze Over Hellhound

Edited By Miliki on 11/8/2022 at 1:42 PM.
Naos
Level 75
Lucky Fox
Joined: 4/5/2017
Threads: 11
Posts: 435
Posted: 11/15/2022 at 4:32 AM
Post #70
A Night Pumpkin Ny'Vene, inspire by the carving decorative pumpkin that we can saw as decoration for the Halloween, those glowing Pumpkin that illuminate the night !


Edited By Naos on 11/15/2022 at 4:33 AM.
Go to Page:
1, 2, 3, 4, 5, 6, 7, 8, 9
Go to Top
This Page loaded in 0.040 seconds.
Terms of Service | Privacy Policy | Contact Us | Credits | Job Opportunities




© Copyright 2011-2022 Sylestia Games LLC.
All names and logos associated with Sylestia are Trademarks of Sylestia Games LLC.
All other trademarks are the property of their respective owners.
For questions, comments, or concerns please email at Support@Sylestia.com.