Overview
Stables
Hatchery
Inventory
Wardrobe
Referrals
Settings
Seasonal Festival
World Map
Generator
Breeding Grounds
Nurturing Grounds
Party
Task Log
Mission Log
Quest Log
Themed Pet Codex
Player Trades
Trade Broker
Currency Exchange
Eggling Auction
Pick A Door
Official Games
Un-Official Games
Jinxie's Jamboree
Festival Shop
Diamond Shop
Avatar Shop
Scale Shop
Inbox
Forums
Community Polls
Advanced Search
August 10th, 2022

114 Online
4:02 PM
Advanced Search




Active Players on Sylestia
Category
Total
Yesterday
Players
3,449
478
Sylestia Pet Data
Category
Total
Yesterday
Pets
7,229,177
2,797
Generated
551,950
35
Captured
1,074,101
68
Bred
5,603,112
2,694
Statistics updated daily at midnight
Recent Announcements
Thread
Posted
Patriotic Event Pet Tr.. Jul 1 Patriotic Event Overvi.. Jul 1 Change to Pet Public S.. Jun 8 Spring Festival Pet Tr.. May 14 Spring Festival Overvi.. May 14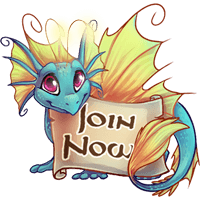 Forum Index > News and Announcements > Faelora Revamp Lineart Update
Page 1
1, 2, 3, 4, 5, 6, 7
Go to Page:
Author
Thread Post
Faiona
Level 75
Nature Walker
Site Administrator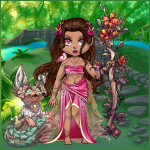 Joined: 12/17/2012
Threads: 437
Posts: 4,600
Posted: 3/5/2022 at 3:11 PM
Post #1
Hello everyone! Just giving an update on how the Faelora is coming along with their revamp. :)

We currently have all four bases lineart completed along with the shading. Next up we'll be working on getting their genes finished. There is currently no ETA that I can give when they will be fully completed, but we will make sure to keep everyone updated throughout their stage progress.

Please make sure any criticism given is constructive and keep in mind that color allocations might not be fully correct as the picture above was made as an example, thank you. :)




--------------------------



Edited By Faiona on 3/5/2022 at 4:35 PM.
LonelyRyu
Level 70
Sergeant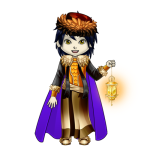 Joined: 4/24/2015
Threads: 72
Posts: 408
Posted: 3/5/2022 at 3:12 PM
Post #2
OMG!!! That is gorgeous!
Serenity3
Level 42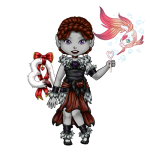 Joined: 2/22/2022
Threads: 1
Posts: 23
Posted: 3/5/2022 at 3:15 PM
Post #3
Absolutely beautiful
UntitledPrince
Level 75
Master Sylestiologist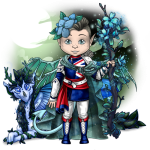 Joined: 9/23/2021
Threads: 106
Posts: 1,324
Posted: 3/5/2022 at 3:28 PM
Post #4
AHHHHHHH I'M SO EXCITED FOR THEM TO BE DONE
Diya
Level 22
Joined: 3/5/2022
Threads: 0
Posts: 1
Posted: 3/5/2022 at 3:29 PM
Post #5
I love them.
EvilNapkin
Level 75
Grand Protector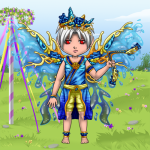 Joined: 12/16/2020
Threads: 33
Posts: 257
Posted: 3/5/2022 at 3:30 PM
Post #6
I love the shading.
If there is anything I would change, it would be the adult male's height/width ratio. He is taller than he is long (not counting antlers or tail).

Edit: The art truly is awesome. I have a new favourite species. I love how the tail is a leaf, and the thick, almost wooden looking vines have a cool vibe to them.

Edit 2: If you are still checking through this, I need to add something that is bothering me after reading through this thread. The adult female's torso is not too long. She is the perfect length for a deer. Please do not squish her down.
Edited By EvilNapkin on 3/16/2022 at 11:06 AM.
Xavion
Level 75
The Perfectionist
Joined: 10/15/2013
Threads: 426
Posts: 5,617
Posted: 3/5/2022 at 3:35 PM
Post #7
Even in recognizing that color allocations probably aren't finalized, I'm wondering if the vines and that jarring blue tail are intended to be the same color, or if they'll be different color slots so they won't have to match.

I love bold colors on the vines - it's a good chance for some vibrancy and contrast to set them apart which is a designer's dream - but if that means the faes will have to have a bright and bold booty as well I'm... I'm gonna have trouble liking these. Having to choose "bold booty for bold vines" or "vines must match everything else if you want to avoid a bold booty" would be very disappointing.

(IE, I would prefer the option to make the tail white like the underbelly, or yellow/orange like the chest flowers, maybe even a warm pink that works with the orange and yellow to give it a sunset vibe, while still keeping everything else the same)


Other than that little worry, they are gorgeous and I look forward to seeing how mutations will be divvied up! :D
Edited By Xavion on 3/5/2022 at 3:44 PM.
Passionate
Level 75
Fancy Pants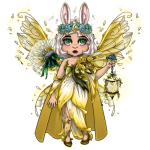 Joined: 2/15/2022
Threads: 5
Posts: 146
Posted: 3/5/2022 at 3:36 PM
Post #8
I was a little worried because I liked the faelora the way that they are, but this is a vast improvement! I might still like the current male hatchlings a lil more, I can't pinpoint what it is, I think the eyes? But I feel like these are really cohesive designs that reflect the species so good job!!
Vineyiea
Level 75
Guardian of the Realm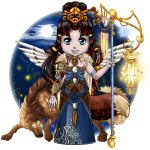 Joined: 5/2/2017
Threads: 170
Posts: 4,933
Posted: 3/5/2022 at 3:37 PM
Post #9
Oh wow! I might have a new contender for favourite species!
SpaceElf1
Level 75
Nature Walker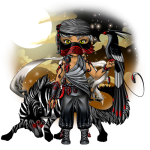 Joined: 9/17/2014
Threads: 598
Posts: 11,954
Posted: 3/5/2022 at 4:07 PM
Post #10
I am puzzled about the adult male image. He appears to me to have a large hank of fluff, or fur, dangling below his right ear. I think it resembles a foxtail (outlined in green/pink below). There's no corresponding fluff/fur below his left ear. What is it?



Maybe if it looked a bit like this, the viewer could see that the animal has fluff/fur on both sides.




Side note: The adult female's neck appears to me to be a bit too sharply twisted. True, real-world deer can twist their necks ever farther, but they have proportionately longer, thinner necks.
Edited By SpaceElf1 on 3/5/2022 at 11:30 PM.
Go to Page:
1, 2, 3, 4, 5, 6, 7
Go to Top
This Page loaded in 0.039 seconds.
Terms of Service | Privacy Policy | Contact Us | Credits | Job Opportunities
© Copyright 2011-2022 Sylestia Games LLC.
All names and logos associated with Sylestia are Trademarks of Sylestia Games LLC.
All other trademarks are the property of their respective owners.
For questions, comments, or concerns please email at Support@Sylestia.com.