Overview
Stables
Hatchery
Inventory
Wardrobe
Referrals
Settings
Seasonal Festival
World Map
Generator
Breeding Grounds
Nurturing Grounds
Party
Task Log
Mission Log
Quest Log
Themed Pet Codex
Player Trades
Trade Broker
Currency Exchange
Eggling Auction
Pick A Door
Official Games
Un-Official Games
Jinxie's Jamboree
Festival Shop
Diamond Shop
Avatar Shop
Scale Shop
Inbox
Forums
Community Polls
Advanced Search
July 5th, 2022

132 Online
4:14 PM
Advanced Search




Active Players on Sylestia
Category
Total
Yesterday
Players
3,382
509
Sylestia Pet Data
Category
Total
Yesterday
Pets
7,159,512
2,011
Generated
547,864
284
Captured
1,070,608
187
Bred
5,541,028
1,540
Statistics updated daily at midnight
Recent Announcements
Thread
Posted
Patriotic Event Pet Tr.. Jul 1 Patriotic Event Overvi.. Jul 1 Change to Pet Public S.. Jun 8 Spring Festival Pet Tr.. May 14 Spring Festival Overvi.. May 14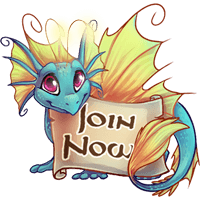 Forum Index > Official Games and Contests > 2022 Spring Festival - Avatar Item Desig...
Page 1
1, 2, 3, 4
Go to Page:
Author
Thread Post
Krinadon
Level 75
Guardian of the Realm
Site Administrator
Joined: 12/17/2012
Threads: 965
Posts: 13,607
Posted: 2/14/2022 at 11:34 AM
Post #1
Hello everyone! We will be holding an Avatar Item Design contest for the 2022 Spring Festival! Please make sure to read the rules carefully!


Contest Rules

1. Design Avatar Items for this Festival. Please use the provided bases to draw your designs on.

Male Avatar Base
Female Avatar Base

The following can be included all in one entry for Avatars:

1-3 Avatar Held Items
1 Avatar Outfit Item (Male and Female options allowed)
1-3 Avatar Head Item
1 Avatar Cloak Item
1 Avatar Accessory Item
1 Avatar Tail Item
1 Avatar Wings Item
1-2 Avatar Aspect Items
1 Avatar Background Item

2. You must draw your new Items on the provided Avatar bases. If you feel that your drawing skills aren't great, then you can include a description in addition to your drawing in order to help us better envision your Items. If you are unable to draw something, then we are sorry, but there will be no exceptions. Your submission must look like it required some amount of effort to create. For example, drawing a few straight lines on a canvas and saying that they're "armor" will not count towards participation.

3. Avatar Items submitted must be Themed to this Festival. This means that it can be anything related to the season, such as any holidays that occur within the season, weather, etc.

4. Please do not reserve posts. If you reserve a post, we will delete your post.

5. Please do not Ping me with your submission. Please only Ping me if you have a question.

6. Before submitting your entry, please make sure to scan the thread to see if someone else has already done something similar. Try to make your entry unique and if someone has already done something that you were wanting to do, then we highly suggest that you pick something different. If you feel that someone has "copied" your design, please do not say anything to that person - especially in this thread. We will intervene ourselves if we see something that's suspicious.

7. You may only submit ONE official entry for the Items listed above. If you wish to submit more, then you can send me a PM with drawings of your ideas. However, all PM'd entries that are sent to me will not count for prizes.

8. IMPORTANT: By participating in this contest and submitting your designs to us, you agree that we, Sylestia Games LLC, will retain full rights to your submission to use as we see fit for the purposes of Sylestia.com and Sylestia Games LLC. You will not receive any royalties or reimbursement from us if we decide to use your designs, or otherwise. Any designs that we pick will be recreated from scratch by our art team; we will only be using your submission as a reference for said artwork. We reserve the right to alter your design in any way that we see fit and are not obligated to adhere to any specific depictions or descriptions that are provided.

9. DO NOT comment on someone's entry unless you have something nice to say. If someone copies your entry, then have faith in us that we will determine the correct winner. Please do not fight over entries. If we see anyone doing this in the thread, then whoever is fighting will be disqualified and potentially receive a Forum Strike.

10. The end date is March 13th, 2022 at 11:59 PM server. After that, there is no guarantee that we will see your entry and the thread will be locked once designs are picked.


Important Copyright Infringement Notice

We are very aware that it's typical to use Google and/or other providers to search for ideas when designing artwork. However, it is extremely important that all of your submissions are created entirely by you and are not copied from another's work. If you are using other artwork as a reference, please ensure that your submission is changed sufficiently to be clear and obvious that it is indeed your work. This is extremely important, not just for ethical reasons, but also for legal reasons when we are implementing something onto our site. Thank you!


Contest Prizes

The following are scheduled to be the prizes for this contest. Please note, these are subject to change. However, we would not do so without a good reason to change them.

Winners
(Players who have their designs picked)
Prizes: [Peerless Avatar Token] x1, 3-Visible Spring Festival Themed Pet of Choice (2-Visible if Majestic) x1, Re-Colorable Avatar Items of Winner's Entries if applicable, Pre-Colored Avatar Item Set of Choice of Winner's Entries if applicable

All Participants
(With valid entries)
Prizes: [Fabled Seed Pouch] x1, [Mystery Seed Pouch] x2, [Premium Fertilizer] x3, [Box of Gardening Supplies] x1, [Large Basket of Enrichments] x12, [Legendary Avatar Item (Spring - Retired)] x1, [Decorated Egg] x1,000
ParodyCatharsis
Level 75
High Warlord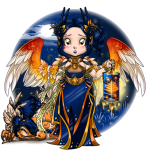 Joined: 10/18/2018
Threads: 26
Posts: 1,399
Posted: 2/14/2022 at 11:50 AM
Post #2
Spring Breeze
Album

CeruleanCrow
Level 75
High Warlord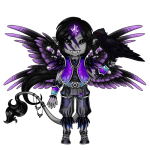 Joined: 2/23/2017
Threads: 82
Posts: 1,674
Posted: 2/14/2022 at 1:04 PM
Post #3
Springwood Librarians

Female Avatar, Wears the following:
Springwood Librarian Uniform (Female, Outfit)
Springwood Librarian Umbrella (Held 1)
Springwood Librarian Coat (Cloak)
Springwood Librarian Cap - Long (Head)

Without the Coat


Male Avatar, Wears the Following:
Springwood Librarian Uniform (Male, Outfit)
Springwood Librarian Teacup (Held 2)
Springwood Librarian Wings (Wings)
Springwood Librarian Cap - Short (Head)



Individual Coat and Wing Designs
(Transparency to see the full picture)

Edited By WildcatBlue on 2/15/2022 at 12:24 AM.
Novathesylveon
Level 74
Champion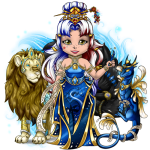 Joined: 12/7/2021
Threads: 3
Posts: 35
Posted: 2/14/2022 at 1:26 PM
Post #4
Mine, Not That Good (Looked Better On Paper)




Its White So If Its Made (Probably Not Others Are Amazing Mines =P) Others Can Recolor It
The Male Is Holding The Item, And The Female Has The Wings
Idk What To Call It
It Doesn't Show Here (Idk Why)
(Edit:I Just Saw The Other Designs And They R So Cool, They Will Probally Win)
Edited By Novathesylveon on 3/8/2022 at 1:53 PM.
Hiraeth
Level 75
Crystalline Cleaver
Joined: 7/14/2015
Threads: 147
Posts: 2,286
Posted: 2/15/2022 at 8:40 PM
Post #5
Held ideas:
- a pixie companion to match the new rikki trait!
- a broadsword or rapier with thorns around the blade and a flowery motif

Outfit/Head:




Head is a veil(female) and flower clip(male). Both would have little strands of beads hanging from them.

With petal cape and/or wings xD

Edited By Hiraeth on 2/15/2022 at 8:41 PM.
Fantasizing
Level 63
The Tender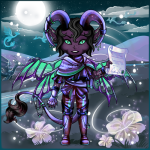 Joined: 12/17/2012
Threads: 15
Posts: 303
Posted: 2/16/2022 at 9:53 AM
Post #6
Spring is the perfect time for flower-filled garden teaparties, so my submission is a victorian and greenhouse inspired whimsical look. The looks were in part based on Alice in Wonderland, but since the book is in the public domain and these are my own, original designs for the characters, I thought that would be ok. I picked these characters because they attend an unbirthday teaparty in the book :>

Avatar Held Items: Teaparty Attendant
Avatar Outfit: Teaparty Attire
Avatar Head Item: Teaparty Fascinator
Avatar Wings Item: Snapdragonfly Wings
Avatar Tail Item: Snapdragonfly Tail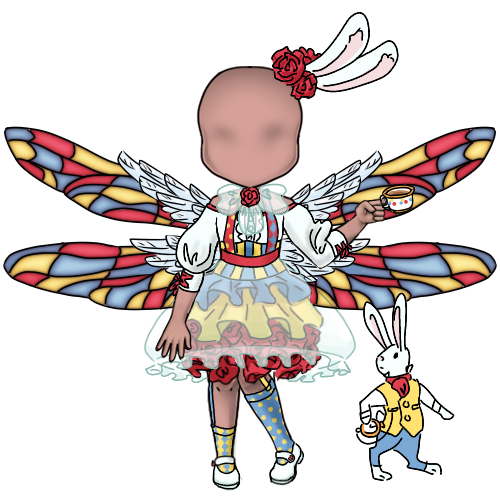 Alternative color palettes/themes: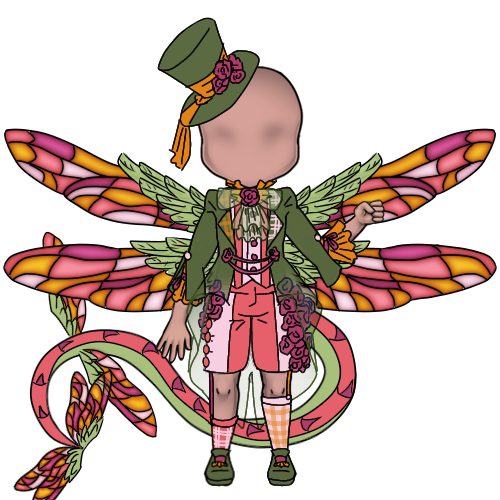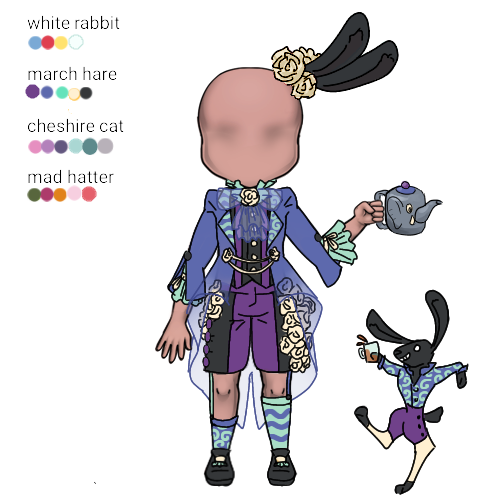 Still to add:
Avatar Aspect Item: Teaparty Illumination (snapdragonflies with firefly abdomens)
Avatar Background Item: Lively Teaparty (greenhouse with table set up for tea)
Edited By Fantasizing on 2/20/2022 at 4:13 PM.
Luxa
Level 75
Fright Master
Joined: 9/1/2015
Threads: 81
Posts: 904
Posted: 2/16/2022 at 12:24 PM
Post #7
Spring is a time for weeds and invasive species! Kudzu is one of my favorite invasive plants. This outfit is inspired by weeds/overgrown/invasive nature

Album




Outfit: overgrown Gardner
Head 1: nesting birds
Head 2: brain rot / overgrown takeover
Back: dead trees overgrown
Held 1: sheep eating kudzu
Held 2: seed bomb / pollen bomb
Crescenttide
Level 75
High Druid
Joined: 2/21/2020
Threads: 8
Posts: 79
Posted: 2/17/2022 at 10:16 PM
Post #8
Lacy Gardener Set

Lacy Gardener's Tunic
Lacy Gardener's Straw Hat
Lacy Gardener's Sweater




Would love to see pants that are the same whether you use the male or female base, and a head option that isn't across the eyes in any way.

Thinking either sewn-on flower patches on the pants, or possibly something more just decoration depending on how much detail goes in. Lacy accents at the neck and bottom of the tunic. Couldn't think of a good way to represent embellishment on the belt, but that could be nice.

And for a cloak/accessory, something like a sweatshirt or sweater tied around the shoulders like it got warm on a nice spring day.
Echosing
Level 75
Trickster
Joined: 5/28/2013
Threads: 48
Posts: 2,210
Posted: 2/19/2022 at 2:37 AM
Post #9
Theme name: Pollen Collector
*just bought some seed packs a bit ago to grow some wildflowers, the flowers are specifically for attracting bees and butterflies/butterflies and hummingbirds(bought multiple seed packages) so I kind of just went with the name/description for the packs of seeds:




Held (1/3)


.Dandelion(puffball)

Head (3/3)


.Flowering half mask


.Butterfly Mutation(the antennae are the same color as the hair color)


.Masked Butterfly Mutation

Aspect(?) (1/2)


.Flowering Cherry Branch(the ball is like a magical collection of pollen or something)

Outfit (1/1)


.Butterfly Robes

Wings (1/1)


.Mutated Butterfly Wings
Edited By Echosing on 2/26/2022 at 1:09 PM.
Nayaris
Level 75
Wondrous Witch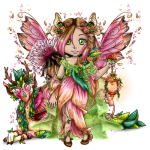 Joined: 9/9/2021
Threads: 7
Posts: 125
Posted: 2/19/2022 at 3:52 PM
Post #10
Here is my entry:

I was inspired by the bees/honey theme, so all the designs are kind of related to this.
Also inspired by Queen Bee, so its like a Queen dress outfit.

Hope you all like it!
^-^

First is the full Royal Bee-Honey outfit:


- Head item: Honey drops/amber crown
- Outfit item: Bee hive dress (honeycomb pattern), including gloves
- Wings: Bee inspired wings
- Heald item: Honey dipper scepter

Then the other held item option:


- Heald item: Flower + honey pot + bee/bumblebee

And some more pics:

Go to Page:
1, 2, 3, 4
Go to Top
This Page loaded in 0.046 seconds.
Terms of Service | Privacy Policy | Contact Us | Credits | Job Opportunities
© Copyright 2011-2022 Sylestia Games LLC.
All names and logos associated with Sylestia are Trademarks of Sylestia Games LLC.
All other trademarks are the property of their respective owners.
For questions, comments, or concerns please email at Support@Sylestia.com.