Overview
Stables
Hatchery
Inventory
Wardrobe
Referrals
Settings
Seasonal Festival
World Map
Generator
Breeding Grounds
Nurturing Grounds
Party
Task Log
Mission Log
Quest Log
Player Trades
Trade Broker
Currency Exchange
Eggling Auction
Pick A Door
Official Games
Un-Official Games
Jinxie's Jamboree
Festival Shop
Diamond Shop
Avatar Shop
Scale Shop
Inbox
Forums
Community Polls
Advanced Search
August 12th, 2020

159 Online
3:09 PM
Advanced Search
Active Players on Sylestia
Category
Total
Yesterday
Players
5,243
779
Sylestia Pet Data
Category
Total
Yesterday
Pets
5,791,702
2,178
Generated
424,416
44
Captured
893,475
152
Bred
4,473,811
1,982
Statistics updated daily at midnight
Recent Announcements
Thread
Posted
Lost Grove Traits Show.. Jul 22 Lost Grove Restricted.. Jul 20 Patriotic Event Overvi.. Jul 3 Spring Festival Overvi.. May 23 Mother's Day Diamo.. May 10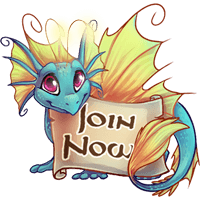 Forum Index > Other Fiction > Hiraeth's Hiraeth Lore and Things
Page 1
Author
Thread Post
Hiraeth
Level 70
The Perfectionist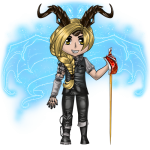 Joined: 7/14/2015
Threads: 72
Posts: 675
Posted: 6/29/2020 at 10:38 PM
Post #1
Hiraeth's (the series, not me) plot contents, and characters belong to me. Should a person pass any of the former off as their own, they will be prosecuted for plagiarism and copyright infringement. (I trust everyone here on Sylestia, but can never be too careful.)

Yes, I named myself after my book series.
Read the first book here!
For a limited time, the entire first book is available, for free, on Wattpad!

Summary:
Set five hundred years after the events of Insomnia of the Heart, the second installment of the Hiraeth series follows Light's journey as he wakes in an unfamiliar world with no recollection of his life before. Armed with the blade of a king and a dark power he still can't control, Light must fight to return to the realm of Thrylos, home of the demons and his father, their king.

This thread will be used for anything related to my series Hiraeth. Characters dossiers, timelines and questions you may have about me, my series, or anything related to my writing. I'm more than happy to receive (kind) criticism. Have something to say? Please post! If you'd like to be added to a pinglist to receive updates (character art additions, new chapters/teasers), let me know. I'll probably be putting together what concept art I have done for the comic on this thread as well.

Pinglist:

Table of Contents:
Characters
Terms and Definitions
Demon Species
Timeline
Ifali Alphabet Guide
Creature Compendium
Hiraeth Whines (About Things)
Comic Concept Art
Edited By Hiraeth on 7/29/2020 at 10:46 PM.
Hiraeth
Level 70
The Perfectionist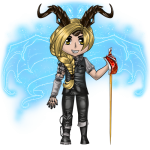 Joined: 7/14/2015
Threads: 72
Posts: 675
Posted: 6/29/2020 at 10:39 PM
Post #2
Characters
Light "Kaliar" Ragnarok

"I don't want to remember."
After spending nearly five hundred years in a crystal prison deep within the mountain Cauthis, Light finds himself in an unfamiliar and hostile world with no recollection of his life before. He wields the blade of a king - Arondite. His indomitable spirit pushes him ever onward, but a darkness lies within. Light is a Maelinga, sub-species Darkfell.

Xerxes Valeris


"Semi-reliable sources say you caused a lot of property damage and wrongful death lawsuits."
An archangel with a mind of his own, Xerxes may look intimidating and bad-tempered, but he's nicer than he seems. Though quiet and steely-eyed, those who get to know him see his sense of humor. He is down-to-earth and not afraid to tell a certain someone how it is.

Zarya Highwind


"I don't mind being a weird demon."
Light's friend from his life before, Zarya can show you memories and feelings with her touch alone. Unfortunately, she can't really control it and unintentionally harms those with painful pasts. Her heart is made of gold, and she has the patience of a sleeping dragon.

Nocten Kaliar
image

Vanitas Ragnarok
image

Ferran
image

Ezra Ragnarok
image
Edited By Hiraeth on 8/5/2020 at 9:23 PM.
Hiraeth
Level 70
The Perfectionist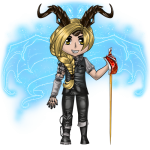 Joined: 7/14/2015
Threads: 72
Posts: 675
Posted: 6/30/2020 at 10:42 PM
Post #3
Terms and Definitions
Maelinga: Translates to 'lost demon' in Ifali. Maelinga are demons from Thrylos, the descendants of the first demons. They are immortal.

Ifali: Spoken and written language of both Aberran and Maelinga demons. Consists of an alphabet. Words are written left to right in square glyphs.

Thrylos: An ancient world, home of the Maelinga. Magically separated from Earth and Aberra - travel out of Thrylos is limited to few individuals. After Light Ragnarok was imprisoned, travel between Aberra and Thrylos became possible. Thrylos translates to 'long shadows' - 'thrry' meaning long and 'rylo(s)' meaning shadow(s).

Aberra: World of the Aberran demons. Translates to 'anew.'

Aberran (demon): Descendants of Maelinga living in Aberra. They are not immortal due to the lack of magical power in Aberra.

Twiilith: The northern region of Thrylos. It is forested and mountainous, and seems to always be covered in snow. Translates to 'winter forest' - 'twii' meaning winter, 'lith' meaning forest.

Skarsgaard: The southern region of Thrylos. Cut through by canyons and ravines, this land is dry and arid. The storms that blow by are vicious and accompanied by strong winds. Translates to 'canyon land' - 'skars,' canyon and 'gaard,' land.

Kimera: Thrylos's 'capital.' This mountain houses a fortress home to the Ragnarok and their guards. An extensive tunnel system runs beneath it, reaching to the far corners of the land. Translates to 'silver sanctuary.' 'Ki' means silver and 'mera' means sanctuary.

**If you're unsure about a word not on here, ask, and I will add it. Sometimes I forget not everyone here is in my head. xD **
Edited By Hiraeth on 7/18/2020 at 10:58 PM.
Hiraeth
Level 70
The Perfectionist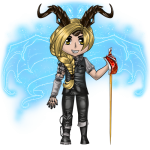 Joined: 7/14/2015
Threads: 72
Posts: 675
Posted: 7/5/2020 at 10:16 PM
Post #4
Demon Species
Avia - Avia are quick and unrivaled fliers, with power over the winds and storms, as well as lightning. They have large feathered wings colored in vibrant shades. Their eyes are multi-colored, sometimes flecked with different colors. They have patches of long feathers on their shoulders, backs and legs. Their feathers insulate them from the cold atmospheric temperatures and harsh winds. They have a feathered tail used to aid flight. Their hair shimmers, much like a Dragon's. Avia tend to flock together in groups of five or six, usually close friends or family. They make their homes in the floating cliffs high above Thrylos, though some prefer the snowy mountaintops of Twiilith.

Azura - A distant relative of the Petraen (see below), they can control ice. They are elusive, standing against the icy winter of Twiilith. Their skin is a shade of pale blue or white, and their eyes are pale aqua or silver. Their hair color usually matches their eyes, sometimes striped with cool pastel shades. Azura have thin, ice-like tails and wings. Males have jagged horns, six to ten inches in length. They live deep in the forests of Twiilith. Some have small patches of tiny scales. Their hair is stiff and rough, like the fur of an otter. Azura tend to live alone, seeking companionship only in their mate.

Darkfell - These demons can harness the powers of ice and darkness, and are some of the most powerful, both physically and mentally. Their skin is usually a shade of grey or silver, some nearly white. They are the only demons to have cat-like pupils, and their eyes can be gold to orange or red. Some are even a deep cinnamon brown, but most are fiery orange or scarlet. They have fur covering most of their bodies, ranging from black to creamy white. Some have paws. Their hair also is colored in grayscale, though some females' hair can be orange-gold. They have a long furred tail matching their fur color, and males have large horns. Their wings can be feathered or dragon-like, their patterns and colors varying to each Darkfell. Darkfell can live pretty much anywhere, from underwater to high in the sky. They can withstand extreme temperatures, though they are more comfortable in colder environments. Darkfell tend to live with their families, but some prefer to wander Thrylos's wilderness alone.

Dragons - Dragons' powers are among the most diverse of any demon. Focusing in various elemental abilities, they rival the Darkfell powerwise. Their colorings are as diverse as their power, ranging from vibrant rainbow shades to muted, earthy tones. Their skin can be any color, with an undertone of their scale colors visible. Like their scales, their hair is also brilliantly colored, usually with some degree of shimmer. They have protective scales covering their bodies, shapes and patterns differing from Dragon to Dragon. Their eyes are brightly colored, commonly matching their scale color. Both male and female Dragons have horns, though the females' are smaller. They have bat-like wings with an average wingspan of fifteen feet, and a long, scaled tail. Dragons live in large clans underground, and like shiny objects and stones. Their clans homes can be found decorated with the treasures they've found. Though Dragons cannot survive underwater, they can withstand any heat or cold.

Erehadon - Sly and smart, Erehadon have thin and supple snake-like scales, and are built for running and swimming, seeing as they make their homes in the wetlands of the southern seas, on the far side of Skarsgaard. They are colored in shades of umber and rocky oranges, and their eyes are commonly bright blue or green, sometimes gold. Males have horns, and their tail size varies depending upon where they live. Thicker tailed Erehadon tend to live in the water, and have a slight webbing between their fingers and toes, while those with thinner tails stick to the wetlands and have longer, claw-like nails. They can manipulate water or fire, depending on where they live. Erehadon do not fare well in extreme cold, though they do have a relatively high heat tolerance, due to southern Skarsgaard's tropical climate. They live with their families until they find a mate.

Hyra - Powerful hunters, they are quick and strong, able to transform into a large wolf and use telekinetic power. They tend to stick to Thrylos's wintry forest of Twiilith, where their thick fur provides insulation from the biting cold. They have thick fur covering their bodies, ranging in colors from white to black to brown and even red. It can be striped or spotted, some having rune-like patterns in brighter shades. Usually, a Hyra's tail is wolf-like, shorter than a Darkfell's. Their ears are those of a wolfs, matching their fur color. They have wolf-like paws, and their eyes tend to be colored in muted shades of blue and green, some gold. They live in large packs, and are extremely loyal to their friends and families. Some, however, prefer to live on their own. Those who are dishonorable or endanger their pack are cast out, forced to scratch out a living on their own.

Ignis - Intelligent and quick-tempered, an Ignis can control fire and flames. Their skin is usually colored in darker shades, with a shimmery sheen, and their hair is shades of fire and embers, brightly colored. Like the Darkfell, an Ignis's eyes are found in red-orange shades, though the most common is a golden orange. Their wings are feathered, in deep colors of the sunset. Some have unique patterns in different shades. An Ignis also has long, bird-like tail feathers, usually in the colors of their wings. Their hair can naturally fade to another color, usually from dark to light. An Ignis's back has long feathers, sometimes reaching to their shoulders. Ignis usually live in warmer climates, and can withstand extremely hot environments. Tending to live in small flocks of three or four, they are caring and loyal to those they love. They do not like cold climates, becoming irritable and quick to snap.

Ito'qe - Like the Hyra, the Ito'qe are telekinetic and powerful hunters, though they have the ability to transform into a large cat. In appearance, they are similar to the Hyra, but an Ito'qe's fur is shorter, and their tail longer and thinner. They have a cats ears, and their eyes tend to be of brighter colors. Tending to stick to the outer edges of Twiilith, their fur is not as warm as a Hyras. Some variations of Ito'qe like the warmth of Skarsgaard. Ito'qe live in small groups, usually three or four. They are quick to anger, and fight a lot.

Peirai - These elusive demons are found in lush oases in Skarsgaard's mountains. They have butterfly-like, vibrantly colored wings, comprised of tiny scales. Splashes of color matching their wings decorate their shoulders and arms, and they have thin, dragon-like tails. Males have small, brightly colored horns, while females have jeweled antenna. Their powers are healing-related, and they can manipulate the unsuspecting demon or human's reality, causing the individual to see what the Peirai wants them to. They do not fare well in extreme environments. Peirai are generally kind and helpful, sticking together in their tropical homes.

Petraen - Physically strong and having lots of endurance, Petraen mostly live in the water, able to control it to a degree. They usually have pale, shimmery skin and tiny scales on their arms and legs. Commonly referred to as water dragons, Petraen have thick, scaled tails, strong and able to propel them easily through the water, usually ranging from blue to silver. Unlike most demons, their nails are shorter, but still pointed. They have a slight webbing between their fingers and toes, and males have small horns. Underwater, Petraen have the ability to fuse their legs and tail to swim faster and more effectively. They do well in colder environments, but can withstand a degree of heat, as some Petraen's underwater homes are near volcanoes. Some Petraen live in groups, but others prefer to be alone.

Qitan - Qitan come in two main breeds, one having the lower half of an Earthen horse, called Kir. The other, called Kie, has that of an elk. Some live in the plains of Kimera, but the Kie Qitan live in the temperate forests of southern Twiilith and northern Skarsgaard. While the colorings of the Kir Qitan are extremely varied, some even having brighter and more vibrant colors than an Earthen horse, the Kie Qitan are colored in more earthy, muted tones. Male Kir have a strip of long fur down their backs, and male Kie have antlers. They have power over the wind, able to twist the air into dagger-like shards. Kir live in large herds, while Kie live with only their mate in the wilderness.

Seers - With the ability to read minds and predict the future, they are intelligent. Though they are weak strength-wise, their unique powers allow them to beat any opponent without the right training. They are among the rarest types of demons. Their skin is usually pale, speckled with gem-like scales. They have vibrantly colored, stone-like scales around their shoulders and jeweled tails that sparkle in Thrylos's twilight.

Urikki (Took inspiration from Ferrikki lol) - Sticking to the temperate forests of western Kimera, these fox-like demons have two to nine fluffy furred tails. Their fur is shorter than a Hyra's, but just as insulating. They live both in the northern caverns of Skarsgaard and the southern forests of Twiilith, though some can be found in the colder regions. Their fur colors suit their environments, golden- and red-orange-furred Urikki tending to stick to Skarsgaard and the white- and grey-furred Urikki making their homes in Twiilith. Their eyes tend to be vibrant green, blue, and golden. They can influence emotion and are able to control electricity. Urikki live alone for the most part, some living in small clans in the forest.

Wraiths - Silent and swift, they control darkness, using it to hide themselves and travel. Wraiths have an innate charm - they are persuasive and highly attractive. They are the root of humankind's legends of supernatural entities that would seduce their victims and kill them. They have feathered wings of dark shades, and runic, tattoo-like designs covering their bodies. They are pale of skin, and have silver or black eyes. Their hair is commonly black or white. Males usually have horns. They tend to find homes in the floating cliffs far above Thrylos. Wraiths live alone unless they have a mate.
Edited By Hiraeth on 7/23/2020 at 10:51 PM.
Hiraeth
Level 70
The Perfectionist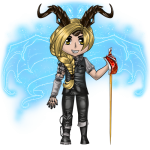 Joined: 7/14/2015
Threads: 72
Posts: 675
Posted: 7/18/2020 at 10:19 PM
Post #5
Timeline
'Name: Age' is displayed after some events.
OE (Origin Era) 0 - Humans evolved into intelligent creatures. Angels aid their advancement.
OE 500 - Someone uses a dark power to create demonkind to balance light and darkness. Their name is wiped from history.
OE 657 - Demons are created, Vanitas is the first.
OE 660 - Demons escape to Thrylos to avoid the angels' purge.
OE 673 - Vanitas rises to power. Vanitas: 16
OE 1057 - Some Maelinga leave Thrylos for Aberra.
OE 2643 - Humanity forgets about the demons.
OE 2836 - Humanity creates 'religion.'
OE 3742 (AD 0) - Humanity creates AD. Vanitas's 3,069th birthday!
OE 3777 (AD 35) - Ezra is born. Vanitas: 3,104
OE 4031 (AD 289) - The Zodiacs Stone is created, along with the Curse. Ezra: 254
OE 4092 (AD 350) - The Zodiac Curse claims its first heir of Aberra.
OE 4742 (AD 1000) - The Zodiac Curse claims its second heir of Aberra.
OE 5759 (AD 2017) - The Zodiac Curse claims its third heir of Aberra, Nocten's father.
OE 5787 (AD 2045) - The Century War starts. Ezra: 2,010
OE 5807 (AD 2065) - Nocten is born, and soon after, his father is taken to Hiatus. Azael, the Dragon king, advises Nocten.
OE 5846 (AD 2074) - Light is born. Vanitas: 5,143 Ezra: 2,039
OE 5893 (AD 2121) - Light is cast from Thrylos. He is then found by Chinese demonologists, who send for Azael and Nocten.
OE 5929 (AD 2157) - Azael is locked away, leaving Nocten to rule Aberra alone.
OE 6777 (AD 3005) - Light is awakened and takes the role of Nocten's son. Light: 931
OE 6782 (AD 3010) - Nocten realizes the Curse will affect Light.
OE 6783 (AD 3011) - Nocten sends Light to Earth, to be taken care of by Leon Noble. Light: 937
OE 6799 (AD 3027) - The Zodiac's Curse claims Light. 953
OE 7299 (AD 3527) - Light returns to Thrylos. Vanitas: 6,564 Ezra: 3,499 Light: 1,453
Edited By Hiraeth on 7/23/2020 at 10:30 PM.
Hiraeth
Level 70
The Perfectionist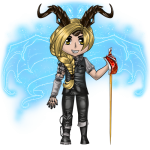 Joined: 7/14/2015
Threads: 72
Posts: 675
Posted: 7/20/2020 at 9:41 PM
Post #6

The Ifali alphabet corresponds with the Common alphabet, but words directly translated from Ifali to Common alphabets usually don't make sense. Ifali is a spoken language as well. Its words are recognizable by their throaty, growling sound. The runes that form the alphabet reflect this harsh-sounding language in their angularity and straight lines.

Demon-researchers believe that the runes of Ifali are geometric because they are easier to carve into surfaces. They haven't bothered to ask the demons, of course. A question like that may not go over so well.

Nowadays, demons from both Thrylos and Aberra speak Common as well as Ifali, though Aberran demons don't use Ifali as often.

Ifali was inspired by the Zanabazar's Square Script in its shape, and utilizes Korean's word-block writing.
Edited By Hiraeth on 7/24/2020 at 8:54 PM.
Hiraeth
Level 70
The Perfectionist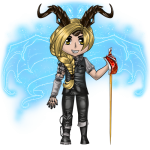 Joined: 7/14/2015
Threads: 72
Posts: 675
Posted: 7/24/2020 at 9:33 PM
Post #7
Creatures of Thrylos
Falar: These creatures are highly intelligent, displaying empathy as well as understanding spoken words. They are commonly referred to as demon-killers because of their aggression towards Maelinga. Only one case of falar domestication has been recorded - the falar in question had been taken care of by demons from its hatching. They have long, ferret-like bodies, and range from the size of a small car to a bus. Their large ears are incredibly sensitive and can pinpoint sounds from a quarter mile away. They are mainly solitary carnivores. Males have brightly colored fur and crystalline horns. They hatch from large eggs a century after conception.
Hiraeth
Level 70
The Perfectionist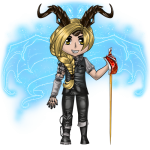 Joined: 7/14/2015
Threads: 72
Posts: 675
Posted: 7/28/2020 at 11:22 PM
Post #8
Hiraeth Whines (About Things)
7.29.2020, 00:27 EST - It's too late for drawing, but guess what I'm doing! Drawing! I keep telling myself I need to work on my comic-ization of Hiraeth, but I keep tweaking my art style and wildly swinging between manga-like drawings and just comic whatever-the-hell I want. Right now it's a strange yet interesting mix of the two. I wonder if American manga illustrators are considered comic artists or mangaka. Huh.
7.29.2020, 23:43 EST - I need to stop watching things and then going, 'Hey, that's a good idea! I want to write about it!' And then thinking I'll never be that good, etc etc. Because I am! Pretty good! And I need to write my story, and stop watching/reading other peoples' stories!
7.30.2020, 23:38 EST - I mastered a deep breathing trick to curb my stress and anxiety. I feel pretty darn good about myself. When I'm anxious I find I can't write or draw.
7.31.2020, 23:43 EST - I don't sleep enough.
Edited By Hiraeth on 7/31/2020 at 10:43 PM.
Hiraeth
Level 70
The Perfectionist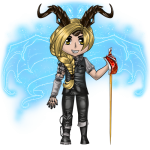 Joined: 7/14/2015
Threads: 72
Posts: 675
Posted: 7/29/2020 at 10:45 PM
Post #9
Hiraeth Comic Concept Art
Light Headshot With and Without Lighting
Xerxes Headshot Without Lighting
Edited By Hiraeth on 8/10/2020 at 10:35 PM.
Go to Top
This Page loaded in 0.017 seconds.
Terms of Service | Privacy Policy | Contact Us | Credits | Job Opportunities
© Copyright 2011-2020 Sylestia Games LLC.
All names and logos associated with Sylestia are Trademarks of Sylestia Games LLC.
All other trademarks are the property of their respective owners.
For questions, comments, or concerns please email at Support@Sylestia.com.