Yoo, I'm Copeh. I love making friends, but dislike random friend requests (so stoppit you random friend requesters!). I'm usually pretty happy to help out and whatnot in what ways I can, just shoot me a message!
-Max stat team project!-
I'm looking to have max (eeeh or maybe super) stat teams of all species for more convenient board grinding during fests. Below is what I still need:
-Bulbori 3
-Faelora 2
-Griffi (No limit, always want, but they gotta be themed or pretty trait/color combos)
-Morkko 2
-Ny'vene 3 (I will probably breed these up myself)
-Sylvorpa 3
-Vulnyx 2
===================================================================
I made some themes~ <3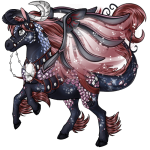 Pale Fright Ryori - Cosmic Witch Qitari - Haunted Nephini



Glowing Garden Aeridini - City Lights Qitari - Warm Evening Lupora



Horned Caterpillar Faelora - Floral Fantasy Luffox - Christmas Coal Qitari



Daybreak Lupora - Dusky Darling Puffadore - Northern Mystic Zolnixi



Tropical Allure Lunemara - Dark Desire Lupora

=D Ranking my favorite griffi themes visually~ The placements shift a bit depending on my mood, lul. *Asterisks mean I don't have many (or any QQ) of that theme and it's easy to bribe me with it. The more stars, the more bribe-y!
Mulled Wine
Sea Dragon
Blue Hermit ****
Black Barlow ****
Vampiric ****
Blazing Fireworks **
Ember Peacock ****
Star-crossed ****
Night Crystal ****
Charming Chocolate ***
Sun Deity ****
Festive ***
Firewood
Midnight Madness
Divine Pomegranate
Perma-Frostfeather
Caramelized Apple
Arctic Glacier
Galactic
Freezing Rain
Crystallized
Frostchaser
Sanguine Crystallized
Frost Touched
Patriotic
Thunderstorm ****
Haunting Lights
Lovely Lavender
Golden Clover
Imperial Peacock
Blueberry Crumble
Guardian Angel
Arabian Desert
Arctic Storm
Coal
Cherry Cheesecake
Reindeer ****
Mystical Mermaid
Winter Pine ***
Winter Shadow
Secret Treasure
Silver Bells
Majestic Peacock
Pink Gladiolus ****
Tyrielle's Minion
Sleigh Bells
Red Skies
Korean Fire Camellia
Monarch Frostfeather
Carnival Iris
Candied
Snow Hawk
Coconut Oasis
Redwood
Autumn Wind
Harvest Day
Delightful Peach
I suck at remember things, so notes are gonna go here for you all to stare at, heh.
o3o Furrychild owes Copeh a master trap~