Overview
Stables
Hatchery
Inventory
Wardrobe
Referrals
Settings
Seasonal Festival
World Map
Generator
Party
Task Log
Mission Log
Quest Log
Player Trades
Trade Broker
Currency Exchange
Eggling Auction
Pick A Door
Official Games
Un-Official Games
Jinxie's Jamboree
Festival Shop
Diamond Shop
Avatar Shop
Scale Shop
Inbox
Forums
November 26th, 2014

61 Online
4:55 AM
Advanced Search
Active Players
Category
Total
Yesterday
Users
5,398
706
Pet Information
Category
Total
Yesterday
Pets
1,123,057
1,502
Generated
53,177
39
Captured
211,304
113
Bred
858,576
1,350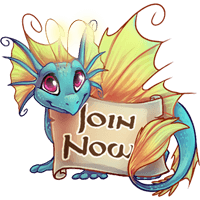 Welcome to Sylestia, a Free to Play Virtual Pet Game
Sylestia offers players a wide range of your favorite features of Virtual Pet Games! Create fully customizable Pets from over a dozen different species. Create fully customizable Avatars from hundreds of various styles, clothing, and items. Capture, Generate, or Breed as many pets as you like. Explore the vast regions of Sylestia through an open world RPG system and so much more!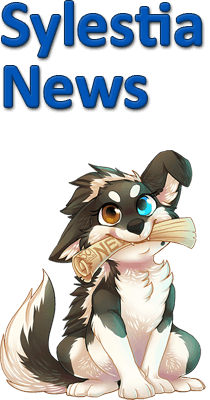 Harvest Day Festival Begins 11/27
November 18th, 2014 at 5:36 PM
We are happy to announce that the Harvest Day Festival will begin on Thursday, November 27th and run through Monday, December 1st!

In celebration, we will be releasing a new Gene for all species. Also, we will be releasing an Anniversary Wheel where you can win any previous Wheel Themed pet, any previous Monthly Avatar Item, or any other various rewards.

Additionally, we will be having a massive Anniversary Sale where virtually every thing will be on sale, including all previous Monthly Avatar Items.

Lastly, during the festival, be sure to keep an eye out for Harvest Day Themed pets to pop up!
Harvest Day Festival (11/27 - 12/1)

Species Redrawn: Draeyl
October 30th, 2014 at 2:45 AM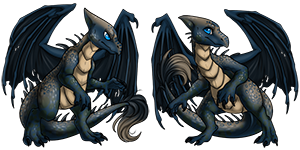 Entirely redesigned, the Draeyl are now the second species to be revamped. While we kept the theme of the species the same, the species received a significant upgrade. This includes a major overhaul to the quality of their colors, lineart, and shading. We hope you enjoy!
Draeyl Revamp Thread


Monthly Avatar Items: November
November 1st, 2014 at 11:08 PM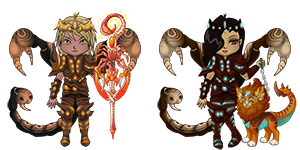 We have released November's Monthly Avatar Items. This month is based on Scropio and includes the Manticore Cub and Scoprio Staff sets.
Monthly Avatar Shop
November's Avatar Items Thread

New Zone: Astryl's Tranquility
September 18th, 2013 at 4:59 PM
We have released the second zone of Astryl's Vale: Astryl's Tranquility! In order to access Astryl's Tranquility, one must have completed the story line through the Sweet Blossom Orchard.

Astryl's Tranquility is named after Queen Astryl, of the first Era, and the often said superstition that the lake's waters bring people peace and tranquility.

Recently, trouble has befallen the small village of Koryl, which rests on the lake shore, and it is up to you to bring peace back to Astryl's Tranquility.
Examples of Sylestia Pets
Aeridini (Female)
Ryori (Male)
Vulnyx (Female)
Griffi (Male)
Draeyl (Female)
This Page loaded in 0.0069 seconds.
Terms of Service | Privacy Policy | Contact Us
© Copyright 2011-2014 Sylestia.
All names and logos associated with Sylestia are Trademarks of Sylestia.
All other trademarks are the property of their respective owners.
For questions, comments, or concerns please email at Support@Sylestia.com.