Hello I am artist who has way to many characters and I can't help but make more...Anywho! I'm Alphanightmarewolf, but you can call Alpha or just Wulf...
Female | She/Her | Pansexual | Asexual |
Stuff I Like:
BEASTARS,Transformers, Your Turn To Die, Rouge Galaxy, Memes, anime, doggos, Dragons, Dinosaurs, STEEL BALL RUN, Crocodiles not alligators, Game of Thrones, Spaghetti, POWERWOLF, uhhh power metal in general, JOJO'S BIZARRE ADVENTURES, Social Repose, Overwatch, Horror movies/books/games, Action/Adventure things, furries, Gotham, DC, writing/roleplaying and a ton of other things
Favorite Artists/Bands/Music Groups: Tyler The Creator, Denzel Curry, Beyonce, Missy Elliot, EXO, Yung Gravy, BIGBANG, IMFACT, Shinedown, Volbeat, Slipknot, Smokeurrp, Lil Peep, Bexy, POWERWOLF, GLORYHAMMER, Blackpink, Y2K, bbno$, Kyary Pamyu Pamyu, 311, and a bunch of others
I'm noot really active on here or nothin, so if you pm me for a pet or anything talk to me on my other social links and whatnot-
_______________________________________
Heh Feel free to talk/play with me on other platforms!
FA: ArtificialMilkshake (Furaffinity)
DA: ArtificialMilkshake (DeviantArt)
Twitter: artificialmilk3
Insta: artificial_milkshake or vickiwolfchan
Wattpad: BornOfDragonsBlood
Minecraft: Artificialsage
Roblox: ArtificialMilkshake
Tik Tok: artificial_milkshake
__________________
Quote:
It may be hard right now... But you must silence those thoughts! Stop counting only those things that you have lost! What is gone, is gone! So ask yourself this: What is there... that still remains to you?!
-Jenbei(One Piece)
,:: ::
Designs(and future projects) I'd Kill to have (start)
::,:: ::
by me!
,:: ::
Wits End Aurleon
,:: ::
,:: ::
Interlude Of Chaos Ny'vene
,:: ::
Combustion Of Chaos Aurleon
,:: ::
Interlude To Doom Lupora
,:: ::
The Blood Of Saints Lighira
,:: ::
Contractor Of Chaos Zolnixi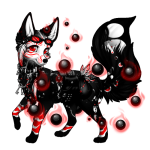 ,:: ::
Wayward Nightmare Sylvorpa
,:: ::
Phantom Menace Lighira