Hi all!!
I am still having a SALE!!!!!! Please stop by, and if you want something for cheaper, please ask! Please keep in mind that a lot of the themes I have are worth quite a bit!!
My sale pets are in the Sale stable and in the hatchery!
I hope you find some you like!
I also do genetic testing! In case you don't know how that works, I'll buy the pet for 1g, test it, then sell it back to you for 1g.
I have an addiction to female nixis with tritails... and chow tails....
I also tend to browse the cheap section of the advanced search, looking for pretty pets.... usually qits, kelps, nixis, lups, and sometimes lighs. I buy what I like, but sometimes I change my mind, so if you see a pet I bought for sale or released, that's why. If you see it for more, it's because I hate the risk of people buying just to release the pet. I hate that.
My first Ferriki, Trisscar: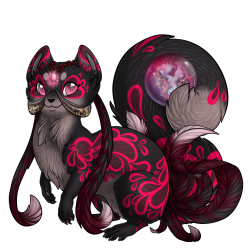 I have a blog on Wordpress where I talk about girly things. If you are interested, feel free to check it out!
http://rosesandlace.home.blog
----------------
Thanks to Eversnow for my first artwork!!!!!
It's of Moondust, my lovely starter

(more stuff below artwork btw)
Still working on Gingerbread Zolnixis! I am so close! The red is almost there, now I jsut need the blue to work out. *super excited!!*