Hi guys,
I'm not as active as I used to be, so I apologize if you message me and it takes me some time. I try to jump on every 1-2 weeks.
Sales (if I have any) are in my first stable and in the hatchery, but I have lots of breeders throughout my stables.
If you see anyone you want, and want a discount, feel free to message me!
Finally named my first Ferriki, Trisscar.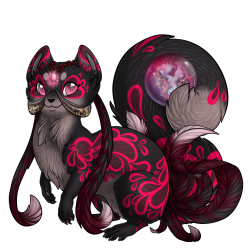 I have a blog on Wordpress where I talk about girly things. If you are interested, feel free to check it out!
http://rosesandlace.home.blog
----------------
Thanks to Eversnow for my first artwork!!!!!
It's of Moondust, my lovely starter

(more stuff below artwork btw)
Still working on Gingerbread Zolnixis! I am so close! The red is almost there, now I jsut need the blue to work out. *super excited!!*