Overview
Stables
Hatchery
Inventory
Wardrobe
Referrals
Settings
Seasonal Festival
World Map
Generator
Breeding Grounds
Nurturing Grounds
Party
Task Log
Mission Log
Quest Log
Player Trades
Trade Broker
Currency Exchange
Eggling Auction
Pick A Door
Official Games
Un-Official Games
Jinxie's Jamboree
Festival Shop
Diamond Shop
Avatar Shop
Scale Shop
Inbox
Forums
Community Polls
Advanced Search
October 30th, 2020

195 Online
9:16 AM
Advanced Search
Active Players on Sylestia
Category
Total
Yesterday
Players
5,625
888
Sylestia Pet Data
Category
Total
Yesterday
Pets
5,952,844
1,896
Generated
438,126
92
Captured
917,034
716
Bred
4,597,684
1,088
Statistics updated daily at midnight
Recent Announcements
Thread
Posted
Fall Festival Overview Oct 28 Poll: Change in Breedi.. Sep 28 Site Downtime - 9/24 @.. Sep 23 Site Downtime - 9/23 a.. Sep 22 Rapid Response Suggest.. Sep 12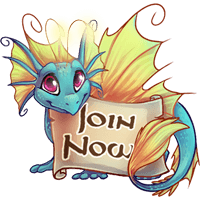 Forum Index > Official Games and Contests > 2020 Patriotic Event - Sylestia Fairy Co...
Page 4
1, 2, 3, 4, 5
Go to Page:
Author
Thread Post
Xedite
Level 70
The Kind-Hearted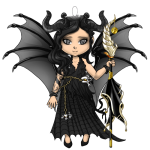 Joined: 12/16/2019
Threads: 43
Posts: 3,781
Posted: 7/13/2020 at 11:15 PM
Post #31
(Going to preface this post by saying I have a food allergy to wheat and a sadly very weak stomach tolerance to spiciness despite my once great love of painfully spicy peppers, so my recipe will not be using flour or 'hot' peppers. You're free to substitute the corn starch for flour and the green chile and anaheim peppers for jalapenos or ghost peppers or your preferred pepper of spice if you're making this for yourself! I hope this substitution on my end is allowed, since I'm trying to not make myself sick. @_@
I'm pretty much limited because of bad baking skill and the pandemic anyways, lol

Since I'm forced to cook a lot of my own meals completely from scratch, this recipe is my own, so I don't have much formally written down (as I am very much a season-to-taste, make things up as I go along person, but I'll try to write things down as I go along and explain.)

First of all, I want to say thanks for inviting me to this year's Fairy Feast. It's my first year here and I'm pretty excited to make a mean bowl of Ny'vene Chili. ;>




Before we get started, I want to introduce you to a friend of mine here, Mr. Instant Pot.
Since I do a lot of cooking on the regular, this big guy ends up as my kitchen assistant most of the time.
Today he's going to be helping me speed up my cooking time as well as helping me by making homemade broth, the golden secret picking up any chili's flavor. (Seriously, don't use just water. :()

To make chicken broth, it's pretty easy actually! You can do it in either an instant pot or a regular stovetop pot (if you're willing to wait a few more hours for it to cook)

You'll need:
Chicken bones (I'm using chicken wings for this)
1 tablespoon extra virgin olive oil (used for browning chicken, my instant pot has a saute function I used for this)
2-3 celery ribs, broken into pieces & celery leaves
2 whole carrots, sliced (all I have are baby carrots, so.. just slicing like 6 in thirds and adding them)
2-3 bay leaves
2 shallots, sliced, leave the peels intact (regular onions or green onions work better, using what I have, lol)
1/2 teaspoon dried rosemary
1/2 teaspoon thyme
Dash celery salt (you can omit this if you're using celery leaves, I didn't have enough on hand and like more celery taste)
10 whole black peppercorns
Assorted vegetable scraps (using ones I froze beforehand just for purposes of making broth & stock)
Dash of vinegar (i'm using rice vinegar, white vinegar also works fine. Vinegar forces collagen from the bones and helps speed up the process of breaking them down. We also want the acidity in the chili for later)
1 tablespoon salt
Water, about 2 quarts or so

In the instantpot, this cooks for about 2 hours, longer if you want stock. Stovetop is about 3-4 hours for broth.

Make sure you load it up, you want all the flavor you can get here ;>


When it's done after 2 hours, it should have turned a golden like so. You'll want to strain all the base ingredients out of it and discard them so you're left with just the liquid.




Chili ingredients:
Homemade chicken broth, about a quart or so
3 tablespoons chili powder
2 tablespoons cumin powder
1 tablespoon smoked paprika
1 tablespoon South African smoke seasoning or 1/2 tablespoon crushed red pepper (I used the smoke seasoning)
1 tablespoon garlic powder
1/2 tablespoon minced garlic, browned
1/2 tablespoon ground jalapeno powder (omit if using fresh jalapenos or hot peppers)
1 tablespoon kale powder, or 1 cup shredded fresh kale
1 fresh anaheim pepper, chopped and browned
1 fresh bell pepper, chopped and browned
3 slices bacon, cooked and chopped
2 green onions, diced and browned
1 shallot, diced and browned
2 cans diced green chiles
1 can kidney beans
1 can black beans
1/2 can great northern beans
1/2-1 tablespoon corn starch or cornmeal (as needed to thicken, letting chili cook longer eliminates need for it. I'm impatient, lol)
Ground black pepper (to taste)
Seasoned salt (to taste)
Worcestershire sauce (to taste)
Lime juice (about 1 tablespoon, or to taste)
Dried parsley (garnish)
Fresh cilantro (to taste, garnish)
Shredded cheese (optional, garnish. I recommend either gouda or jack!)

While the broth was a-brewing, I gathered all the ingredients for the chili and started on chopping the vegetables in preparation to brown them.



And started on cooking the bacon.
(Not shown: ravenous Ny'venes trying to snatch it out of the pan)



Once the bacon was done, I saved what was left of the bacon grease and added about a tablespoon of extra virgin olive oil to it as well as the minced garlic to brown it.
Once it was done, it was added to the pot and the vegetables were started in the now garlic and bacon infused oil.
While they browned, I added the beans, spices, and chiles to the now finished broth and let it begin to slow cook.
Once the vegetables were finished, they were added to the pot and the chili was left to cook for another hour and a half.
I added corn starch at the end to thicken the consistency a bit and the lime juice for flavor and acidity. The parsley and cilantro were added for garnish.

Edited By Xedite on 7/13/2020 at 11:57 PM.
Lenore
Level 70
Wondrous Witch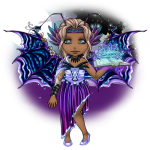 Joined: 2/3/2015
Threads: 48
Posts: 684
Posted: 7/14/2020 at 9:23 PM
Post #32
Sylestia Fairy Cookbook
UMBRA FOREST GATEAU

It's imperative one must come with the most delicious dish for the annual Summer Fairy Feast. This recipe has been passed down for thousands of generations by the locals and is guaranteed to be a crowdpleaser.

*be sure keep an eye on your indoor Vulnyx, Puffadores and Luporas, as too much of this treat can be deadly - I'd recommend giving them extra treats beforehand*

click image to view full size
click image to view full size
click image to view full size
click image to view full size
K1tten
Level 70
The Kind-Hearted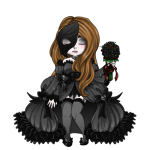 Joined: 12/18/2016
Threads: 0
Posts: 24
Posted: 7/18/2020 at 5:40 PM
Post #33
Ny'Vene Flame Chilli

Ingredients:

1. 1 pound of hamburger meat.

2. 1 medium sized onion.

3. 1 yellow bell pepper.

4. 1 red bell pepper.

5. 4 cans of chilli beans.

6. 1/2 a can of corn.

7. 1 pack of chilli seasoning.

8. Salt, pepper, and "Crystal's Hot Sauce" to add flavoring and heat.

9. Jalapeno peppers to further add heat to the mixture.

*Optional* Adding cheese and sour cream to the chilli once it has finished cooking may add the the flavor.

~

Recipe:

Step 1. Slice 1 red bell pepper, 1 yellow bell pepper, and 1 medium sized onion. Mix together.

Step 2. Cook 1 pound of ground hamburger meat on the stove for 10-20 minutes. Have heat turned to about 5. Add the two sliced peppers and one onion to the hamburger meat to cook together. Stir together.

Step 3. Seperately, create a mixture of 1/2 a can of corn, 4 cans of chilli beans, 1 can of tomato and green chillies. Once Hamburger meat, peppers, and the onion are finished cooking, mix the two mixtures in.

Step 4. Once the two mixtures are combined and stirred together, add sliced jalapenos, "Crystal's Hot Sauce", salt and pepper to increase both the flavoring and heat of the chilli. Stir in.

Step 5. Place the pot of chilli back onto the stove and cook for about an hour. Heat should now be at 4 .

Once finished cooking, enjoy your Ny'Vene Flame Chilli!

~

I apologize if the photos and angles aren't the best. I'm hardly 4'10 so it was a bit hard to take some of the photos.

Photos;

Edited By K1tten on 7/18/2020 at 6:20 PM.
Torey
Level 70
Trickster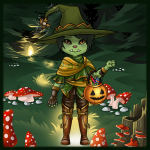 Joined: 12/29/2017
Threads: 38
Posts: 370
Posted: 7/19/2020 at 7:10 PM
Post #34
Faelora Leafy Greens




Korean Cucumber Salad



Found the recipe here. This recipe is pretty easy and only took about 5 minutes to make. My notes are written in italics.

- 1 cucumber (Japanese, English, Persian, Pickling are all good) about 1 1/2 cup sliced for 1 cucumber
- 1 Tbsp soy sauce (Jin Ganjang)
- 2 Tbsp rice vinegar
- 1 Tbsp sugar
- 1/2 tsp Korean red chili powder
- 1/4 tsp sesame seeds
- 2 green onions , chopped




1. Slice cucumbers into thin slices. Around 1/8 inch (3 mm).

This cucumber was pretty sweet, but if yours is more bitter, you can peel it first.



2. Mix soy sauce, vinegar and sugar in a bowl. Pour soy vinegar into the bowl with cucumbers.


3. Then, add 1/2 tsp chili powder and sesame seeds. Mix and taste. Add more chili powder if you want.
Doing it in this order allows you to taste and control the amount of chili powder based on how spicy you want it.


I started with 1/2, tasted it, and added 1/2 tsp more, but not enough to make it spicy.





4. Add chopped green onions and mix again.

I had some wild onion in my yard so I used that instead.



5. YOU ARE DONE!! Serve immediately for the most fresh and crunchy cucumber flavor. You can also let it sit for 10-15 minutes for the cucumbers to absorb the dressing before serving.


The finished product!
I let mine marinade for 10 minutes before serving. This still left a lot of dressing and only made a few small servings, so next time I would cut up more cucumbers for a larger dish. You can also save the dressing and use it on chicken, rice, etc. Overall, it's easy to make, doesn't need a lot of prep or special ingredients, and tastes great.
Edited By Torey on 7/19/2020 at 7:13 PM.
GoldGryphon
Level 70
Guardian of the Realm
Joined: 1/28/2014
Threads: 72
Posts: 3,970
Posted: 7/20/2020 at 7:15 PM
Post #35
The Making of:



Ny'vene Flame Chili



Or Spectral Intimidator's Bad Day



Greetings my friends, my tale begins with a young Ny'vene named Spectral Intimidator, or Spec to his friends and family.




Now Spec is a hard worker, but he can be kind of stubborn sometimes. Spec and I started the morning going through our special pepper plants and trying to infuse Ny'vene spice heat into each one. This was our first time growing the plants and trying to infuse them. One after another was a fail. Broken pots and burnt plants lay all over the garden. Except one pot didn't break, but it fell over and cracked a bit. One lone pepper, oblong and green was still on the plant. I told Spec that this would work perfectly for Flame Chili, but he was having nothing of it. He swore that since it was green, no way could it be a special pepper. I told him..... looks can be deceiving! Off he stormed for a training session in the Lost Grove (he is working so hard to rank up, but he says he is "only" rank 2). I followed with his twin girl teammates who were giggling and teasing poor Spec.

Lost Grove was pretty hard on Spec today, having had to revive a couple of times in the caverns along with a long trudge looking for Epic Hunt marks. He left the grove in a worse mood than when he entered. We got home before lunch and I was determined to show the 'vene that the pepper was hot as any out there. Using a recipe I found at a favorite site (SortedFoods) that I changed up with a couple of additions, along with doubling the recipe for lots of leftover lunches!

Ny'vene Flame Chili
(Slow-Cooked Chilli Con Carne)

Ingredients:
1 brown onion
1 carrot
2 cloves garlic
1 stick celery
1 tbsp olive oil
2 tsp dried oregano
2 tsp hot chilli powder
2 tsp smoked paprika
1 tsp ground cumin
1 tsp ground cinnamon
500 g beef mince
1 tbsp tomato pure
400 g chopped tomatoes
1 beef stock cube
500 ml pale ale
400 g tinned kidney beans drained
50 g sour cream
300 g long grain rice

My Additional Ingredients:
1 Freshly Infused Ny'vene Chili Pepper
50g Dark Chocolate

Method
Peel the onion, carrot and garlic. Roughly chop them and the celery into chunks and place them into the bowl of the Compact Food Processor with the Knife Blade attachment. Blitz the veg until finely chopped. Pour the oil into a large oven-proof saucepan and add the chopped vegetables. Fry for a few minutes over a medium-high heat, until the onion begins to soften. Season with salt and pepper.
Add the oregano and dry spices then stir in the minced beef. Fry for 5 minutes to brown the beef then stir in the tomato pure and add the tinned tomatoes. This is where I add the Ny'vene Chili Pepper, chopped! Cook for another 5 minutes then add the stock cube and the pale ale. Preheat the oven to 140C.
Add the kidney beans and transfer to the oven with a lid once the mixture has returned to a simmer. Cook in the oven, very gently, for 5 hours. Finish by seasoning with salt and pepper.
And last, but not least, add the broken bits of chocolate, let melt and stir in!
Boil a kettle and put a medium saucepan over a high heat. Add the water and heat to the boil. Season well with salt, add the rice and cook for 10 minutes or until just soft through. Serve the rice with the chilli and a generous dollop of sour cream. Serves 4.


I gathered all of the ingredients! Even that little green pepper!



And I started prepping the ingredients! Cleaning and chopping those veggies!



Now, this is where I did a bit of change to the recipe.... I had to add the special pepper that I grew with Spec's help! The thing is, I wanted this to be a real special chili. So I talked Spec into giving me a hand.... or a flame to get the pepper hotter and better tasting than ever! He wasn't very happy about it, said it was a waste of his time and flame! But did it to make me happy! What a funny guy!



I cooked the veggies down and added all the spices, letting those cook till they filled the whole kitchen with wonderful smells!



Then I added the tomatoes, beans (2 different kinds!), and as you can see, the special pepper all chopped up and ready to add its unique heat to the chili! Now, anyone who uses these special peppers, be warned, USE GLOVES! You don't want your hands to be burned!



After mixing well and bringing to a simmer


the whole pot was put in the oven to slow cook for the afternoon! I was hoping that I could cheer up Spec with a walk-in Umbra Forest to visit our elf friends at the Sanctuary of Saerielle. And as luck would have it.... Spec's bad luck was still with him. The poor guy was chased by a small herd of unruly Qitari. Led by his rival, and jokester, Satarical Pippin. I never understood why Spec had such a hard time with the old Qitari, it isn't like he was as strong and brave as Spec? I guess that there was a personality conflict with them!



Anyway, after saving poor Spec from Pippin (and giving Pippin a bit of a talking to), Spec and I made it back home. I took care of the final finishing step of making this chili. For this, I took the advice of two young offspring of Spec's. Their advice? "Everything tastes better with chocolate! And, seriously, they were right! I added some dark chocolate and mixed all in to give it a deep, rich color and an amazingly different taste!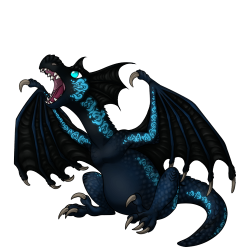 Now it was time to prove to Spec that this chili was, indeed, Ny'vene Flame Chili! After plating up a nice big bowl of chili with a bit of rice, a sprinkle of cheese, and a dollop of sour cream, I presented it to his grumpiness, Spec! Spec took one look and said he wasn't hungry. Well, we sure wouldn't let him get away with that! The little ones jumped on their Dad and even little Pippin stuck his head in and all implored Spec to try the chili! Finally, the grouch did and started to tear up.... his nose started to run... he coughed a bit. Oh no! I must have been so wrong, the chili was a flop I said to Spec. Spec turned to me and smiled, and proceeded to tell me that it was the best chili and hottest chili he had ever had and wanted another bowl! This will definitely be made again!


Edited By GoldGryphon on 7/26/2020 at 7:32 AM.
Stormclan666
Level 70
Majestic Sculptor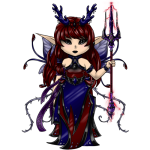 Joined: 1/13/2019
Threads: 134
Posts: 1,567
Posted: 7/25/2020 at 10:15 AM
Post #36
First, create 3 layers of cake base (chocolate flavored)


Then layer them together with icing


Decorate with icing and flowers


Add a chocolate Ny'vene on the top


And enjoy!
One with my username and date

Edited By Stormclan666 on 7/25/2020 at 10:38 PM.
Tigress
Level 70
Sweet Solver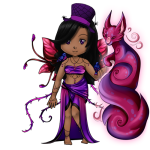 Joined: 5/17/2015
Threads: 253
Posts: 6,338
Posted: 7/26/2020 at 3:30 AM
Post #37
Oh hello, Tigress! Fancy seeing you this fine afternoon! And what brings you to my humble abode? The Summer Fairy Feast!? You want ME to teach you how to make my famous Flame Chili for the Summer Fairy Fest?? Oh what an honor! I've always dreamed of having my Flame Chili featured at the Fairy Feast! Yes, of course, I'll teach you! And when do you need to present your dish? Tomorrow?? Oh dear me, that's not a lot of time! We must get started immediately! Unfortunately, I'm missing some ingredients. I haven't had the chance to restock my supplies due to this new sickness going around. No worries though! I have a few tricks up my sleeves.

Let's start with the recipe, shall we?



Hmm, we don't have any canned beans? Have no fear! I have dried kidney beans and know a quick method of cooking them without soaking them overnight.


8oz of dried beans should get you 16 oz of cooked ones. Now, add these beans to a pot and cover with 5 cups of water. Bring to a boil for 3 minutes then let them soak for an hour. Once that's done, drain them and add 5 cups of water. Bring to a boil and then let it simmer for 45 min. In the meanwhile, let's collect our other ingredients.

Let's see, no canned tomatoes or tomato sauce? Don't worry, I have some fresh tomatoes in the garden. As for the sauce, this marinara sauce should do the trick!


Now, dice the onion and tomatoes. Oh dear, let me get you some tissues.
That onion is strong!

Great! Now cook the onions followed by the beef. Now add in the spic-- Oh dear, that's a lot of chili powder! And that was my strongest ny'vene chili powder too...



Time to add the tomatoes, tomato sauce, and beef broth. Now bring this to a boil then reduce to a simmer. Let it simmer for 25 minutes. You're almost done!



Perfect! And now for the final touch. My signature, so to speak.



There you go, Tigress! It's a bit too spicy but still amazing for your first try! I know the fairies will be impressed.



*Notes:
The unaltered chili recipe can be found here.
The recipe for cooking the kidney beans can be found here.
Bassarid
Level 70
Trickster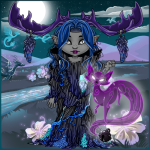 Joined: 3/19/2020
Threads: 2
Posts: 52
Posted: 7/26/2020 at 7:59 AM
Post #38
Hot Hot Ny'vene Flame Chili

Ingredients for 1-2 servings:

- 1/2 onion
- 1 red pepper, bell or pointed
- other vegetables of choice - i had half a zucchini, but carrots are good, too
- 1 can black or kidney beans
- 1/2 can of corn
- 1/2 flame infused Ny'vene chili pepper (chili of choice)
- 1 tablespoon vegetable oil
- tomato paste, about 100g
- liquid base - water or broth of choice
- cream to taste
Spices:
- salt (smoked for preference), pepper, cumin, oregano, coriander seeds, bay leaf, chipotle powder
Toppings:
- shredded cheese, avocado

Step 1: Carefully go through the flame infused Ny'vene chilis and pick out a satisfactory specimen - if possible, do not touch




Chop carefully into small pieces, again, try not to touch




carefully decontaminate everything that came into contact with the chili - try not to touch,
- wash hands, just in case
- do not touch your eyes, or any other sensitive parts

Step 2: chop veggies, drain canned produce




Step 3: heat oil in large pot, throw in veggies, let simmer for a bit, then add canned produce, let simmer a bit more




Step 4: add tomato paste and liquid base, stir properly, add spices and seasoning to taste, add splash of cream, let simmer on low heat for about 10 minutes




use time to wash hands maybe one more time

Step 5: Put in bowl, add topping(s) of choice, don't forget to hunt for the bay leaf and remove before eating!





Step 6: Have someone else do the dishes


Kattya
Level 70
Trickster
Joined: 4/16/2018
Threads: 101
Posts: 2,248
Posted: 7/26/2020 at 8:02 AM
Post #39
Katt's Black Forest Gateau

I remember growing up my father's mother would make us fancy cakes stacked up in tiers, She was french. When i saw this recipe for black forest cake i knew i wanted to make it, it was made gluten free and was 6 layers of cake, white chocolate mousse and cherry jello. topped with cream and two cherries so i decided to try and make it for my family to try and for the cookbook.

I started off with flour, cocoa, Eggs, Jello, Cream, Dream chocolate mini bars, pre Whipped cream, Gelatine and olive oil spread.


For the cake i made a basic chocolate cake and ended up putting a handful of semi sweet chocolate chips i had in the fridge cause the chocolate had a weird grainy texture xD


Put the cake in the oven to cook while i moved onto the white chocolate mousse. In a saucepan i added 100 ml of milk and 4 dream mini bars (exactly 100 grams of white chocolate) chopped into small pieces


I know how unappealing that looks atm but as a mousse it was amazing
Into the stand mixer with the cream to form soft peaks. its very easy to over whip cream so keep both eyes on it


when the white chocolate/milk mixture has cooled whisk by hand into the cream


My mum tasted a little of this and asked for a bowl of it. Got huffy when i said it was for my cake xD it does taste amazing i must say. Onto the cake it goes


Next i needed to make the jello, I added a little extra gelatine to the powder to ensure it set firm


Its now in the tray ready to set


assembling and i realized i forgot some name pics xD


Here is my master piece, it really looks alot better than i expected since i made it xD


Cut a small slice to decorate and the rest went into the fridge for my family to enjoy later


Some whipped cream on top


and some cherries with grated chocolate


side profile, There is more jelly on there than i thought xD i like jelly


I have to say it was one of the best desserts i have had


I might have to remake this one for parties to impress people xD


A little extra whipped cream xD


Mmm i need a lay down after that xD



Now time to clean my kitchen xD xD xD
Hope you guys enjoyed my slide show
Edited By Kattya on 7/27/2020 at 6:14 AM.
AliceHearts
Level 70
Guardian of the Realm
Joined: 8/26/2013
Threads: 216
Posts: 5,425
Posted: 7/26/2020 at 8:24 AM
Post #40
Faelora Leafy Greens





ingrediens:
- Corn salad (Valerianella locusta)
- Cherry tomatoes
- Cashew nuts
- Croutons
- Black olives
- Pickles
- Honey mustard dill dressing

on the side
- Baked potatoes
- Vegetarian burger

if i had more ingredients at home when i made this i would have added Sunflowerseeds, Radish and Green olives the saled as well
Go to Page:
1, 2, 3, 4, 5
Go to Top
This Page loaded in 0.026 seconds.
Terms of Service | Privacy Policy | Contact Us | Credits | Job Opportunities
© Copyright 2011-2020 Sylestia Games LLC.
All names and logos associated with Sylestia are Trademarks of Sylestia Games LLC.
All other trademarks are the property of their respective owners.
For questions, comments, or concerns please email at Support@Sylestia.com.