Overview
Stables
Hatchery
Inventory
Wardrobe
Referrals
Settings
Seasonal Festival
World Map
Generator
Breeding Grounds
Nurturing Grounds
Party
Task Log
Mission Log
Quest Log
Player Trades
Trade Broker
Currency Exchange
Eggling Auction
Pick A Door
Official Games
Un-Official Games
Jinxie's Jamboree
Festival Shop
Diamond Shop
Avatar Shop
Scale Shop
Inbox
Forums
Community Polls
Advanced Search
October 30th, 2020

195 Online
9:19 AM
Advanced Search
Active Players on Sylestia
Category
Total
Yesterday
Players
5,625
888
Sylestia Pet Data
Category
Total
Yesterday
Pets
5,952,844
1,896
Generated
438,126
92
Captured
917,034
716
Bred
4,597,684
1,088
Statistics updated daily at midnight
Recent Announcements
Thread
Posted
Fall Festival Overview Oct 28 Poll: Change in Breedi.. Sep 28 Site Downtime - 9/24 @.. Sep 23 Site Downtime - 9/23 a.. Sep 22 Rapid Response Suggest.. Sep 12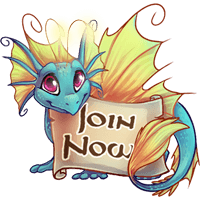 Forum Index > Official Games and Contests > 2020 Spring Festival - Avatar Dress Up
Page 10
1, 2, 3... 9, 10, 11, 12
Go to Page:
Author
Thread Post
Stormdragon21
Level 70
Trickster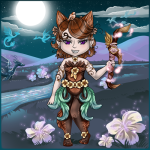 Joined: 8/1/2016
Threads: 7
Posts: 165
Posted: 6/13/2020 at 4:45 PM
Post #91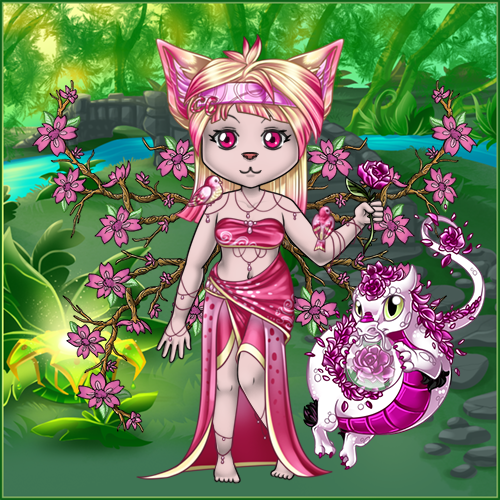 If you're not careful about where you go in the spring, you may encounter a strange fox-like nymph. She appears to be playful at first, luring you in with sweet flowers and a cute, encouraging voice, but once you lose sight of where you've been and where you're going, she'll attack.
Paragondelurid
Level 60
The Perfectionist
Joined: 11/28/2019
Threads: 0
Posts: 5
Posted: 6/14/2020 at 3:07 PM
Post #92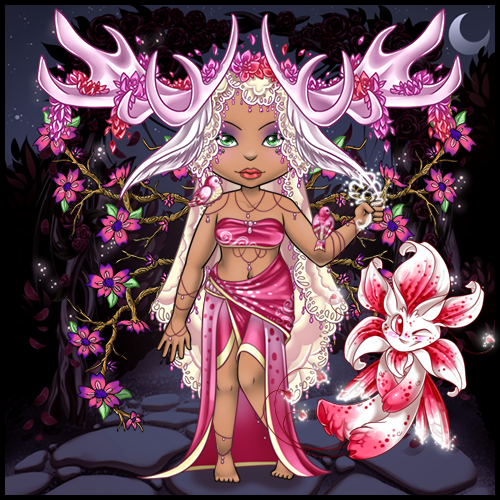 Sakura
Sakura is a flower nymph with magical powers over nature and plants. Much like flowers, she is at her strongest in spring and tends to wither in the winter. She enjoys gardening and spending time with her spriteling.
Koterfaye
Level 70
High Priest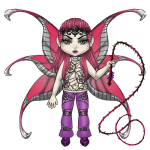 Joined: 2/11/2017
Threads: 61
Posts: 1,047
Posted: 6/15/2020 at 1:27 AM
Post #93
Morio, Guardian of the Forest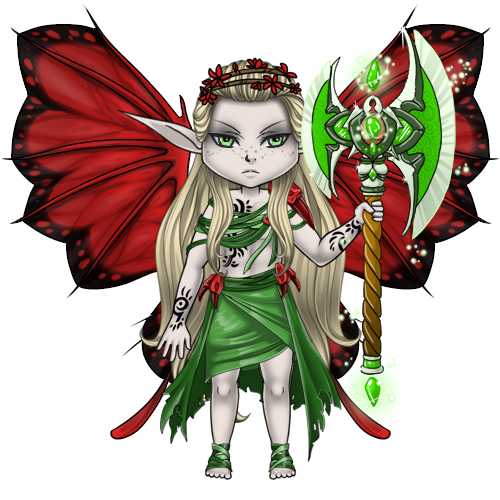 I'm not great at stories so I'll just make a small description.

Morio is a small forest elf who grew up more in tune with nature than most. He became the guardian of their forest after proving himself and protecting the forest's most sacred tree. Morio is often seen with deer or tending to the many different plants growing in the forest.
Heilix
Level 66
The Kind-Hearted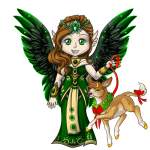 Joined: 2/2/2013
Threads: 4
Posts: 89
Posted: 6/16/2020 at 4:00 PM
Post #94
A ruler long forgotten, resting in their ruined castle. They wake up every spring to clean the ruins of unwanted quests, and to make room for plant they have long forgotten to have loved. When they have completed their mission, they return to the throne for another long slumber. As they fall asleep, new flowers wrap around to protect them.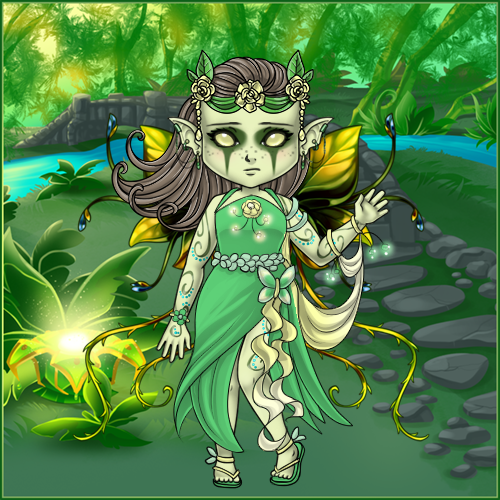 Edited By Heilix on 6/20/2020 at 10:31 AM.
Torey
Level 70
Trickster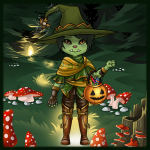 Joined: 12/29/2017
Threads: 38
Posts: 370
Posted: 6/16/2020 at 10:50 PM
Post #95




Pascal the Lunar Moth


Born of stardust and sunrays, Pascal's purpose is to bring light and happiness on the first day of spring. On the morning of each vernal equinox, their patron, La Lune, gifts them a paintbrush with all the colors of dawn and sends them to Earth. Pascal decorates the newly blossoming flowers with impossibly vibrant pigments in celebration of a new day as well as leaving intricately painted eggs, toys, and other goodies for people to enjoy. Although they are typically generous and jovial, Pascal has a notorious sweet tooth and won't hesitate to pluck a few treats from an unsuspecting Easter basket; marshmallow chicks are their favorite.
Roses1
Level 70
The Hallowed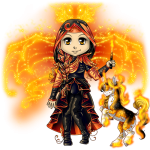 Joined: 5/15/2013
Threads: 7
Posts: 90
Posted: 6/17/2020 at 4:07 PM
Post #96
April Showers
"April Showers bring May flowers." April the fae does not always come on time, time is of irrelevance in the scheme of the seasons and in the lifespan of such as she. She comes when she feels it is do, to bring the season of rain. The start of spring, the time of planting and growing. When winter has receded and has done its due. In her wake grey clouds heavy with rain pass like a brides train and thunder heralds her approach. In someways she is the eye of the storm, serene. Calm and collected with much going on around her. In other ways she rages, striking like lightning with a heavy hand, breaking branches with buckets of downpour. In the end she is a force of nature, and in her wake May flowers will soon sprout.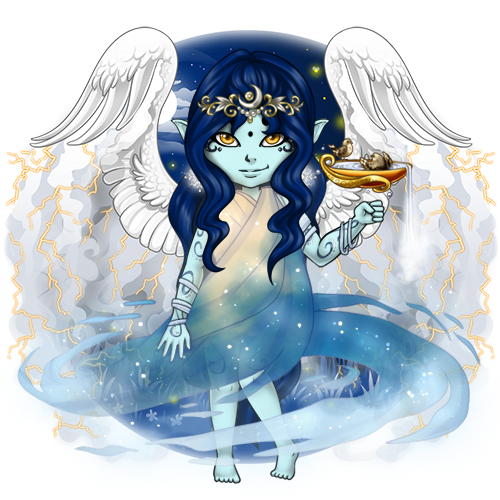 Edited By Roses1 on 6/17/2020 at 4:10 PM.
Godiva
Level 70
The Sweet Tooth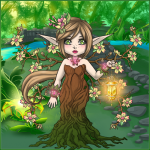 Joined: 10/24/2016
Threads: 45
Posts: 1,798
Posted: 6/18/2020 at 5:42 AM
Post #97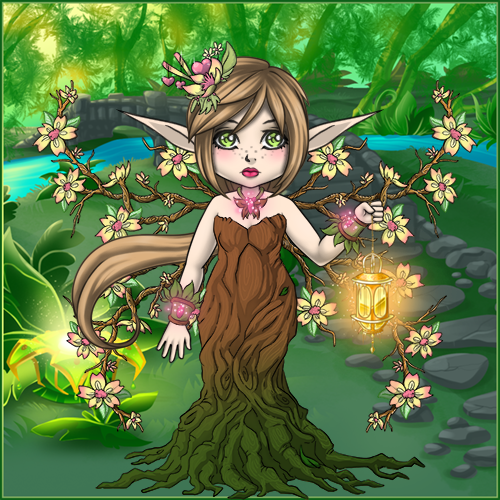 Elanya the Evergreen

Elanya the Evergreen is secret protectress of the forest. When wanderers enter her realm she silently guides and protects them from the depths and darkness of the woods. She is one with the forest and brings new spring life each year.


Edited By Godiva on 6/18/2020 at 8:27 AM.
Bobeatspie300
Level 70
The Perfectionist
Joined: 1/15/2016
Threads: 0
Posts: 18
Posted: 6/18/2020 at 6:07 PM
Post #98
Swamp Sprite
The marshes of sylestia have thawed, allowing freshwater plants to thrive, and freshwater spirits to wake from their slumber. Spring has sprung, and so has the swamp floor
Mossflight2
Level 70
Candy Dispenser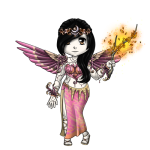 Joined: 1/15/2019
Threads: 70
Posts: 4,280
Posted: 6/19/2020 at 6:08 PM
Post #99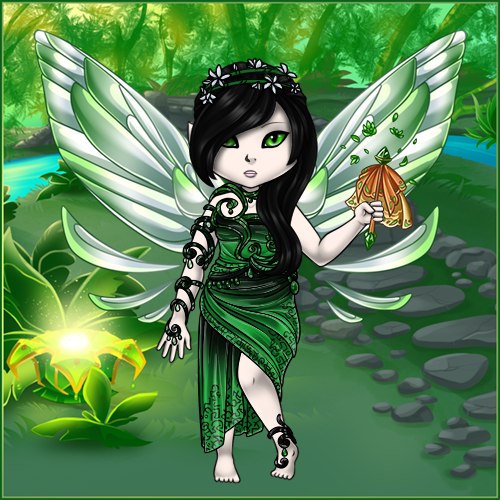 Hyacinth, the Spirit of Spring

Each year, as the reign of Borealis, the spirit of Winter, comes to an end, Spring casts a soft, warm glow over everything, waking slumbering creatures, and causing flowers to bloom, releasing their sweet scent into the air. Alongside Ivy, her loyal Nephini companion, Hyacinth summons warmer winds that slowly melt the silvery frost that Borealis had cast into the world.
However, deep down inside Hyacinth's soul lingers a dark, empty void. The very reason why many flowering plants bloom for just a week or two before the petals eventually fall, one by one, wilted and dead. This void is the reason for the subtle darkness of Spring. The swarms of mosquitoes and flies, the allergies to pollen and nature, and the unpredictable weather.
And as the Earth slowly warms, the void lurking inside her grows slightly deeper, a bit more powerful, each day, causing Hyacinth to slowly lose hope. Causing her to hand her turn to Coral, the spirit of Summer, a little earlier each year. And once Spring fades away completely, everything will be thrown into chaos.


(Oops I think I made this a bit too dramatic xD)
Edited By Mossflight2 on 6/21/2020 at 11:17 PM.
Marichoness
Level 70
The Fortuitous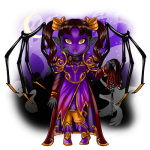 Joined: 8/28/2019
Threads: 34
Posts: 936
Posted: 6/20/2020 at 2:23 PM
Post #100

Dahlia, daughter of Demeter


Dahlia is the half blood daughter of Demeter, the goddess of the harvest. Dahlia enjoys her mothers line of work and has been bestowed the honor of keeping the trees. Unlike her mother however, Dahlia prefers a more simple life style, and she hides in solitude until spring comes again, when she will walk the lands and grant health to the trees of generous people. She is not easily angered, for she herself knows how often mortals make mistakes, but when she is, entire villages have been known to be taken over by trees, their roots clutching the abandoned houses with strength beyond any known creature. With her eyes the color of the leaves, and her hair the color of branches, both blessings from her mother Demeter, no one questions Dahlia's love for both her job and her mother.
Edited By Marichoness on 6/20/2020 at 2:25 PM.
Go to Page:
1, 2, 3... 9, 10, 11, 12
Go to Top
This Page loaded in 0.020 seconds.
Terms of Service | Privacy Policy | Contact Us | Credits | Job Opportunities
© Copyright 2011-2020 Sylestia Games LLC.
All names and logos associated with Sylestia are Trademarks of Sylestia Games LLC.
All other trademarks are the property of their respective owners.
For questions, comments, or concerns please email at Support@Sylestia.com.