Overview
Stables
Hatchery
Inventory
Wardrobe
Referrals
Settings
Seasonal Festival
World Map
Generator
Breeding Grounds
Nurturing Grounds
Party
Task Log
Mission Log
Quest Log
Player Trades
Trade Broker
Currency Exchange
Eggling Auction
Pick A Door
Official Games
Un-Official Games
Jinxie's Jamboree
Festival Shop
Diamond Shop
Avatar Shop
Scale Shop
Inbox
Forums
Community Polls
Advanced Search
February 25th, 2020

145 Online
12:02 AM
Advanced Search
Active Players on Sylestia
Category
Total
Yesterday
Players
6,885
977
Sylestia Pet Data
Category
Total
Yesterday
Pets
5,479,040
1,723
Generated
404,764
68
Captured
848,055
201
Bred
4,226,221
1,454
Statistics updated daily at midnight
Recent Announcements
Thread
Posted
Week of Love Overview Feb 13 New Feature: Nurturing.. Feb 9 Winter Festival Pet Tr.. Dec 26 Winter Festival Diamon.. Dec 23 Winter Festival Overvi.. Dec 22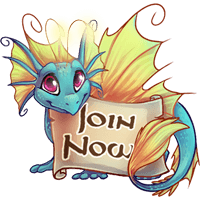 Forum Index > Official Games and Contests > 2019 Fall Festival - Avatar Item Design
Page 1
1, 2, 3, 4
Go to Page:
Author
Thread Post
Krinadon
Level 70
Guardian of the Realm
Site Administrator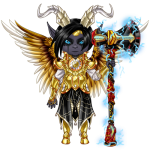 Joined: 12/17/2012
Threads: 805
Posts: 11,860
Posted: 9/4/2019 at 10:24 AM
Post #1
Hello everyone! We will be holding design contests for the 2019 Fall Festival, due to launch at the end of October!

Rules
Please make sure to read the rules carefully!

1. Design an Avatar Outfit for the Fall Festival. Please use the following bases to draw your avatar items on.

Male Avatar Base

Female Avatar Base

The following can be included all in one entry for avatars:

1 Avatar Outfit
1 Avatar Wings
1 Avatar Back Item
1 Avatar Held Item
1 Avatar Head Item

2. You must draw the items on the avatar base. In case your drawing skills aren't great then along with your drawing you can include a description to better help us envision your avatar items. If you are unable to draw something, then I am sorry, there will be no exceptions.

3. Avatar Items submitted must be Fall Themed. So anything to do with the Fall season, this includes any holidays that occur in the Fall season, Fall weather etc.

4. Please do not reserve posts. If you reserve a post I will delete your post.

5. Please do not Ping me with your submission. Please only Ping me if you have a question.

6. Before submitting your entry please make sure to scan the thread to see if someone else has done something similar. Try to make your entry unique and if someone has already done something that you were wanting to do...then I highly suggest you pick something different. If you feel someone has "copied" your design, do not say anything to that person - especially in this thread.

7. You may only submit ONE official entry. If you wish to submit more then you can send me a PM with drawings of your avatar item ideas. However all PMed entries that are sent to me will not count for prizes.

8. The end date is September 22nd at 11:59 PM server, after that there is no guarantee that we will see your entry and the thread will be locked once designs are picked.


Important Notes

I am very aware that it's typical to use google to search for ideas when designing things. However, it is extremely important that if someone happens to be referencing another person's artwork, it should not be possible to google it and find exactly what was used as reference. Please make sure to change it enough and be creative enough that you're making it your own design. This is extremely important not just for ethical reasons but also for legal reasons when we're implementing something onto our site. Thank you! =)

Don't comment on someone's entry unless you have something nice to say. If someone copies your entry then have faith in us that we will determine the correct winner. Please do not fight over entries, if I see anyone doing this in the thread then whoever is fighting will be disqualified.


Prizes

All entries that are picked will have their avatar items created and be given one free copy of the submitted items. Everyone that participates will also receive a participation prize.

All Participants

Prizes: [Fabled Brew Catalyst] x1, [Premium Vial Holder] x2, [Box of Brewing Supplies] x1, [Box of Brewing Agents] x2, [Chocolate Coins] x500
Edited By Krinadon on 12/1/2019 at 4:30 PM.
Kalores
Level 70
Premier Ice Carver
Joined: 8/11/2013
Threads: 96
Posts: 3,177
Posted: 9/4/2019 at 10:29 AM
Post #2
May I present the:

'Sophisticated Sylestian's Attire'


(yes, the quotation marks are intentional)





First off, I must give credit where credit is due. This glorious... abomination came about when I posted a picture of double monocles in Gen Chat, then Lostwords13, Krinadon, and myself had a lovely conversation about them which resulted in ideas for an avatar item design entry!

Avatar Outfit: 'Sophisticated Sylestian's Attire'- So, for the outfit, the sophisticated Sylestian will be dawning the ever tasteful Suit t-shirt. The pants are a little fancier, complete with two pocket watches, one in each pocket. The shoes are my sad attempt at drawing wing tips! XD

Avatar Back Item Regal Ryori- This was my own idea. Ryori are one of my favourite Sylesties, and this one happens to be putting on a monocle of it's own! Getting ready to match it's owner for a night on the town!

Avatar Held Item: Snooty Puffadore Companion- How can one be regal without the ever (sometimes)faithful Puffadore by one's side! Inspired by Lostwords13's suggestion to have a Snooty Puff as the avatar held item, our Puff comes complete with top hat and little bow tie. He/she can't seem to decide if it wants what their owner is offering, which happens to be caviar! XD

Avatar Head Item: Double Monocle/Top hat- This head item has the avatar donning a double monocle, and double top hat. The idea for the double top hat came from Krinadon, when he commented that if there is a double monocle, then why not a double top hat just like the Sylestia Snowman. For those of you that do not know, when making a Snowman in the Winter Festival, it requires two top hats!

This was all done in MS Paint, so that was fun to draw free hand with a mouse! XD I left the Ryori and Puff largely uncoloured as I did not want the images to become harder to see the lines I drew. I figured various colours and traits/mutations could be used on them.

I really look forward to seeing what everyone else does! :D
SpaceElf1
Level 70
Champion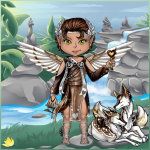 Joined: 9/17/2014
Threads: 526
Posts: 10,373
Posted: 9/4/2019 at 10:43 AM
Post #3
Ryori Researcher Avatar



The Background is supposed to look like the stone walls of a mad scientist's laboratory. There should also be Bunsen burners, bubbling flasks, oscilloscopes, and suchlike. The lab bench with the curious Ryori peering into the flask is part of the Background. This Ryori has the Galaxy trait, but for different Backgrounds, there could be different Ryories, different lighting levels, a Jacob's Ladder instead of an oscilloscope, etc. The Head item is a sort of mind-reading or thought-projecting device. It goes on over your avatar's hair; there's no "wig." Some players don't like head items that replace the hair that they selected for their avatars. If the admins would like a "wig," I suggest something like Doc Brown's 'do in Back To the Future. The Held is a baby Ryori swooshing out of a flask. There can be different colors and Genes on various baby Ryos. The Outfit is a lab outfit with a stethoscope. The Outfit itself could be different colors--scrubs come in various colors, after all--or just change the colors of the buttons. The buttons shown here are biohazard symbols. The trouser legs are a tiny bit short, on purpose. Good scrub pants are just a bit short and close-fitting, so you can't trip on the cuffs and aren't likely to drag the cuffs in anything that has spilled, even on stairs.
Edited By SpaceElf1 on 9/30/2019 at 12:09 AM.
Ponder
Level 70
The Tender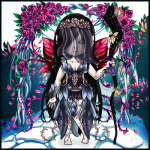 Joined: 8/29/2016
Threads: 116
Posts: 1,103
Posted: 9/4/2019 at 11:09 AM
Post #4
Edit: I'm replacing my entry with a completely different idea I got after posting the other one.

"Storybook Royalty" is the name I came up with, but it's not very creative. (Edit: maybe "Castle" something, because that seems to be the main theme here? "Castle Overlord?" "Castle Monarch?")
I like the name "Castle Monarch" for the set, but if the fairy tale theme is brought out more, "Storybook Monarch" may work too.
The set was inspired by king and queen costumes, which I though was appropriate for fall and Halloween as this is a common Halloween costume, with a bit of fairy tale. Villainous queens are featured in fairy tales, and I had them mind when I designed this set. But mostly I would just like my avatar to wear a dress like this, and we don't really have one like it yet.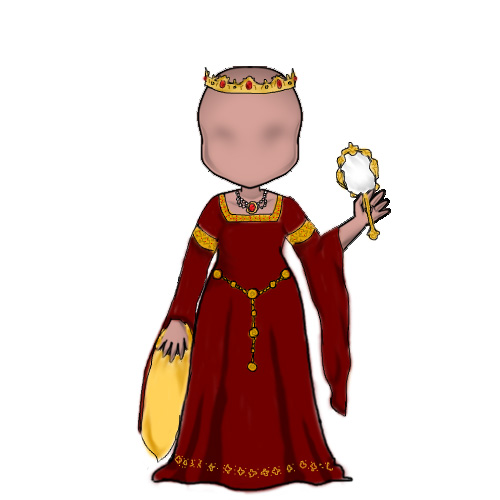 Outfit: Royal Costume
Head: Royal Crown
Held: Hand Mirror (Mirror, mirror, in my hand, who's the fairest in the land?)
Back: I was going to add a cape, but I couldn't think of a way to make it different from the capes we already have, other than ones that cover too much of the outfit up. Maybe I'll make a castle background.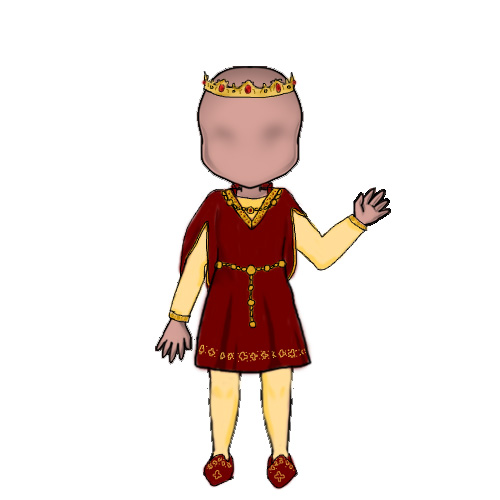 And here's the male version.

Edit:

*Forehead smack* I don't know why, but I was suddenly struck with what seems like a perfect held. We need a gargoyle held. XD I will make it. I don't even know why I think it fits, other than "castles".
Here's an example:
https://i5.walmartimages.com/asr/60287718-8544-46dd-a26f-75779715f802_1.63d074d76bc1e9025c9a2e5cb2a74324.jpeg?odnHeight=450&odnWidth=450&odnBg=FFFFFF
They're also examples of fantasy in medieval times, so it fits for a fantasy medieval themed set.
Here's the male version with a very rushed gargoyle held and a cape added as well:


I don't think we have a cape yet that's pinned on the shoulder. I know it covers the outfit, though. It also has the classic ermine fur look.

Edit: I'm sorry to subject you to my horrible rendering of a building and furniture, but here it is. I will provide pictures to help. XD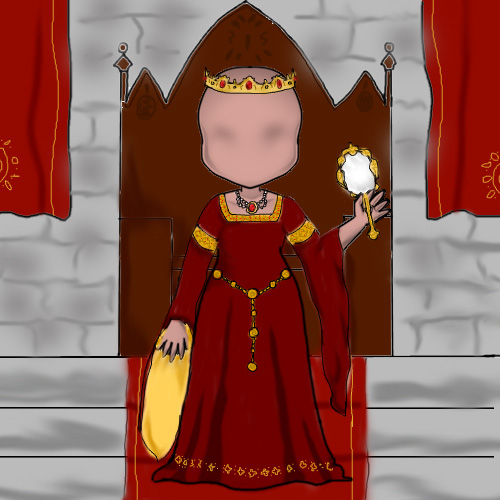 The background is supposed to be a throne room for the king and queen. There are steps with a carpet leading to the throne, and a stone wall in the back with hangings.
The throne itself is supposed to look more like this:


or this: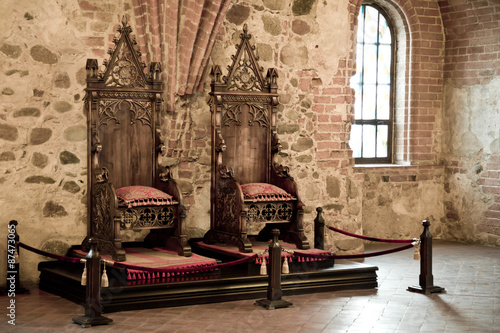 I just...kind of gave up on adding the details after the perspective of it was giving me so much trouble.
The room itself is supposed to be kind of like this:


(Small picture, I know.)
Edited By Lonefox on 9/27/2019 at 9:16 AM.
Venomil
Level 70
Trickster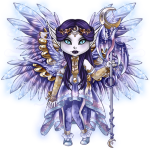 Joined: 8/8/2019
Threads: 5
Posts: 60
Posted: 9/4/2019 at 11:21 AM
Post #5
Pinging myself to remember
Xavion
Level 70
The Perfectionist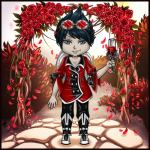 Joined: 10/15/2013
Threads: 358
Posts: 4,954
Posted: 9/4/2019 at 11:22 AM
Post #6

Haunted Scarecrow (Shadow)

Ideally for the Head item, having an option with hat+mask, an option with just the hat, and maybe even with just the mask would be great. Face-altering masky bit may be a tad much for a general appeal so giving an option to use just the hat would be nice.

Other coloration ideas:
Clown
Harlequin
Plagued
Harvest
Ridiculous looking map of color designations for a recolorable option.


>.>

I 100% fully admit that I am trying to get my D&D character's outfit into the game so I can run around better looking like Nova. While a handful of friends and artists and artist-friends have have either done commissioned work or given me gift-art of him, the design for the outfit (as shown in the original reference I made linked above) is 100% mine. :)
Limor
Level 70
The Kind-Hearted
Joined: 7/5/2016
Threads: 242
Posts: 16,968
Posted: 9/4/2019 at 12:31 PM
Post #7
== Cyber Goth ==
For my 'Cyber Goth' design I drew reference to the flashy colorful 'scene-esc' type of dress-up.



= Held =
Radioactive Waste

= Outfit =
Cyber Goth Attire
Female
Male

= Heads =
Colorful Dreads
Gas Mask

Head pieces can be combined or kept separate.

= Back =
Radioactive Wasteland

== Pumpkin (color set) ==



== Toxic (color set) ==



== Candy Corn (color set) ==



== Midnight Magic ==

Edited By Limor on 9/10/2019 at 8:06 PM.
Ximph
Level 70
The Sweet Tooth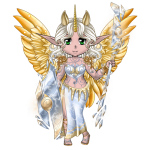 Joined: 11/3/2015
Threads: 33
Posts: 747
Posted: 9/4/2019 at 12:42 PM
Post #8
Here is my submission
Colored for the sake of being able to see it better:
Has a general outfit, the back item is the cape, the wings are that sort of dragonfly style pixie wings, the head item is combo of wig and a sort of branch crown with the leaves sticking out <all the leaves are not the best leaves in the world, they are somewhat supposed to be like oak leaves?> and the held item is a little magic wood wand though I was trying to put some fancy 'wind' effects around it, I can't really make it look very convincing. Also the male avatar should probably have a leaf belt buckle to sort of mirror the female maybe?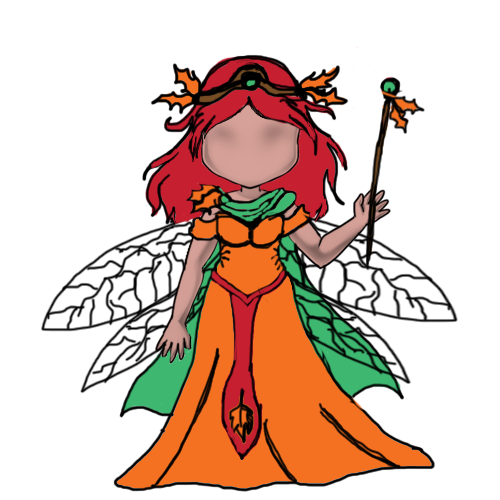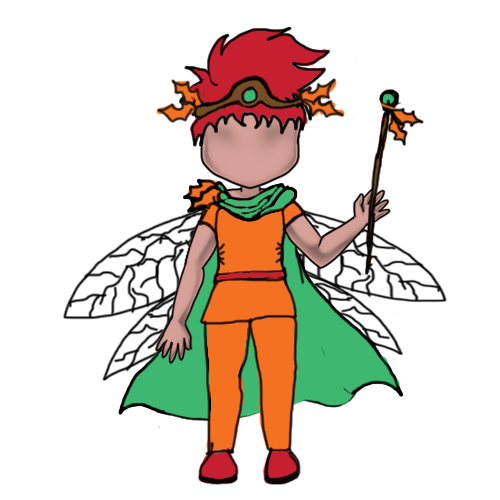 Edited By Ximph on 9/4/2019 at 12:44 PM.
Sunriseland
Level 70
Cutely Creative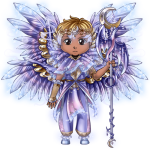 Joined: 6/6/2018
Threads: 9
Posts: 416
Posted: 9/4/2019 at 2:36 PM
Post #9
My art is still not great, but at least it's getting better....

Anyway, Oni//Kijo are Japanese demons so hopefully it's fall enough.

Oni Worshiper Set



Avatar Outfit: For the outfit we have a simple, elegant kimono. I wanted to add some sort of decoration to it, but nothing looked great so I just kept it plain.

Avatar Wings: The wings are basically another set of arms and hands. It might be difficult to integrate since not everyone's avatar is the same color, but still looks cool. :)

Avatar Back Item: For the back we have some resurrective flames because it looks cool and we're summoning demons.

Avatar Held Item: The held is a sword with what is supposed to be a demon stone on the hilt. I wanted to put flames on it but I thought that might be Overkill.

Avatar Head Item: Lastly, we have the all powerful Oni mask, it is just your basic Oni mask complete with horns and teeth.
Amberpaw
Level 70
Nature Walker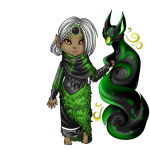 Joined: 6/16/2017
Threads: 85
Posts: 1,251
Posted: 9/4/2019 at 5:07 PM
Post #10
Skeletal Outfit:



Skeletal Helmet:



Vulnyx Skeleton Pet:



Skeleton Wings:



Skeletal Attire, Male and Female:

Go to Page:
1, 2, 3, 4
Go to Top
This Page loaded in 0.018 seconds.
Terms of Service | Privacy Policy | Contact Us | Credits
© Copyright 2011-2020 Sylestia Games LLC.
All names and logos associated with Sylestia are Trademarks of Sylestia Games LLC.
All other trademarks are the property of their respective owners.
For questions, comments, or concerns please email at Support@Sylestia.com.