Overview
Stables
Hatchery
Inventory
Wardrobe
Referrals
Settings
Seasonal Festival
World Map
Generator
Breeding Grounds
Nurturing Grounds
Party
Task Log
Mission Log
Quest Log
Player Trades
Trade Broker
Currency Exchange
Eggling Auction
Pick A Door
Official Games
Un-Official Games
Jinxie's Jamboree
Festival Shop
Diamond Shop
Avatar Shop
Scale Shop
Inbox
Forums
Community Polls
Advanced Search
June 4th, 2020

141 Online
2:23 AM
Advanced Search
Active Players on Sylestia
Category
Total
Yesterday
Players
5,529
888
Sylestia Pet Data
Category
Total
Yesterday
Pets
5,665,780
2,349
Generated
412,281
319
Captured
875,061
631
Bred
4,378,438
1,399
Statistics updated daily at midnight
Recent Announcements
Thread
Posted
Spring Festival Overvi.. May 23 Mother's Day Diamo.. May 10 Sylestia Job Opportuni.. Apr 23 Nytekrie Revamp Final.. Apr 13 Easter Event Overview Apr 10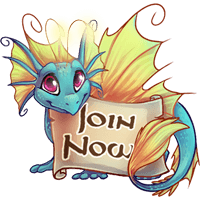 Forum Index > Official Games and Contests > 2018 Fall Festival - Storytelling Day 13
Page 22
1, 2, 3... 21, 22, 23, 24
Go to Page:
Author
Thread Post
Amberfur
Level 70
Omniscient Gardener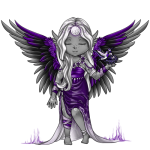 Joined: 6/16/2017
Threads: 88
Posts: 1,347
Posted: 11/25/2018 at 8:37 AM
Post #211
Zima could only imagine what this cost would be as they wandered through the woods. It was obviously not something that could be easily payed, but right now, she didn't care. She needed to find her sister.
After many days of traveling, Zima, Yae, and the Ryori finally reached the edge of the forest. A barren wasteland shrouded in darkness lay ahead. Yae shivered as he gazed across the seemingly endless land.
"Is this where Zuri is?" He asked nervously. The Ryori gave out a shrill laugh.
"If only. This is now the only place that stands between us and Zuri." he answered in a grim voice. Zima nodded and the trio started forward once again, all of them ready to complete their quest. As soon as they stepped into the wasteland, a crow gave out a loud squawk. Yae jumped but the young Vulnyx tried her best to ignore it. Night quickly fell upon them and the Ryoti suggested they make camp in a nearby cave. "It isn't far. Follow me." He instructed. Yae and Zima followed him to a small cavern in the side of one of the many cliffs.
Zima padded inside, exhausted after the day of traveling. She immediately curled up on the cold floor of their stony hideaway. Yae snuggled up next to her and the two quickly fell asleep.
I can't wait to find Zuri... Zima thought as she slowly fell into a deep sleep.
Edited By Amberheart04 on 11/25/2018 at 4:49 PM.
Scoutwolf
Level 28
The Kind-Hearted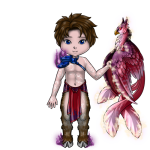 Joined: 10/25/2018
Threads: 28
Posts: 5,710
Posted: 11/25/2018 at 10:20 AM
Post #212
Savior

Zima looked at Yae helplessly. She looked back at the ryori,mouth set in a determined line.

"I'll do it. I have to go forward. There is nothing I wouldn't do for Zuri. I haven't come here for nothing. Let's go find my sister. Lead the way." She said to the ryori. But it shook its head.

"This journey is for you, hatching, and you alone. I can only give you this clue: follow the path of bones. I wish you luck. Now, little lumenara, come with me. She had to do this on her own." The ryori lifted Yae gently. Zuma sighed, as the friendly weight disappeared. The ryori shooed her on.

Zima took a deep breath, and plunged into the brush, leaving the sanctuary of leaves and trees to save her. She stepped into the clearing, and wasn't prepared for what she saw.

Zuri was indeed there, but not pleading for her life, in fact, she seemed to be doing the opposite. She sat on a throne worthy seat, leading the other animals in a song of... something. Zuri finally spotted her frozen sister.

"Welcome! This Is A sanctuary. Stay. We aren't really that bad. Come and great with us." She said patting the seat beside her. "You've finally completed my puzzle. Welcome.be merry."

Zima smiled in confusion. "So what are you doing here?" She asked. Zuri smiled. "I sort of got pulled into a throne mess, so now I'm sort of in charrge." Zima nodded. "Now I get it!" She said. Then the sisters embraced,the first time in a supposedly long time.
Edited By Scoutwolf on 11/26/2018 at 8:17 AM.
Caramelcoco
Level 70
Candy Dispenser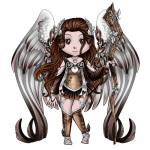 Joined: 3/30/2018
Threads: 93
Posts: 4,582
Posted: 11/25/2018 at 12:20 PM
Post #213
Savior

"I'll do it," replied Zima, ready to do what she must in order to save her sister.

"Great," the mysterious Ryori replied. "Are you sure that you really want to save your sister though?"

"Of course!" Zima replied. "Why wouldn't I?"

"That is all I need," replied the mysterious Ryori. "A strong connection."

"A what?" asked Yae.

"A strong connection," the Ryori continued. "Alright, when we meet Zuri's captives, only think about Zuri. Only her. Then the gate will open."

"What gate?" asked Zima.

"You'll see," replied the Ryori, as mysterious as usual.

After a long walk, they finally approached a clearing.

"Think about Zuri," Zima whispered to herself.

She nearly freaked out when she saw a huge.....animal? It looked half spider half human, with eight dark brown legs and eight huge eyes.

"Hello," said the mysterious creature. "Are you here for Zuri?"

"Yes," replied Zima, shivering.

"Now listen," said the creature. "I meant no harm to Zuri. She was just wandering out in the forest, alone. I want to save her. She seems sick."

"Is she all right now?" asked Zima, hoping.

"Yes, I can cure her," answered the creature. However, I cannot do so without the right price."

"What price?"

"I need you. Only the blood of a relative can save her."

"O-Okay....."

"This will hurt. Are you ready?"

"Y-Yes....."

Zima closed her eyes. She felt a sharp pain in her shoulder. Then it was all gone.

Zima woke up. She looked around her. She waited a while for her eyes to adjust. Blinking, she saw huge eyes in front of her.

"Zima!" yelped a voice. "You're awake!"

Zima turned around and found Zuri standing above her. "Zuri! You're back!"

"I am," replied Zuri, smiling. "All thanks to you."

Zima smiled back. And with that, they headed back to their home.
Theafy
Level 70
Snow Wars Champion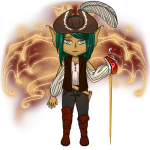 Joined: 9/23/2016
Threads: 58
Posts: 1,441
Posted: 11/25/2018 at 12:55 PM
Post #214
Savior

"A cost?" Alarmed, Zima squeaked, a little too louder than intended. Her fur was bristling in terror, feeling all of her trust for the mysterious Ryori suddenly fading away. "What...what must I do?"

"Fear not, dear child." The Warrior rested his soft gaze on her, and Zima could see her reflection, small and furious, in the wise creature's eyes. Strangely, her wariness seemed to slowly lessen as she saw how much of a fool she appeared to look. "It is true, that not all stories lead to a happy ending. But who am I to decide? This is your life, your story. I am not so cruel to ask for a life. Yae. Tell her."

Yae, unable to look at Zima anymore, waddled next to the Warrior and stared at the ground. A moment of silence passed, the voice of the breeze could be heard, singing its sorrowful song as the young Vulnyx flattened her ears, backing away from the two.

"Yae...you were with him? This whole time?" Zima was barely able to manage a whisper, but it was enough to perk the caterpillar's attention back to her. "I...I trusted you! I thought you were my friend!!"

"Zima I am your friend! You're my first and possibly my last friend that I will be able to make." Zima opened her mouth, confused, demanding for an explanation. Before she could choke a word out, Yae cut her off. "This was a trial. For me. And you. We didn't hurt your sister. She's safe. Please, I'm telling the truth!!"

The little Lunemara's painful scream echoed in Zima's ears. She knew - deep in there, that Yae was telling the truth - but she still could not help but feel betrayed. Everything was coming too fast to process. Bewildered, Zima turned to the Ryori, this time, demanding him to tell her the truth.

"As this Lunemara told you, this was a trial for you and her." The Warrior murmured. "Yae is training to become my right hand. This was her final trial. Though I suppose things may have gone a bit too smoothly for her." Zima bristled at this comment.

"To return to our main concern..." The two young Sylesties felt the atmosphere shift dramatically around them. Mist surrounded them, and the temperature dropped. As if they became isolated from the world. "You must offer a drop of your blood," The Warrior held up a small vial. "And to erase all your memories about us."

Both Zima and Yae's jaws dropped. This is what both of them least expected. Throughout this journey, the young Vulnyx and Lunemara have became close - very close - friends. The silence was heavy around the three - they knew they must do the unavoidable. The Ryori motioned for them to follow him.

After what it seemed to be forever, the Warrior halted, nearly causing Zima and Yae to bump into him. "Look down, children." He pointed down with his tail and stared into the darkness. Following his gaze, the two saw Zuri, - limp and unconscious, floating - surrounded by mysterious dark swirls.

"Zu-" The Ryori clapped his claws over Zima's mouth, and hissed quietly. "Silence. They will hear you." Releasing the kitten, he motioned the two to step forward. "I will cast a spell that will release the darkness that binds her to the Beyond Lands. Zima." He turned to the small Vulnyx, whos eyes were watering with sadness and fear.

"Do you confirm, that you wish to release the darkness, and in return offer a drop of your blood and to forget our existence?" The Warrior offered his claw out.

Zima turned to Yae, swiftly nuzzled her once, then placed her paw onto the Ryori's. "I confirm."

---

"Zima!!" Zuri tumbled onto her sister. "I missed you so much!! I was so lonely without you!!"

"I'm so glad you're safe, Zuri!! You had no idea what I've been through. I was chased by trolls, nearly torn to shreds by vorkids-" Zima paused, as if she couldn't fill in the gaps of a puzzle. "Huh. I actually don't remember how I got here."

"Who cares, let's go home!" The two kittens' laughter echoed away, then soon silence set upon the Lands again. From above on a tree, the Warrior - Zak - cackled, shifting back to his original form - a Vulnyx, then melted into the darkness with Yae.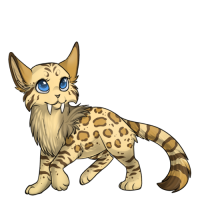 Zuri



The Warrior's true form/Zak


CasmereSphynx
Level 70
High Druid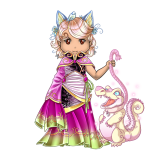 Joined: 8/29/2016
Threads: 17
Posts: 496
Posted: 11/25/2018 at 1:10 PM
Post #215
This message has been deleted.
Edited By CasmereSphynx on 11/25/2018 at 3:10 PM.
Laurelley
Level 69
Ghost Writer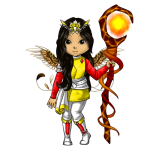 Joined: 9/8/2017
Threads: 7
Posts: 224
Posted: 11/25/2018 at 1:58 PM
Post #216
Savior

He wouldn't say anything else, no matter what Zima and Yae asked or threatened. Within a few days the trio had reached their destination.

"A meadow?" Yae asked doubtfully, She wasn't sure what she had been expecting, but it certainly wasn't a meadow in the middle of the most pleasant forest she had seen since entering the beyond lands. There wasn't even anything sinister about it that she could see, just some very tall grass and some flowering weeds.

"Yes, a meadow," the warrior sounded frustrated, and had been acting edgy and impatient for the past day, "It's the perfect hiding spot. No one would ever suspect anything that happened out here to be dangerous."

Zima and Yae looked at each other, then shrugged and followed him as he pushed into the tough bushes surrounding the meadow. They had come too far to turn back now, and even when Yae had considered it briefly the first night after meeting him, she had realized that she couldn't even remember how to get back to the mountain the Hunter in the shadows had met them on. They had no choice but to trust him.

When they reached the middle of the meadow Zima realized that the ground fell away into a huge ditch with a sinister altar carved out of a strange black rock in the middle. And at the same time, they both realized that it was completely empty of sylesties. Except for them.

"Umm, where are they?" Zima asked nervously, looking around and edging backwards towards the concealing growth at the top of the ditch. Perhaps she shouldn't have been so quick to trust a complete stranger.

"The Blood Cascade Coven?" he asked, seeming amused. Zima nodded slowly, dread building as a suspicion started to creep into her mind.

"Wait, you aren't one of them, are you?" She asked, noticing nervously that it looked like the altar had been prepared already for the sacrifice.

"One of those bleeding hearts? No." He snorted, chuckling a little to himself, "The very idea, preposterous! I am much more than that. I am a member of the HLA."

"HLA? Does the Hunter know?" Zima asked, hoping to keep him talking a little longer. She was having a bit of trouble backing up the steep incline, and she didn't want to find out what would happen once he had made his point.

"Harvest Lord's Army, and of course not. She did think it odd that I was physically unable to leave the Beyond Lands, but foolishly believed me when I told her it was a curse from one of the demon lords I defeated. Now, enough talk, I think the time has arrived for you to serve your purpose." With that he turned towards the altar, and Zima would have run except that she found she couldn't. He had sent the wind that constantly circled him to her, and it had lifted her off the ground before beginning to carry her towards him.

Suddenly there was a shout from the meadow above them: "Blood cascade!" and then there was chaos. To Zima and Yae, it felt like a hundred sylesties, all different kinds, started pouring into the ditch. Some of them pounced on the warrior, while the rest of them dispersed the wind around Zima and carried her and Yae out of the ditch and into the meadow, before turning around and going back into the ditch.

One of their rescuers, however, stayed behind.

"Zuri!" Zima shouted in excitement. The two littermates started to rub against each other happily. After her initial happiness had faded a little, Zima asked, "But how? I saw--"

"You saw the Coven kidnap me, yes," Zuri gently told her sister, tears in both of their eyes, "But you didn't know why. HLA was after me, just like it was just after you. The Coven explained everything once we were far enough into the Forest. Apparently one of our ancestors sealed the prison of the HLA's leader with her blood, so to free him they would need to spread the blood of one of her descendants on the door. The Coven would have taken you too, but then you woke up, and they were worried you would start screaming."

"I-I'm too tired to think about this right now. Let's just go home, show the council you're alive, and sleep for a week."

"I second that," A tiny voice piped up. Surprised, Zima and Zuri looked down, and realized that they had forgotten all about Yae in their excitement at seeing each other. Unconcerned, the little lunemara caterpillar continued, "My family is probably worried sick."

At the mention of family, Zima's and Zuri's eyes simultaneously went round, and they each looked at the other in dread.

What was their mother going to say?
CasmereSphynx
Level 70
High Druid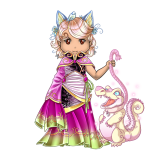 Joined: 8/29/2016
Threads: 17
Posts: 496
Posted: 11/25/2018 at 3:07 PM
Post #217
Zima wandered through the forest looking for his sister, Zuri, who had disappeared a couple days earlier. Sad and forlorn he searched. This is where my pet and I met him.

My Qitari, Stardust, and I had been out on our normal, every day ride when I heard what I thought was crying.

Stardust.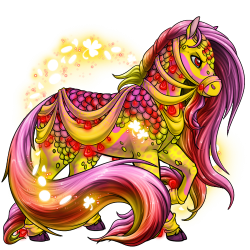 I got down off of Stardust's back and started to look around to find the source of the crying. I found the cutest little Vulnyx laying next to a tree with tears, of sadness in his eyes. He looked up at me and litterly broke my heart with his sad eyes. I sat down and asked Zima what was wrong and this is what he told me.

He told me of the elder Vulnyx and about the Blood Cascade Coven, that was supposed to be a nyth.. He was afraid to continue but Stardust and I encouraged him to tell us all!!! He told us that is littermate, sister Zuri was missing and that he suspected that someone had kidnapped her and left evidence behind that he, Zima, had actually took her and threw her into the Blood Cascade to get rid of her. If you could have seen the pain in his his eyes. He asked us if there was any way we could help him and we automatically accepted. We were going to help him, even if he hadn't asked.
We headed out!! To the north, past the lost grove and the forbidden forest. West past the dungeon of the forsaken and then to the east. We traveled as fast as we could to the Blood Cascade Coven.

After a full days ride we saw where we had to enter the cove. It was so dark and foggy that we had to make a home made torch so that we could see where we were going. The door where we had to enter was covered with what looked, to me, blood!! The path was covered in red, thick clay, which shined like fresh blood. We proceeded as silently as we could looking at every nook and corner that we saw. We were looking for evidence of Zuri being brought this way.. It was so spooky here. A low moaning sound pierced the air that made the hairs stand up on Stardust and Zima's back. Where was she, we kept asking each other. Then all of a sudden we heard a ear piercing scream. Zima yelped it's Zuri!!! I know it is her!!! We must hurry and find her. We quickened our pace and scanned the clifts to see if there were any openings.
Then all of a sudden Stardust stopped and said She's in there!!! I smell a scent just a little different from Zima's in there!!! We quietly entered the small opening in the clift and there she was!!! A large horriable looking thing had her in his ugly tenticles!!! He was the Blood Lust Mizer of Blood Cascade Cove.


Blood Lust Mizer




Did you like the trap I set for you Zima??? I'm the one that left the evidence that showed you kidnapped & killed you own sister so that I could have a sweet, delicious snack and be innocent of the crime!!! He laughed and flaunted his pride. Stardust could not stand this Vlllian and took matters into his own hands. He galloped at full speed, reared up, and plunged his forefeet directly onto the Blood Lust Mixer's head and killed him dead, with one deep plunge!!! Zima ran to his sister, untied her, and gave her the world's largest HUG.
Are you ok Zuri??? I was so afraid that he was going to kill you before I could find you. Stardust and his best friend Casmeresphynx helped track you here and helped me save you!! Let's go home and let everyone else know that you're ok!!! So the myth of Blood Cascade Coven was true but now is just a part of the past!!!!

Edited By CasmereSphynx on 11/25/2018 at 2:56 PM.

Wasn't sure how to post this as I couldn't remember how? I tried a couple of times but not sure if it actually worked or not. I'm not reallu good with the computer. You may have to move it to where it's supposed to go
Edited By CasmereSphynx on 11/25/2018 at 3:08 PM.
Ajthedragon
Level 70
The Kind-Hearted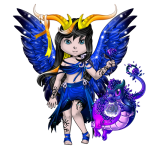 Joined: 2/26/2017
Threads: 0
Posts: 74
Posted: 11/25/2018 at 3:41 PM
Post #218
Savior
Ahh, no word count, I feel like you could end up regretting that. I am dyslexic so, sorry for grammatical errors, I think I fix most spelling errors, but hope you enjoy this 2123 words :)
(editied to put the quote marks and other grammer stuff back in, why do they keep getting deleted?)


---------------------------------------------------------------------------------------------------



"Bristling, Yea stared at the flank of the warrior as he marched ahead, insistent on not answering questions. Opening her mouth, she hissed at the much older creature From your own statement, we dont have time to stop and hear how this all started. Wouldnt it be better to explain now? While were on the move?"

No sooner had the words left her mouth, the world around them stilled as all movement in the forest seemingly stopped. "Young one, I have already said how you are an unnecessary addition. Do not make me force you back into the hunters care. This is your only warning." The molten gold of his eyes seemed to swirl as he stared back at the pair, the uneasy tension causing Zima to take a step back. Muscles taught, ready to flee at the slightest movement.

With a snort the warrior returned to marching forward, at an unrelenting pace that had Zima sprinting to keep up after a moment of hesitation. "Zima, I dont trust him, hes not even leading us towards the volcano. If we go now, we might just be able to outrun him."

"Yea... we cant fight the coven by ourselves, if we dont trust him then we have no hope." Zima panted, digging her claws into the loose dirt to try and keep pace with the Ryoi that was now just a faint glow in the trees.

Zima ran like that until her breathing became ragged and her foot falls became uneven, joggling Yea with each step. Zima was so exhausted that she didnt notice that the loose soil became solid, or that her claws started clicking against it with each step, at least, not until she fell though it.

The pair screamed as they fell, tangling themselves in the vines that lined the opening of the sudden drop.
"I see you two finally made it." A soft voice called after the pairs screaming had stopped.

Zima, precariously hanging upside down, twisted her head just enough to she could make out the warrior, curled up on a pile of leaves staring that the pair with unblinking eyes. "You left us." Zima bit back.

"And you two can sleep in though vines if you want to be like that, you still found your way hear though. Both of you." The warrior remarked, as he curled back into himself, nestling his head into his belly.

"Ok Im sorry, please, I just want to save my sister..." Zima pleaded, unshed tears wetting the fur around her eyes.

With a sigh the warrior burrowed his head deeper into his belly as the stale air in the cave seemed to whip violently as it cut at the vines, sending the Vulnyx and Lunmara crashing to the ground. "How did you do that?" the pair asked in shock as they just sat on the floor.

Once again he sighed. "You'll understand when you older." Raising his head he looked at the two as they settled onto the hard floor. "Vulnyx are one of the oldest species, its said they can even contact the old gods. That is why they took your sister, she was in the wrong place, at the wrong time. We still have a chance to save her, but we must reach them before night fall tomorrow."

Zima instantly jumped to her feet, knocking Yea over in the process. "Then what are we doing we nee-!"

"Calm child!" The warrior barked, glaring at the young Vulnyx untill she sank back to the floor. "Good, you, are exhausted. We will reach them before night fall but if we are unrested it will do none of us any good."

"I Still dont trust him." Yea commented, curling into Zimas fur as she started drifting into sleep.

"We dont have another choice Yea, I just hope we can save Zuri." Zima yawned, curling up on the cold floor as she allowed sleep to take her.

They woke early, with out a word the Ryori started leading them through the cave, deeper and deeper into the darkness. The icy chill could be felt even through there thick pelts as there breaths came out in small white puffs.

They had been walking for what felt like hours and Zima was starting to get jittery, seeing shadows move on the walls and the sounds of screams seemingly emanating from the rockfaces around them. Just as she worked up the nerve to ask, there guide stopped and looked back at the pair. "This is why you were needed little Vulnyx." Following him, they skirted round the corner and halted instantly.

The rest of the cave was cut off, what looked like a glass dome cut through the cave passage as purple lighting dance across the surface striking the ground and surrounding walls, leaving the area scorched and smoking.

As the trio took a step closer towards the shield, the lighting became wilder and more volatile. Just as Yea took a breath to voice her concern, the warrior cut her off. "Zima, take the lead, I promise that the shield will not hurt you, but we cannot follow unless you take the lead."

"Zima! That is a high level spell, you cant trust him! Whats your plan, going to turn us over for some kind of reward?" Yea had gone along as quietly as she could, but this was her limit, at least before they could run from the threats, now this Ryori wanted Zima to walk towards an electrical grid. So the little Lunemara hoped of her friends back and marched (as much as a little Lunemara could) up to the much larger quadruped.

Zima stayed off to the side watching as the little caterpillar aggressively gestured to a creature that was probably ten times her size. She was at an impasse, trust a complete stranger or her friend who was just as clueless as her. Looking back to the shield Zima tried to look past the blinking lights, but could make nothing out in the darkness, so, she closed her eyes and turned her ears towards the darkness of the cave. Past the sound of bickering, past the sound of the lighting Zima could make out voices, barking orders as chains rattled and objects were destroyed in some kind of scuffle, then the sound of a whip cut through everything like a knife, and the faintest of whimpers echoed back.

"P-please..."

The sound hit Zima like a ton of rocks, it was Zuri, crying. Her blood ran cold as Zima stared blankly ahead, she no longer saw the cave, she didnt see Yea arguing with the warrior and she didnt see the electrical shield dead ahead. All she could see was her sister. Crying. An occultist standing above her with a whip.

Zima wasnt even thinking as she took a step forward, then another untill she was walking towards the shield, the lighting become wild as it reached out to Zima, her fur was singed as a few stray sparks reached for her. Then she stepped onto the scorched rocks and instantly all the lighting struck out at her. Zima screw her eyes shut, the warrior said she would be ok, she had to be ok, she had to save Zuri.

"Z-Z-Zima?" Yeas hesitant call had Zima slowly opening her eyes, and what she saw had her fighting down a panic attack. All the lighting that had been clinging to the shield was now dancing across her fur, but it wasnt hurting her, it was dancing, barely an ich form her flesh as it singed patches of her fur.

"Good, youve disabled the defence, now just touch the shield, the resulting cascade will give us and opening to make it through."

With a spaced-out nod Zima moved towards the shield and lifted a little paw to the barrier, the second her paw touched the spell a bright flare practically blinded her. Once she dared to open her eyes again the warrior was already walking deeper into the cave, with Yea hanging onto one of the leaves that seemed to make up his tail.

The further they walked, the clear the sound of chanting reached them. The warrior would throw the occasional glance back at Zima, and something in his eyes told her that she should stay quiet. So, she did, not wanting to irritate him.

When he slowed so did Zima and what she saw below them had the tears spilling from her eyes. Zuri, her sweet sister was whimpering in the middle of a blood red summoning circle, dozens of occultists around the perimeter of the area where channelling there magics into the centre, and far, far above them, the sky was turning a deep red with the sunset.

"They've started early!" The warrior growled.

Before either could ask what he meant, he had already jumped. Landing on one of the men in blacks robed heads, and as he jumped again the air swirled around him pushing the occultist into the wall with such force that the rockface started cracking, splitting the outcrop that Zima was still standing on sending her tumbling to the rocky ground below.

The warrior jumped for another member, and Yea who was still clinging to him for dear life was tossed off.

Shaking off her daze Zima tried to find her footing, but the world was spinning to much. All she wanted to do was lie down and to stop seeing double. She could barely make out the Warrior as he sliced through the Coven members as if they were nothing. Then there was a shout, the slam of a whip and more chanting. Zima felt like she was swimming, the magical pressure was suffocating and the red glow was painting the cave in a ominous glow, she couldnt even make out Yea calling her name as her head fell back to the rock floor. Everything was too loud. She let her tears fall freely as the chanting became louder, and the runic symbols started sending flares towards the darkening sky. She had failed, the grate warrior was corned because of her, her sister was being sacrificed, because of her and Yea, Yea was... Yea, was at the edge of the rune circle, sprinting as fast as she could. The image cleared Zimas daze to realise what Yea was about to do and her tears fell ten fold.

"NO!!!"

With an unholy cry the runes flared, the magic becoming unstable as the rocks split open and flew outs wards, Zima could barely see Zuri being forced out the magic circle as the wave of volatile magic exploded washing out the cave in a blood red light.

When she came around Zima awoke to the warrior standing tall above her as look out, a deep gash curling over his face, screwing his left eye shut and leaving a cut through his ear. Not far behind him Zima could barely make out the pelt of Zuri, her tail twitching in her unconscious state. Desperately Zima flicked her eyes round the surrounding forest, each second tears welling in her eyes as she scanned the damaged undergrowth, before she choked out a cry "Yea..."

"I was wrong about that Lunemara, shes clever, I owe her an apology. She knew they needed a Vulnyx so she destabilized the spell by making herself the sacrifice." The Ryori hummed eyes trained on the rubble of the hide out.

"S-Shes gone." Zima wimmpered, rubbing her face into the dirt below her.

"Actually, the warrior hummed, mirth in his voice I think shes doing quite well, I could barely walk after I did that, and I know its a similar story for the Hunter."

Forcing herself into a sitting position, Zima looked into the darkening sky to see a faint red glow fluttering down to the group before it collapsed into a head in front of Zima.



"Y-Yea?" Her tears had stopped, but were once again threating to fall as she looked at the Lunemara that sat in front of her. Red rune like markings furled round its body and almost completely covered her wings.

"We had to save Zuri right?" Yea said with a little giggle, pushing herself up to look at her friend.

Zima let her tears fall freely as she tackled Yea to the ground, carful to avoid damaging her wings as she did so. Once Zuri came round, she too joined in the hugging and crying, they stayed like that untill they fell asleep and once they had the warrior and the hunter flew the trio back to the forest, already planning to give the elder Vulnyxs a good ear full about how they let a threat so easily into their nest.
Edited By Ajthedragon on 11/26/2018 at 11:39 AM.
Caw
Level 70
The Kind-Hearted
Joined: 3/12/2015
Threads: 64
Posts: 865
Posted: 11/25/2018 at 4:57 PM
Post #219
Savior

"A cost?" Zima echoed. "Like what?"

"Oh. Probably something important to you." The Ryori said simply. "Maybe your soul, life, or perhaps your sanity."

Zima shivered. She did not like the idea of that. Losing her soul? That seemed terrifying. However, shed do anything to save Zuri.

Eventually the Ryori came to a halt. "We're here." He said, not even giving Zima another glance.

Zima tried to look over his shoulder to see what he was looking at. It was horrible. In front of her was a huge pit, with no bottom in sight.

"Wait. Zuri is down there?" Zima cried. "What happened?!"

"Ah, this is a place of sacrifice. Transfer one thing and receive another, someone must of wanted something and threw her down there. It is called Blood Cascade Coven for a reason." The Ryori said, his eyes fixated on the abyss. "In addition if you want something back from it, only the Sylesti related to the sacrifice can retrieve it. Which is why only you can ask for Zuri back. Now step forward if you'd like to receive your sister."

"Well.." Zima asked quietly. "Can you at least tell me why this happened?"

The Ryori didn't meet her gaze. "They wanted to bring someone back to life. The Coven asked for a young life in exchange for an old life. But" The Ryori's voice cracked. "It didn't work. The Coven wouldn't bring them back."

"Oh..." Zima said realizing now what the Ryori had done. "Were they important to them?"

"Yes." The Ryori said, pawing the dirt in front of him. "Very important."

"What was their name? The one who made the sacrifice?" Yae asked, while staring directly at the Ryori.

"Their name is Numi."

"Well, tell Numi he is forgiven." Zima said- placing her paw on his, giving him a sympathetic smile.

The Ryori didn't say anything for a while, before whispering, "Thank you."

There was another long pause, before Zima sighed and turned her attention back to the Coven. Zima let Yae slide off her back as she took a tentative step forward to the shadowy hole. "Coven?" She asked in a shaky voice. "I'd like to have my sister back!"

A long pause, and then a strange song like voice came from below. "What will you give in return?" It said. "It mussst be great."

Zima thought. What is important enough to give in return? What... could it be? Suddenly, she realized.

"I'd like to trade my memory of this search for Zuri. It would be painful to not know of Yae or the people I've met along the way, but it would be worth it to see Zuri again." She turned to look at Yae. "I'm sorry."

Yae nodded. "I understand, I'd do the same thing, but that doesn't mean I wont stop being friends with you!"

Zima smiled at her friend one last time. "Alright," She said turning back to the Coven. "Are these terms acceptable?"

"Yess..." It hissed back at her. "Now... you must leap inside and I shall take your memory of these travels, and return your sister to you."

Zima closed her eyes and leapt forward, tumbling into the abyss below.

***

Zima awoke in her bed, with Zuri looking back at her. "Hey sister! How long was I asleep for?"




Zuri gave someone behind her a confusing look. "Should I tell her?" Zuri whispered.

"Hey, who are you talking to?" Zima demanded and pushed aside her sister to see.

What she saw as a small lunemara larvae with grey antennae and a purple fuzzy body.

"Oh hello!" Zima said. "Who are you? My name is Zima!"

The lunemara gave her somewhat of a confusing wistful smile before responding, "my name is Yae. Its nice to meet you Zima."
Edited By Caw on 11/26/2018 at 12:48 PM.
Redfix
Level 63
The Kind-Hearted
Joined: 6/27/2015
Threads: 97
Posts: 1,877
Posted: 11/25/2018 at 5:01 PM
Post #220
Savior

"A cost...?" Zima echoed, an undertone of dreading concern making its way into her voice.

"Nothing comes for free, Zima," The Warrior explained, his yellow orbs dulling in intensity. "But for the sake of the one whom you truly love, are you not willing to sacrifice anything?"

Zima thought over The Warrior's question. Her eyelids fell over her lids and she braced herself, her next words armored in steely confidence. "Of course I am. Anything for my sister." After all, she had already come this far.

"You...are truly a rare breed, young one. It is rare that I find one who is so strong, especially at such a young age," the Ryori murmured, meeting Yae's suspicious gaze.

"What do we have to do?" Zima inquired, her tail sweeping from side to side.

The Warrior did not respond immediately, his glowing eyes focusing somewhere behind the young Vulnyx. "The question is...what must you do?" His eyes met Zima's, and she was immediately captivated by his intense stare.

"W-what must I do...?"

"Zima. Do you know what the Beyond Lands are? I suspect not..." The Warrior's voice trailed off, becoming quieter until it was inaudible to anyone but himself. "For if you knew, you would surely be in a state of mournful grief."

"No..." Zima replied, and the trees around her seemed to ominously drop in temperature. She suppressed a shudder from travelling up her spine. "What are they?"

The Ryori turned his head, exhaling before looking up at Zima. "The Beyond Lands....are not of a physical realm. The Zuri you knew no longer exists in this world."

Zima shivered at The Warrior's chilling words. "W-what do you mean?"

"In order to save Zuri, you must sacrifice your own life," his words were grave. Zima's eyes widened in horror as Yae tensed up on her back. "Zuri is dead."

At the words, Zima's world began to spin. She had come all this way...only to find out that her sister was...dead?

"So...i-if I die, then Zuri will be saved?"

"Your Zuri currently resides within a dark, somber, and desolate place. There is nothing there. No consciousness, no sensory feeling, and no other souls. Should nothing be done, then she will be doomed to carry this fate with her for the rest of eternity," The Warrior explained.

"How terrible!" Zima exclaimed, tears brimming her appalled and horrified eyes. "I'll--"

"Wait!" Zima was interrupted by a loud, high-pitched squeal. Yae. "Zima--you'll die! Plus, there's something really weird about this situation. Can't you see it?" The Lunemara's words were edged with an undertone of desperate pleading.

Zima closed her eyes, before re-opening them. "Yae..." she began. "You're an amazing friend and I appreciate everything you've done for me."

"Why does this sound like you're saying good-bye?" Yae's words dripped with undisguised fear.

"I'm so happy that I was able to meet you."

"Zima!!"

"But this is something that I must do. For my sister."

"No--!"

"Warrior!" Zima turned to look the Ryori in the eye. "I'm ready. Take my life so that my sister won't have to suffer in the state she's in."

"Please don't....there's something fundamentally wrong with this entire--" Yae's voice was drowned out by The Warrior's much louder bellowing.

"A brave decision," The Warrior floated towards her. "You have spared your sister from an eternity of solitude, because now...she will no longer be by herself."

Zima swallowed the fear rising in her throat, as she met the Ryori's chilling gaze.

"My real name is The Collector. Your sacrifice will not be in vain, Zima. You will be with your sister..." The Ryori now seemed to tower over the Vulnyx kitten. "I am part of the physical sector of the Blood Cascade Coven. Why do you think that The Hunter is called 'The Hunter'? She sought out your sister. With your noble sacrifice, Zuri will no longer be lonely and our master will be one step closer to obtaining the power he needs."

Yae, who had already slipped of Zima's back, gaped in horrified terror. She had even warned Zima about the suspicious nature of 'The Warrior'! Yae would never speak about the horror she witnessed next. The slaughter was over quickly, and as Zima bled out, all Yae could do was wish her the best in the Beyond Lands with her sister, Zuri.

Zima and Zuri would never be apart again.
Edited By Redfix on 11/25/2018 at 5:02 PM.
Go to Page:
1, 2, 3... 21, 22, 23, 24
Go to Top
This Page loaded in 0.024 seconds.
Terms of Service | Privacy Policy | Contact Us | Credits | Job Opportunities
© Copyright 2011-2020 Sylestia Games LLC.
All names and logos associated with Sylestia are Trademarks of Sylestia Games LLC.
All other trademarks are the property of their respective owners.
For questions, comments, or concerns please email at Support@Sylestia.com.