Home
Overview
Stables
Hatchery
Inventory
Wardrobe
Referrals
Settings
Seasonal Festival
World Map
Generator
Breeding Grounds
Nurturing Grounds
Party
Task Log
Mission Log
Quest Log
Themed Pet Codex
Player Trades
Trade Broker
Currency Exchange
Eggling Auction
Pick A Door
Official Games
Un-Official Games
Jinxie's Jamboree
Festival Shop
Diamond Shop
Avatar Shop
Scale Shop
Inbox
Forums
Community Polls
Advanced Search
December 9th, 2022

131 Online
12:50 AM
Advanced Search




Active Players on Sylestia
Category
Total
Yesterday
Players
3,279
692
Sylestia Pet Data
Category
Total
Yesterday
Pets
7,465,200
2,285
Generated
580,115
284
Captured
1,105,203
115
Bred
5,779,840
1,886
Statistics updated daily at midnight
Recent Announcements
Thread
Posted
PSA: Harassment and Bu.. Dec 5 2022 Stocking Stuffer Dec 1 2022 Advent Calendar Dec 1 New Feature: Trait Ext.. Nov 22 Black Friday Extravaga.. Nov 22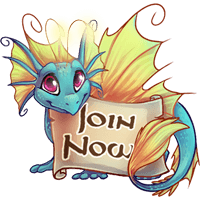 Forum Index > Official Games and Contests > 2022 Summer Festival - Pet Trait Design
Page 1
1, 2, 3, 4, 5, 6
Go to Page:
Author
Thread Post
Krinadon
Level 75
Guardian of the Realm
Site Administrator
Joined: 12/17/2012
Threads: 990
Posts: 13,895
Posted: 6/11/2022 at 11:31 AM
Post #1
Hello everyone! We will be holding a Pet Trait Design contest for the 2022 Summer Festival! Please make sure to read the rules carefully!


Contest Rules

1. Design a Pet Gene or Mutation for only the following species: Aurleon, Draeyl, Faelora, Ferrikki, Kelpari, Lighira, Luffox, Lunemara, Lupora, Morkko, Nephini, Ny'vene, Nytekrie, Puffadore, Qitari, Sylvorpa, Vulnyx, Zolnixi. After you are done designing your Trait, come back to this thread and post the image in this thread. To get a blank pet image, just go to the Generator and take the image from there. You can resize the image to the maximum size via the image URL; the maximum size is 500.

2. You must draw your new Trait on the Pet. If you feel that your drawing skills aren't great, then you can include a description in addition to your drawing in order to help us better envision your Trait. If you are unable to draw something, then we are sorry, but there will be no exceptions. Your submission must look like it required some amount of effort to create. For example, drawing 3 straight lines on a canvas and saying that they're "new wings" will not count towards participation.

3. You are allowed to be free with your creative process, so it is not necessary to make it specifically themed to this Festival. Although, we certainly encourage you to draw Traits themed to this Festival if you wish to do so.

4. Please do not reserve posts. If you reserve a post, we will delete your post.

5. Please do not Ping me with your submission. Please only Ping me if you have a question.

6. Before submitting your entry, please make sure to scan the thread to see if someone else has already done something similar. Try to make your entry unique and if someone has already done something that you were wanting to do, then we highly suggest that you pick something different. If you feel that someone has "copied" your design, please do not say anything to that person - especially in this thread. We will intervene ourselves if we see something that's suspicious.

7. You may only submit ONE official entry for each species on the list. If you wish to submit more, then you can send me a PM with drawings of your Trait ideas. However, all PM'd entries that are sent to me will not count for prizes. To clarify, an entry can encompass multiple Trait Slots. As an example, say that your entry is a Butterfly set for a certain species. Your entry can include Butterfly Wings, Butterfly Antennae, Butterfly Armor, etc. Species are all different with their Trait Slots, so we're looking more at design ideas and not strictly Trait Slot submissions.

8. IMPORTANT: By participating in this contest and submitting your designs to us, you agree that we, Sylestia Games LLC, will retain full rights to your submission to use as we see fit for the purposes of Sylestia.com and Sylestia Games LLC. You will not receive any royalties or reimbursement from us if we decide to use your designs, or otherwise. Any designs that we pick will be recreated from scratch by our art team; we will only be using your submission as a reference for said artwork. We reserve the right to alter your design in any way that we see fit and are not obligated to adhere to any specific depictions or descriptions that are provided.

9. DO NOT comment on someone's entry unless you have something nice to say. If someone copies your entry, then have faith in us that we will determine the correct winner. Please do not fight over entries. If we see anyone doing this in the thread, then whoever is fighting will be disqualified and potentially receive a Forum Strike.

10. The end date is June 30th, 2022 at 11:59 PM server. After that, there is no guarantee that we will see your entry and the thread will be locked once designs are picked.


Important Copyright Infringement Notice

We are very aware that it's typical to use Google and/or other providers to search for ideas when designing artwork. However, it is extremely important that all of your submissions are created entirely by you and are not copied from another's work. If you are using other artwork as a reference, please ensure that your submission is changed sufficiently to be clear and obvious that it is indeed your work. This is extremely important, not just for ethical reasons, but also for legal reasons when we are implementing something onto our site. Thank you!


Contest Prizes

The following are scheduled to be the prizes for this contest. Please note, these are subject to change. However, we would not do so without a good reason to change them.

Winners
(Players who have their designs picked)
Prizes: [Peerless Avatar Token] x1, 3-Visible Summer Festival Themed Pet of Choice (2-Visible if Majestic) x1, Mystical Essence of Choice x2

All Participants
(With valid entries)
Prizes: [Fabled Sculpting Catalyst] x1, [Mystery Sculpting Catalyst] x2, [Premium Clam] x3, [Box of Sculpting Supplies] x1, [Box of Sculpting Agents] x2, [Legendary Avatar Item (Summer - Retired)] x1, [Sun Token] x1,000
Drowned
Level 75
The Carver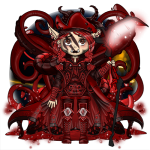 Joined: 3/31/2017
Threads: 46
Posts: 2,989
Posted: 6/11/2022 at 11:40 AM
Post #2


M1: Chimera Tail
SerenityEather
Level 75
Ghost Writer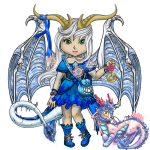 Joined: 7/19/2014
Threads: 19
Posts: 606
Posted: 6/11/2022 at 12:34 PM
Post #3
These are meant to compliment the G1, Western Saddle.

Set: Dusty Western

Gene Slot 1: Dusty Storm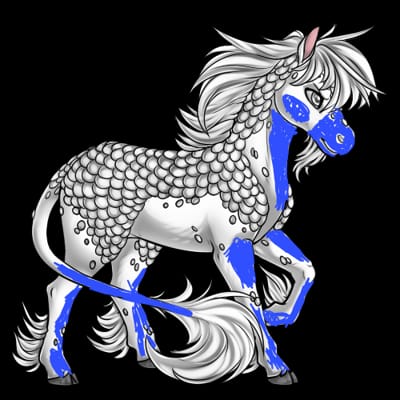 The color isn't meant to be solid areas. The idea is that it was forging through a dust storm, hence the coloration being most front facing, but with specklings of the base color visible- like dust or sand clinging to the body. There could be fading from the colored parts into the base color.

Gene Slot 2: Dusty Appaloosa Scales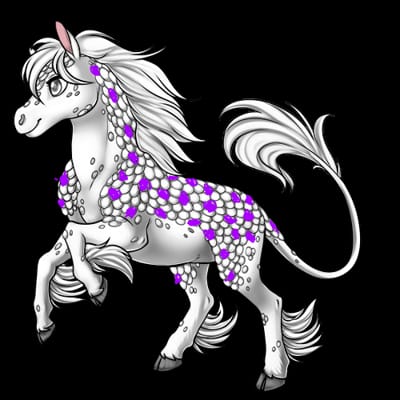 A random smattering of spots, mostly on the hindquarters.


Mutation Slot 2: Dusty Cowboy Hat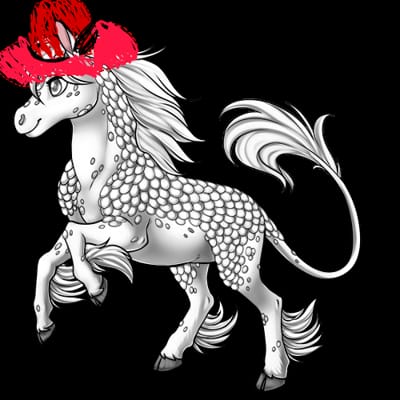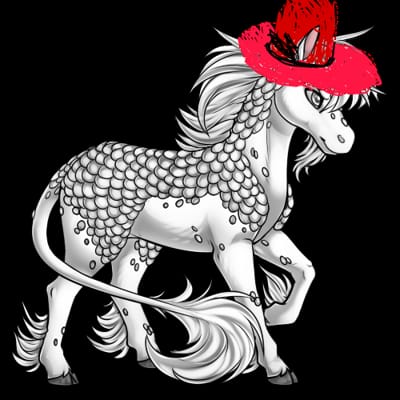 I know my drawing here isn't great, but it's a cowboy hat. I imagine the tall part neatly between the ears, which is why they're still visible. The black band around the base could be a beaded cord or rope, and the two spiky pieces behind the ears are supposed to be feathers- just further embellishment. It could easily be made multiple ways, somewhat similar to how have 3 versions of Warhorse Armor.

This seemed a nice choice. We've had the Western Saddle for ages, so why not a cowboy hat? And it is vaguely summer related. The brim of the hat does help keep the harsh summer sun out of the eyes.



~
Edited By SerenityEather on 6/11/2022 at 1:48 PM.
SpaceElf1
Level 75
Ghost Writer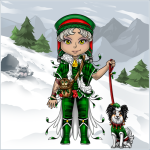 Joined: 9/17/2014
Threads: 614
Posts: 12,154
Posted: 6/11/2022 at 1:17 PM
Post #4
Zolnixi Splash (G2, purple), Socks (G3, light blue), and Imp Tail (M1, yellow) traits


Zolnixi Dragon Wings (M3) (note that the webbing is supposed to be semitransparent, like the wings of Kelparies), Spiked Armor (M3, the red represents the M3 color, the blue is the AC2 color), and the green is G3 Smoke Runes.


The Smoke Runes are supposed to resemble this, but I can't draw that well--




Sylvorpa Freckles (G3, light green) and Axolotl Floofs (M3 magenta) (please forgive me, I meant to make the floofs appear longer and fluffier)--


Freckles should look like this--


Sylvorpa Axolotl Tailfin (M1)--


The Floofs and Tail Fin are supposed to resemble the floofs and tailfin shown below (modeled by my pet axolotl, Button--


Sylvorpa Bubbles/Bubble Wings (M2)

Edited By SpaceElf1 on 7/4/2022 at 2:19 PM.
Mikazukichan
Level 75
The Artistic
Joined: 1/28/2014
Threads: 308
Posts: 9,435
Posted: 6/11/2022 at 1:44 PM
Post #5
I've wanted a curly mane trait for qitaris for a while, so I took a stab at doing a version, now that I have a scanner (I'm hopeless at drawing on computers and am only extremely rusty at drawing by hand XD)

Softly Curling Mane for qitaris:

Edited By Mikazukichan on 6/11/2022 at 1:50 PM.
Voidborn
Level 75
Guardian of the Realm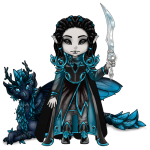 Joined: 3/5/2022
Threads: 17
Posts: 94
Posted: 6/11/2022 at 5:22 PM
Post #6


I don't have a name for this set but it's basically a bedazzled Faelora. I was thinking the metal part could be metal or be glass for extra sparkles(but i can't figure out how to do glass....). All the colors are randomish so that each element can be seen.

-Tri-colored flower
-Duel colored rump spot that goes up the back/neck and down the center of the head to the nose. The top color comes to an end between the brows and the undercolor comes to an end at the nose
-Metal/glass Jeweled headdress
-Metal/glass Jeweled back/tail drape(?) and underflower
-Metal/glass string of balls with each leg having a tear-drop ornament





Glitter/Sparkle/Shining Lighira. I just like the idea of an ethereal spirit-like look. I thought about star-signs (Leo) while doing this.

-Mane that goes from head to tail
-Glitter speckles across the body
-Shining/glowing orb above head




Monster of the Deep Kelpari mutations

-Double fins with fin collar
-Rocky protrusions and monstrous tail fin
-Extra eyes and spike teeth





An M3 gene for Qit where it's got shimmery transluscent ribbons coming out from behind some shoulder scales.




So, I really like the bulbori G2 tiger's eye effect and so this is inspired by the glass coloring look. This would be a G3 where the nixi is supposed to look like they're cracking and the spots underneath where pieces "fell off" would have that cool glass coloration of the G2 bulb I mentioned. TBH I would like this trait to be on every sylesti, lol.




A G1 idea for rikki. The G1 color would be in place of the blue, and the pink could be any of the other colors. The working name was "Radient Stripes" because I feel like some cool gradients could be made with it.




G1 and G2 for neph "Glitter" "Sparkles"




"Tidal Wave" mutation for Morkko. It's kinda like a wooshy cloak, but it's water
Edited By Voidborn on 6/24/2022 at 6:10 PM.
EvilNapkin
Level 75
Master Sylestiologist
Joined: 12/16/2020
Threads: 42
Posts: 355
Posted: 6/11/2022 at 6:32 PM
Post #7
Summer Darling/Summer Beach/Summer Sunshine or some other kind of name that gives the vibe of an elegant summer attire that a regal Puffadore might wear at the beach or on a cruise.


The set I intended to look neat and pristine, not scruffy/messy like how it turned out. The outfit is mostly smooth felt and lightweight silk. The yellow pattern could be anything and the transparent fabric could be braided lace instead. The antennae and tail braids are woven with string. The background represents lens flares; I could not even attempt to draw those correctly.
Any possible genes would show up under the transparent fabric.
Edited By EvilNapkin on 6/28/2022 at 8:17 AM.
Dragonraptor
Level 75
Warden of Umbra
Joined: 3/25/2022
Threads: 1
Posts: 27
Posted: 6/11/2022 at 6:43 PM
Post #8
Galactic Swirl | Ryori G2


It's supposed to look like a starry sky with a nebula or galaxy in the background. The colors are labelled on the image, so unless something goes wrong with the transparency it should be visible.
Tusks | Faelora M2


Dude's just got tusks stickin' out of their mouth.
Edit: Tuxedo Vulnyx gene already exists.
Parasaurolophus | Draeyl M3


This one may be my favorite of the ones I made. Dino-traited Draeyls are always so much fun, and honestly I think it fits. The crest is supposed to be a Paralophosaurus crest.
Shark Fin | Slyvorpa


Shark boi! It's got shark fins and a shark tail, and that's kinda all there is to say.
Scale Plating | Nephini


Proud of the eyeridge scales on this guy.
And now, for the giant Ny'vene set. I've been thinking of this one ever since I saw the Spring Festival Design contest, but it was too late to enter. So, without further ado:
Sea Emperor Ny'vene | Ny'vene Set
Sea Emperor Runes | G2


The last one I did, these are little wave runes. I wanted to do the cool glowy effect some of the other runes have, but I couldn't figure out how to make it work and look good.
Sea Emperor Stripes | G3


So I may have been thinking of Emperor Angelfish when I designed these stripes (although they don't look very similar). Some fun stripes with a little extra splash of color on the wings for a bit of extra spice.
Sea Emperor Horns | M1


The horns are based off of staghorn coral, while the green ruff is meant to be water, like the Kelpari splash wings. Also, it has gills.
Sea Emperor Fins | M2


Just fins running down it's back.
Sea Emperor Wings | M3


It's got fin wings! Originally I wanted something like the Aeiridini webbed wings but I wasn't sure it would fin with their spine fins, so I went with something a little more fishy, and I like how it turned out! They're supposed to be like the little rounded front fins some fish have.
Sea Emperor Ny'vene | G2, G3, M1, M2, M3


And here, of course, is the full Sea Emperor Ny'vene, in all its neon glory. I may have honestly spent more time on this one than the rest of the Emperor set put together! Maybe it's not my best work, but I'm glad to at least have finally gotten this idea out of my head and onto the screen.
Edited By Dragonraptor on 6/21/2022 at 5:52 AM.
Dreamfyre
Level 75
Omniscient Gardener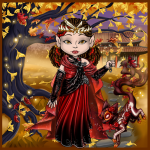 Joined: 2/4/2020
Threads: 28
Posts: 1,093
Posted: 6/11/2022 at 6:47 PM
Post #9

Floating Jellyfish
Mutation 3 slot
Edited By Dreamfyre on 6/15/2022 at 1:25 AM.
Rapidbrush
Level 75
Spooky Shopper
Joined: 4/27/2022
Threads: 2
Posts: 47
Posted: 6/11/2022 at 8:02 PM
Post #10
Please open images in new tabs to see them in detail/higher quality!
Cerberus Set (Zolnixi)


Cerberus Tails (M1)
Cerberus Heads (M2)
Cerberus Flames (M3) (flames are semi-transparent)


Dessert Set (Luffox)




Chocolate Drizzle/Drizzle (G1)
Cotton Candy/Whipped Cream Ears (M3)
Cherry Horns (M2)
Sprinkles (G2)
Soft Serve Tail [Ice Cream] (M1)


Halloween Spirit / Trick-or-Treat Set (Lupora)





*Trick-or-Treat Essence (M2)
Trick-or-Treat Ectoplasm Tail (M1)
Trick-or-Treat Ectoplasm Hair (M1) Can be combined with the Ectoplasm Tail mutation to save space
Trick-or-Treat Treat Bowl (M3)
Trick-or-Treat Ghost Costume (M3) Can be combined with the Treat Bowl mutation to save space

*Similar to the Zolnixi Cute Witch Essence M1 but incudes candy, spider webs, and pumpkins/jack-o-lanterns as well as ghosts and bats

All traits in this set can be semi-transparent other than the Treat Bowl. Whichever looks best/is easier. I tried to show some possible examples of the possible transparency of the traits in the image above
Edited By Rapidbrush on 6/30/2022 at 11:00 PM.
Go to Page:
1, 2, 3, 4, 5, 6
Go to Top
This Page loaded in 0.048 seconds.
Terms of Service | Privacy Policy | Contact Us | Credits | Job Opportunities




© Copyright 2011-2022 Sylestia Games LLC.
All names and logos associated with Sylestia are Trademarks of Sylestia Games LLC.
All other trademarks are the property of their respective owners.
For questions, comments, or concerns please email at Support@Sylestia.com.