Overview
Stables
Hatchery
Inventory
Wardrobe
Referrals
Settings
Seasonal Festival
World Map
Generator
Breeding Grounds
Nurturing Grounds
Party
Task Log
Mission Log
Quest Log
Themed Pet Codex
Player Trades
Trade Broker
Currency Exchange
Eggling Auction
Pick A Door
Official Games
Un-Official Games
Jinxie's Jamboree
Festival Shop
Diamond Shop
Avatar Shop
Scale Shop
Inbox
Forums
Community Polls
Advanced Search
July 5th, 2022

134 Online
4:24 PM
Advanced Search




Active Players on Sylestia
Category
Total
Yesterday
Players
3,382
509
Sylestia Pet Data
Category
Total
Yesterday
Pets
7,159,512
2,011
Generated
547,864
284
Captured
1,070,608
187
Bred
5,541,028
1,540
Statistics updated daily at midnight
Recent Announcements
Thread
Posted
Patriotic Event Pet Tr.. Jul 1 Patriotic Event Overvi.. Jul 1 Change to Pet Public S.. Jun 8 Spring Festival Pet Tr.. May 14 Spring Festival Overvi.. May 14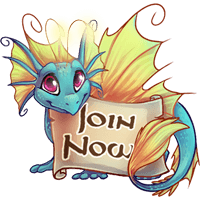 Forum Index > Official Games and Contests > 2022 Spring Festival - Avatar Dress Up
Page 5
1, 2, 3, 4, 5
Go to Page:
Author
Thread Post
Angelzrulez
Level 75
Collector of Souls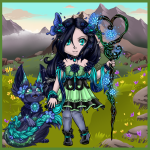 Joined: 1/9/2014
Threads: 23
Posts: 1,783
Posted: 6/12/2022 at 4:30 PM
Post #41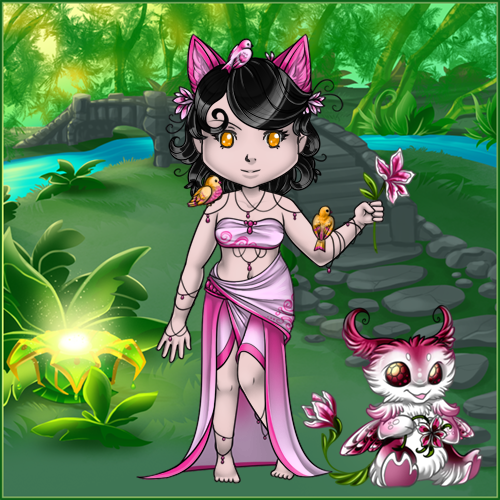 Melody welcomes in the spring flowers with her friendly flower sprites!
Limor
Level 72
The Kind-Hearted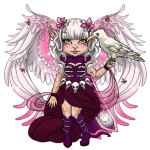 Joined: 7/5/2016
Threads: 288
Posts: 19,037
Posted: 6/12/2022 at 6:24 PM
Post #42
-- Pansy Queen --


The queen of the Pansy's is a gentle soul, she takes cares of those around her. She got her name due to her closeness in appearance to the flower, from the royal purples and sunny yellows she is the flower personified. She cares for the forest and the fields, ensuring flowers can bloom and life can flourish. She is the caretaker and the protector, a force of nature with a heart of gold.
Edited By Limor on 6/12/2022 at 6:24 PM.
Savynn
Level 75
Nature Walker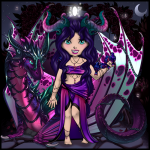 Joined: 12/18/2012
Threads: 193
Posts: 4,287
Posted: 6/12/2022 at 7:48 PM
Post #43


Lunara of the Night, Protecfor of the Enchanted Grove

Aeridinies gather every year to an enchanted grove secluded away. Two guardians of this sacred place are the twin sisters, Lunara of the Night and Solaira of the Day. These fairy sisters take turns watching over and protecting. Of the two, Lunara is the more serious at her task. Her playful sister is often a bit too carefree but so far they've protected the Aeridinies here for hundreds of years. Lunara has the help of little mushroom familiars that report back if they see anything that needs attending to.
Oiseau
Level 75
Crystalline Cleaver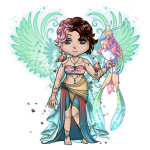 Joined: 6/14/2018
Threads: 82
Posts: 1,075
Posted: 6/12/2022 at 7:50 PM
Post #44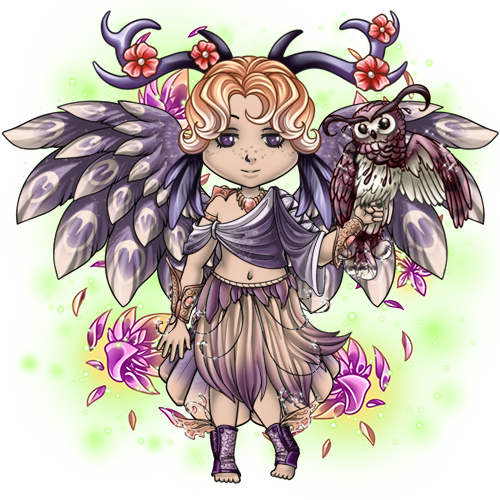 Bringer of Birds
Every spring hundreds of birds hatch babies. They fight against the weather, temperatures that vary wildly, and various predators who may eat their young.
This time is tough for those who hatch. The Bringer is there to provide aid to those in need. She lifts fledglings back into their nest when they fail to fly. Those who are injured are cared for - their wings mended, feathers put into place carefully. Lost ducklings get herded back to their flocks and those who are migrating are guided to their destination.
Rapidbrush
Level 75
Warden of Umbra
Joined: 4/27/2022
Threads: 0
Posts: 21
Posted: 6/12/2022 at 11:04 PM
Post #45
Without rain, nothing can grow.
Without sound, we cant appreciate silence.
Born from the void, being of rebirth and fury.
Bringer of spring showers, warrior of light.
Clouds roar like the sound of many drums, alerting us to her arrival.
Temporale, goddess of the raging storm
Krinadon
Level 75
Guardian of the Realm
Site Administrator
Joined: 12/17/2012
Threads: 965
Posts: 13,607
Posted: 6/16/2022 at 4:01 PM
Post #46
1st Place
Prize(s): Free Stable, [Peerless Avatar Token] x1, 3-Visible Spring Festival Themed Pet of Choice (2-Vis if Majestic) OR Garden Seed of Choice, [Premium Fertilizer Bag] x2, [Box of Gardening Supplies] x1, [Large Basket of Enrichments] x10

Hiraeth
2nd Place
Prize(s): Free Stable, [Majestic Seed Pouch] x1 OR [Fabled Seed Pouch] x1, [Premium Fertilizer Bag] x1, [Box of Gardening Supplies] x1, [Large Basket of Enrichments] x10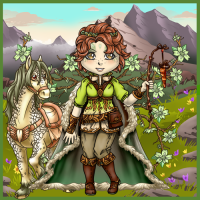 Anemochory

GoldGryphon

Malas120
3rd Place
Prize(s): Free Stable, [Mystery Seed Pouch] x1, [Regular Fertilizer Bag] x2, [Large Basket of Enrichments] x5

Alexanderc489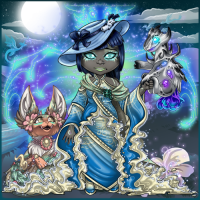 Heilix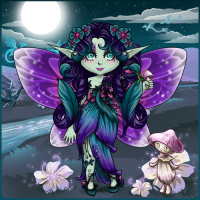 Savynn


All Participants
With valid submissions

Prize(s): Title: Fancy Pants, [Mystery Seed Pouch] x1, [Regular Fertilizer Bag] x1, [Large Basket of Enrichments] x3, [Decorated Eggs] x300
Edited By Krinadon on 6/16/2022 at 6:02 PM.
Go to Page:
1, 2, 3, 4, 5
Go to Top
This Page loaded in 0.042 seconds.
Terms of Service | Privacy Policy | Contact Us | Credits | Job Opportunities
© Copyright 2011-2022 Sylestia Games LLC.
All names and logos associated with Sylestia are Trademarks of Sylestia Games LLC.
All other trademarks are the property of their respective owners.
For questions, comments, or concerns please email at Support@Sylestia.com.