Overview
Stables
Hatchery
Inventory
Wardrobe
Referrals
Settings
Seasonal Festival
World Map
Generator
Breeding Grounds
Nurturing Grounds
Party
Task Log
Mission Log
Quest Log
Player Trades
Trade Broker
Currency Exchange
Eggling Auction
Pick A Door
Official Games
Un-Official Games
Jinxie's Jamboree
Festival Shop
Diamond Shop
Avatar Shop
Scale Shop
Inbox
Forums
Community Polls
Advanced Search
January 17th, 2022

102 Online
5:04 AM
Advanced Search




Active Players on Sylestia
Category
Total
Yesterday
Players
3,471
667
Sylestia Pet Data
Category
Total
Yesterday
Pets
6,827,855
2,502
Generated
525,756
256
Captured
1,034,320
340
Bred
5,267,779
1,906
Statistics updated daily at midnight
Recent Announcements
Thread
Posted
2022 Official Changelo.. Jan 3 Winter Festival Pet Tr.. Dec 23 Winter Festival Overvi.. Dec 18 Sylestia's 9th Ann.. Dec 17 Site Downtime - 12/6 @.. Dec 6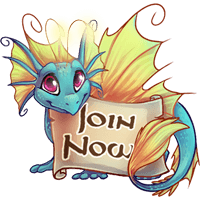 Forum Index > Official Games and Contests > 2021 Fall Festival - Create a Spooky Pet
Page 3
1, 2, 3, 4, 5, 6, 7, 8
Go to Page:
Author
Thread Post
Mysticalhexanes
Level 61
The Kind-Hearted
Joined: 8/8/2021
Threads: 8
Posts: 34
Posted: 10/28/2021 at 10:14 PM
Post #21
~ Halloween Nightmare Qitari ~




(Inspired by the concept of a nightmare made literal, plus classic Halloween/Day of the Dead colors)
Telemexa
Level 73
Joined: 3/12/2018
Threads: 9
Posts: 153
Posted: 10/29/2021 at 6:17 AM
Post #22
Jack-o'-lantern Griffi
I am inspired by the spooky look of pumpkin lanterns. Halloween is not celebrated in my country, but once my family and I made one such lantern. It was interesting!
Myrockinziva
Level 63
The Kind-Hearted
Joined: 12/6/2018
Threads: 54
Posts: 344
Posted: 10/29/2021 at 7:40 AM
Post #23


My inspiration was my idea of witches and the colors they seem to like and wear. I thought this Zolnixi reminded me most of what those colors are.
Sisithehybrid
Level 66
Joined: 10/18/2020
Threads: 3
Posts: 21
Posted: 10/29/2021 at 8:02 AM
Post #24
Gore ryori


Reneerenee16
Level 74
The Kind-Hearted
Joined: 5/29/2015
Threads: 124
Posts: 1,753
Posted: 10/29/2021 at 8:51 AM
Post #25


Ghost Rider Qitari
Inspired by the Halloween season, pumpkins, and ghostly spirits
Edited By Reneerenee16 on 10/29/2021 at 8:52 AM.
Mythnomer
Level 75
Omniscient Gardener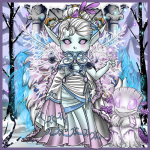 Joined: 6/2/2018
Threads: 23
Posts: 325
Posted: 10/29/2021 at 9:28 AM
Post #26
Banshee Ferrikki based on a banshee

Hallowed
Level 60
Majestic Brewmistress
Joined: 3/15/2014
Threads: 1
Posts: 16
Posted: 10/29/2021 at 12:59 PM
Post #27
Autumn Harvest: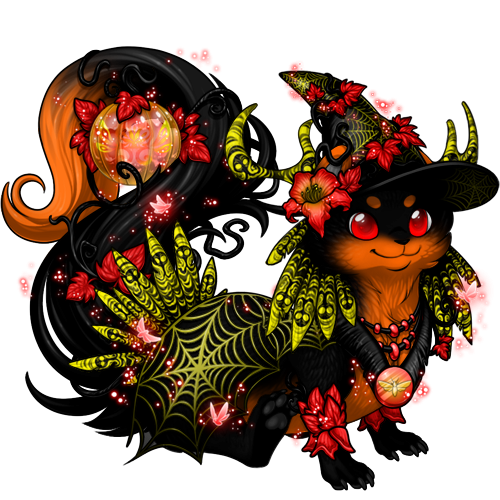 My color inspiration is: Samhain


Edited By Vapor on 10/29/2021 at 2:12 PM.
EtnaEruvandi
Level 75
Fabled Ice Carver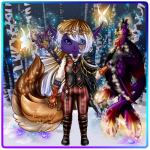 Joined: 1/25/2013
Threads: 16
Posts: 1,492
Posted: 10/29/2021 at 4:50 PM
Post #28
Will-o' the-Wisp


Lost in the marshes
A friendly light to your eyes
Leads you into sleep

Inspired by the old tales of will-o' the-wisps found around fenland and marshes. Some wisps would guide people safely through, whilst others would lead them astray to their deaths.
Edited By EtnaEruvandi on 10/29/2021 at 4:59 PM.
Nayaris
Level 75
Wondrous Witch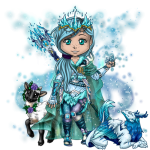 Joined: 9/9/2021
Threads: 7
Posts: 107
Posted: 10/29/2021 at 4:50 PM
Post #29
My entry!! ^-^

Catrina Inspired Zolnixi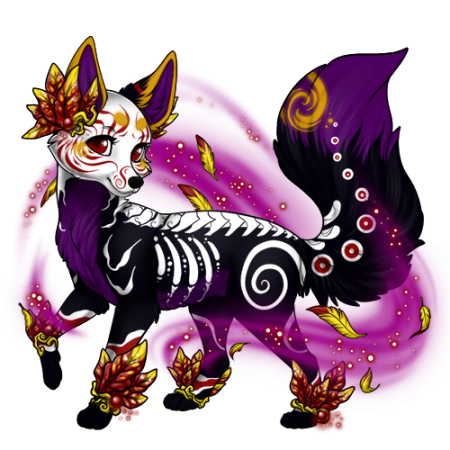 References
Dreamfyre
Level 75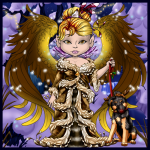 Joined: 2/4/2020
Threads: 19
Posts: 854
Posted: 10/29/2021 at 8:50 PM
Post #30


Vampire's Kiss Ryori

The colours inspired by blood and night/darkness. The jewels and rose markings inspired by my favourite dysfunctional vampire family and their fancy mansions.
Go to Page:
1, 2, 3, 4, 5, 6, 7, 8
Go to Top
This Page loaded in 0.040 seconds.
Terms of Service | Privacy Policy | Contact Us | Credits | Job Opportunities
© Copyright 2011-2022 Sylestia Games LLC.
All names and logos associated with Sylestia are Trademarks of Sylestia Games LLC.
All other trademarks are the property of their respective owners.
For questions, comments, or concerns please email at Support@Sylestia.com.